The Art of Camping by Matthew de Abaitua - review
A history of camping brings some uncomfortable flashbacks
Kathryn Hughes guardian.co.uk, Wednesday 6 July 2011 10.00 BST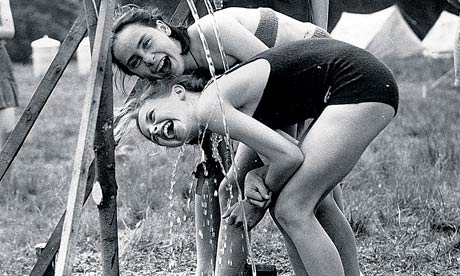 Woodcraft Folk camp, 1947. Photograph: George W Hales/Getty Images
According to Matthew de Abaitua, crankiness is the shadow side of camping. By which he means that the history of people who like to peg out under the stars is studded with left-wingers, protofascists, survivalists, teetotallers, eugenicists, nudists, swingers, Quakers and pagans. George Orwell, hitting an uncharacteristically sour note, once declared that campers were not only "sandal-wearers and feminists" but had large bottoms too, which is perhaps a generalisation too far.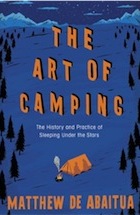 The Art of Camping: The History and Practice of Sleeping Under the Stars by Matthew De Abaitua
What De Abaitua dwells on less is the other sort of crankiness, the sort which is only too familiar to anyone forced to camp as a child. I mean the crankiness that assails dads who yell DON'T TOUCH THE SIDES OF THE TENT whenever it rains, which it does a lot. Or the crankiness that assails even the sweetest-tempered parent who has to do the washing up in a plastic bowl filled from a tap a kilometre away. It's odd that De Abaitua doesn't explore much of this other kind of crankiness, since his experience of camping mainly involves three children under the age of five.
This is a lovely book, genre-busting as all good books must be these days. If you don't wander over boundaries then you're not doing it right (unless you're camping, obviously, and then it's important to stick to your allotted space – there's nothing creepier than someone pitching too close, and doubtless the camp captain will be round to tell you off about it sharpish). So it's part cultural history, part memoir and part guide. Mrs De Abaitua helpfully does a section at the back about what sort of things the modern lady camper needs to take with her. There's no room for hair straighteners, but you can have a whistling kettle that packs flat. The implications are so queasy-making that I had to go and have a lie-down, although Mrs de A seems cheerful enough.
We start, though, by pitching up at the end of the 19th century, a period that has a good claim to be the cradle of the modern camping movement. By the 1890s the industrial revolution had started to reveal the full extent of its toxic trail. Urban working-class men called up for service in the Boer war turned out to be pale, spindly and hooked on cheap pleasures. And with the colonial project beginning to fray, there was a fear that the officer class might be on the point of turning away from a life of muscular Christianity to one involving books, or Oscar Wilde, or both. From this landscape of manly lack arose a succession of bearded patriarchs of camping, as primal as Norse gods and similarly inclined to bicker among themselves.
These included Thomas Hiram Holding, who founded the National Camping Club in 1906 as a prophylactic against the kind of modern lifestyle that was apt to turn a young man liverish. All a chap needed to get the most out of camp life was a tent and a canoe, although oddly, Holding also suggested making blancmange from scratch. Just occasionally he would bend his mind to the ticklish reality of lady campers and their nether regions. Any woman wishing to camp, he decreed sternly, should be sure to sport knickerbockers made of "soft angora, not cashmere".
From here the baton – doubtless whittled from an overhanging branch – was passed to Ernest Thompson Seton, the man whom Baden-Powell acknowledged as the real "father" of the scouting movement. The Anglo-American Seton, who was independently wealthy and had a lovely apartment on Fifth Avenue, liked nothing better than getting down and dirty with local bad lads, whom he tried to rehabilitate with a spot of up-country camping. They were urged to "think Indian", which meant adopting a co-operative, self-governing approach to camp life that struck some pursed-lipped types as smacking of anarchy. It was left to Baden-Powell to shake off these pinko associations, give the movement a bit of military backbone, and extend the hand of international friendship to the Hitler Youth Movement.
De Abaitua doesn't follow scouting – that's a book in itself – but instead bustles us down the gentler path trailed by Seton. After the first world war a man called John Hargrave, battered by his experiences at Gallipoli, started a breakaway group for people who liked camping but didn't want to play soldiers. The Kindred of the Kibbo Kift sounds a bit like the Ku Klux Klan, and the two organisations did have something in common apart from eccentric spelling. The Kifters were agrarian futurists, which sounds lovely until you learn that they were also profoundly antidemocratic.
Hargrave became a bit of a tyrant (that's the trouble with camping, the sheer bossiness of it all), which in turn led to yet more splits and secessions. One such group, more parallel than breakaway, was the Order of Woodcraft Chivalry. The Order is still going strong today on its Sandy Balls campsite (no sniggering at the back) in the New Forest, but went through a wobbly moment in the 1920s when it came under the influence of Harry Byngham. Renaming himself "Dion" after Dionysus, Byngham was in the habit of declaring that the order "should be proud to regard itself as the erect penis of the . . . nation or civilisation of which it is a part". Family members, many of them from a Quaker background, started to pack up their tents and make for the exit.
It's easy to mock, but De Abaitua never does, or at least not quite. In fact it gradually becomes clear over the course of the book that he camps for many of the same reasons that impelled Holding, Seton and Hargrave: he wants to shake off the debilitating effects of urban living, with its carefully doled-out portions of time and space. Putting up a tent may be achey work, but he feels he's achieved something at the end of it. He wants his children to experience Nature up close and personal. And above all – and this is the bit I find unfathomable – he wants to re-experience the excitement of all those 1970s camping trips, complete with a squeezy tube of Primula cheese, sleeping bags that smell of soup, and dads who tell you that, if you don't behave, we're packing up and going home right this minute (to which the only answer is "please, oh please, let's").
Kathryn Hughes's The Short Life and Long Times of Mrs Beeton is published by Harper Perennial.

eddie

The Gap Minder




Posts

: 7840


Join date

: 2011-04-11


Age

: 62


Location

: Desert Island



Into Thin Air: A Personal Account of the Mt. Everest Disaster is a 1997 bestselling non-fiction book written by Jon Krakauer. It details the author's presence at Mount Everest during the 1996 Mount Everest disaster when eight climbers were killed and several others were stranded by a 'rogue storm'. The author's expedition was led by the famed guide Rob Hall, and there were other groups trying to summit on the same day, including one led by Scott Fischer, whose guiding agency, Mountain Madness, was perceived as a competitor to Rob Hall's agency, Adventure Consultants.
The book was adapted into a 1997 TV movie named Into Thin Air: Death on Everest starring Peter Horton as Scott Fischer and Christopher McDonald as Jon Krakauer. The book and the film both contain the same strong editorial viewpoint regarding the fundamental causes of the tragedy, although the film differs sharply from the book in details regarding responsibility.
(Wikipedia)

eddie

The Gap Minder




Posts

: 7840


Join date

: 2011-04-11


Age

: 62


Location

: Desert Island



'Into the Wild' is a 1996 non-fiction book written by Jon Krakauer. It is an expansion of Krakauer's 9,000-word article on Christopher McCandless entitled "Death of an Innocent", which appeared in the January 1993 issue of Outside. The book was adapted into a 2007 movie of the same name directed by Sean Penn with Emile Hirsch starring as McCandless.
(Wikipedia)

eddie

The Gap Minder




Posts

: 7840


Join date

: 2011-04-11


Age

: 62


Location

: Desert Island



Into the Wild is a 2007 American biographical drama film directed by Sean Penn. It is an adaptation of 1996 non-fiction book of the same name by Jon Krakauer based on the travels of Christopher McCandless across North America in the early 1990s. The film stars Emile Hirsch as McCandless with William Hurt and Marcia Gay Harden as his parents. The film premiered during the Rome Film Fest and later opened outside of Fairbanks, Alaska in September 2007.
(Wikipedia)

eddie

The Gap Minder




Posts

: 7840


Join date

: 2011-04-11


Age

: 62


Location

: Desert Island



The Call of the Wild is a novel by American writer Jack London. The plot concerns a previously domesticated dog named Buck, whose primordial instincts return after a series of events leads to his serving as a sled dog in the Yukon during the 19th-century Klondike Gold Rush, in which sled dogs fetched generous prices. Buck learns from his experiences and becomes a pack-dominating feral beast. He learns lessons and relies on resurgent behaviors inherited from his wild predecessors, helping him to survive adversity as a ferocious animal.
Published in 1903, The Call of the Wild is London's most-read book, and it is generally considered his best, the masterpiece of his so-called "early period". Because the protagonist is a dog, it is sometimes classified as a juvenile novel, but it is dark in tone and contains numerous scenes of cruelty and violence. The Yeehat, a group of Alaska Natives portrayed in Call of the Wild, were a figment of London's imagination.
(Wikipedia)

eddie

The Gap Minder




Posts

: 7840


Join date

: 2011-04-11


Age

: 62


Location

: Desert Island



White Fang is a novel by American author Jack London. First serialized in Outing magazine, it was published in 1906. The story takes place in Yukon Territory, Canada, during the Klondike Gold Rush at the end of the 19th-century, and details a wild wolfdog's journey to domestication. White Fang is a companion novel (and a thematic mirror) to London's best-known work, The Call of the Wild, which concerns a kidnapped, domesticated dog turning into a wild animal.
Much of the novel is written from the view-point of his canine character, enabling London to explore how animals view their world and how they view humans. White Fang examines the violent world of wild animals and the equally violent world of humans. The book also explores complex themes including morality and redemption.
White Fang has been adapted for the screen numerous times, including a 1991 film starring Ethan Hawke.
(Wikipedia)

eddie

The Gap Minder




Posts

: 7840


Join date

: 2011-04-11


Age

: 62


Location

: Desert Island



The book starts with Bryson explaining his curiosity at the Appalachian Trail near his house. He and his old friend Stephen Katz start hiking the trail from the state of Georgia in the south, and stumble in the beginning with the difficulties of getting used to their equipment; Bryson also soon realizes how difficult it is to travel with his friend, who is a crude, overweight recovering alcoholic, and even less prepared for the ordeal than he is. Overburdened, they soon discard much extra food and equipment to lighten their loads.
After hiking for what seemed to him a large distance, they realize they have still barely begun while in Gatlinburg, Tennessee, and that the whole endeavor is simply too much for them. They skip a huge section of the trail, beginning again in Roanoke, Virginia. The book recounts Bryson's desire to seek easier terrain as well as "a powerful urge not to be this far south any longer." This section of the hike finally ends (after nearly 500 miles (800 km) of hiking) with Bryson going on a book tour and Katz returning to Des Moines to work.
In the following months Bryson continues to hike several smaller parts of the trail, including a visit to Centralia, an environmentally poisoned mining town in Pennsylvania, and eventually reunites with Katz to hike the Hundred Mile Wilderness in Maine, which again proves too daunting. The fact that Bryson did not complete the trail is not surprising since fewer than 25% of thru-hike attempts are successful; he quotes the older figure of 10%.
(Wikipedia)

eddie

The Gap Minder




Posts

: 7840


Join date

: 2011-04-11


Age

: 62


Location

: Desert Island



Scouting for Boys (1908) is Baden-Powell's rewrite of his earlier military books Reconnaissance and Scouting (1884) and Aids to Scouting for NCOs and Men (1899). These books were military manuals used by the British Army to train scouts. At Mafeking, Baden-Powell recruited and trained boys aged 12–15 as postmen, messengers, and later to carry the wounded, to free men for fighting. Upon return to England, following the Boer War, Baden-Powell learned some British schools had been using his books to teach observation and deduction. He decided to revise his military publications into a book for boys. Several friends supported Baden-Powell, including Sir William Alexander Smith, founder of the Boys' Brigade, and Cyril Arthur Pearson, who owned newspapers and printing presses. In 1906 and 1907 Baden-Powell spent a lot of time writing Scouting for Boys and advancing his ideas about the Boy Scouts Scheme. These were tested in a camp on Brownsea Island in the summer of 1907, where Pearson's literary editor Percy Everett assisted.
Scouting for Boys was published in six fortnightly instalments of approximately 70 pages each, from January to March 1908. They were produced by Pearson's printer, Horace Cox. These six publications were a success, and as planned were issued in book form on 1 May 1908. Scouting for Boys has been translated into many languages. In 1948, the book was still selling 50 000 copies annually. Only in 1967 was a decline noted by the publisher, and in the last decades of the 20th century, even by the Scout movement, the book came to be seen as a period curiosity. It is claimed to be the fourth bestselling book of the 20th century. A realistic estimate is that approximately 4 million copies of the UK edition have been sold. Extrapolating this to 87 different language editions worldwide, historic world sales of Scouting for Boys can be estimated at 100 to 150 million copies since 1908.
(Wikipedia)

eddie

The Gap Minder




Posts

: 7840


Join date

: 2011-04-11


Age

: 62


Location

: Desert Island



The Songlines- Bruce Chatwin.
In the book Chatwin develops his thesis about the primordial nature of Aboriginal song. The writing does not shy away from the actual condition of life for present day indigenous Australians, it does not present the songlines as a new-age fad but from an appreciation of the art and culture of the people for whom they are the keystone of the Real. While the book's first half chronicles the main character's travels through Outback Australia and his various encounters, the second half is dedicated to his musings on the nature of man as nomad and city builder.
The basic idea that Chatwin posits is that language started as song, and the aboriginal Dreamtime sings the land into existence. A key concept of aboriginal culture is that the aboriginals and the land are one. By singing the land, the land itself exists; you see the tree, the rock, the path, the land. What are we if not defined by our environment? And in one of the harshest environments on Earth one of our oldest civilizations became literally as one with the country. This central concept then branches out from Aboriginal culture, as Chatwin combines evidence gained there with preconceived ideas on the early evolution of man, and argues that on the African Savannah we were a migratory species, moving solely on foot, hunted by a dominant brute predator in the form of a big cat: hence the spreading of "songlines" across the globe, eventually reaching Australia (Chatwin notes their trajectory generally moves from north-east to south-west) where they are now preserved in the world's oldest living culture.
(Wikipedia)

eddie

The Gap Minder




Posts

: 7840


Join date

: 2011-04-11


Age

: 62


Location

: Desert Island





Similar topics
---
Permissions in this forum:
You
cannot
reply to topics in this forum