Asterix books contain 704 victims of brain injury, study finds
Most were male, many Roman and more than half were attacked by Asterix and Obelix themselves ... medical academics get their heads around violence in the Asterix comics
Alison Flood guardian.co.uk, Thursday 16 June 2011 16.13 BST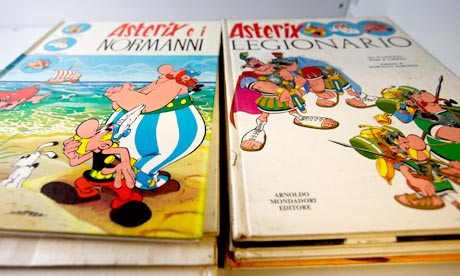 Headbangers ... brain traumas in the Asterix comics were legion, but luckily few lasted longer than a couple of minutes. Photograph: Christopher Thomond for the Guardian
By Toutatis! A group of academics have analysed the traumatic brain injuries in the Asterix comics, identifying 704 head injury victims in the 34 books.
A paper published in the European Journal of Neurosurgery, Acta Neurochirurgica, examines the much-loved books in detail, discovering that of the 704 victims, 698 were male and 63.9% were Roman. One hundred and twenty were Gauls, 59 were bandits or pirates, 20 were Goths, 14 were Normans, eight were Vikings, five were Britons and four were extraterrestrials.
The majority of injuries were caused by the indomitable Gauls (87.1%), with Asterix and his large sidekick Obelix themselves responsible for more than half (57.6%). Only 32 head injuries were caused by Romans, write the researchers, led by Marcel A Kamp from Heinrich Heine University, and just one by a pirate. Although 70.5% of the victims were wearing a helmet, this was lost "in the vast majority of cases", while "a doping agent called 'the magic potion'" was found to have been taken by the perpetrators of 83% of the injuries. "This substance contained mistletoe and was believed to give superhuman strength. In fact, characters who took the magic potion before traumata caused significantly more severe traumatic brain injuries," the academics discovered. They note that a component of mistletoe, lectin, has been shown to have effects on brain tumours, but say that its role in the treatment of traumatic brain injuries "needs to be clarified by further studies".
Using signs such as "raccoon eyes" – periorbital ecchymoses – or an "outstretched and sideward-pointing tongue" (paresis of the hypoglossal nerve) to identify traumatic brain injury, and ranking the seriousness of the injuries on the standard Glasgow coma scale, they found that in 696 cases the damage was caused by blunt force, while strangulation led to eight cases of head injury.
There were 390 cases of "severe trauma", 89 of "moderate trauma" and 225 of "mild trauma", but fortunately for the Roman legionaries "who garrison the fortified camps of Totorum, Aquarium, Laudanum and Compendium" around Asterix's small village, there were no cases in which injuries caused death or permanent damage. "Neurological deficits with aphasia and disorientation persisted longest in a case of a massive force on to the head of the druid Getafix and lasted for a period of several days to a couple of months," the researchers wrote. "However, in general, all symptoms of traumatic brain injury usually improved within a few minutes or hours."
The paper concludes, in admirably deadpan fashion, that "the favourable outcome ... is astonishing, since outcome of traumatic brain injuries in the ancient world is believed to have been worse than today and also since no diagnostic or therapeutic procedures were performed".
Karl Schaller, a neurosurgeon at the University of Geneva, commended the authors for their "stimulating analysis", noting particularly the issue of absent helmets.
"The role of helmet protection has been stressed by the authors, especially in view of the fact that strap-fixation should have been taken more seriously by the Roman besiegers and others," he said. "It would be interesting to compare the results from this comprehensive review of reported head injuries in all Asterix volumes with those of more recent heroes such as the Ducks or the Pink Panther and others, and to look at it with a possible transatlantic perspective. As this will have to wait, we are all reminded to keep our straps tightly fastened."
guardian.co.uk
Guardian News and Media Limited 2011

eddie

The Gap Minder




Posts

: 7840


Join date

: 2011-04-11


Age

: 62


Location

: Desert Island



Asterix to invade Britain with touring attraction
Locations across Europe, including UK, will host 35,000 sq metre Asterix-themed amusement over the next five years
Alison Flood
guardian.co.uk, Wednesday 12 October 2011 15.52 BST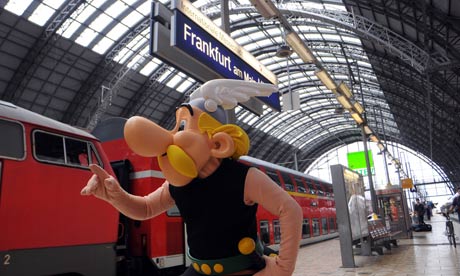 Asterix in Frankfurt for the book fair
Europe is bracing itself for an invasion of indomitable Gauls next year after it was announced that the world of Asterix and friends would be brought to life as part of a new European tour.
From simulations of ancient Gaul and Rome to the opportunity to battle the Romans, sail with pirates and scale the Alps, the first ever Asterix tour was unveiled at the Frankfurt Book Fair. Starting in Germany in autumn 2012, it will travel to cities across Europe over the next five years, including locations in France, Spain, Belgium, the Netherlands and the UK.
The news will be welcomed by the diminutive hero's millions of fans, still reeling from the announcement late last month that Albert Uderzo, co-creator of toAsterix and his weighty sidekick Obelix, was hanging up his pen. "We are going to make it easy for the fans. We are going to come to them," said Martin Biallas, chief executive of the tour's creator SEE Touring Attractions, who anticipated that up to half a million people would visit the tour in each of its 20 locations over the next five years.
"The Asterix park in France gets two million visitors a year but they are mainly from around Paris," added Isabelle Magnac, chairman of Asterix's publisher Les Editions Albert René. "This is an opportunity to go to all of Europe."
SEE has mined all 34 Asterix books – which have sold 350m copies around the world – as inspiration for the tour, "picking out iconic moments and making sure we stay true" to the stories, said director of production David Weiss. Visitors to the 3,500 sq metre attraction will be greeted by a film of Uderzo "welcoming them into the world he and René Goscinny created" in 1959, said Weiss, with further activities to include fish fights in a recreation of Asterix's small Gaulish village, playing with gooey cheese like Obelix does in Switzerland and tackling a maze like Asterix and Obelix do in ancient Egypt.
"We have an interactive which lets you bash the Romans, you can enter a Roman camp and there'll be Roman soldiers who bother you," he added. "We're using modern techniques to make visitors feel as if they are in 50BC ... We're trying to create a new experience, giving the opportunity to visitors to literally step into the books and become part of the world of Asterix and Obelix."
The tour will stay for around four months in each location, and will cost up to €20 for adult visitors and €9 for children. Biallas said it would be "continually updated" as more films and books in the series were released.
Magnac had further good news for fans, revealing that Uderzo would be creating two new characters for the next Asterix comic, which will be drawn by artist Frédéric Mébarki and written by Jean Yves Ferri. "He [Uderzo] is very confident about it," said Magnac. "It will be published in 2013 – drawing a comic like this takes a long time to do."
© 2011 Guardian News and Media Limited or its affiliated companies. All rights reserved.

eddie

The Gap Minder




Posts

: 7840


Join date

: 2011-04-11


Age

: 62


Location

: Desert Island





Similar topics
---
Permissions in this forum:
You
cannot
reply to topics in this forum