Lost Conan Doyle novel to be published
The Narrative of John Smith, Sherlock Holmes author's previously unpublished debut novel, due out this autumn
Alison Flood guardian.co.uk, Monday 6 June 2011 14.32 BST
A clue to Sherlock Holmes ... Arthur Conan Doyle in 1922. Photograph: AP
After languishing unpublished for almost 130 years, Sir Arthur Conan Doyle's first novel is set to be released for the first time this autumn.
The Narrative of John Smith was written when Conan Doyle was 23, and just a few years before the author published his first Sherlock Holmes story, A Study in Scarlet. It tells the story of a 50-year-old "opinionated Everyman" confined to his room by gout, laying out his thoughts and views on subjects from religion to war and literature through the conversations he has with his visitors, from a retired army major to a curate.
"As you might expect with the creator of Sherlock Holmes, there's a bit of a mystery around the manuscript," said Rachel Foss, lead curator of modern literary manuscripts at the British Library, which is publishing the 150-page book in November.
"He wrote it in 1883 and 1884, when he was starting to try to establish himself in the medical profession and as a writer. He sent it to a publisher, but it got lost in the post, so he decided to try and redo it from memory. The manuscript we have is the novel as reconstructed from memory, and it stops around chapter six."
The book, said Foss, is "fairly loose in terms of plot and character", but it does provide "some hints towards the Sherlock Holmes stories to come". John Smith's housekeeper, Mrs Rundle, for example, "can be seen as a prototype for the garrulous Mrs Hudson, Sherlock Holmes's landlady".
"It gives a really fascinating insight into the early stages of [Conan Doyle's] development as a writer – his apprenticeship period ... It represents his first attempt to make the transition from short story writer to novelist," she said. "It demonstrates that there are still things we can learn about him."
Stephen Fry said publication of the novel, which displays Conan Doyle's "boundless energy, enthusiasm and wide-ranging mind, not to mention [his] pitch-perfect, muscular and memorable prose", was "very very welcome indeed".
"The breadth, depth and scope of Conan Doyle's knowledge and curiosity is often overlooked. He was the first popular writer to tell the wider reading public about narcotics, the Ku Klux Klan, the mafia, the Mormons, American crime gangs, corrupt union bosses and much else besides," said Fry. "Someone, I think it was the noted Janeite Lord David Cecil, once said that Jane Austen was the kind of writer on whose laundry lists and notes to the milkman any keen reader would pounce. While Conan Doyle may not be considered to be in quite that category there can be no doubt that the heart of every lover of British writing will rejoice at this discovery of an early and as yet unpublished work by the creator of Holmes, Watson, Moriarty and Professor Challenger."
guardian.co.uk © Guardian News and Media Limited 2011

eddie

The Gap Minder




Posts

: 7840


Join date

: 2011-04-11


Age

: 62


Location

: Desert Island



Digested Read: The House of Silk by Anthony Horowitz
John Crace
guardian.co.uk, Monday 21 November 2011 20.59 GMT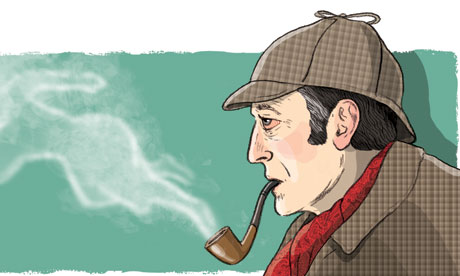 Illustration for the Guardian by Daniel Mitchell Photograph: Daniel Mitchell
It has been a year since my dear friend, Sherlock Holmes, was found dead at his home for the third or fourth time, his great mind no doubt temporarily still. So why do I take up my pen one almost certainly not final time to stir up memories, which might better be forgotten? Perhaps my reasons are selfish. If Mr Conan Doyle could not resist the clamour to resurrect the great detective, then why should I not cash in too? Yet I also feel the desire to set the record straight about one of Holmes' more sensational cases, which I could not make public at the time for reasons that will become abundantly clear.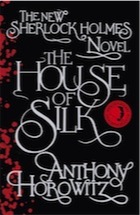 House of Silk
by Anthony Horowitz
"I see that you have left your wife in Camberwell to nurse a child with influenza and have travelled to Baker Street by train and omnibus," said Holmes.
"Do you have to make me look stupid at the beginning of every new adventure, Holmes?" I replied testily.
"My dear Watson, you manage that all by yourself. Now, if I'm not very much mistaken, there is someone at the door in urgent need of my services."
Moments later, an agitated gentleman pushed past Mrs Hudson into Holmes' consulting room. "Mr Carstairs, I presume?" said Holmes. "Good God, sir!" replied the stranger, "How did you know my name?" "It is written on your umbrella. Now tell me what concerns you."
The story that unfolded was one of the most remarkable I had ever heard, concerning an art theft by the O'Donoghue twins in America, a marriage to an American adventuress, a burglary at a house in Wimbledon, the death of Carstairs' mother and a mysterious stranger. "There's not a moment to lose," said Holmes, once Carstairs had left. "Come, Watson, the game's afoot."
Within a few hours we found ourselves at the Carstairs residence in Wimbledon, where I couldn't fail to notice the tense atmosphere between the new Mrs Carstairs and Carstairs' sister. For his part, Holmes remained utterly silent, sitting with his eyes closed in the drawing-room. "It's all quite clear, Watson," he said on our return home. "There's only one question to which we need to know the answer. Can Mrs Carstairs swim?"
"Surely it is clear the stranger is Keelan O'Donoghue," I ventured.
"My dear Watson, that is precisely the kind of assumption that fool Lestrade would reach."
"Did someone mention my name?" inquired Inspector Lestrade.
"Ah, Lestrade! If I am not very much mistaken, you have just had an argument with your wife and posted a letter to St Albans."
"Do we have to go through this routine every time?"
"I'm afraid so. The public expect it."
I arrived back at Baker Street to find Holmes playing a mournful Webern sonata on the violin and for a moment I feared he had succumbed once more to his penchant for cocaine. I was about to inquire if he had finally got round to reading the novels of Mr Dickens, when he announced we were due to meet his brother, Mycroft.
"I advise you to cease your investigations into the House of Silk," said Mycroft. "I have made my own inquiries and further investigation will expose a scandal that reaches into the very highest echelons of society."
"So be it," said Holmes. And that was the last I saw of him until he stood in the dock accused of the murder of a young woman while under the influence of opium. I feared for his future until I saw the familiar glint in his eye.
"My God, Holmes," I cried when he reappeared in disguise at Baker Street. "How did you escape from Holloway gaol?"
"All too easily and I fear I should render my methods prosaic were I to explain them."
"Or highly improbable."
"No time for banter, Watson. We must hasten to Chorleywood children's home."
"Good Lord, Holmes," I said as every member of the House of Lords was led away by Lestrade. "Who would have imagined there was a paedophile ring run by all the most famous names in the land?"
"Indeed," said Holmes grimly. "It is a crime the like of which Victorian England is not ready to hear."
"Then I shall wait until the 21st century," I replied. "And Mrs Carstairs?"
"As I thought, she cannot swim."
"And Carstairs himself?"
"A paedophile."
"My God! Is everyone a paedo?"
"All but Moriarty."
Digested read, digested: His Latest Bow

eddie

The Gap Minder




Posts

: 7840


Join date

: 2011-04-11


Age

: 62


Location

: Desert Island



Why is there no trace of forensic action in Guy Ritchie's Sherlock Holmes?
Conan Doyle's creation isn't just any old action hero, as portrayed in A Game of Shadows; he invented forensic science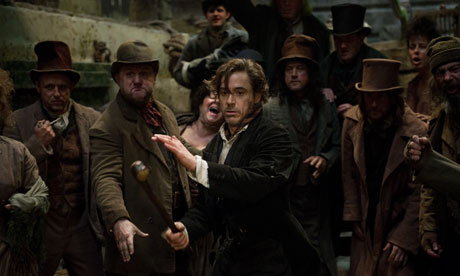 Action hero .... Robert Downey Jr's Holmes is more action man than forensics expert in Sherlock Holmes: A Game of Shadows. Photograph: Daniel Smith/Warner Bros
Sherlock Holmes has made the Guinness Book of Records as the most frequently portrayed literary character in film history. More than 70 actors have played the role in more than 200 films. Robert Downey Jr and Guy Ritchie reckon theirs is a more authentic take on Conan Doyle's original than the uptight, deerstalkered pipe-smoker of so many other versions. Fair enough.
Among the 60 stories, you can find a bromantic action hero if you want to. Holmes carries a gun and fires it on more than one occasion. He's an effective bare-knuckle fighter and swordsman, he's on top of obscure martial arts and he's strong enough to straighten out a bent steel poker. As a master of disguise he successfully impersonates a plumber, a bookseller, a priest, a seaman, a groom, an opium addict and a woman.
As for his relationship with Dr Watson, well, the mask slips during The Adventure of the Three Garridebs, when the doctor catches a bullet in his thigh. "The clear, hard eyes were dimmed for a moment, and the firm lips were shaking," Watson tells us. "My friend's wiry arms were round me." Then, Holmes "ripped up my trousers with his pocket-knife".
Nonetheless, Sherlock Holmes: A Game of Shadows has little time for what's surely the key characteristic of this most celebrated of detectives. This is his passionate, pioneering and ultimately game-changing commitment to forensic science.
Today, our routine stereotype for the investigator of crime is the detective looking for clues with his magnifying glass. Yet it wasn't always so. Denunciation and the extraction of confession through torture prevailed partly because alternatives weren't available.
The scientific upsurge of the 19th century yielded various discoveries with crime-detection potential. A method of analysing blood stains was established in 1813, one for tracing arsenic in 1836 and one for identifying vegetable toxins in 1851. More than anything else however, it was Conan Doyle's stories, appearing from 1887 onwards, that turned such insights into an investigatory system.
Holmes combined a number of different elements to create an original way of working. At its heart is the process of "reasoning backwards" to infer the steps leading up to an outcome. In the stories, this process delivers impressive results, even if they're often a bit far-fetched. For example, from an inanimate object, such as Watson's pocket watch in The Sign of Four or Grant Munro's pipe in The Adventure of the Yellow Face, Holmes is able to deduce quite startling information about its owner. It was a practice Conan Doyle picked up from an Edinburgh surgeon called Joseph Bell, who used it as an aid to diagnosis.
Yet the success of the method depends on acute observation and extensive erudition as well as logic. Hence the stories' attention to document examination, shoe impressions, ballistics, bloodstains, cigarette butts and fingerprints. To interpret such evidence, Holmes displays mastery not just of chemistry but of literature in French and Latin as well as English; he has a working grasp of everything from anatomy, psychology and law to cryptanalysis. He insists: "All knowledge comes useful to the detective."
It's this combination of analytic induction with close attention to both the collection and interpretation of data that was to become the basis of forensics. As has happened since, sometimes with less benign consequences, police practice came to emulate fiction. In 2002, in recognition of the literary prodigy's contribution, the Royal Society of Chemistry took the unusual step of presenting Sherlock Holmes with a posthumous honorary fellowship.
Of course, Holmes didn't just transform police procedure. He also unleashed an avalanche of entertainment. By the 1920s analytic detectives were turning much of pulp literature into an intellectual game. They took to the stage, radio and in due course television, where since the days of Dragnet the likes of Law & Order, Cold Case, New Tricks, Silent Witness, Prime Suspect and CSI have continuously swamped the schedules.
It's been a bit different in the movies. The silver screen has welcomed detectives by the shedload, but it's not their forensic practices that seem to excite it.
In A Game of Shadows, Sherlock's smartypants deductive ability is treated as a minor joke. He's there to trigger action and jollity, not to display the sharpness of his intellect. Other celluloid detectives have embodied ideals of masculinity, expressed the angst of the lost soul, exposed the underbelly of a sick society and gone rumbustiously on the rampage. What they haven't made so much of is the exercise of their craft.
Yet the minute observations of forensic detection are made for the full-size camera's wide-eyed gaze. In The Adventure of the Creeping Man, Holmes advises: "Always look at the hands first, Watson. Then cuffs, trouser-knees and boots." Surely a 2,000-square-foot image is the best available means of facilitating such scrutiny. Other media have cleaned up in this much-loved field with no such advantage. Is cinema missing a trick?

eddie

The Gap Minder




Posts

: 7840


Join date

: 2011-04-11


Age

: 62


Location

: Desert Island



Sherlock Holmes is still a man for today
Conan Doyle's detective was born in an age of empire and intrigue, much like our own. That's why Sherlock is still relevant
Jonathan Jones
The Guardian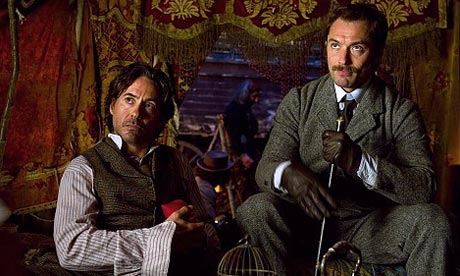 Contemporary detective … Robert Downey Junior and Jude Law in Sherlock Holmes: A Game of Shadows. Photograph: Sportsphoto Ltd/Allstar/Warner Bros
Sherlock Holmes is back. As usual. This Christmas holiday, the engaging modern-times Sherlock returns to the BBC while a second Guy Ritchie Sherlock Holmes film tops the UK box office. But these are just the latest in an inexhaustible sequence of Holmes adaptations.
It is no secret that Sherlock Holmes is one of the world's best-loved fictional characters (and the one people find hardest to accept as fiction rather than fact). But why was late-Victorian Britain so good at inventing timeless heroes and villains?
Holmes, who first appeared in 1887 in Arthur Conan Doyle's novel A Study in Scarlet, is the contemporary of some other extraordinary gentlemen. In 1886 Robert Louis Stevenson published The Strange Case of Dr Jekyll and Mr Hyde; in 1897, Bram Stoker was to give the world Dracula. Other famous fictions of the age include H Rider Haggard's She and Joseph Conrad's Heart of Darkness.
Modern horror, crime fiction, adventure stories and science fiction all originate in Britain in the period 1880-1914. In fact, this is Britain's greatest contribution to modern culture. While the French gave birth to the avant garde, we were seeding the 20th-century popular imagination. But what set off these rich fantasies?
It surely has something to do with the British empire. The heyday of Holmes is the era of imperial zenith. Britain was the centre of the biggest empire in history, and troubling shadows of this power permeated the domestic imagination. Readers at home in gaslit parlours turned from newspaper reports on the latest colonial war to fantastic stories in which poisonous snakes obtained overseas invade the quiet of English life. The exotic is eerie and uncanny in these stories. The web of world trade and structure of military might on which the wealth of Britain rests brings with it hidden networks of crime and intrigue.
Just as the Danish TV crime serial The Killing 2 unravels a plot in which the war in Afghanistan has uncanny effects deep in Danish minds, so Sherlock Holmes detects the buried truths of the British empire. We still live in the world that empire shaped. This is why Sherlock is our contemporary.

eddie

The Gap Minder




Posts

: 7840


Join date

: 2011-04-11


Age

: 62


Location

: Desert Island




---
Permissions in this forum:
You
cannot
reply to topics in this forum