First, here's the song:
And here's the young lady: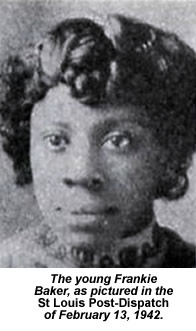 Frankie Baker shot Allen (not Albert) Britt at 2:00 am on October 15, 1899. He lived long enough to tell his version of what happened, but she got acquitted with her version. Here's what the web sez:

Frankie Baker was a young prostitute, aged about 24 when the killing took place, who lived and worked at 212 Targee Street in the heart of St Louis' flourishing vice district. Richard Clay, a former neighbour, described her like this: "She was a beautiful, light brown girl, who liked to make money and spend it. She dressed very richly, sat for company in magenta lady's cloth, diamonds as big as hen's eggs in her ears. There was a long razor scar down the side of her face she got in her teens from a girl who was jealous of her. She only weighed about 115lbs, but she had the eye of one you couldn't monkey with. She was a queen sport."

Allen Britt, who was about 17 when he died, shared Frankie's Targee Street rooms, and seems to have acted as her pimp. He was a talented piano player and known as a snappy dresser. He was also cheating on Frankie with an 18-year-old prostitute called Alice Pryar.

The film director John Huston, then a struggling writer, interviewed Clay for a footnote essay to his play, the text of which was published in 1930. "Frankie loved Albert all right," Clay recalled. "He was wise for his years but not old enough to be level with any woman. Frankie was ready money. She bought him everything he wanted, and kept his pockets full. Then while she was waiting on company he would be out playing around."

Clay, who had sat with Allen while he died in City Hospital, also gave Huston his own account of what had happened on the fatal night. He said Frankie had surprised Allen with Alice at the Phoenix Hotel, calling him out into the street for a furious public row. Allen, Clay said, had refused to go home with Frankie, so she'd returned to Targee Street alone. Allen turned up there about dawn, admitted he'd spent the night with Alice, and threatened to leave Frankie for good. According to Clay, Frankie had then started crying and started out the door to find Alice. Allen threatened to kill her if she took another step, and that's when the fight broke out.

Frankie gave her own version of events when interviewed by Daring Detective Tabloid in 1935. She said she had known Allen was at a party with Alice on the Saturday night, but refused to let that bother her. She went home and went to bed. "About three o'clock Sunday morning, Allen came in," she said. "I was in the front room, in bed asleep, and he walked in and grabbed the lamp and started to throw it at me. [...] I asked him, 'Say, are you trying to get me hurt?', and he stood there and cursed and I says, 'I am boss here, I pay rent and I have to protect myself.' He ran his hand in his pocket, opened his knife and started around this side to cut me. I was staying here, pillow lays this way, just run my hand under the pillow and shot him. Didn't shoot but once, standing by the bed." Frankie also claimed Allen had beaten her badly a few nights before the killing.

Allowing for the assumption that both Frankie and Allen were trying to salvage what pride they could when relating the incident, there's no real contradiction in these two accounts. Allen - via Clay - tells us what happened up to the point when Frankie went home, and Frankie takes up the story from there.

Allen staggered from the room when Frankie shot him, and made it as far as the steps of his mother's house at 32 Targee Street before collapsing. He told her what had happened, and - according to Clay - she began to scream "Frankie's shot Allen! Frankie's shot Allen!" By the time he'd been taken to City Hospital, everyone in the neighbourhood knew that Frankie had got her man.

Police took Frankie to the hospital too, where Allen confirmed she was the one who'd shot him. He died four days later. Frankie was arrested, and went to trial on November 13, 1899, where the jury found for justifiable homicide in self-defence. "I ain't superstitious no more," she later said. "I went to trial on Friday the 13th, and the bad luck omens didn't go against me. Why, the judge even gave me back my gun."

By Christmas of that year, Frankie had already started to hear "her" ballad sung on the streets. Ballad sellers would pick up on the most lurid news stories of the time, turn them quickly into verse and sell the resulting single-sheet copies at 10c a time on street corners. Often, they would stir up interest by singing the songs themselves to attract a crowd. Frankie Killed Allen, the first song to tell this particular story, was composed by Bill Dooley, one of St Louis' most prolific balladeers. By the evening after the shooting, it was already being performed and sold. 


The first sheet music version was published in 1904 by Hughie Cannon, a black-face comedian who turned the song into a sequel to his earlier hit Bill Bailey Won't You Please Come Home. Cannon kept Dooley's tune and refrain "He done me wrong", but threw out everything else. By 1909, when the song collectors John and Alan Lomax found a Texas version, Allen (or Al) Britt had become Albert. He was rechristened again in Frank & Bert Leighton's 1912 sheet music for their vaudeville song Frankie & Johnny, a name which has stuck ever since. A similar process turned Alice into "Nellie Bly", a name which singers may have found easier to remember and pronounce. The first version of the song recorded seems to be the Paul Biese Trio's jaunty 1921 reading. 


Huston's 1930 melodrama sticks closely to the ballad's plot, carefully including the $100 suit of clothes which Frankie buys for Johnny, their vow to remain as faithful as the stars and Johnny's dalliance with Nellie Bly. Frankie kills Johnny with the traditional three shots, giving him time to quote a verse from the ballad verbatim before he dies, and then goes uncomplaining to the gallows. Huston leaves the audience to decide exactly how Frankie's earned the money Johnny steals from her, but does nothing to deny that she's a prostitute.

Huston ensures that everyone speaks in heavy Yosemite Sam accents throughout ("I was a-goin' to turn it over to ye in one lump sum a cash like ye allus wanted") and canters through the whole tale in a brisk 90 pages of double-spaced dialogue. He saves his most macabre touch for the end, when Frankie addresses the crowd gathered round her gallows and offers to lead them all in one final dance. "I'll be showin' ye new steps in a minute," she promises as the hangman places the noose around her neck. "Steps ye've never seen before."

Just as with Stagger Lee, Frankie's tale also produced an underground "toast" version of the song, far too filthy to be published in any respectable journal or recorded commercially. Fortunately, the anonymous compiler of a privately-published 1927 anthology called "Immortalia" liked Frankie & Johnnie enough to include it in his daringly raunchy book. The 17 verses tell the same core story, but offer a far less squeamish account of what its two protagonists' lives must really have been like.

Frankie, we're told, is a "fucky hussy", who's whoring keeps her so busy that she "never had time to get out of bed". She gives all her money to Johnnie, "who spent it on parlor house whores", but still can't stop him "finger-frigging Alice Bly". She shoots Johnnie five times rather than the traditional three, and later boasts in court "I shot him in his big fat ass."

I've never heard a recorded version of these lyrics, but here's a couple of sample verses to give you the flavour. The first comes as Frankie takes a break from awaiting company - as Clay would have put it - to hand over the cash she's earned:

"Frankie hung a sign on her door,

'No more fish for sale',

Then she went looking for Johnnie,

To give him all her kale,

He was a-doin' her wrong,

God-damn his soul!" 



And here's what happens when Frankie discovers the awful truth:

"Frankie ran back to the crib-joint, 

Took the oilcloth off the bed,

Took out a bindle of coke,

And snuffed it right up in her head,

God-damn his soul,

He was a-doin' her wrong!" 



There's several variations on these lyrics, which add additional refinements such as Frankie shooting Johnnie in the balls or firing a bullet directly up his hole. In one version, she brings his penis back from the graveyard as a souvenir, explaining that it's "the best part of the man who done her wrong."

Brutal as these versions are, they may well be closer to the truth. We know from contemporary press reports that cocaine was a popular drug in 1890s brothels, so it makes sense to imagine Frankie using the stuff. Street-level prostitution in any age is likely to be a fairly squalid and violent affair, so it's hard to accuse the toast of being unduly lurid on those grounds. It certainly isn't pretty, but then Frankie's real life must often have lacked decorum too.

The real Frankie soon started to tire of her new notoriety, and left St Louis in 1890. She moved first to Nebraska and then to Oregon, but found the song followed her everywhere she went. After a few years working as a prostitute in Portland and several arrests, she opened a shoeshine parlour there around 1925. The ballad never quite went away - Mississippi John Hurt, Riley Puckett and Jimmie Rodgers all recorded it between 1928 and 1932 - and the first film adaptation came out in 1930, but for a while she was left in peace. In 1933, all that changed.

Republic Studios' She Done Him Wrong was Mae West's first starring vehicle, and also the film which kick-started Cary Grant's career. Based on West's play Diamond Lil, it contains many of her best lines, as well as West's own rendition of Frankie & Johnny. When the film reached Portland, Frankie found strangers gathering outside her home to point at her and stare. "I'm so tired of it all, I don't even answer any more," she told a reporter. "What I want is peace - an opportunity to live like a normal human being. I know that I'm black but, even so, I have my rights. If people had left me alone, I'd have forgotten this thing a long time ago."

Frankie sued Republic, claiming the song's account of her life was defamatory, and full of factual errors. The shooting had happened at home, she said, not in a saloon as the song often claimed. Allen was a "conceited piano player" not a gambler, and her gun had been not a .44 but a .38, which she fired only once, not the three times stated in the song. Asked whether she had ever bought Allen a $100 suit of clothes - another "fact" given in the ballad - Frankie replied "not necessarily" (5). Despite these discrepancies, the jury was not convinced Frankie deserved any compensation, and she lost her case. 


She sued the studio again over the 1936 film Frankie & Johnny, which starred Helen Morgan in a loose adaptation of the song's story. Frankie argued that the new film presented a false and humiliating account of her life and asked for $200,000 in damages. This time, the studio hired the musicologist Sigmund Spaeth as an expert witness. Spaeth, who was paid $2,000 for his testimony, reversed the conclusions of his own 1927 book to argue that the ballad Frankie & Johnny pre-dated 1899, and therefore that it could not have been based on Frankie Baker's crime. Until then, Spaeth had always maintained that Frankie was the ballad's inspiration, but that's not what he said in court(3). Once again, Frankie lost.

Spaeth's testimony is infuriating, but Frankie's chances of victory had always been pretty slim. Watching the two films now, it's hard to see how she ever hoped to build a case.

Frankie - or in Mae West's case, her stand-in Lady Lou - is presented as a sympathetic character in both films, and never actually kills anyone herself. The worst you can say of Lou is that she knowingly sends a man off to his death, but he's such a revolting character that we're encouraged to think it served him right. The Helen Morgan vehicle sticks closer to real story, but makes Frankie a saintly figure who's saved from pulling the fatal trigger by another character stepping in first.

The truth of the matter is that the damage Frankie suffered from these two films lay less in the plots they used than in the fact that they pulled the song back to the front of everybody's mind and made it even more famous than it had been before. We know that She Done Him Wrong was a huge hit, pulling in $2.2 million on Paramount's investment of just $200,000, and that sort of box-office take in 1933 translated to a vast audience. That's what generated the sudden surge in curiosity about her which Frankie found so distressing, but it wasn't a close enough connection to win her case. 




1950 or 1951, Frankie was admitted to a mental hospital, aged about 75. She was still perfectly lucid about killing Allen, but seemed confused about every other aspect of her life. In January 1952, she died.

The real Frankie may be dead, but her fictional alter-ego seems as immortal as ever. A 1962 thesis by Bruce Redfern Buckley found no fewer than 291 versions of Frankie's ballad to study. Since then, we've had two more Frankie & Johnny movies, one starring Elvis Presley in 1966 and one starring Al Pacino and Michelle Pfeiffer in 1991. As we'll see in a moment, neither bore any notable resemblance to the facts.

Songwriters have not been shy to apply artistic licence either. Sam Cooke's 1963 version of Frankie & Johnny - a top 30 hit on both sides of the Atlantic - had Frankie giving her beau a sports car and some "Ivy League clothes". Bob Dylan included the song on his 1992 album Good As I Been To You, but could not resist adding details of Frankie's execution on the gallows. Jimmie Rodgers sent her to the electric chair. Jimmy Anderson's 1969 blues version for Excello ended with Frankie getting drunk in the bar where she'd found Johnny, and then merely dumping him instead of killing him.

It's far from the only measure of a song's success, of course, but if it's accuracy you're after, then Mississippi John Hurt's 1928 Frankie is hard to beat. Recorded relatively close to the event that inspired it, this version gets just about everything right.

"Frankie called Albert, 

Albert says 'I don't hear', 

'If you don't come to the woman you love, 

I'm gonna haul you out of here', 

You's my man, 

And you done me wrong."

"Frankie shot ol' Albert, 

And she shot him three or four times, 

Says: 'Stroll back, I'm smokin' my gun, 

Let me see, is Albert dyin'? 

He's my man, 

And he done me wrong'. 



"Frankie and the judge walked down the stairs, 

They walked out side by side. 

The judge says to Frankie, 

'You're gonna be justified, 

For killin' a man, 

And he done you wrong'." 




All the characters are given their real names, the row in the street which Clay describes is sketched out, and Frankie leaves the court a free woman. True, Hurt has Frankie shoot Albert three or four times, and sends her along to a funeral she never attended, but compared to the liberties taken in other versions, these are very small offences. Everyone else may have done Frankie wrong, but Hurt is an honourable exception.

Sources
1) Frankie & Johnny, by John Huston (Benjamin Blom, 1968)

2) The Real Story of Frankie & Johnny, by Dudley L. McClure (published in Daring Detective Tabloid, June 1935)

3) We Did Them Wrong: The Ballad of Frankie & Albert, by Cecil Brown (published in The Rose & The Briar, ed. Sean Wilentz & Greil Marcus, WW Norton & Co, 2005).

4) Immortalia, by A Gentleman About Town ( Parthena Press, 1969).
5) St Louis Post-Dispatch, February 13, 1942.

6) Frankie, by Mississippi John Hurt (Okeh, 1928).
Last edited by pinhedz on Sun Jun 05, 2011 1:33 am; edited 2 times in total
That stuff might not be true--I read a different version that said Frankie was just a maid in the sportin' house, and Albert was a drunk who stumbled into her room looking for a good time, and she shot him in self defense--didn't even know him.

But she did sue all those people later in her life.

felix

cool cat - mrkgnao!




Posts

: 831


Join date

: 2011-04-11


Location

: see the chicken?



That's a good band they put together for Elvis.

Similar topics
---
Permissions in this forum:
You
cannot
reply to topics in this forum