Page 2 of 2 •
1, 2

silviando wrote:Leonard Cohen wins Spanish Prince of Asturias award
And yersterday was the day
A new album (Old Ideas) is going to be released on January the 31st

The single:


From Old Ideas also:
The Darkness
Fabulous!

I'm listening to Old Ideas
HERE
Leonard Cohen's poetic thanks as former manager and lover is jailed for harassment
Singer Leonard Cohen tells of 'relentless' strategy of woman he had fired over lost earnings
Esther Addley
guardian.co.uk, Thursday 19 April 2012 20.26 BST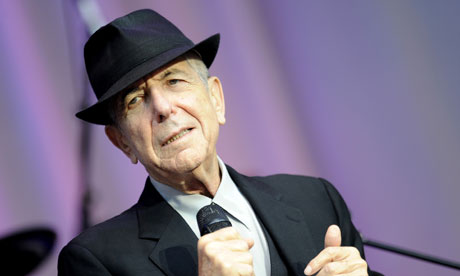 A Los Angeles jury convicted Leonard Cohen's former business manager Kelley Lynch of harassing the singer-songwriter. Photograph: Kai-Uwe Knoth/AP
As befits a man regarded as perhaps the most lyrical voice in contemporary popular music, the witness statement read to a Los Angeles court by Leonard Cohen was unusually poetic in its phrasing.
"I want to thank the court, in the person of your honour," Cohen told an LA county superior court judge, "for the cordial, even-handed and elegant manner in which these proceedings have unfolded. It was a privilege and an education to testify in this courtroom."
However dignified his prose and the proceedings, Cohen's testimony marked the end of a long and decidedly ugly episode in the 77-year-old singer's life, which has culminated in the jailing of his former manager for harassment.
Kelley Lynch, 55, was sentenced to 18 months in a Californian prison and five years probation for what the sentencing judge, Robert C Vanderet, called a "long, unrelenting barrage of harassing behaviour" towards Cohen, that the singer said had made him fear for his life.
Lynch, a jury had been told, had targeted Cohen with thousands of long, abusive voicemails and rambling emails that could run to 50 pages, denouncing him as a "sick man" and "common thief", and suggesting that he "needed to be taken down and shot".
"'Cohen is going to be hung,'" the singer drily told jurors at one point, "is not agreeable to hear."
The case was given added piquancy through the long and, recently, dramatic history between the Canadian singer and his harasser. Cohen sued Lynch in 2005, a year after he had dismissed her as his manager, claiming she had stolen $5m (£3.1m) from his personal accounts and investments and left him virtually penniless. The court found in his favour and ordered Lynch to pay him $9.5m, but her lawyers claimed she was unreachable, and she has never repaid the money or faced criminal charges.
The theft prompted the hard-up Cohen to begin touring again after five years in a Zen Buddhist monastery in California. Marathon tours of Europe, north America and Australasia met with ecstatic reviews and were enormously popular, going no small distance to repair the hole in his retirement fund. Billboard magazine reported that the 2009 world tour alone had earned Cohen $9.5m.
Cohen told the court that Lynch's campaign of harassment had begun shortly after he fired her in late 2004, having been tipped off that the glowing reports he had received about his financial investments were untrue, and subsequently discovering that most of his career earnings were gone.
Lynch had been a long-time family friend – both her parents had worked with Cohen, and she had managed him for 17 years – and Cohen acknowledged in court that they had had a "brief intimate relationship" during their time working together.
She had reacted to her dismissal, he said, by calling him repeatedly – "it started with just a few, but it eventually accelerated to 20 or 30 a day" – in tones that became more threatening, and ignoring restraining orders not to contact him. "It makes me feel very conscious about my surroundings," Cohen said. "Every time I see a car slow down, I get worried." Prosecutors showed the jury 10 binders of printed emails, which they said Cohen had received from Lynch since February 2011 alone.
In his opening statements, Michael Kelly, a public defender representing Lynch, said the case was "about relationships and how relationships oftentimes get messy". Lynch, he said, is "not a celebrity. She's not in the Rock and Roll Hall of Fame… so she's at a disadvantage here."
The messages, her defence argued, had been "cries for help" after the 2005 court finding had destroyed her reputation. But prosecutor Sandra Jo Streeter said that Lynch had embarked on the campaign of harassment as revenge. "This is nothing more than the unravelling of a con," she said.
The court case is the latest twist in the remarkable career of one of the most influential artists of his generation. Born in Montreal in 1934, Cohen first made his name as a poet before turning to music in the late 1960s. His lyrical gifts and highly distinctive downbeat baritone earned him a cult following among generations of music fans, along with an unshakeable reputation for morose melancholy.
Many feared his monastic retreat had signalled the end of his recording career; in fact, being "forced to go back on the road to repair the fortunes of my family and myself", he told the New York Times recently, was "a most fortunate happenstance because I was able to connect… with living musicians. And I think it warmed some part of my heart that had taken on a chill."
Cohen has spoken of late of an increasing preoccupation with mortality, but judging from his delicately waspish statement to the court, he has lost little of that fire. "I want to thank the defendant Ms Kelley Lynch for insisting on a jury trial, thus... allowing the court to observe her profoundly unwholesome, obscene and relentless strategies to escape the consequences of her wrongdoing," he said.
"It is my prayer that Ms Lynch will take refuge in the wisdom of her religion, that a spirit of understanding will convert her heart from hatred to remorse, from anger to kindness, from the deadly intoxication of revenge to the lowly practices of self-reform."

eddie

The Gap Minder




Posts

: 7840


Join date

: 2011-04-11


Age

: 62


Location

: Desert Island



Leonard Cohen's fans might have reason to thank Kelley Lynch
The singer's ordeal at the hands of his former manager has led to a late burst of creativity
Michael Hann
guardian.co.uk, Thursday 19 April 2012 18.29 BST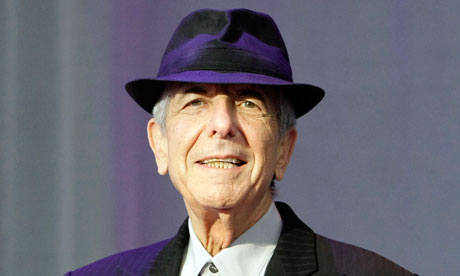 Leonard Cohen in Weybridge, Surrey, on his world tour. Photograph: Matt Kent/Redferns
Leonard Cohen, presumably, feels nothing but anger towards Kelley Lynch, who stole from him and harassed him and has now ended up with a prison sentence for doing so. Cohen's fans, however, might feel a little more tolerant towards his former manager. After all, it was the need to top up his pension fund following her depredations that led to his remarkable creative rebirth over the past four years.
First came the world tour that began in May 2008 – when Cohen was 73 – and lasted, barring various breaks for illness and injury, until December 2010, covering 189 shows. Then, earlier this year, came Old Ideas, his first album since Dear Heather in 2004. Both tour and album were greeted with the kind of reverent ecstasy reserved for those who long ago reserved their place in the pantheon of pop greatness.
Cohen's deep groan of a voice, and his ironic nickname of "Laughing Len", have often disguised the humour – however black – that lurks at the heart of Cohen's work. And this most cerebral of songwriters is happy to demystify his own songwriting process. "I think ideas are what you want to get rid of. I don't really like songs with ideas. They tend to become slogans," he told the Guardian's Dorian Lynskey earlier this year. "They tend to be on the right side of things: ecology or vegetarianism or antiwar. All these are wonderful ideas but I like to work on a song until those slogans, as wonderful as they are and as wholesome as the ideas they promote are, dissolve into deeper convictions of the heart."
Cohen's return has also banished one fearful spectre from the musical landscape – the notion, which seemed entirely possible before his comeback – that he might be best remembered as that bloke who wrote the song all the talent show contestants sing. Hallelujah indeed for Leonard Cohen.

eddie

The Gap Minder




Posts

: 7840


Join date

: 2011-04-11


Age

: 62


Location

: Desert Island



Page 2 of 2 •
1, 2


Similar topics
---
Permissions in this forum:
You
cannot
reply to topics in this forum