therevelator
Sat Jun 21, 2008 2:31 pm
Since Pinz has been able to read the major novels in Russian, can we get an opinion on whether the translations do justice to any of the most important ones like "War and Peace," and "Crime and Punishment?"
pinhedz
The last thing you want to do is get a pinhed started on this topic (oops--too late).
If we're talkin' novels--not poetry--the writer presumably has a gift for story telling and also a way with words. The story-telling component is the easiest part to translate, so the work of a great story-teller like Tolstoy can be translated into a great story by a competent linguist.
As for the way-with-words component, a translator has to have his own way with words (if he's not good with words, he's in the wrong business). In other words, he should have a literary gift of his own. So, if you read "War and Peace" in English, and you admire the way the English language conveys the story, Tolstoy deserves no credit for that, that's the tranlator's literary gift delivering it's own goods.
Aylmer Maud's translation of "War and Peace" is a fine work of literature as long as the original Russian is straight prose, or the dialogue is between the upper-class characters who speak standard literary Russian. But it gets strange when the book gets into witticisms, proverbs, or dialogue involving peasants and other low-born types (it's a bit jarring for American readers when a Russian peasant says "blimey!").
There's also an army officer in "War and Peace" that is supposed have a Polish accent. When he says "Let's play the barcarolla!" it comes out "Wet's pway the barcarowa!" The Polish "l" is pronounced like that, but that's not what a Polish accent sounds like in English, so I think Maud blew it on that one.
Translators--at least in the US--are disgracefully underappreciated. Many people think it's essentially a clerical task--you just stick in English words in place of the foreign-language words, right? If computer translations have accomplished anything, they've demonstrated how easy it isn't. It's difficult to find true English equivalents in many cases. As a rule, a literal translation is almost always wrong, not just because it's awkward and stilted, but because it is wrong in meaning.
Here's a little story:
The translator of some of Alexander Solzhenitsyn's prison-camp memoirs wrote an article about the effort. In one episode a peasant imprisoned at one of the Soviet camps had to approach one of the guards to find out what he was supposed to do or where he was supposed to go. He nervously came up to one guards and addressed him as "Grazhdanin boyets ..." The translator said he was baffled as to how to translate that, because literally it means "Citizen warrior," which sounds totally hokey in English. But, in the end the translator said he had to leave it like that, because he couldn't improve on it. So, I asked Mrs. Pinz "How would you translate 'Grazhdanin boyets?'" And she said right away: "Mister soldier." Of course, that's it.
Poetry is a different story, because it's all about language--not story. Boris Pasternak (who was known as a poet, not a novelist, during the Soviet era) was one of the most respected tranlators of Shakespeare's sonnets. But, in the Russian renditions, it's Pasternak's gift as a poet that the readers' enjoy--not Shakespeare's.
Another little story. ER member East_Of_Jordan translated "Desolation Row" into Russian. Mrs. Pinz (no fan of the Bobster) read it and said "This is very good, but it does not resemble anything by Bob Dylan that I ever heard." So I showed her the original lyrics, and she said "I see what happened, the Russian guy vastly improved it. What he really did was write his own poem." If you're translating poetry, that's what you gotta do--write your own poem.
Anyways, like I said, don't get me started.
Hosni
I like the Gogol short story about the nose who runs around town.
= ANDY =
I would imagine there are a few notable translations of russian litterature in german, as east-germany once was part of the U.S.S.R.
Anybody who can confirm or deny this?
pinhedz
the Future wrote:
I like the Gogol short story about the nose who runs around town.
Translating Gogol' into English would be at least 10 time harder than translating Tolstoy, because when Gogol's characters are funny, it's not so much because of what they're saying; it's because of the way they say it.
And if you ever read the last 2 paragraphs of "The Nose" in Russian, make sure you have a paramedic on hand to administer oxygen.
Eddie
This is necessarily a second-hand opinion because I don't speak Russian, but I was interested to read that the Russian Futurist poet Vladimir Mayakovsky apparently translates almost seamlessly into Scots dialect. It appears that he and Robbie Burns were drinking from the same well.
= ANDY =

Eddie wrote:This is necessarily a second-hand opinion because I don't speak Russian, but I was interested to read that the Russian Futurist poet Vladimir Mayakovsky apparently translates almost seamlessly into Scots dialect. It appears that he and Robbie Burns were drinking from the same well.
Home-brewed filth?
pinhedz
In one poem Mayakovky says he hears the sound of a galloping horse's hoof beats:
"BEE-lee ko-PY-tee,
PYE-lee, BUD-to."
It's easy to translate the substance; the hard part is getting the beat and the pounding.
pinhedz wrote:Another little story. ER member East_Of_Jordan translated "Desolation Row" into Russian. Mrs. Pinz (no fan of the Bobster) read it and said "This is very good, but it does not resemble anything by Bob Dylan that I ever heard." So I showed her the original lyrics, and she said "I see what happened, the Russian guy vastly improved it. What he really did was write his own poem." If you're translating poetry, that's what you gotta do--write your own poem.
As it turns out, the translation that East_of_Jordon did is still on the web (I even found it on a Scandinavian site

). The point is that any poetic merit it has in Russian is thanks to East_of_Jordon, not Bob (the translation back into English is by me, but I kept the changes the way Jordan did them, I didn't add or change back anything):
Они торгуют всем на свете
И красят стены в чёрный цвет.
Сегодня в цирке представленье,
Но на него билетов нет.
Everything in the world is for sale,
And they're painting the walls black,
The circus has a show today,
But there are no tickets to it.
Ведут слепого коммиссара,
Похоже он учуял след.
Одна рука торчит в кармане,
Другая держит пистолет.
They're leading the blind commissar,
It looks like he's sniffing the trail,
One hand is in his pocket,
The other is holding his pistol.
А толпа опять бушует,
Её сегодня тянет вдаль,
Пока Леди и я глядим в окно
На улицу Печаль.
And the crowd is restless again,
Today the far beyond beckons to them,
While Lady and I look through the window
Onto the Street of Sadness.
Золушка спокойно,
С улыбкой скажет: "Не беда.
Пройти всем в жизни надо
Через отчаянья года".
Cinderella calmly
With a smile says "No problem.
You must experience everything in life
Through the reckless years."
Тут вдруг врывается Ромео.
"Ты же моя!", он в плач и в крик.
Ему ответит кто-то тихо:
"Ты не туда попал, старик".
Then suddenly Romeo bursts in,
"You are mine!" with a cry and a scream.
Someone quietly answers him:
"You're in the wrong place, old man."
А потом сирены стихнут
И только Золушка одна
Метёт обрывки старых писем
На улице Вина.
And then the sirens fall silent,
And just Cinderella all alone,
Sweeps up scraps of old letters
On the street of guilt.
Сейчас луны почти не видно
И звёзды спрятались давно.
Даже старая гадалка
Закрыла наглухо окно.
Now the moon is almost not visible
And the stars were hidden long ago.
Even the old fortune teller
Has closed her window tight.
Все, кроме Каина и Брата
И попрошайки с Пляс де Вож,
Все занимаются любовью
Иль просто ожидают дождь.
Everyone but Cain and his brother
And the beggar of the Place des Vosges,
Are all making love
Or just expecting rain.
А Филантроп принарядился,
Набил бумагою карман.
Он - главный гость на карнавале
На улице Обман.
But the philanthropist is all dressed up,
And stuffed his pocket with paper.
He's the main guest at the carnival
On the Street of Deceit.
Вот Офелья, за неё мне страшно.
В её сердце - пустота.
Как скоро её cломала
Повседневная суета.
There's Ophelia, I'm so afraid for her,
In her heart is emptiness.
So soon she was beaten down
By the cares of everyday life.
Смерть ей кажется прекрасной,
Hа груди - бронежилет.
Она стала старой девой
В свои юные двадцать лет.
Death seems wonderful to her,
She wears an armor breastplate
She's turned into an old maid
At the tender age of 20 years.
И хотя во снах рисует
Цвета радуги вновь и вновь,
Из засады швыряет камни
На улицу Любовь.
Although in dreams she paints
The colors of the rainbow over and over,
From her ambush she throws stones
Into the Street of Love.
Эйнштейн в костюме Робин Гуда
Проходил недавно тут.
Вслед чемодан воспоминаний
Тянул его товарищ Шут.
Einstein disguised as Robin Hood
Passed here not long ago.
After him his suitcase of memories
Was pulled by his comrade Clown.
Швырнул так зло он сигарету,
Как будто это - динамит,
Потом пошёл, шатаясь, дальше,
Читая громко алфавит.
He flung his cigarette so wickedly,
As if it was dynamite,
Then he passed on, staggering,
Loudly reciting the alphabet.
Быть может, ты его не помнишь,
Он был когда-то виртуоз
Игры на электронной скрипке
На переулке Грёз.
Maybe you don't remember him,
He was once a virtuoso
Playing the electric violin
In the Alley of Visions.
Доктор Фильц содержит судьбы
На дне огромных сундуков,
Каждый его подопечный
Ищет ключи от замков.
Doctor Filth holds our destinies
In the bottom of huge trunks.
Every one he watches over
Is seeking the keys to the locks.
Mедсестра, та что в ответе
За цианкалий и за грог,
Ведёт ночами картотеку
С названием "Храни их, Бог".
The nurse that is in charge
Of the potassium cyanide and grog,
Carries the file of cards
Inscribed "God protect them."
Они оба играют на дудках,
Ты услышишь их чудный дуэт,
Если высунешь ухо подальше
Из окна на улице Бред.
They both play on fifes,
You hear their wondrous duet,
If you stick your ear out the window
To the Street of Delerium.
Напротив шторы закрыты,
Там ужин готовят наспех,
Казанову кормят надеждой
На скорый у женщин успех.
On the other side the shades are drawn
They're hurredly preparing dinner there.
They are feeding Casanova the hope
Of easy success with women.
Они в нём воспитают
Непомерную гордость собой,
А назавтра удачей отравят,
Смешав сладкий яд с похвалой.
In him they are nurturing
Boundless pride in himself,
But tomorrow they'll poison him with success,
Having mixed sweet poison with praise.
А Фантом кричит в катакомбах:
"Казанове урок будет пусть,
Как ходить вечерами украдкой
На улицу Вечная Грусть".
And the phantom shouts in the catacombs:
"Let Casanova learn his lesson
For secretly going in the evenings
To the Street of Eternal Sorrow."
Ровно в полночь все агенты
Из спецотряда сверхлюдей
Стучатся в двери тех, кто полон
Различных мыслей и идей.
At the stroke of midnight all the agents
From the supermen's special brigade
Knock on the doors of those who are full
Of various thoughts and ideas.
Потом они везут их в замок,
Где подключают аппарат
Сердечных приступов к груди им:
Никто не будет виноват.
Then they take them to the castle
Where they hook up to their chests
The heart-attack machine:
No one will guilty.
Команда страховых агентов
Стоит с канистрами в руках.
Их цель: Предотвращать побеги
На улицу Забытый страх.
A crew of insurance agents
Stand with canisters in their hands.
Their job is to prevent escapes
To the Street of Forgotten Fear.
Слава Нептуну Нерона!
"Титаник" плывёт по волне,
Hа палубе все ещё спорят,
Кто был на чьей стороне.
Praise to Nero's Neptune!
The Titanic sails over the waves,
On the deck everyone still argues,
Who was on who's side.
Taм Эзра Паунд и Ти Эс Эльотт
Ведут на мостиke дуэль,
Над ними смеётся Калипсо
Под нежную песнь Ариэль.
There Ezra Pound and TS Elliott
Are fighting a duel on the bridge,
Calypso is laughing over them
Under the tender song of Ariel.
Ведь только там, в глубинах моря,
Где благодать и красота,
Нет смысла думать слишком много
Об улице Dreams.
It's only there, in the depths of the sea
Where there is abundance and beauty,
There is no reason to think to much
About the Street of Dreams.
Я получил твоё письмо,
Получил ещё вчера.
Ты удачно пошутил,
Спросив, как мои дела.
I received your letter,
I got it already yesterday.
You made a good joke,
Asking how I was doing.
Всех, о ком ты пишешь мне,
Я знаю их, их жизнь скучна,
Я изменил их лица,
Дал им другие имена.
Everyone that you wrote me about,
I know them, I'm tired of their lives,
I changed all their faces
And gave them different names.
Теперь я не могу читать,
Не пиши же мне, пока
Не переедешь, как и я,
На улицу Тоска.
Right now I can't read,
Don't write to me until
You cross over, like me,
To the Street of Grief.
Martina--what do you think of the Russian version?
The Hunting Sketches Volume 2 by Ivan Turgenev – review
This evocative portrait of Russian village life is rendered even more lucid by a skilled narrator
Rachel Redford The Observer, Sunday 12 June 2011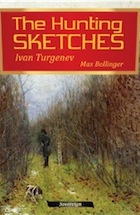 The Hunting Sketches Bk. 2: The District Doctor and Other Stories by Ivan Turgenev, Max Bollinger
"A milestone in Russian realism", Turgenev's Hunting Sketches paint an almost mystical portrait of everyday life in Russian country villages. Times are harsh: in the isolated village where the coachman tries to get the carriage axle mended, the water is bad, even for the horses. Nevertheless, in the woods, where all is "rippling, quivering in fleeting brilliance", old Kassyan chirrups to quails in answer to their calls. Moved by the obvious passion of the Russian narrator, Max Bollinger, the listener is transported to that world.
guardian.co.uk © Guardian News and Media Limited 2011

eddie

The Gap Minder




Posts

: 7840


Join date

: 2011-04-11


Age

: 61


Location

: Desert Island



Alexander Solzhenitsyn's 'last stories' will appear in English at last
Collection of innovative short stories reveals that the Russian writer was still experimenting in his final years
Dalya Alberge The Observer, Sunday 24 July 2011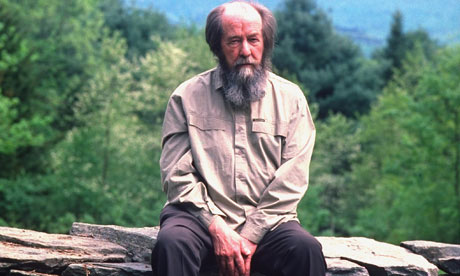 Alexander Solzhenitsyn began to write the collection of short stories in the early 1990s at the time of his return to Russia.  Photograph: Steve Liss/Time & Life Pictures/Getty Image
A collection of nine short stories by Alexander Solzhenitsyn, described by scholars as ranking alongside his best work, is to be published in English for the first time. In one of the publishing events of the autumn, the collection will appear under the title Apricot Jam and Other Stories, fulfilling a long-held desire of the author that the work be available to the English-speaking world.
The collection reveals that Solzhenitsyn was still experimenting with literary form towards the end of his life. Eight of the stories have two parts, which are conceived as pairs. Daniel J. Mahoney, a Solzhenitsyn scholar, said: "This was a new form that Solzhenitsyn, always a pioneer of new genres… called binary tales. They're two-part stories that are connected by a theme, even though there's a sharp contrast. They [each] range from 20 to 50 typed pages. Many of them highlight the moral dilemmas and choices of people under a totalitarian regime. A few deal with the dilemmas of post-communist Russia."
Solzhenitsyn's widow, Natalia, told the Observer that her husband, who died three years ago, "always wished" the stories would be accessible in English. "He would undoubtedly have been pleased to see this new publication, had he lived to this day. He began to write these stories in the first half of the 1990s, which coincided with our return home to Russia. Each of these stories was published in Russian immediately upon writing."
The author's son, Ignat, said: "I am sure my father would be pleased to see these stories appear in English. I think he felt their special binary form to be somewhat of a serendipitous discovery of his old age – one that stimulated him unexpectedly to produce several beautiful stories."
Solzhenitsyn won the Nobel prize for literature in 1970 after the publication of classics such as One Day in the Life of Ivan Denisovich and Cancer Ward. His works – which have sold 30 million copies – opened the world's eyes to the horrors of Stalin's prison camps, where the writer's own incarceration shaped his searing political observations. Solzhenitsyn's masterpiece, The Gulag Archipelago – written in secrecy in the Soviet Union and published in Paris in 1973 – is the definitive account of Stalin's political penal system. The author spent eight years in labour camps after being denounced in 1945 for criticising Stalin. Expelled from the Soviet Union in 1974 and condemned to 20 years in exile, during which he lived in the US, he became synonymous with moral courage and defiance.
Many of the stories in the new collection continue to deal with Soviet life. In one of them, The New Generation, a generous engineering professor helps a student who is struggling to pass an exam, only to find, years later, that he has been arrested and the student has become his KGB interrogator. Another, called Ego, is set at the time of the brutal suppression of tens of thousands of peasants in Tambov province in the 1920s. Amid the violence, a rebel leader is compelled to betray his comrades in the face of threats against his family.
Mahoney said of the collection: "It's some of Solzhenitsyn's very best writing." He added: "These are really impressive works of literature… They deal with matters of great historical, moral and political import."
The English translation is to be published this autumn by Canongate in the UK and Counterpoint in the US. Francis Bickmore, Canongate's senior editor, described it as a "really significant discovery" from a master of prose, who was also the most eloquent and acclaimed opponent of totalitarianism of the 20th century.
"What hit me was the power of the writing," said Bickmore. "They're stunning pieces of literature, reaffirming Solzhenitsyn's position as one of the great literary writers."
Although the stories were published in a prominent Russian literary journal, Novy Mir, and one appeared in English in a 2006 collection of his writings, the other eight were overlooked until now by English-language publishers. Jeremy Beer, representing the Solzhenitsyn estate, said: "No one knew these stories really existed because they'd only been published in Russian."
The collection takes its title from the first story, Apricot Jam, in which a seriously ill prisoner writes to a famous writer describing the horrific injustices he has suffered and appealing for help. Its second part sees the famous writer in a luxurious dacha and only impressed by the prose in the prisoner's letter, ignoring the suffering within its lines.
Mahoney said that Solzhenitsyn's own writing has "a wonderful tautness and clarity of expression".
"People think of Solzhenitsyn writing these huge books… with a thunderous voice. [With these stories], it's a different voice. It's not heavy-handed, even though these stories are full of moral import. They're not preachy. They're not didactic. They let the story convey certain historical and moral messages… We see a great literary craftsman and an historian at work."
GULAG TO GLORY
1918 Born in Kislovodsk, Russia, Solzhenitsyn grew up a Soviet supporter. Studied at Rostov University. Becomes army officer after 1941 Nazi invasion.
1945 Sentenced to eight years' labour in Siberian gulags, left.
1962 Publishes One Day in the Life of Ivan Denisovich.
1970 Awarded Nobel prize for literature.
1973 First volume published of The Gulag Archipelago about labour camps where millions perished. Expelled from Russia.
1989 Mikhail Gorbachev allows publication of Solzhenitsyn's works. He returns to Russia as a hero in 1994.
2007 Awarded Russia's State Prize. 2008 Dies, aged 89.

eddie

The Gap Minder




Posts

: 7840


Join date

: 2011-04-11


Age

: 61


Location

: Desert Island



Post for Twoody:
***********************************************************************************
The Death of Ivan Ilyich/The Devil by Leo Tolstoy – review
Don't feel bad about not having read War and Peace – here's a useful alternative
Nicholas Lezard guardian.co.uk, Thursday 28 July 2011 10.00 BST
It is so trite an observation as to be barely worth making, but the fact is that when you mention Tolstoy in this country, people think "War and Peace", immediately followed by ". . . and it's very long, and in my heart of hearts, I know I will never get round to reading it." Well, it is not the job of this column to make you feel bad about not having read War and Peace, but to offer a useful alternative. For Tolstoy, although associated with the broadest of canvases, was also a supremely competent miniaturist, as you'll be able to see from these two novellas.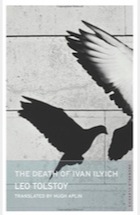 The Death of Ivan Ilyich (Oneworld Classics) by Leo Tolstoy
The Death of Ivan Ilyich is probably his best-known work after War and Peace – and with good reason. It is one of the most lacerating works of literature ever written, a hard, pitiless stare into the abyss, not just of death, but of human nature. It is one of those works that's essential: not because reading it means you can tick off a cultural milestone (much in the way that people imagine that one day, perhaps in retirement, they can tick off War and Peace), but because without it you're missing part of the picture of what it means to be human, and not just in late 19th-century St Petersburg, but now.
It is a superbly precise piece of work, devastating at the level of the sentence, like the bleakest parts of Waugh at his most bitter. The structure is crucial. Ilyich's death is announced at the beginning, and we can see exactly what effect it has on his colleagues. "'I'll probably get Shtabel's or Vinnikov's job now,' thought Fyodor Vasilyevich." And: "'I'll have to request a transfer from Kaluga for my brother-in-law now,' thought Pyotr Ivanovich. 'The wife will be delighted. And now she won't be able to say I've never done anything for my relatives.'" (You need not trouble yourself too much about who Fyodor Vasilyevich and Pyotr Ivanovich are: they are you and I.)
We learn early on that Ivan Ilyich, a judge, had spent the last three days of his life screaming continually; and then Tolstoy takes us into the nightmare, from its very beginning. It is an examination of a life not well lived, and the consequences of it. And as a memento mori it is terribly effective. Death, as Empson said, is the trigger of the literary man's biggest gun, and only the best marksmen should deal with it (I sometimes wonder whether Beckett's Malone Dies was written as a comic counterpoint to this work – light relief, as it were).
Ilyich is assumed by most commentators to be the kind of man who deserves to see his life as an increasingly ghastly blunder, but there is scant evidence in the text for this: you might not have wanted to come up against him in court, you feel, but he is no more than averagely inconsiderate or fake. His delusions are no different from yours, mine, or for that matter Fyodor Vasilyevich's. That's what makes the book so astonishing.
The second novella in this edition, The Devil, was written a couple of decades later, and is the story of a much better man, Yevgeny Irtenyev, who, before his marriage, having inherited an estate in the country, finds himself in a position where he needs to have his lust satisfied. ("He was not a libertine, yet neither, as he told himself, was he a monk.") There is a funny side to this, especially from a modern perspective; but a modern perspective won't quite do here. Even so, you might think that the way Tolstoy wipes the smile off our faces is a little extreme; and here he is the full-bearded, stern-looking moralist that he has come to be known as. We are provided with an alternative ending; each is grim.
Oneworld are to be praised for bringing these works back to our attention; their classics series is turning into quite a neat little library (more than 170 titles and counting). The translation here reads fine – that of Ilyich in particular – the introduction is helpful, and there are 30 pages of biography, notes and suggestions for further reading, which weirdly do not include Nabokov's Lectures on Russian Literature, so I mention them here.

eddie

The Gap Minder




Posts

: 7840


Join date

: 2011-04-11


Age

: 61


Location

: Desert Island



Vladimir Voinovich's vision of the future, published in 1987, has a character named Sim Simich, based on Solzhenytsin, who is the leader of an international movement to restore the monarchy in Russia with Orthodox Christianity as the basis for law and government.
The major Russian cities are depicted as walled fortresses, outside of which the countryside is lawless and dominated by the followers of Sim Simich (it's sort of like Ancient Britain as depicted in the Clive Owen movie about Arthur).
The KGB is so infiltrated that all KGB employees are spies for the CIA, but it evens out, because all CIA employees are spies for the KGB.
And life is based on recycling human waste. It's very gross--you don't want to know what the pail is for:
When Solzhenitsyn was a prisoner in the "special prison" in Moscow, which was actually a Ministry of Defense engineering research institute (in Russian, "special" means defense-related), he said he could read books from the prison library.
But he said he had to avoid books that described food too much ("Get away from me, Gogol'--there's too much food in your books"

).
He thought he'd be OK reading Dostoevsky until he reached the passage: "The children went hungry; they had nothing to eat but some bread AND SAUSAGE."


Similar topics
---
Permissions in this forum:
You
cannot
reply to topics in this forum