Page 2 of 2 •
1, 2
^
Don't keep us in suspense, felix. Where are you?

eddie

The Gap Minder




Posts

: 7840


Join date

: 2011-04-11


Age

: 61


Location

: Desert Island



Standing on the the far right?
pinhedz wrote:Standing on the the far right?

- the pic was taken in Summer 1953, when the gent on the far right was, at least, 50. That would make me - erm, him 109, give or take ...
Felix is fourth from the left, back row.



felix

cool cat - mrkgnao!




Posts

: 831


Join date

: 2011-04-10


Location

: see the chicken?



Hmm. Cool tank-top.


eddie

The Gap Minder




Posts

: 7840


Join date

: 2011-04-11


Age

: 61


Location

: Desert Island



Rock stars: before they were famous
A new picture of Keith Richards and Mick Jagger at primary school has emerged. Why is there something so compelling about seeing the icons of our own youth during theirs?
Tim Dowling
guardian.co.uk, Sunday 29 April 2012 23.04 BST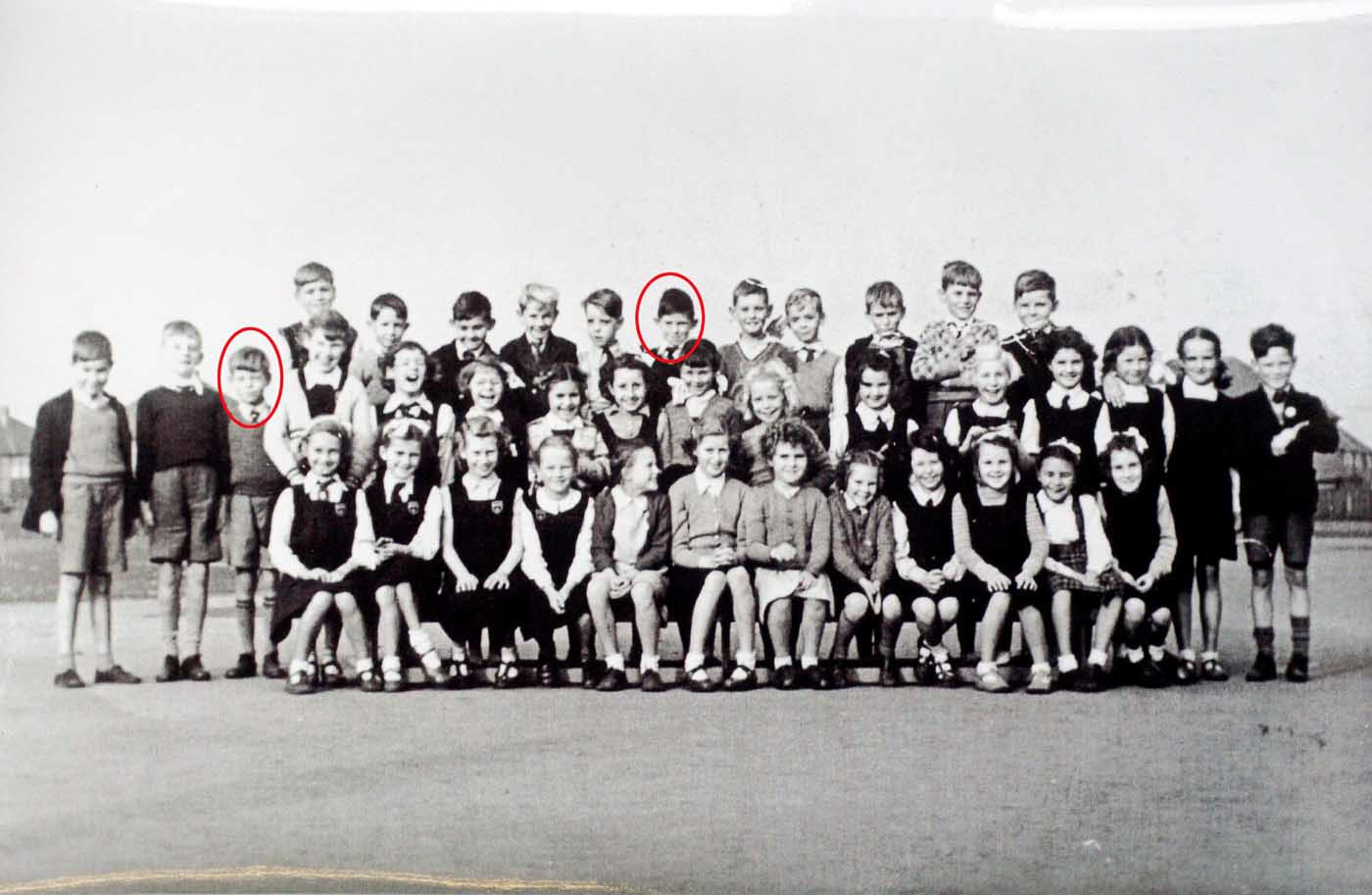 Mick Jagger (3rd from left) and Keith Richards (at back) at Wentworth Primary School, Dartford Photograph: SWNS.com
Fresh-faced, clean-cut, square-jawed or just plain square: irrefutable photographic evidence proves that to be a rock star you don't necessarily have to look like one – at least not while you're still in school.
The recently released Wentworth Primary School class picture featuring a young Michael Jagger and an even younger (by five months) Keith Richards doesn't make it easy to pick out the rock legends from the bunch. That's understandable – they're seven and eight — but even high school yearbook photos – some taken a few short years, or months, before stardom first beckoned – don't give many clues either.
Nobody is making a huge bid to stand out from the crowd. Back when Iggy Pop was still James Newell Osterberg Jr, he looked just like everybody else. Even Madonna, whose singular style influenced a generation, is sporting the haircut of the moment, inspired by Olympic skater Dorothy Hamill. Flamboyance, iconoclasm and self-possession appear to be in short supply.
Appearances, of course, deceive: school is a conformist environment – one deviates from the norm at one's peril, even when the norm is transparently horrible. Most of these crazy kids are conforming to the point of being unrecognisable – only Springsteen and Steve Tyler carry a hint of their future selves. As for Marilyn Manson's subsequent transformation, well, now we know he had a good reason.
There's something terribly sweet about all these fleshy, mutable faces, before time unpacks its etching tools and gets to work. Everyone looks so interchangeable. These are legends in embryo, smiling goofy smiles.
Perhaps the most striking thing about school photos is that they show musicians strongly associated with one's youth inhabiting a completely different youth of their own. Blondie is a band inextricably linked to the late 1970s, but her picture shows that Debbie Harry – complete with beehive – spent her formative years navigating a very different era. We like to peg our pop stars to a specific time and place, forgetting they come from somewhere else entirely.

eddie

The Gap Minder




Posts

: 7840


Join date

: 2011-04-11


Age

: 61


Location

: Desert Island



ever wondered what your classmates are today?


eddie wrote:

James Morrison Fotograf
Jimmy's mandatory summer reading book report for George Washington High School in Alexandria:
More or less, we're all afflicted with the psychology
of the voyeur. Not in a strictly clinical or
criminal sense, but in our whole physical and
emotional
stance before the world. Whenever we seek to break
this spell of passivity, our actions are cruel and
awkward and generally obscene, like an invalid who
has forgotten how to walk.
~~~

The voyeur, the peeper, the Peeping Tom, is a dark
comedian. He is repulsive in his dark anonymity,
in his secret invasion. He is pitifully alone.
But, strangely, he is able through this same silence
and concealment to make unknowing partner of
anyone
within his eye's range. This is his threat and
power.

There are no glass houses. The shades are drawn
and "real" life begins. Some activities are impossible
in the open. And these secret events are the voyeur's
game. He seeks them out with his myriad army of
eyes- like the child's notion of a Diety who sees
all. "Everything?" asks the child. "Yes, every-
thing", they answer, and the child is left to cope
with this divine intrusion.

Yakima Canutt




Posts

: 8983


Join date

: 2011-04-10



felix wrote:Felix is fourth from the left, back row.

Page 2 of 2 •
1, 2
---
Permissions in this forum:
You
cannot
reply to topics in this forum