Looking back at Madonna and Sex
This naked photograph of Madonna is expected to sell for £5,000 at auction. It seems a good time to review her approach to sex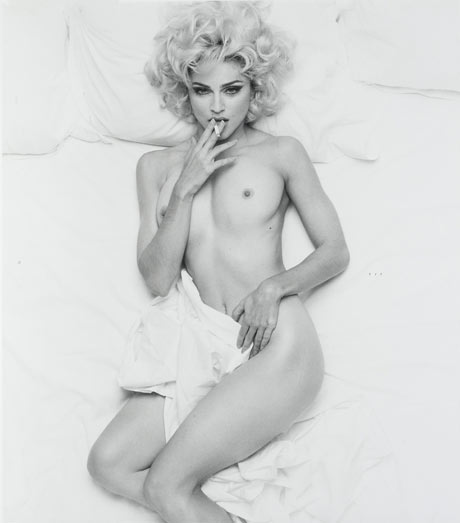 A photograph of Madonna by Steven Meisel, 1990. Photograph: Steven Meisel. Courtesy of Bonhams
A photograph taken in 1990 of Madonna by photographer Steven Meisel is up for auction at Bonhams in New York next month; it is expected to sell for £5,000. The black and white shot shows a topless Madonna posing with a cigarette in her mouth, her hair in a Marilyn bouffant and her mascaraed eyes looking directly into the lens. The mix of allure and sexual control is indisputable and it's no wonder that the singer chose Meisel to be her chief collaborator on her Sex book two years later. Once panned, Sex now sells for around £650. Is it time to re-evaluate the project?
That the Sex book came after a record-breaking album and tourfelt like a shrinkwrapped curve ball. What was she thinking? But Madge was expressing something unique in the book.
The 80s saw multiple musical and image changes: she married, divorced, jogged and acted, but the "real" Madonna was still hidden behind several layers. Looking back, Sex was clearly part of a slower reveal that began with confessional tracks such as Oh Father (from 1989's Like A Prayer) and continued with the many scenes of narcissism captured In Bed With Madonna.
In Sex she wrote: "A lot of people are afraid to say what they want. That's why they don't get what they want." She, of course, was saying exactly what she wanted, warts and all. Sex was an unabashed, sometimes ugly, sometimes angry, sometimes ridiculous (what was worse, Madonna posing provocatively with an elephant trunk or steamily with Vanilla Ice?) statement about personal desire. Indeed, this idea that she was penning her own sexual narrative was perhaps the most shocking part of thewhole enterprise. And while it was easy to critique Sex, it should be applauded for this balls-to-the-wall honesty. Happy bidding.

eddie

The Gap Minder




Posts

: 7840


Join date

: 2011-04-11


Age

: 62


Location

: Desert Island



Madonna: 'I don't think people have to be aroused sexually by what you wear' – a classic interview from the vaults
At the weekend, Madonna impressed with her performance at the Super Bowl. Here, in our latest visit to Rock's Backpages – the world's leading archive of vintage music journalism – Kris Needs catches up with the Material Girl for Flexipop! magazine, when she visited London in May 1983, months before her first hit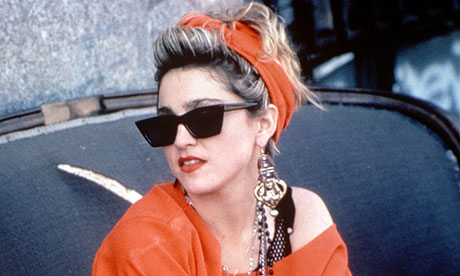 'It's important to exude sexuality on stage' … Madonna in 1983. Photograph: Rex Features
These days I wake up more and more feeling death's breath around the corner as I near the winter of my years. It's so hard being a drunken bum and working for Flexipop!. I should have been a ballet dancer.
This was the conclusion I came to after talking to the gorgeously perky Madonna, over here recently to say hello and do some club sets.
"The thing about dancing – what it taught me all those years – is it gives you an amazing sense of discipline in forcing yourself to do things that you know are good for you but you don't really want to do. It's self-preservation. A lot of people in the music industry wreck themselves. I know that my lifestyle is a lot different from a lot of other people because of the training I've had. It can be a real long life if you make it that way."
And a short one if you don't, I suppose [hack, wheeze, etc]. (This advice was obviously inspired by the alcohol-marinated apparition sitting before her who'd just been to a booze-sodden lig hosted by Noel Edmonds to launch this new invention called the CD.)
Not to worry, though. Madonna's first single – the Rusty Egan-remixed Everybody – is real hangover-repellent, made for the legs and those who find it taxes the old brain too much to lurch along and scoop up the latest hot funk item in over-priced import shops. Madonna performs to backing tapes with three handpicked black dancers she found in the New York clubs. She's quite aware of her power to turn legs to jelly but refuses to do it blatantly.
"I think it's really important to exude sexuality on stage, but I don't think I have to entice men. I don't think people have to be aroused sexually by what you wear. I get over that by way of being sexy just by the way I sing and move on stage.
"The way we dress is sort of playful-innocent: Bermuda shorts, ankle socks and shoes, crazy hats. I don't wanna wear something that I'm going to fall out of. I don't feel comfortable like that. But I'm really physical onstage, y'know? I move around a lot."
Madonna wants to take her music out of ghetto-elite typecasting. "I feel I'm trying to get rid of a lot of stereotype. I come out there and I'm white and look like a boy on stage. I refuse to act the way someone expects me to."
Though she said hello to the big, wide world in Detroit, Madonna was magnetised by New York City as soon as she got out of school; played in a few groups, studied ballet and started writing songs. Now she lives in the heart of the junkie cesspit called the Lower East Side.
"I live in a supposedly dangerous area, near 'Needle Park'. They're always selling stuff in the street outside my apartment building. I don't like it but I like living amongst all the squalor. It's good inspiration.
"Detroit is a more desolate, desperate place. At night everyone locks themselves away. There's always elements of danger in New York but people are always out on the street. I don't feel scared there at all."
Another record is set for release soon – a double A-side coupling two self-explanatory titles: Burning Up and Physical Attraction.
Later that day she turned in an energetic performance at the Camden Palace, leaving many in no doubt that this girl was no flash in the pan.
I'm gonna buy me some shorts.

eddie

The Gap Minder




Posts

: 7840


Join date

: 2011-04-11


Age

: 62


Location

: Desert Island



Some good ideas, a sound business sense, talented dancer, no singing voice worth mentioning.

eddie

The Gap Minder




Posts

: 7840


Join date

: 2011-04-11


Age

: 62


Location

: Desert Island




---
Permissions in this forum:
You
cannot
reply to topics in this forum