Bedside vigil for Bee Gees star
Press Association
Robin Gibb's family have been keeping vigil at his bedside at a hospital in Chelsea
The family of Robin Gibb are maintaining their bedside vigil as the cancer-stricken Bee Gees star remains in a coma in hospital.
Wife Dwina smiled and son Robin-John waved to photographers as they entered the central London hospital.
Fans from all over the world left hundreds of messages of support and wishes for the star's swift recuperation on his Facebook page.
Emily Harrison, from Nova Scotia, Canada, wrote: "Get well, Robin, we don't want to lose another Bee Gee!! All your fans are thinking positive thoughts. May God bless you & all your families."
Narcisse Lacroix, from the Czech Republic, described how Mr Gibb's voice was one of the first she was permitted to hear as the strict ban on Western music was eased in the former socialist state.
Robin-John, 29, had been due to premier a collaborative classical work, 'The Titanic Requiem', with his father last week, but the event went ahead without Mr Gibb due to his poor health.
Other family members, including brother Barry, 65, daughter Melissa, 37, and son Spencer, 39, had also reported to have visited Mr Gibb, who is suffering from colon and liver cancer and pneumonia.
Mr Gibb had surgery on his bowel 18 months ago for an unrelated condition, but a tumour was discovered and he was diagnosed with cancer of the colon and, subsequently, of the liver. It had been thought his cancer was in remission as early as last month, but the latest deterioration in his health coincides with reports of a secondary tumour.
A statement on the singer's website RobinGibb.com said: "Sadly the reports are true that Robin has contracted pneumonia and is in a coma. We are all hoping and praying that he will pull through. Because of this situation, Robin's website is temporarily unavailable. Sorry for any inconvenience."
Mr Gibb's agent declined to comment on reports that the star may have only days left to live.
..

eddie

The Gap Minder




Posts

: 7840


Join date

: 2011-04-11


Age

: 63


Location

: Desert Island



Robin Gibb stuns doctors by waking from coma
Doctors put Bee Gees singer's recovery down to his 'iron will'
Sean Michaels
guardian.co.uk, Monday 23 April 2012 10.18 BST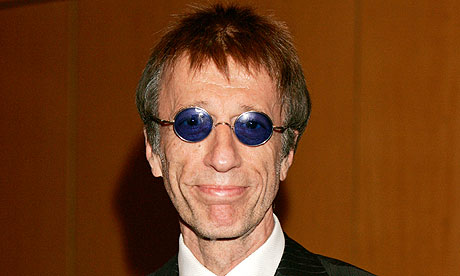 'He has overcome incredible odds' … Doctors praise Robin Gibb's courage. Photograph: Kurt Kreiger/Allstar
Robin Gibb has woken after more than a week in a coma, "overcoming incredible odds," his doctor said. Although "the road ahead … remains uncertain," the singer is reportedly conscious, lucid and able to speak.
"Only three days ago, I warned Robin's wife, Dwina, son, Robin John and brother, Barry, that I feared the worst," Dr Andrew Thillainayagam said. Suffering from pneumonia and liver failure, the Bee Gees star had fallen into a coma; weakened from aggressive chemotherapy and two emergency operations, the 62-year-old was not expected to recover. "We felt it was very likely that Robin would succumb to what seemed to be insurmountable obstacles to any form of meaningful recovery," Thillainayagam said. "As a team, we were all concerned that we might be approaching the realms of futility."
Instead, Gibb's condition saw drastic improvements this weekend. He is alert and breathing unassisted, with the help of an oxygen mask. The singer is also able to nod and communicate with his family. "It is testament to Robin's extraordinary courage, iron will and deep reserves of physical strength that he has overcome quite incredible odds to get where he is now," Thillainayagam said.
Two months ago, Gibb spoke of his "spectacular" recovery from cancer. While he did not claim to be in remission, "from now on," he said, "it's just what they could describe as a mopping-up operation". Gibb performed live in February and was expected to appear at the 10 April premiere of The Titanic Requiem, a classical composition composed with his son, RJ. His recent illness forced him to cancel the appearance.
"Thousands of people are saying prayers [for Robin] every day," Dwina Gibb told the Impartial Reporter. Robin's brother, Barry, has been singing to him in hospital, and Robin's children were playing music, Dwina said, "to try and bring him back to us". According to the Daily Mail, Robin's first words after emerging from his coma were simply, "Hello RJ".
As their patient recovers his strength, doctors hope to remove Gibb's oxygen mask and that he will be able to eat and drink normally. "When this happens," Thillainayagam said, "we will be able to begin the process of nutritional and physical rehabilitation and may be able to move him from the intensive care unit to the ward."
Gibb's cancer was discovered about 18 months ago, during an unrelated bowel operation. His twin brother, Maurice, died of a twisted intestine in 2003.
As a member of the Bee Gees, Gibb has sold more than 220m records worldwide.

eddie

The Gap Minder




Posts

: 7840


Join date

: 2011-04-11


Age

: 63


Location

: Desert Island




eddie

The Gap Minder




Posts

: 7840


Join date

: 2011-04-11


Age

: 63


Location

: Desert Island




eddie

The Gap Minder




Posts

: 7840


Join date

: 2011-04-11


Age

: 63


Location

: Desert Island




felix

cool cat - mrkgnao!




Posts

: 831


Join date

: 2011-04-11


Location

: see the chicken?




---
Permissions in this forum:
You
cannot
reply to topics in this forum