String quartets: 'til death us do part?
Many of the most successful string quartets play together with the same lineup for decades. But what happens when one of the four moves on?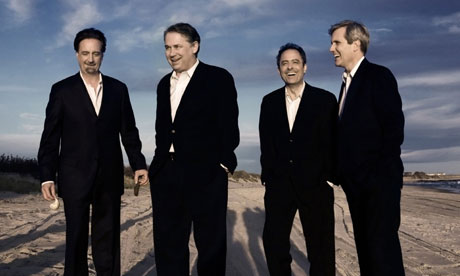 The Emerson Quartet, who are to lose cellist David Finckel (left) next year.
The memberships of professional orchestras constantly change. Not often enough, perhaps, for anyone trying to land a job in their oversubscribed ranks. Nevertheless, from year to year there will be at least some turnover of personnel. Incremental changes in an orchestra counting upwards of 85 players may have little effect on its overall sound. The resignation en masse of 25 per cent of its workforce is a different matter. But it is, effectively, what confronted the Emerson Quartet recently when cellist David Finckel announced he would leave the group next year.
Over the past 33 years, the US-based ensemble has established itself as one of the top names in the quartet world, bringing an honest, unfaddy approach to the quartet repertoire. Its international standing (it frequently visits Britain) makes Finckel's departure big news. But particularly notable is that the Emersons have remained together, unchanged, for all that time.
It is almost the norm for even established quartets to have to recruit new members at least once in its lifetime. Few last 30-odd years before having to do so. (A prominent exception is the Amadeus Quartet, who went 40 years unchanged until the death of viola player Peter Schidlof. The quartet then disbanded.)
Over the years, there have been various reasons for a change in personnel, from players simply wishing to live a less peripatetic, more family-friendly lifestyle, to major bust-ups. In Finckel's case, there is no suggestion of anything except a desire to devote himself to his musical activities elsewhere: these include performing with his wife, the pianist Wu Han, with whom he runs the chamber music festival and institute, Music@Menlo.
But whatever the reason for a member's decision to move on, it is bound to leave the remaining three with a headache. On learning that Laura Samuel, second violinist of the Belcea Quartet, was to leave the group after 17 years, leader Corina Belcea admits: "It was quite traumatic. Laura and I started the quartet together in 1994 when we were students, so we grew up together, as it were. She was a fantastic player, and the two of us played very well together. Yes, at first, for a few weeks we seriously considered not continuing the quartet."
With concerts already in the diary and individual engagements outside the group, it can be hard for a group to find the time to hold auditions. But with its reputation standing or falling on the ability of four individual musicians, none of whom have anywhere to hide, making do and mending is not an option. Then there is the fact that the four will spend an almost unnatural amount of time together rehearsing, performing and travelling, so personal relationships come into it. And how do you find them in the first place, when simply advertising the vacancy would be too hit and miss, too time-consuming? "We basically asked our friends," explains Belcea, "[and we] asked for recommendations from our mentors the Alban Berg Quartet... people whose opinion we trusted."
The Emersons have emerged from whatever trauma they have undergone to announce that the highly regarded Welsh cellist Paul Watkins will be taking over Finckel's chair. Happily, the Belceas also found their replacement in Axel Schacher, and life has started again for them. But they have some way to go before outlasting one of Britain's longest-established groups, the Endellion String Quartet. Founded in 1979 - the year Finckel joined the Emersons - their lineup has remained unchanged for the past 25 years.
"I would never say that it's like a marriage," first violinist Andrew Watkinson said when I called him – aptly? – on Valentine's Day, "because it's completely different. But I do feel that an awful lot of the rules apply. It's very important that you understand how to treat each other when you're rehearsing, because of course you're going to disagree about some things. That's inevitable, and ideally it's constructive rather than destructive. But you have to remember that the way people play, and the way they feel about a phrase or a bit of music they are playing, is something that is so close to the centre of their view of themselves that it always needs to be treated with huge sensitivity and gentleness."

eddie

The Gap Minder




Posts

: 7840


Join date

: 2011-04-11


Age

: 61


Location

: Desert Island



Il quartetto Basileus
-- a film from 1983
The quartet is renowned for several decades of fine work. But the members are aging, and probably a bit complacent.
Then the first violinist has a heart attack in his dressing room and dies. The other members audition a number of violinists to find a replacement, and choose a brilliant, handsome soloist-quality player in his early 20s.
The next thing you know, there are beautiful women everywhere and the critics are rhapsodizing about how the quartet has been revitalized.
But the other members suddenly become aware of their mortality--and their mortality seems to become aware of them. The plot follows the quartet as the remaining members are picked off one by one.
When you think about it, a young person's life is really just one audition after another:
Have I strayed off topic?

Alexander Schneider of the Budapest Quartet actually proposed to Grushenka.
But she was only 16, and he was like this:

Similar topics
---
Permissions in this forum:
You
cannot
reply to topics in this forum