Judi Dench unable to read scripts due to degenerative eye condition
Actor undergoing treatment for macular degeneration, which she hopes will allow her to keep working and live a normal life
Conal Urquhart
guardian.co.uk, Saturday 18 February 2012 12.07 GMT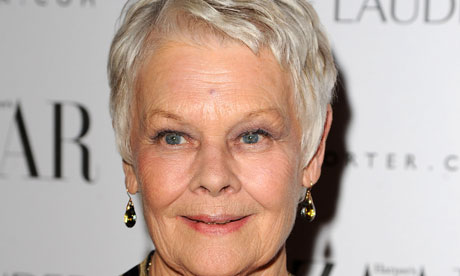 Dame Judi Dench has revealed she suffers from an eye condition that causes severe vision impairment. Photograph: Eamonn Mccormack/Getty Images
Dame Judi Dench has revealed she can no longer read scripts due to her suffering from a degenerative condition that can lead to blindness.
The actor said she also cannot make out a person sitting opposite her at the dinner table because of the effects of macular degeneration, an eye condition that causes severe vision impairment.
Dench has undergone treatment that she hopes will stop the progression of the condition, which her mother also suffered from, and allow her to continue working.
She has just finished Best Exotic Marigold Hotel, a film about pensioners retiring in India, which is released next week and is now filming Skyfall, the latest James Bond film.
Dench said that she learns scripts with the help of friends. "And so somebody comes in and reads them to me, like telling me a story. It's usually my daughter or my agent or a friend and actually I like that, because I sit there and imagine the story in my mind," she told the Mirror.
Macular degeneration is a disease that is common in people over 60 and is caused by the inflammation of part of the retina. Sufferers maintain peripheral vision but the centre of their sight is damaged, making watching television and reading difficult.
"The most distressing thing is in a restaurant in the evening I can't see the person I'm having dinner with," said Dench.
The actor is determined to do everything she can to lead a normal life. "You get used to it. I've got lenses and glasses and things and very bright light helps," she said. "I can do a crossword if it's bright sunshine but if a cloud comes out the next minute I can't see anything."
She plans to buy a digital book reader that can increase the size of text.
"I'm going to try that and I love talking books, too, because my daughter has done lots and Michael did masses of them, too."
Her husband, Michael Williams died from lung cancer in 2001. Their only daughter, Finty is now 40 and has a 15-year-old son, Sam.
Dench said her condition would not encourage her to stop working. "As long as there is a possibility of working I'm not going to retire because if I retire nothing will work any more, and it's hard enough as it is," she said. "I'm very conscious that I'm in the minority in that I love what I do.
"How big is the number of people who are running to work to do a job that they like? And how lucky to be employed at it – how incredibly lucky."

eddie

The Gap Minder




Posts

: 7840


Join date

: 2011-04-11


Age

: 61


Location

: Desert Island



If anyone knows Denchy's email handle, she really should see this website:
http://www2.research.att.com/~ttsweb/tts/demo.php
I wonder if any steps have been taken to preserve or clone Dench, if the unimaginable happens...also,
The Authorized Judi Dench Home Video Collection
# Format: Box set, Closed-captioned, Color, DVD, NTSC / PAL / SECAM
# Language: Inglish
# Aspect Ratio: 1.33:1
# Number of discs:
8
# Rated: NR (Not Rated)
# Studio: BBBC Worldwide
# DVD Release Date: March 27, 2007
# Run Time: 1140 minutes
# ASIN: B000LV6OK8
Deluxe Supplements
# Judi Dench:
My Favorite Things, I Suppose
# Judi Dench Talks to Viscount Richard Eyre
# Judi Dench sings "Send in the Clowns" -
remastered in 5.1
#
20-page booklet

Yakima Canutt




Posts

: 9016


Join date

: 2011-04-11



For some reason, I used to always confuse her with Joan Plowright.


Similar topics
---
Permissions in this forum:
You
cannot
reply to topics in this forum