Woman accused of using buttocks to damage painting worth $30m
Carmen Tisch allegedly scratched the painting by the late Clyfford Still and then slid her buttocks against it
Reuters
guardian.co.uk, Thursday 5 January 2012 16.12 GMT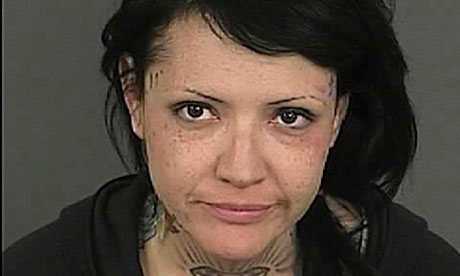 Carmen Tisch, who is charged with criminal mischief over damage to a painting by Clyfford Still. Photograph: Handout/Reuters
A 36-year-old woman has been accused of using her buttocks to cause $10,000 (£6,460) worth of damage to a $30m painting by the late abstract expressionist artist Clyfford Still at a gallery in Denver.
Police said Carmen Tisch punched and scratched the painting, an oil-on-canvas called 1957-J no.2, at the recently opened Clyfford Still museum in Denver, and pulled her trousers down to slide her buttocks against it.
Tisch was charged with felony criminal mischief and has been held on a $20,000 bond since the incident in December, said a spokeswoman for the Denver district attorney's office.

eddie

The Gap Minder




Posts

: 7840


Join date

: 2011-04-11


Age

: 62


Location

: Desert Island



Decapitator of Thatcher statue faces jail
Sarah Hall
The Guardian, Thursday 23 January 2003 10.59 GMT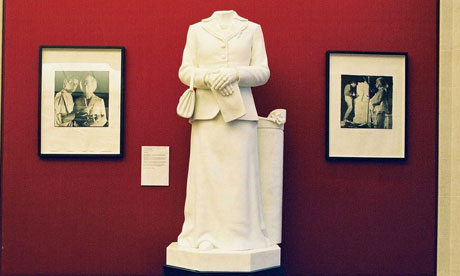 A political protester who decapitated a £150,000 marble statue of Lady Thatcher was yesterday warned he faces a prison sentence, after a judge ruled his actions could not be legally excused.
Paul Kelleher, 37, an events organiser, from Isleworth, west London, had tried to argue he had taken a cricket bat to the sculpture of the former prime minister to protect his two-year-old son Alfie from the ills of a political system he believed she represented.
But Judge Norman-Bathurst said this was no excuse for committing criminal damage, and directed the jury to find him guilty. Delaying sentencing for pre-sentence reports, he added: "I am making no promises as to how I am going to deal with you. Prison obviously has to be an option."
Clad in a red woolly jumper, the father, who was allowed bail until sentencing on February 19, smiled in resignation, and replied: "Fair enough, sir."
Kelleher, who defended himself, faces up to 10 years in prison, the maximum sentence for criminal damage to property worth £5,000 or over. In May 2000, a 25-year-old Cambridge student was jailed for 30 days for spraying paint on a statue of Winston Churchill during the May Day demonstrations, but there are few precedents.
"A sentence of imprisonment is certainly on the cards because this was clearly pre-meditated," said Malcolm Fowler, a criminal law expert and member of the Law Society's law reform board. "The judge has a dilemma, because the fact the offender is the very reverse of contrite means he has less latitude. He could theoretically just fine him, but the realistic options are very much narrowed down."
Southwark crown court in south-east London heard that Kelleher - appearing in a retrial after a previous jury remained divided over his arguments - committed what he described as an "act of satirical humour" and a "misguided publicity stunt" at London's Guildhall Gallery, after learning from the Guardian that the eight-tonne statue, commissioned for the members' lobby of the House of Lords, would be lent there.
On July 3 last year, five days after conducting a "recce", he smuggled a cricket bat down his trousers, and, when the coast was clear, ran at the statue and struck its head.
The bat "pinged off", so he reached for a stanchion, aimed one blow at her nose, and was successful.
When police arrived to arrest him, he told them: "I think it looks better like that." Defending himself for the second time, Kelleher insisted he had a "lawful excuse" for his actions since he believed his young son was in "immediate need of protection" from "this stupid world" and the political system represented by Lady Thatcher.
But the judge stressed that, under the narrow confines of the law, he had to prove either that it was his property, or a right or interest of his, that was in need of protection; and then that the damage inflicted was reasonable.
"To say that he did this to prevent globalisation, to try and stop this country cosying up to America, to draw attention to the dangers facing the world and to protect his son, does not, I'm afraid, in law, amount to a lawful excuse," the judge added.
After the hearing, Kelleher, who had quoted Tony Blair's gloomy new year speech in a defence that referred to ricin and the threat of terrorism, said: "I feel no fairness has taken place. I have always recognised prison was an option, but I was defending my little boy."

eddie

The Gap Minder




Posts

: 7840


Join date

: 2011-04-11


Age

: 62


Location

: Desert Island



Painting Modernism Black, 1996, by Felix Gmelin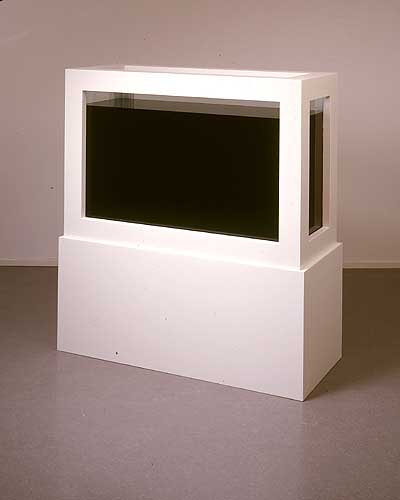 After Damien Hirst (1994) and Mark Bridger (1994) Iron, glass, water and ink in wooden frame, 175 x 164 x 65 cm
A magistrate at Bow Street in central London was subjected to observations on the meaning of life, mortality and awareness yesterday, before he granted a penniless artist a two year conditional discharge for pouring black ink into a tank containing a dead sheep. The crime was committed on May 9, when Mark Bridger, aged 35, a down-at-heel artist from Oxford, walked into London's Serpentine Gallery and tampered with an installation by the cult sculptor, Damien Hirst. He turned the piece, a fluffy white lamb floating in a tank of formaldehyde, titled Away from the Flock, into a new work called Black Sheep. It cost #1,000 to remove the pigment. But the lamb still fetched 25 times that amount from a private collector.
'Why are you an artist?' Chuck Nduka-Eze, prosecuting, asked Mr Hirst. 'I don't know. I've always been an artist,' he replied.
Mr Hirst, aged 29, who now lives in Berlin 'to avoid publicity', described himself in court as a conventional artist. He must have had in mind the age-old conventions of sawing pigs in half, pickling 14-foot sharks and cultivating maggots on decomposing cows' heads.
Mr Bridger said that as soon as he set eyes on the sheep he was inspired to seize the day. 'I was in a carpe diem frame of mind; tomorrow may not be available,' he explained. He assumed Mr Hirst would not object as they were on the same creative wavelength. 'To live is to do things, I was providing an interesting addendum to his work. In terms of conceptual art, the sheep had already made its statement. Art is there for creation of awareness and I added to whatever it was meant to say.' Mr Bridger denied that his act was motivated by jealousy of Mr Hirst's success. Rather, he was inspired by the sheep's mortality. 'It's about life and death; we are entering the territory of what life is all about.'
After more than two hours of such talk, the magistrate, Jeremy Connor, took two minutes to find Mr Bridger guilty of criminal damage, excusing him from paying compensation on grounds of insuYcient means.
From The Guardian, August 19, 1994

eddie

The Gap Minder




Posts

: 7840


Join date

: 2011-04-11


Age

: 62


Location

: Desert Island



What happened next
Interview by Dee O'Connell
The Observer, Sunday 17 November 2002
My Bed- Tracey Emin
Name: Cai Yuan and JJ Xi
Date: 24 October 1999
Place: London
Facts: Performance artists Cai Yuan and JJ Xi were the Chinese men who jumped on Tracey Emin's 'My Bed' exhibit in 1999s Turner Prize exhibition, causing almost as much controversy as the work itself. Now 46- and 40-years-old respectively, they continue to live and work in London. Subsequent works have included 'Two Artists Piss on Duchamp's Urinal'. Their website
www.madforreal.com
goes live shortly
Cai Yuan: That bed looked like an invitation. Once we were jumping on it, we were really excited, but we were worried when we were planning it beforehand. A newspaper had printed the news that we were going to stage our performance, so the gallery was already prepared for us, but they didn't know exactly what they were going to do. They had guards surrounding the bed, and we were afraid we weren't going to be able to jump on it. We went in with some friends so we could blend in; I was with my wife and children, so we just looked like ordinary visitors. At one o'clock, we gave a big, loud shout and jumped on the bed very quickly. The guards didn't know how to react, but eventually they called the police, who blocked all the exits to the Tate and arrested us.
People thought we were protesting because Jiang Zemin was visiting London, but it wasn't politically motivated, it was an artistic intervention. We were creating a new work; it had Tracey's personality and the spirit of our performance.
We were kept in a cell for three hours, before a police officer came in and said, 'I have news for you. The Tate Gallery and Tracey Emin do not want to take this matter any further, so you can go home.' They realised, I think, that we're not lunatics or vandals, but artists. We were so relieved to have succeeded. One gallery owner got in touch and said he hadn't been able to stop laughing all day, thinking of what we had done. I like that.
My parents in China don't know exactly what I do. They'd be shocked and disappointed. They know I'm an artist, but they think I'm a painter. I don't see the point of telling them. My wife completely supports what I do. British art is so dull, and YBAs are very provincial. They don't really think in terms of how to work more openly with the international art world. They are all in one group of people who go to the pub together. So we are bringing fresh air to British art.
One of our biggest projects since 'Two Artists Jumping on Tracey's Bed', has been 'Soy Sauce Ketchup Fight'. The curator who told us he couldn't stop laughing when he heard what we did asked if we had any projects we could do in his gallery. We said, 'We have one thing if you're not too worried about what happens to your space'. 'Soy Sauce Ketchup Fight' involves JJ and I fighting with soy sauce and ketchup. One represents East and one represents West and people try to figure out which one is winning, but we prefer to think of it as a mix. At the end of the day, nobody wins and nobody loses, but the fighting represents the global cultural war.
JJ Xi: We didn't hear any reaction from Tracey Emin directly, but we heard on the television she thought we were terrorists. We see her sometimes at exhibition openings, but she has never recognised us, or if she did, she hasn't said anything to us.
We were invited to perform 'Soy Sauce and Ketchup Fight' outside Buckingham Palace by some guys who were organising an anti-monarchy day. He and his friends were showing their bottoms, and the police arrested them, but not us because we weren't showing our bottoms.
We returned to the Tate for another Performance, 'Two Artists Piss on Duchamp's Urinal', in which we pissed on the famous sculpture, although it was in a glass case. We had to drink a lot of water beforehand, and the pissing went on for nearly five minutes. To us, the urinal is a perfect object, and we just extended the meaning of it, creating a new performance.
It's good to have some income sometimes, so we take commissions. We showed 'Soy Sauce Ketchup Fight' at the Liverpool Biennale in a glass room to a huge crowd and Channel 4 paid us a fee to do two performances for a programme. We have been given a grant by London Arts to create something for the London Underground, making large billboards. We use computer-generated images as a starting point and there are lots of pictures of us naked. London Underground aren't very happy with it. We have already been in contact with the curator, and she said, 'no nakedness! We can't show pictures of naked people'. It's like living 20 years ago. Probably, we will need to compromise a little.
Cai and I are together nearly every day. We might just be drinking or smoking and we'll come up with our ideas. We met in Shanghai but went to different art colleges in London. I went to Goldsmiths and Cai went to the RCA, so we both know about that tradition, but it's not really for us. We want to do something that will wake everybody up. I think we'll stay here. I have a 10-year-old son, and this is the environment we like to make our art in, although we're banned from going to the Tate. We got a letter from the Tate Trustees' solicitor, forbidding us to go near their premises any more. but we go there nearly every day, though. If they recognised us, they would kick us out, but all Chinese people look the same to them.

eddie

The Gap Minder




Posts

: 7840


Join date

: 2011-04-11


Age

: 62


Location

: Desert Island



Woman attacks Mona Lisa
A Russian tourist sparked a security alert when she threw a mug at the Mona Lisa, the world's best-known painting, officials at Louvre Museum in Paris have revealed.
By Henry Samuel in Paris
12:11PM BST 11 Aug 2009
Screams erupted from the 40-odd tourists jostling for position around Leonardo da Vinci's enigmatic painted lady when the empty terracotta mug flew over their heads and smashed into the portrait.
The Russian woman is thought to have bought it minutes earlier at the museum gift shop.
However, the Mona Lisa's enigmatic smile was unaffected by the commotion, as the mug bounced harmlessly off the bullet-proof glass shielding her and shattered on the floor, according to the team of staff paid to guard her.
"There was no damage done to the painting whatsoever," a museum official told Le Parisien.
"Naturally the Mona Lisa is a carefully watched and protected painting. It is kept in a special sealed box to protect it from vibrations, heat and humidity. It is protected by thick glass resistant to bullets and any other object hurled at it," he said.
The woman was seized by two museum security guards and handed over to central Paris police after the incident on August 2.
The remaining tourists were then left in peace to gaze at the work, viewed by 8.5 million people each year.
The Russian is being held in custody and has reportedly undergone a psychological examination.
Doctors were trying to assess whether she was suffering from Stendhal Syndrome, a rare condition in which often perfectly sane individuals momentarily lose all reason and attack a work of art.
In July last year, a 32-year-old woman wearing lipstick kissed a painting by the American artist Cy Twombly on display in Avignon, leaving left a large red smudge. She was sentenced to community work.
At the Orsay Museum in Paris the previous year, a man ripped a hole in a painting by impressionist Claude Monet.
The last attack on a work of art at the Louvre was in 1998, when a mathematics professor and calm family man suddenly attacked a statue of the Roman philosopher Seneca with a hammer.
The Mona Lisa is the only painting ever to have been stolen from the Louvre, in 1911, and then recovered.
In 1956, it was damaged when a vandal threw acid over it while it was on display at a museum in Montauban, in France.
The same year, a Bolivian man threw a rock at the painting, damaging paintwork below the Mona Lisa's left elbow.
The painting belongs to the French state.

eddie

The Gap Minder




Posts

: 7840


Join date

: 2011-04-11


Age

: 62


Location

: Desert Island





Similar topics
---
Permissions in this forum:
You
cannot
reply to topics in this forum