Nile Rodgers' top 10 music books
From Beethoven's letters to Bob Dylan's Chronicles, the musician chooses books that reveal the private lives behind the public melodies
Nile Rodgers
guardian.co.uk, Wednesday 23 November 2011 16.10 GMT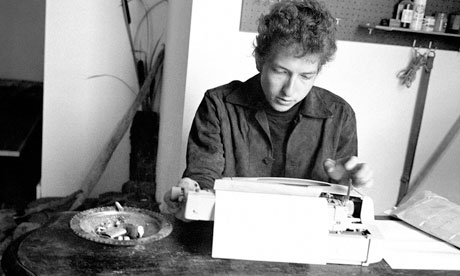 Bob Dylan at a typewriter in 1964 as seen in the documentary No Direction Home. Photograph: Doug R Gilbert/BBC
Songwriter, arranger, producer and guitarist Nile Rodgers is one of the most influential pop musicians of the last 40 years. As well as scoring multi-platinum hits with his band CHIC, Rodgers' songwriting and production has been a defining component of hitmaking work from the likes of David Bowie, Madonna and Diana Ross. His autobiography Le Freak: An Upside Down Story of Family, Disco and Destiny has just been published.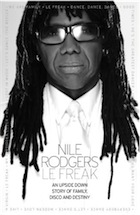 Le Freak: An Upside Down Story of Family, Disco and Destiny
by Nile Rodgers
"Frank Zappa is supposed to have said that 'writing about music is like dancing about architecture'. I agree with that 100%, and if you look at my book, it's really about my life: music just happens to be a large part of it. And the books I love are also about people's lives – all of the titles I've chosen offer real insights into the personalities behind the music.
"As a musician, music is my main source of enjoyment and income but the truth is that I have many other interests and I wanted to show people that my life was this weird, multifaceted, complicated thing.
"And all of these books share that DNA."
1. Miles by Miles Davis and Quincy Troupe
This is the all-time heavyweight champ of musician biographies for me. Having known Miles and his no-nonsense inability to edit himself, I can see the man, the child and the innovator in every paragraph. Miles takes you on an in-your-face journey more outrageous than any you've ever travelled. Before I read this book, I worshipped his musical genius. This bold and revealing book validated my eternal devotion to the man himself.
2. Hit Men: Power Brokers and Fast Money Inside the Music Business by Fredric Dannen
This is an amazing look at the dirty underbelly of the recorded music business. It mainly examines the highly lucrative boom years in the 80s. At that point, the profits were so big that the deals became more complicated, chaotic, and crooked. Elektra Records president Joe Smith's introduction of recording industry luminaries at a charity dinner says it all: "With this group of cutthroats on this dais, every one of you would be safer in Central Park tonight than you are in the ballroom of the Hilton Hotel." This book is jaw-dropping.
3. Chronicles: Volume 1 by Bob Dylan
I worked with Dylan on the film Feeling Minnesota and thought I had a good sense of who he is. This book revealed many things I didn't know. Dylan was one of the main spokesmen for the 60s counterculture. He confesses he was reluctantly drafted into this position. His greatest motivation was simply to be a musician/songwriter and earn a living doing so. The Americana he wrote about so passionately were mainly events that had happened long ago – but he wrote about them as if they were "current events". This is a fascinating look into a fascinating musical mind.
4. Beethoven's Letters
Whenever I've seen the famous bust of Beethoven, he looks like the ultimate tortured soul. A genius who'd be cantankerous, reclusive, and cynical - but his letters are anything but. They reveal a tender, kind, and loving man, the antithesis of the glaring-eyed bust. They were never written to be read by anyone other than their addressees, and this intimacy makes them great to read. This sign-off to his friend Pastor Amenda is typical of their poetic humanity:
"Two persons alone once possessed my whole love, one of whom still lives, and you are now the third. Farewell, beloved, good, and noble friend! Ever continue your love and friendship towards me, just as I shall ever be your faithful BEETHOVEN." I read these letters over and over again.
5. The Real Frank Zappa Book by Frank Zappa and Peter Occhiogrosso
When I was younger one of my roommates was obsessed with Frank Zappa. I liked some of Zappa's work and opinions but was mostly a fair-weather fan – until I read this. It is brilliant: sharp, clear, witty, and very entertaining. He's not your average rock star. Frank saw the world in a very interesting way. He told it like it is, was, and maybe always will be. Period.
6. Berry, Me, and Motown by Raynoma Gordy Singleton
This is the story of Motown Records, as told by the ex-wife of its legendary CEO Berry Gordy. They say, "Hell hath no fury like a woman scorned" and Raynoma is furious here. The things that kept me reading are the familiar songs, characters, and the detail. Being a musician herself, Raynoma's writing has a very lyrical and – dare I say hooky? – quality. If half of this salacious material is true, which she says, "As god is my witness", every word of it is – it could change the way you feel about some true music icons.
7. Eric Dolphy: A Musical Biography and Discography by Vladimir Simosko and Barry Tepperman
I became very aware of Dolphy aged 17, when he'd already been dead five years – but his music sounded like the future. I found it fitting that the book starts with his death. He was a compulsive, focused, and driven man who suffered from diabetes. I couldn't help but wonder if he had a sense that his days were numbered, hence the compulsivity.
The book has a detailed discography and a record of his performances that I found almost textbook-like – not a bad thing because there doesn't seem to be a lot written about him. The cast of characters is a virtual Who's Who of innovative musicians – and in this crowded pool Dolphy stands out.
8. He's a Rebel by Mark Ribowsky
The story of Phil Spector, "rock and roll's legendary madman", as the author puts it. When I first met Phil at a recording studio in New York, he had a gun sitting on the desk in front of him. I thought it was a little odd, but when I read this book a few years later it made a lot more sense.
Phil was the creator of the famed Wall of Sound, and a genius hitmaker. He had a difficult childhood, which seemed to be a direct result of his father's early death. When you read about the massive number of hits he made it's almost mind-boggling. The discography at the end of the book puts his work in perspective.
9. Hendrix: Setting The Record Straight by John McDermott with Eddie Kramer
This book is interesting to me personally because I know so many of the people, places, and things involved. I put it on my list because I liked reading about the recording sessions, technical decisions, and the Hendrix studio mindset. He was portrayed as a taskmaster who also suffered from something akin to ADD. It was fantastic to see that sometimes beautifully-crafted creations came from persistence, virtuosity – or wonderful accidents.
10. The Undiscovered Paul Robeson, An Artist's Journey, 1898–1939 by Paul Robeson
Last summer I workshopped a musical at the Alabama Shakespeare festival, where there was a giant portrait of Paul Robeson. When I think of him, I only think of his basso voice singing "Ol' Man River". But as this book shows – moving from his childhood as the son of a runaway slave to his time as a pioneering black graduate from Columbia University, his superstardom as an actor and his struggles with the McCarthy witchhunts – he was so much more.

eddie

The Gap Minder




Posts

: 7840


Join date

: 2011-04-11


Age

: 62


Location

: Desert Island




eddie

The Gap Minder




Posts

: 7840


Join date

: 2011-04-11


Age

: 62


Location

: Desert Island



Life- Keith Richards.

eddie

The Gap Minder




Posts

: 7840


Join date

: 2011-04-11


Age

: 62


Location

: Desert Island



The extraordinary story of Vivian Stanshall, lead singer of the Bonzo Dog Doo-Dah Band, true British eccentric.
Charismatic and flamboyant, Vivian Stanshall was a natural frontman for The Bonzo Dog Doo Dah Band. The eccentric group who satirised trad jazz, pop and rock, reached Number five with 'I'm The Urban Spaceman' in 1968. A punishing schedule of tours and television followed, including work with the future Monty Python team. The following year, broke and burned out, the Bonzos split up, leaving behind a loyal cult following.
Vivian launched into myriad solo projects in music, film and theatre, giving himself several nervous breakdowns in the process. His comic masterpiece, 'Sir Henry at Rawlinson End', was heard in radio, on an album, and then hit the big screen. Vivian wrote the musical 'Stinkfoot', was narrator on 'Tubular Bells' and provided lyrics for Steve Winwood. In person, he was just as multi-faceted, by turns the erudite artist and the truculent Teddy Boy, breathtakingly rude. A powerful figure, tall, red-haired and never less than extravagant in his fashion, Vivian Stanshall was a hell-raiser of legendary reputation – ably assisted through much of the 1970s by Who drummer Keith Moon. Vivian drove the many who loved him to the limit, struggling with terrible tranquilliser and alcohol dependency. He died at home in a house fire in 1995. The story of his turbulent life is utterly compelling.

eddie

The Gap Minder




Posts

: 7840


Join date

: 2011-04-11


Age

: 62


Location

: Desert Island




hal. jones




Posts

: 35


Join date

: 2011-05-31



originally sub-titled 'The Meaning of the Blues

felix

cool cat - mrkgnao!




Posts

: 831


Join date

: 2011-04-11


Location

: see the chicken?





Similar topics
---
Permissions in this forum:
You
cannot
reply to topics in this forum