SkyNews:

A small experimental theatre in London has beaten Hollywood to produce the first artistic interpretation of the explosive News of the World hacking scandal using the hacked voicemails of volunteers.

Theatre503 in Battersea, south London, invited six members of the public to surrender their voicemails for its new show, "Hacked", a quick-fire response to the controversy that precipitated the downfall of the 168-year-old tabloid.

The scandal came to a head in July when it emerged that an investigator working for the Rupert Murdoch-owned paper had hacked the voicemail of missing schoolgirl Milly Dowler, who was later found murdered.

The theatre, known for promoting up-and-coming writers, wanted to spark a debate about privacy, said Lisa Cagnacci, one of the production's curators.

"We weren't interested in doing a verbatim production, we were more interested in how society has lost its sense of what should be public and what should be private," Cagnacci said.

"Hacked" is the brainchild of The Daily Telegraph newspaper's deputy theatre critic Dominic Cavendish.

This is not the first time Cavendish has worked with the theatre. In 2010, he created "Coalition", exploring the Conservative-Liberal Democrat governing coalition and "Decade", a retrospective of the past ten years.

Several nights of the show's first run sold out. In fact, the concept proved so popular that the theatre hopes to bring it back, using the same format but recruiting new volunteers.

According to co-curator Derek Bond, audience members compared the play to looking through somebody's diary. "Some people looked a little uncomfortable at times, but I think that?s entirely appropriate," Bond admitted.

Cagnacci and Bond were responsible for hacking into the volunteers? voicemails and used similar methods to those thought to have been employed by the News of the World hackers -- only this time with the permission and pin numbers of those involved.

"We found it so wrong to be listening into somebody else?s messages, but we got totally mesmerised by it," Cagnacci confessed.

They handed each inbox over to a playwright. The result was six short plays inspired by everything from the spurned advances of a would-be boyfriend to the humdrum minutiae of daily life documented in the messages.

For some, such special access was irresistible.

"What writer isn?t intrigued by the idea of listening to someone?s voicemails?" said Dawn King, one of the contributing playwrights. "Writers are just nosy, so it was really fun."

The plays in "Hacked" ranged from an attempt to recreate a volunteer's life to an imaginative take on a single detail from a message. Some dealt directly with the scandal while others chose to address the issue through a human tale.

Playwright Anna Jordan was concerned she had jeopardised the privacy not of the volunteers, but of those leaving messages.

She based her play, "Showmance", on the voicemails left by a man trying desperately to get in touch with the woman who had happily surrendered her phone.

"I didn't know whether she had told the guy who phoned her. I was concerned about him and I definitely felt for this guy," Jordan said.

One of the volunteers, who wished to remain anonymous, had similar worries.

"Obviously people who leave messages never expect them to be heard by anyone other than me. I did have to check it with one person.

"There was immediately a sense of panic -- they were desperately trying to think, ?Oh my god, what did I say?'"

Another volunteer was alarmed by how easily one voicemail could distort the image of the recipient.

"The real situation can become skewed from the odd message that gives a spike of interest in a moment when someone needed something from you with no context."

Bond said: "We're all glad that the content has definitely been striking to people." And he admitted that "everyone involved in the project definitely thinks twice before leaving a voicemail."

In September, News International, the British publishing arm of Murdoch's News Corp., reportedly offered Milly Dowler's family £2 million (2.3 million euros, $3.1 million) in compensation.


eddie

The Gap Minder




Posts

: 7840


Join date

: 2011-04-11


Age

: 62


Location

: Desert Island



Critics' Circle theatre awards: small is beautiful
The innovative work coming out of fringe venues such as the Finborough and Bush puts much commercial theatre to shame – but producers would be wise to pay attention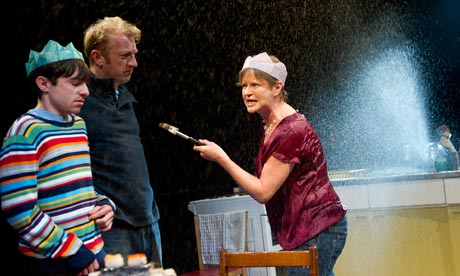 Tom Wells's The Kitchen Sink, produced by Tamara Harvey at the Bush theatre, won the Critics' Circle best new playwright award. Photograph: Tristram Kenton for the Guardian
I like the Critics' Circle drama awards, which took place earlier today, more than any other – and not just because I'm a critic. The ceremony is short, the voting democratic, the results sensible. Even though I am sorry that there is no recognition of Mike Bartlett's outstanding 13, the awards acknowledge real achievement: Richard Bean's One Man, Two Guvnors (best new play), Mike Leigh's Grief (best production), Benedict Cumberbatch and Sheridan Smith (best actor and actress for Frankenstein and Flare Path).
But it's the awards that look to the future that always intrigue me. I'm delighted that director Blanche McIntyre picked up a best newcomer award for her productions of Foxfinder and Accolade at the Finborough. The first of these was a dystopian fable by Dawn King about the danger of fundamentalist certainties: the latter was a 1950 Emlyn Williams West End play about the need for tolerance of sexual waywardness. Wildly dissimilar, both were brilliantly directed. McIntyre surrounded King's rural drama with a chilling aura of silence. And in the Williams play she caught exactly the sense that the 50s was, for many public figures, a period of double lives and double standards.
What saddens me is that two such fine productions disappeared so quickly after their allocated three-week run. Neil McPherson, who runs the Finborough, does amazing work on minimal resources. The turnover of new and old plays is so rapid that he can't be expected to keep reviving his old hits. But why, for pity's sake, did no other producer come along and offer Foxfinder and Accolade an extended life? I'm told that Nick Hytner has been spotted at the Finborough, but I wonder whether most commercial producers have the foggiest idea where the theatre is or that McPherson is consistently offering work of a calibre that puts their own drearily unimaginative fare to shame.
In a good year for small theatres, the best new playwright award went to Tom Wells for The Kitchen Sink, which played at the new Bush as recently as December. I was possibly a bit grudging in my praise for this play, which did something rare in modern drama – offered a celebration of working-class family life without lapsing into condescension or sentimentality. It also (and this is even rarer) showed the parents accepting that their son was gay as a fact of life rather than a trauma-inducing issue. Although I hope Wells's play quickly gets revived on the regional circuit, Tamara Harvey's production deserved a longer life.
One problem is that, apart from Trafalgar Studios 2 and the Arts, it is hard to think of any West End theatres suited to transfers from the fringe. But, at the moment, a lot of good work is going down the plughole after an all-too-brief exposure. If today's Critics' Circle awards achieve anything, I hope it will be to alert producers to the fact that venues like the Finborough and the Bush are consistently punching above their weight, and coming up with work that cries out for a longer life.

eddie

The Gap Minder




Posts

: 7840


Join date

: 2011-04-11


Age

: 62


Location

: Desert Island





Similar topics
---
Permissions in this forum:
You
cannot
reply to topics in this forum