Stella Gibbons: Cold Comfort Farm was just the beginning
As welcome new editions of Stella Gibbons's lesser known novels are published, Rachel Cooke celebrates an author whose incisive wit extended far beyond the confines of Cold Comfort Farm
Rachel Cooke The Observer, Sunday 7 August 2011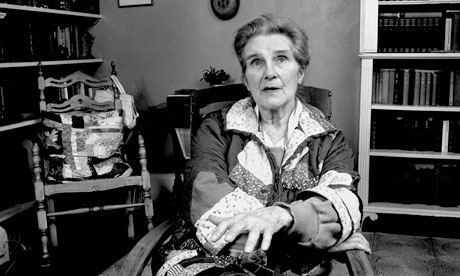 Stella Gibbons at home in 1988: 'She was a sworn enemy of the flatulent, the pompous and the excessively sentimental.' Photograph: John Hedgecoe/ TopFoto
In 1930 a young journalist called Stella Gibbons started a new job on the Lady, "the magazine for gentlewomen", where she applied her versatility as a writer to every subject under the sun, bar cookery, which was the province of a certain Mrs Peel. Soon after her arrival, however, Gibbons also began work on another, more exciting project, a novel – her "masterpiece", she jokingly called it – which she planned to write in spare moments, in a little room at the end of a passage in the Lady's Covent Garden offices. The book was to be a take-off of the "loam and love child" novels then so popular: novels such as Mary Webb's Precious Bane and Sheila Kaye-Smith's Sussex Gorse, in which earthy and primitive types, gloomy happenings and archaic rural landscapes are depicted in prose so overwrought that to call it purple would be a wild understatement ("the kind of story in which peasants have babies in cowsheds and push each other down wells", as Punch put it). She intended to call it Cold Comfort Farm.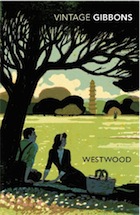 Westwood (Vintage Classics) by Stella Gibbons
Gibbons believed she might have a hit on her hands early on: the girls who typed her manuscript laughed out loud at it, and when it was published in September 1932 so it proved. Everyone adored it, even if one critic was convinced that Stella Gibbons was a pseudonym for Evelyn Waugh. The following year the novel even won the Prix Étranger of the Prix Femina-Vie heureuse, a surprising literary award for a comic novel, and one that infuriated Virginia Woolf ("I was enraged to see they gave the £40 to Gibbons," Woolf wrote to Elizabeth Bowen. "Still, now you and Rosamond [Lehmann] can join in blaming her. Who is she? What is this book?").
Woolf was – not for the first time – quite wrong. Of the winners of the Prix Étranger from this interwar period, only two are remembered in 2011 – the other is her own To the Lighthouse – and only one, Cold Comfort Farm, can claim to have introduced a phrase to our everyday language: when people talk of having seen "something nasty in the woodshed", they're referencing, whether they know it or not, the Starkadder family's presiding recluse, Aunt Ada Doom, who was driven mad by just such a vision as a child. As expressions go, I personally find this one exceedingly useful.
But Gibbons herself came, if not to despise Cold Comfort Farm and its heroine, Flora Poste – the orphaned, destitute but distinctly calm young woman who must apply her common sense to the problems of the various Starkadders one by one – then certainly to resent it. The trouble was that the book's extravagant hilarity (it's worth reading for Gibbons's cherishable country vocabulary alone; among the more unforgettable words she invented are "hoot piece", "mollocking" and "cletter") seemed to take over. No one ever remembered that she'd written anything else. By the time of her death in 1989, Cold Comfort Farm was enjoying a stint as an A-level set text, but most of her other novels were out of print.
Other novels? Yes. Amazingly, Gibbons wrote 32 books in the course of her career, and the good news is that between now and November, Vintage Classics will be bringing 14 of them back into print with new introductions by, among others, Lynne Truss and Alexander McCall Smith. How did this come to pass? Serendipity, and a certain amount of passion. Laura Hassan, the editorial director of Vintage Classics, happened to mention to a bookseller of her acquaintance that Cold Comfort Farm had always been her favourite read: a book that could cheer her up, no matter what her mood. The bookseller, Nic Bottomley of Mr B's Emporium of Reading Delights in Bath, asked her if she knew Gibbons's other novels. No, she did not. But she would investigate.
Hassan duly ordered a secondhand copy of Christmas at Cold Comfort Farm, a collection of short stories that takes the reader back to the riotous world of the Starkadders (she got lucky: secondhand editions change hands on AbeBooks for up to £3,000). And then she kept on reading: Westwood, Starlight, Conference at Cold Comfort Farm. She found these forgotten novels deliciously funny and wise, and began to think it rather unjust that Gibbons's reputation rested on one book. So she decided to attempt to put this right: she would republish them, with pretty new covers and jacket quotes from famous fans ("Most of us wish we knew a real Flora Poste who could put straight our pretzeled lives," says Julie Burchill, on the cover of Conference at Cold Comfort Farm). "We think that in a time of recession and austerity the chipper morale of these books is particularly attractive," says Hassan.
Chipper is the word: Gibbons's heroines are plucky, determined and quietly hedonistic. But she can do melancholy with the best of them, too, not to mention melodrama (according to her biographer, Reggie Oliver, as a girl she loved the sensational novels of Rhoda Broughton, and the Girl's Friend, "a paper for kitchen maids").
Do not, however, make the mistake of thinking her cosy. Gibbons was a sworn enemy of the flatulent, the pompous and the excessively sentimental, and long after she ceased writing herself, she kept a commonplace book by her bed in which she recorded the literary crimes of others. In her lifetime, moreover, her fans included the very-far-from-cosy theatre critic Kenneth Tynan (it was his ambition to out Cold Comfort Farm on the stage), Barry Humphries (aka Dame Edna Everage) and Noël Coward. In Westwood there is a character called Gerald Challis – a playwright whose self-regard could not be more painfully swollen if it contracted mumps – whom Gibbons based on a now largely forgotten writer, Charles Morgan. Morgan had made the mistake of once having argued that writers, even Shakespeare, did not require a sense of humour; Gibbons responded by making him the butt of all her best jokes.
Ah, Westwood. If you have yet to sort your holiday reading, this is the one I would pack. Starlight, the tale of two impoverished sisters whose lives are thrown into turmoil by a landlord who installs his ailing and possibly possessed wife in part of their London cottage, is delightful and strange. Conference at Cold Comfort Farm, meanwhile, finds Flora back at the Starkadders, whose farm, transformed into a twee haven of toby jugs and embroidered samplers, is hosting a conference of the rum International Thinkers' Group, whose delegates like to go into trances and bathe in the duck pond. (Gibbons had no truck with faddy new ideas – even Freud, the archpriest of "poking about", was suspect to her; no wonder she never said what it was that Aunt Ada actually saw in the woodshed.) But it is Westwood that captures the heart, right from its opening pages ("If Cold Comfort Farm is Stella Gibbons'ss Pride and Prejudice, then Westwood is her Persuasion," says Lynne Truss, in her introduction).
The novel tells the story of Margaret Steggles, a plain, bookish girl who finds a ration book on Hampstead Heath, a discovery that brings the dreaded Gerald Challis, his glamorous wife, Seraphina, and his spoilt daughter, Hebe, into her life. In some ways it is rather a strange book: Margaret, so stuffy and sometimes so snobby, is not always lovable, and Gibbons is straightforward, even brutal, about the marriage prospects of someone with her looks; there is also an episode involving a disabled child that modern readers will find jarring. But it contains two fantastic character studies: the self-absorbed and misogynistic Gerald, and Margaret's friend Hilda, a girl who can enjoy herself under pretty much any circumstances.
I like it, though, as much for its setting as anything else. Westwood was published in 1946, and the story takes place in London just after the Blitz; the war is not over, the blackout not yet abandoned, but the worst of the bombing is done and the city is grown hauntingly beautiful: ducks living on the pools built by firefighters; pink willow herb growing over the uneven ground where houses had stood. It is "sombre and thrilling, as if History were working visibly, before one's eyes". In fact, as an account of what it was like to be an ordinary young woman in wartime London – no stockings, no chocolate, no men – it can hardly be bettered. How did it, I wonder, evade fresh new soft covers for so long?
guardian.co.uk © Guardian News and Media Limited 2011

eddie

The Gap Minder




Posts

: 7840


Join date

: 2011-04-11


Age

: 62


Location

: Desert Island



Christmas at Cold Comfort Farm by Stella Gibbons – review
This welcome collection of short stories includes the return of the Starkadders
Nicholas Lezard
guardian.co.uk, Tuesday 29 November 2011 09.00 GMT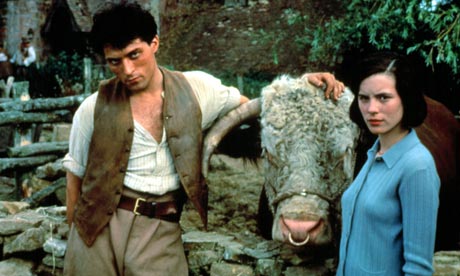 Down on the farm … Seth Starkadder (Rufus Sewell) and Flora Poste (Kate Beckinsale) in the BBC TV production of Cold Comfort Farm, 1995. Photograph: Everett Collection/Rex Features
To be honest, I only picked this book up out of a mixture of curiosity and charity. Everyone loves Cold Comfort Farm, and with very good reason, but even if they know that Stella Gibbons wrote about 30 other novels and umpteen short stories, they don't read them. So although a book with a spin-off CCF story comprising 17 of its 298 pages may look as though it is exploiting a reputation, we should at least honour the creator of the Starkadders.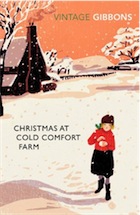 Christmas at Cold Comfort Farm
by Stella Gibbons
As it is, the Cold Comfort Farm story is very funny ("Amos, carve the bird. Ay, would it were a vulture, 'twere more fitting!"), but it certainly does stand out from the rest of the collection in terms of both subject matter (well, obviously) and approach.
The other 15 stories appeared in magazines such as the Lady, Good Housekeeping, and the Bystander. This comes as no surprise once you've read them. Recurring themes include: women who are about to leave their husbands but change their minds at the last minute; superficially dull men who turn out to be excellent choices of husband; and trendy modern people who are revealed to be vacuous twits when exposed to the unforgiving light of traditional values.
This does not make them sound very appealing, and it would be foolish to gloss over the fact that there is a very small-c conservative approach at work here. However, this is a perfectly legitimate artistic impulse and, more importantly, this is Stella Gibbons, and anyone capable of writing Cold Comfort Farm is not to be dismissed. She may not be doing the rural comedy routine, but there are still flashes of great comic writing, typically occurring when secondary characters are suffering moments of high exasperation. These include the friend of a woman in the grip of an inappropriate fancy who is obliged to act as a go-between: "the wretched Dorothy, who was, by now, on the edge of collapse and fathoms deep in frightful lies …"
And yet there is something else that makes these stories engrossing. There is, as Alexander McCall Smith says in his honest and informative introduction, the period detail. These are freshly exhumed ice-core samples from 1930s England, a time of uncertainty and unease. An ageing suffragette is interviewed by a sleek, wealthy young career woman as part of a cunning advertising campaign. "'It's sort of an indirect appeal to the shopping public. We want to persuade them to feel they're lucky to be alive in 1938.' Jenny said this with cool assurance, but as she thought of the headlines in the papers that morning she had a feeling 'they' might be a little difficult to persuade." (The suffragette, incidentally, is one of the most sympathetically drawn characters in the book, out of a large field.)
But there is also the strong feeling that even though we are being taken back 70-odd years in time (there's no telly! People use libraries as a matter of daily routine!), we are still watching professional craft at work. You may have thought I was being condescending when I mentioned the Lady and Good Housekeeping, but when these publications wanted stories – and they had to have stories, because there was no telly, etc – they weren't going to print any old rubbish. The stories' twists and turns may have been foreseeable a mile off, and it wasn't as if you were going to light on a disciple of Kafka, but that was part of the point. This was entertainment according to a prescribed template, and one of the prescriptions was that the reader had to be entertained. You could do this by making her laugh or cry, or making her think that her restricted life wasn't perhaps so bad after all – but Gibbons jolly well knew what she was doing. (I also consider the 30s a golden age for popular fiction.)
I stopped reading this collection with a social historian's eye pretty quickly, and started reading it for sheer pleasure instead. And some of the dilemmas her characters face are, once you go beyond the superficial details, timeless indeed.

eddie

The Gap Minder




Posts

: 7840


Join date

: 2011-04-11


Age

: 62


Location

: Desert Island





Similar topics
---
Permissions in this forum:
You
cannot
reply to topics in this forum