The Pursuit of Italy: A History of a Land, its Regions and their Peoples by David Gilmour – review
This provocative history of Italy suggests its citizens might have been better off if the country hadn't unified
Jerry Brotton The Observer, Sunday 31 July 2011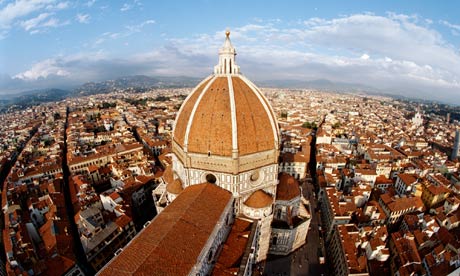 Florence: 'unable to subsist on local produce for more than five months a year'. Photograph: Getty Images
Italy, Napoleon once complained, is far too long. Even as the peninsula strove for unity in the 19th century, Goethe described it as "the shadow of a nation", and many Italians found themselves in surprising agreement. The late 19th-century statesman Giustino Fortunato declared that "the unification of Italy was a sin against history and geography", while one of his contemporaries warned that "the head and the tail will never touch each other, but if they are made to do so, the head will bite the tail".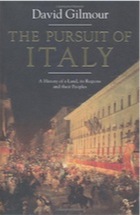 The Pursuit of Italy: A History of a Land, its Regions and their Peoples by David Gilmour
Heading off in pursuit of Italy, David Gilmour finds instead a land and people defined enduringly by campanilismo (literally, the municipal bell tower) – a communal loyalty – and with little interest in nationalism except when "forced or cajoled". From the outset, Gilmour wonders if the Risorgimento, the national unification of Italy under Garibaldi, Camillo Cavour and King Victor Emmanuel III, was successful, or even necessary. As the country's current woes deepen, Gilmour longs for a land divided into small states, with regions such as Venice emulating relatively new European states like the Netherlands (although not, presumably, the former Yugoslavia).
It is a provocative and at times puzzling argument that takes Gilmour right back to the peninsula's prehistory and the myth of Hercules rescuing a bull calf. In a tour de force opening, Gilmour provides a wonderful survey of the region's limitations. Uniquely positioned to invite invasion, Italy has few rewards from its limited and unpredictable Mediterranean fishing industry. Its mountains (which "many Italians detest") and rivers have tended to impede rather than encourage trade and urban development. Even at its height, Florence was unable to subsist on local produce for more than five months a year. Gilmour is at pains to dismiss the bucolic myth of the land of Capri and chianti, gondolas and gorgonzola. The Italy we want to imagine bears little relation to reality.
Gilmour is incapable of writing a bad sentence and The Pursuit of Italy certainly offers a fluent and readable history. At every turn, the belief in a unified Italy is shown to be a mirage. When Cicero spoke of "the whole of Italy", his allegiance was really to Rome and his home in Arpinum. The great medieval communes had no concept of a nation, and are idealised somewhat by Gilmour as places where life was truly communal, with little "barrier between public and private lives". There is a sparkling account of the Venetian Republic and its tragic surrender first to Napoleon, then the "aberration" of its incorporation into greater Italy. But Gilmour expends most of his ire on the chaotic, disorganised period of intense realpolitik that led to the creation of the Kingdom of Italy in 1861 and which set the scene for the rise of fascism and the country's weak and corrupt postwar governments.
Gilmour insists that the Risorgimento was never inspired by a popular desire for national unity. Myth after myth is stripped away: Verdi was no real nationalist, his music carrying "a whiff of the fairground"; Cavour was indifferent to "what was happening in the peninsula beyond Piedmont"; King Victor Emmanuel believed the Italians were unfit for parliamentary government and understood only rule "by bayonets and bribery". Only Giuseppe Garibaldi escapes revisionism.
Nevertheless, behind Gilmour's argument lie some peculiar assumptions about nationalism. He argues that the Italian nation never existed before the 19th century, and even then it was imposed on its subjects for all the wrong reasons. But all modern nation states lay claim to their antique roots, and their popular support is always questionable. Is Italy really any different?
Gilmour has no time for Marxist explanations of the pitfalls of nationalism, but he somewhat oddly ends up endorsing a similarly old-fashioned celebration of the local and the parochial. Perhaps the book responds to a deeper disquiet with the limitations of the European nation state, at a time when multinational globalisation seems to be all the rage, but this is a long way from Gilmour's beloved campanilismo.

eddie

The Gap Minder




Posts

: 7840


Join date

: 2011-04-11


Age

: 62


Location

: Desert Island



Beautiful Art
Beautiful women.
Corrupt politicians.

eddie

The Gap Minder




Posts

: 7840


Join date

: 2011-04-11


Age

: 62


Location

: Desert Island



eddie I have never been to Italy so I can't really give you a accurate personal impression without speculation.

I have however been to England, Wales, Germany, France, Scotland, Ireland and Holland and have found that architecturely, culturally and citizenry wise, basicly they were all the same. So I'm going to say my impression without actually going to Italy, (with the exception of the food) is, it is probably just like the rest of those countries...very EURO.

Old Mack




Posts

: 770


Join date

: 2011-05-03


Location

: Highway 61



Il Duce and His Women by Roberto Olla – review
Sex was at the centre of the Italian dictator's image
Ian Thomson
guardian.co.uk, Friday 13 January 2012 22.55 GMT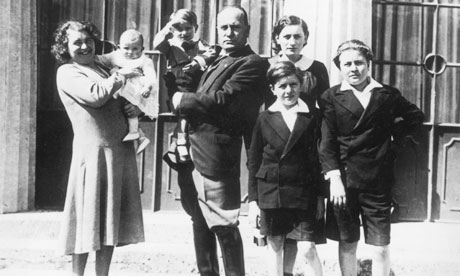 'Bull-like magentism' … Benito Mussolini with his wife and family in the 1930s. Photograph: Hulton Getty
In 1919 Benito Mussolini, an obscure political agitator, assembled a ragbag of black-shirted followers in Milan, and launched the political movement that was to become, two years later, the National Fascist party. The party took its name from the classical Roman symbol of authority – an axe bound in rods, or fasces. Part idealist, part buffoon, Mussolini dreamed of a second Roman empire for Italy, and dominion over the Mediterranean. Occasionally he liked to wear a richly tasselled fez and would pose for the cameras, thrusting out his chin pugnaciously. He introduced the stiff-armed Roman salute, disapproving of the handshake as fey and unhygienic. As Mussolini's regime strengthened, the high priests of fascism began to hail their leader as "divine Caesar", and adopted the passo romano, the Latin goosestep, in parades. Behind the bombast, however, Italian fascism relied on bludgeons, intimidation and, according to Roberto Olla, Mussolini's vainglorious sexual antics and boastfulness.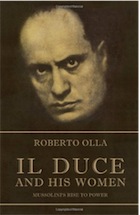 Il Duce and His Women: Mussolini's Rise to Power
by Roberto Olla, translated by Stephen Parkin
Olla, an Italian writer and TV journalist, provides an absorbing account of Mussolini's self-proclaimed manful potency and "animal allure". In the course of his life, he had relations with hundreds of women, perhaps "as many as 400". The women were brusquely mauled by him under his desk or on mattress-like cushions installed for the purpose. Towards the end of his 23-year-dicatorship, facing defeat, he became addicted to a German-manufactured aphrodisiac pill trade-marked Hormovin. Taking this prototype Viagra was a "political act", says Olla, as it served to prolong the myth of the Duce as one who never flagged. Undeniably, sex was at the centre of the myth of Mussolini and his image as a man of power. Yet Mussolini's sexuality has been "ignored" by historians as being unworthy of study. In Il Duce and His Women, Olla remedies the deficiency, and gives us a portrait of Mussolini in all his priapic foolery – and occasional daring.
Mussolini's most notorious mistress, Claretta Petacci, saw a "god-like potency" and "bull-like" magnetism in her idol. A doctor's daughter, she began to court Mussolini in 1932 and before long, bouts of "savage, ardent sex" routinely occurred in his headquarters at Palazzo Venezia in Rome. Mussolini was by then married with five children, yet the more women he had, the more he felt puffed out with a sense of his own rank and self-importance. Petacci's diaries, first published in Italy in 2009 as Mussolini segreto ("Secret Mussolini"), are amply quoted by Olla. In spite of her adoring pillow talk ("Anchor yourself in me, my great and glorious ship"), Petacci has much to say about Mussolini's inner life, personality and politics. He forbade his daughter from marrying a Jew, yet one of his mistresses, Margherita Sarfatti, was Jewish. Sarfatti, a rather "overlooked character", according to Olla, exerted a stronger influence on the dictator than is generally realised.
She first met Mussolini in 1912, and was one of the masterminds behind fascism's pompous celebration of ancient Rome. The eagle motifs and suckling she-wolves visible today on fascist architecture in Italy are partly Sarfatti's legacy. Her bestselling 1926 biography of Mussolini, Dux, exalted the leader as a sacred manifestation of romanità ("Romanness") and the noble Italian race. Yet her name was dirt once Mussolini had committed Italy to Nazi Germany's antisemitic cause. A racial dogma that glorified blond northerners of course conflicted somewhat with the Mediterranean cult of romanità. Yet a latent tension had always existed between fascism and Italian Jews. Zionists, in particular, were seen by Mussolini as a self-regarding, supranational sect inimical to the sturdy Blackshirt. "They should mind their own business," Mussolini told Petacci while sunbathing with her one day in Rome. "They are carogne [carrion], cowards." While Sarfatti managed to escape Nazi-occupied Italy, her sister Nella and her husband died on a transport bound for Auschwitz.
To Petacci, Hitler was unappealingly furtive and rat-like beside her grandly uniformed Dux, whose smouldering, lantern-jawed features were said to radiate a sense of physical daring – ardimento – and the very masculine fascist soul. Other women were no less impressed. Ida Dalser went so far as to sell her beauty salon in order to raise funds for Mussolini. In time, she became the mother of Mussolini's first-born son and, it seems, married the dictator. Years later, after Mussolini had cynically discarded her, Dalser accused him of cowardice and dereliction of duty. Enraged, Mussolini confined Dalser to a mental home, where, shortly before Christmas 1937, she died.
Olla's biography ends that momentous year of 1937, when Mussolini paid his disastrous official visit to Nazi Germany. Having invaded Abyssinia (now Ethiopia) two years earlier, the dictator decided to hitch his carnival chariot to Hitler's funeral hearse, and a last chance for peace in Europe was lost. Olla has read widely into the cult of ducismo, and writes illuminatingly of his subject. Ultimately, his psycho-sexual study asserts the dangers of blind adherence to ideology. In April 1945, with Italy's defeat now certain, Mussolini was executed by anti-fascists and his body strung up alongside that of the starry-eyed Claretta Petacci in Milan, not far from the site where, 26 years earlier, the fascist movement had been launched.
• Ian Thomson's Primo Levi: A Biography is published by Vintage.

eddie

The Gap Minder




Posts

: 7840


Join date

: 2011-04-11


Age

: 62


Location

: Desert Island





Similar topics
---
Permissions in this forum:
You
cannot
reply to topics in this forum