Antisemtic, race baiter, shake down artist, perpetuator of a false racial hoax / slander, dead beat, tax cheat and Candidate Barack Obama advisor !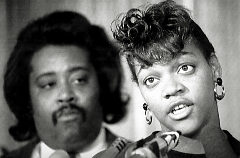 Old Mack




Posts

: 770


Join date

: 2011-05-03


Location

: Highway 61



Old Mack wrote:
What's the sidedish there?

Lee Van Queef




Posts

: 511


Join date

: 2011-04-15



Clarence LeRoy, somebody had to say something, to brake the tension, if you know what I mean !
Anyhow ya got me what that is...but judging by the rest of the food on the table, I'd guess it's some kinda 'collar greens' dish.
Here's a story I heard on TV told by some talk show old black guy, I'd like to share !
President Obama had a big fund raiser in this real big hall. All night long every body kept going over to the farest table, all the away in the corner. It was the worse table in the hall, I mean it was right by the mens room and the kitchen door to. Finally President Obama told his aide to go over and see who is so important over there, to cause everyone to keep going to his table.
The aide walks over and comes back a minute later and says...'Mr President, it's a guy with a bottle of hot sauce.'
You Englanders mighta lost something in the translation and if you did, trust me thats really a funny joke.
Croped from that picture:

Old Mack




Posts

: 770


Join date

: 2011-05-03


Location

: Highway 61




---
Permissions in this forum:
You
cannot
reply to topics in this forum