... coming up next--if anyone else wants to start, be my guest.
After all, he had it made in the late forties and in the 1950s, playing with and composing and arranging music for the likes of Woody Herman and Shorty Rogers (note the links to Paul Nero).

Here's a big hit he wrote for Woody Herman:


And 35 years later--long after his prospects had collapsed--he showed he still had it.

He even got the old gang back together again:

SHORTY ROGERS(Flugelhorn)

BUD SHANK(AltoSax)

JIMMY GIUFFRE(TenorSax)

BOB COOPER(TenorSax)

BILL PERKINS(BarytoneSax)

PETE JOLLY(Piano)
MONTY BUDWIG(Bass)

SHELLY MANNE(Drums)

Japan, 2 September 1983:


Moreover, in 1984 he recorded what
Uzi*
--no less--once called "the last recorded jazz record of any kind:"
* It should be noted that Hosni subsequently called Uzi an "ass" for making that statement.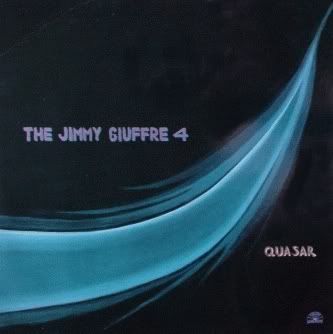 Last edited by pinhedz on Tue Jul 05, 2011 12:33 am; edited 1 time in total
So what was the fateful event which, in 1962, brought about the great sax man's fall from such dizzying heights?


I think the way it happened was this: In 1961 Jimmie formed a trio with pianist Paul Bley (who married Carla Bley for awhile) and bassist Steve Swallow.
They put out this record in 1962, and after that they couldn't get work anywhere for years:
He never compromised--did I mention that?
A few years before the free fall, Jimmie was already extremely cool:


In case it went unnoticed on that other thread, starting at 3:45 here McDuck goes into total free-fall mode.
Before the fall-but the film is so old it's historical:


---
Permissions in this forum:
You
cannot
reply to topics in this forum