This dates from May 2009 (inspired by a squabble underway at the other place):
Pinhedz
There's a discussion of British humour vs American humor underway elsewhere, but I don't think it's made it to the heart of the matter. There's some confused discussion about who's got dry wit vs who's got a cringe-inducing fixation on body parts and bodily functions.
But for me there's a different issue: I've noticed that the British seem to be intent on puncturing pomposity (ironic as that might seem). The effort to puncture pomposity can be both tenacious and downright nasty.
It makes me wonder: do the British consider cruelty to be more acceptable than pomposity? Sometimes the meanness seems almost sociopathic, calling to mind the abused child that grows up to be a child-abuser.
Twood
pinhedz wrote:Sometimes the meanness seems almost sociopathic, calling to mind the abused child that grows up to be a child-abuser.
... You've lost me!

Pinhedz
Yeah, maybe that was a little over the top.
Uzi
pinhedz wrote: But for me there's a different issue: I've noticed that the British seem to be intent on puncturing pomposity (ironic as that might seem)
One of my avatars made this same point in that thread. I am just typing in the wind?
To quote my wonderful self:
"The British like to think their humoure superior just because it is more cruel, cynical, depressing etc. For instance, the cherished Britcoms all seem to revolve around some self-important moron who doesn't realize what a dipshit he is...for the British, this time-honoured premise represents the height of comic brilliance and scathing social commentary, though I might posit that a more humanistic humoure (if done right) is harder to pull off (see Billy Wilder)."
And I know what you mean about British cruelty, the British have many social graces, yet insulting others is an enshrined part of their culture (ideally it should be a witty put-down, bonus points for incorporating a pun).
twood can't see the woods for the trees, because he never really came to terms with the traumatic initiation rituals he was forced to undergo at the exclusive Pigglesby Academy for Foppish Boys, which was also attended by Sir Dennis Eaton-Hogg and Michael York, OBE.
Pinhedz
Uzi wrote:I am just typing in the wind?
I actually took notice, but it didn't seem to be getting any traction, so I thought I'd try it over here.
Twood
Okay, so what's the question again?!

Is british humour cruel? Often yes. Do lots of British people think that the Brits are the funniest people on the planet and that no-one else (especially americans) get their ironic wit? Yes, that is also often the case.
I think it's funny that there is a thread comparing british and american humour, I mean, there is a hellova lot of countries out there, yet two of the most similar are compared.
Plus, I think the worst way to compare humours is by discussing the countries' most famous comedies. I just judge nations generally on the ones that I have met.... I would say scandanavians are up there. Thai people are pretty funny too. South Africans have the driest, too dry IMO. Americans are so so.... ( a bit simple, but often affective).
I just re-read that, doesnt make much sense. I have a headache, bye.
I forgot Germans. Germans over 30 have little to no sense of humour... those under 30 are crazy nutters in a very funny way.
Of course, this is all in my opinion.
Pinhedz
Twood wrote:I have a headache, by
I hope it wasn't something I said.
Twood himself seems free of the syndrome we're talking about. It might be class-related, I'm not sure--the upper crust perhaps can afford to be mellow, while the lower has little to loose--but that's a gross oversimplification, as twood proves by his own example.
I think there are two reasons for the frequent comparison between English humour and American Humor:
-- Our two countries are often said to be divided by a common language (who said that? Churchill?)
-- The English often make the observation that American don't get their humour, or that Americans have no sense of humour (Peter Ustinov said that only the English do this).
I think that Americans often don't pick up certain nuances in print, i.e., they need a "just kidding" indicator (maybe just the pre-im generation needs this). It's one thing to watch John Cleese being funny--but would we get it if he was posting here?
The famous ER poster Welshbastard thought he was being a lovable curmudgeon, but he infuriated dozens of people, mostly Americans, who might have liked him just fine if only they'd been sitting in a pub with a pint.
Twood
Ha, no nothing you said. Just a few too many beers.
In reality, I have never in my life heard someone say that Americans don't get British humour. I have def heard people say that "americans just don't get irony", but I've only heard that on tv, Ive never heard a normal person make such a comment. On the other hand, I do hear people say that Americans are thick. That gets said all of the time... but all nations say that, thats certainly not just a British trait.
As for Americans not picking up certain nuances in print, I can't tell if that's an excuse for them not being funny or not. Picking up certain nuances in print takes a fair amout of message forum experience, no matter what country a person is from. It took me years... But that also depends on a persons state of mind. I was on ER to get info on Bob Dylan, not to have jokes with complete strangers.
Also, I'd just like to add, when I come to think of it, I don't think I've met a properly stupid American before. Of course, Im guessing that most stupid americans aren't into the travelling too much.

Pinhedz
Twood wrote:I don't think I've met a properly stupid American before.
So I'm the first?

Twood
haha... Well, if you count 'meeting' people on the internet, then I guess I have come across a fair few... certainly not you though.

Pinhedz
Twood wrote:In reality, I have never in my life heard someone say that Americans don't get British humour.
You might have a point there; Welshbastard used to just chid the yanks for having "no sense of humour."
The statement that Americans "don't get British humor" is a variation which--now that I think about it--usually comes from Americans, not Brits.
Uzi
I was making gross oversimplifications for the purposes of internet discussion. There are many un-depressing Britcoms such as that one in which Dame Judi Dench is always arguing, albeit in a lovable way with that old guy from Tomorrow Never Dies. That one is charming and delightful.
Americans are thick
I'd suggest that someone who makes such a generalized statement about a 4 million square mile country separated into 50 semi-autonomous states with over 300 million people is actually the thick one.
[no access to page 2]
John Terry stripped of England captaincy by FA ahead of racism trial
• Chelsea defender informed of FA decision this morning
• 'He will not captain the team until the allegations are resolved'
guardian.co.uk, Friday 3 February 2012 13.16 GMT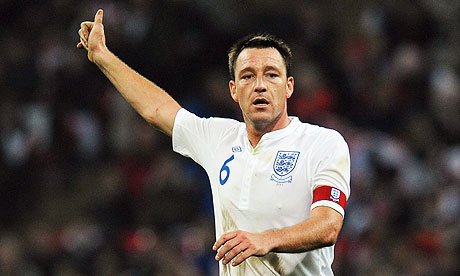 John Terry wears the captain's armband while playing for England against Sweden in a friendly last November. Photograph: Andy Rain/EPA
John Terry has been stripped of the England captaincy by the Football Association's chairman, David Bernstein. The defender was informed of the decision by Bernstein in a phone call on Friday morning. It is the second time that he has lost the captaincy for off-the-pitch reasons.
"Following the decision to adjourn the court case against John Terry to July, the Football Association confirm he will not captain the England team until the allegations against him are resolved," the FA said in a statement.
"The FA board expected the trial to be concluded prior to the European Championships. Further to Wednesday's confirmation that the trial will not take place until after the tournament, the board has discussed the matter in detail and has collectively decided it is in the interests of all parties that John has the responsibilities of captaincy removed at this time.
"This decision has been taken due to the higher profile nature of the England captaincy, on and off the pitch, and the additional demands and requirements expected of the captain leading into and during a tournament.
"The FA board can confirm that he has not been excluded from the squad and that [the England manager] Fabio Capello is free to select him for the Holland [friendly] fixture on 29 February and the European Championships.
"FA chairman David Bernstein has spoken to both John Terry and Fabio Capello to explain the facts to them. Fabio Capello has not been involved in The FA board discussions which reached this conclusion, but understands that The FA board has authority to make this decision. Fabio Capello will take the decision as to who will be made captain moving forward.
"This decision in no way infers any suggestion of guilt in relation to the charge made against John Terry. The FA will be not be making any further comment on this matter."
The decision was made by Bernstein after discussion with the other members of the FA's 14-strong board on Thursday. Terry himself is not expected to responded to the news immediately.
It was announced on Wednesday that Terry's trial for racially abusing the Queens Park Rangers defender Anton Ferdinand during a Premier League game played last October had been scheduled for 9 July. This left the Chelsea centre-back free to represent and possibly captain his country at Euro 2012, which ends a week earlier.
But anti-racism campaigners were among those who insisted that a footballer should not lead his country while facing charges of such magnitude. "The seriousness of the allegations mean that he can't lead the nation," said Piara Powar, executive director of Football Against Racism in Europe. "The FA must do the right thing."
Capello is out of the country and due to return to watch a Premier League game on Saturday. He had selected Terry for the matches against Spain and Sweden last November despite the allegations, after consulting senior figures at the FA including Bernstein. "We need to wait what will happen about the FA investigation and the police investigation, but I can tell you he is innocent until proven guilty," the Italian said at the time. "This is a really important thing for me and the FA."
Shortly after the news of Terry's enforced demotion broke Arsène Wenger insisted that the manager should have the final say over the identity of his captain. "I don't know well this case, I just think it's the manager who names the captain," the Arsenal manager said. "It is a very difficult position [for Fabio Capello] to be in but the manager has some responsibilities that should be left to him."
Terry has consistently denied racially abusing Ferdinand. "I will fight tooth and nail to prove my innocence," he said when the criminal charge was announced in December. "I have campaigned against racism and believe there is no place for it in society." Terry's barrister on Wednesday entered a formal not guilty plea at Westminster magistrates court.
It is the second time that Terry has been stripped of the England captaincy, the previous occasion coming in 2010 after intense speculation about the player's private life.
Sports minister Hugh Robertson backed the FA's decision saying it would have been "impossible" for Terry, who will miss Chelsea's Barclays Premier League game against Manchester United on Sunday with the knee problem, to continue.
Robertson said: "I completely support the FA's decision. It would have been impossible for John Terry to have continued as captain with this charge over his head."

eddie

The Gap Minder




Posts

: 7840


Join date

: 2011-04-11


Age

: 61


Location

: Desert Island



---
Permissions in this forum:
You
cannot
reply to topics in this forum