Terry Pratchett starts process to take his own life
The fantasy writer Terry Pratchett says he has received consent forms requesting assisted suicide but has not yet signed them
Ben Dowell The Observer, Sunday 12 June 2011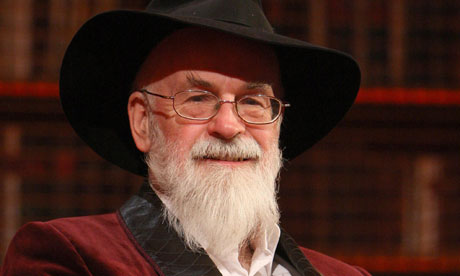 Sir Terry Pratchett was diagnosed with Alzheimer's disease in 2008. Photograph: Dominic Lipinski/PA
Sir Terry Pratchett, the fantasy writer who was diagnosed with Alzheimer's in 2008, said yesterday he had started the formal process that could lead to his own assisted suicide at the Dignitas clinic in Switzerland.
Pratchett, whose BBC2 film about the subject of assisted suicide is to be shown on BBC2 tomorrow, revealed he had been sent the consent forms requesting a suicide by the clinic and planned to sign them imminently.
"The only thing stopping me [signing them] is that I have made this film and I have a bloody book to finish," he said during a question-and-answer session following a screening at the Sheffield documentary festival Doc/Fest.
He said that he decided to start the process after making the film Terry Pratchett: Choosing to Die, which shows the moment of death of a motor neurone sufferer, millionaire hotel owner Peter Smedley.
Pratchett, the creator of the Discworld novels who was 60 when he was diagnosed, said his decision to start the formal process did not necessarily mean he was going to take his own life.
According to Dignitas, 70% of people who sign the forms do not go through with taking their own lives.
guardian.co.uk © Guardian News and Media Limited 2011

eddie

The Gap Minder




Posts

: 7840


Join date

: 2011-04-11


Age

: 62


Location

: Desert Island



A life in writing: Terry Pratchett
'I think there's time for at least a few more books yet'
Alison Flood
guardian.co.uk, Friday 14 October 2011 22.55 BST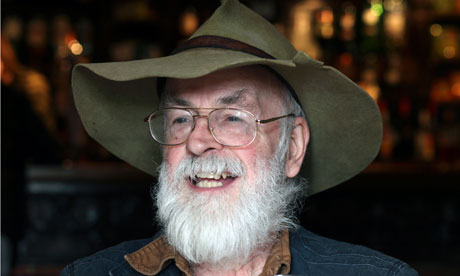 Terry Pratchett … AS Byatt is a fan, calling him 'a great storyteller, and splendidly inventive with the English language'. Photograph: Eamonn McCabe for the Guardian
Terry Pratchett is having a statue made. It's a statue of a goddess, and he thinks she ought probably to be smoking a cigarette, and to be showing one breast. "There should be an urn, too. If there's an urn it's not porn – that's a Discworld cliché," he says, a bubble of laughter in his voice.
The goddess is one of Pratchett's own invention: Narrativia, the deity of narrative who smiles on writers (and perhaps especially sunnily on her creator). Discworld, created by Pratchett 28 years ago, is the fantasy world held up by four elephants balanced on the back of a giant turtle. It's a concept which started out as an affectionate lampoon of the sword-and-sorcery fantasy genre, but it has, over the years, become an increasingly sophisticated swipe at contemporary society, pointing out the ridiculousness of everything from Hollywood to the postal service, newspapers, banks and football.
And Narrativia has been beside him all the way. "If you've been a good boy and worked at what you're doing, then the goddess Narrativia will smile on you," he says, recounting his delight at a particular piece of her work, when he was writing Thief of Time more than a decade ago. He decided to call one of his characters Ronnie Soak. Soak is the fifth horseman of the apocalypse – the one who left before they got famous. His name was picked at random, so Pratchett was astonished when he noticed what it sounded like backwards. Suddenly, he knew of what this particular horseman would be a harbinger. "I thought chaos – yes! Chaos, the oldest," he says. "Stuff just turns up like that."
In typically ebullient fashion, Thief of Time also contains a sprinkling of yetis, a clock which will stop time and the Monks of History, whose job it is to manage time, moving it from where it isn't needed (underwater) to where it is (cities). AS Byatt said on the book's publication that it should have been nominated for the Booker prize. But it was a fantasy novel; it was funny; it was a bestseller. Unsurprisingly enough, it wasn't.And despite Pratchett's immense popularity (75 million copies sold of his 67 books), it took a while for the literary establishment to notice – apart from Byatt. She is, she says, still a fan today, calling him "a great storyteller, and splendidly inventive with the English language – both as farce and as comedy and as (successful) dreadful jokes for teenagers. I also think he's wise and morally complicated. And grown up, although he appeals to the young."
It wasn't until 2001 that Pratchett won his first major literary prize, the Carnegie medal, for his first Discworld novel for children, the Pied Piper-riffing The Amazing Maurice and His Educated Rodents. He's since been knighted for services to literature ("I think they must have had a bit of a snigger. Let's give a fantasy writer a knighthood, he should have some fun with that") and received a handful of honorary degrees, with Trinity College Dublin making him a professor.
Today, Professor Sir Terry Pratchett is sitting in his local pub, a half of Ferret in front of him, awaiting his bubble and squeak. He's happy to be talking about his books; ever since he announced to the world in late 2007 the "embuggerance" that is his early onset Alzheimer's – or posterior cortical atrophy – he has been swamped with media attention as he fights to raise awareness of the disease. Attention has only increased since he publicly backed assisted dying, making the moving BBC documentary Choosing to Die about a man's last moments at the Dignitas clinic in Switzerland earlier this year. The interviews, though, tend to focus on the disease, and he says he often has "to fight to get the fact I actually write books in".
His latest, Snuff, is the 39th Discworld novel and a take on the police procedural. It has moments of snort-out-loud laughter (the paddle steamer named the Wonderful Fanny, the Jane Austen vignette – see below). But it is a remarkably dark novel, with a beleaguered, despised race of goblins at its heart. "Snuff says everyone knows goblins are bad, but if you see them as bad and treat them as such, then they will be bad. And our society could actually take a few words of advice from that," says Pratchett. "It's just a way - a very light-hearted way – of commenting about society but seeing it from the outside." Some of the book was "quite harrowing" to write, but "you need the dark and then the light shows up".
Revealing his Alzheimer's in 2007, Pratchett said: "I think there's time for at least a few more books yet." Snuff's publication brings the number to three since the announcement, and he's currently in the middle of writing three more – his autobiography, a science-fiction tale he's co-authoring with Stephen Baxter and a historical novel set in Victorian London, with shades of George McDonald Fraser. They're all a step away from his usual fantasy zone, but "I could write a book and I could set it in Tombstone, Arizona, I could have cowboys and stage coaches, and the moment I put in one fucking dragon, they'd call me a fantasy writer. You can take out the fucking for the newspaper. But once you are a fantasy writer it's always going to be fantasy."
Born in 1948 and growing up in Beaconsfield, Buckinghamshire with two "very good parents who didn't quite understand what it was they were growing but did all the right things, like pushing me", Pratchett got his "first sniff of the grease paint" aged 13, when he published a story in the school magazine. It told of the fallout after the devil employed estate agents to make hell popular; the teenage writer was later paid £14 for it from a science-fiction magazine, buying his first typewriter with the proceeds.
In writing his autobiography, he admits he may be putting a writerly shine on his past, but he believes his literary fate stretches back to when he first picked up a copy of The Wind in the Willows, aged 10. "Mole, Rat, Toad, Badger. All different sizes. All can go inside one another's houses. All wear clothes. The toad, by no means a looker, can pass as a washerwoman. That enthralled me," he says. Beaconsfield library was "the cannabis", "the coke" came when he discovered a nearby secondhand bookshop, "the right kind, it smelt of secondhand books", and devoured the Molesworth books, Sellar and Yeatman – all the best humorists. "And that was it. I was mainlining that stuff."
He also became obsessed with Punch magazine, working his way through from its beginnings in the early Victorian era right the way through to the 1960s. There is an eclectic collection of books scattered around his office, from Prehistoric Animals of Australia and New Guinea to the English-Tibetan Dictionary, a tome on Scots dialect, a history of clocks and watches and an exploration of London's Victorian sewers. "You read a book about feeding Nelson's navy and you come up with something very interesting about potatoes. It's not learning, it's QI learning, which we mostly have these days. But mine is a bit more joined up."
Conversation with Pratchett is filled with facts and trivia, from lead poisoning and honey wagons in wild west silver mines to toshers and Joseph Bazalgette, the Victorian engineer who created a sewer network for London. "Do you know what a tosher was? In a few seconds you will. Toshers were the young men, mostly, who went down into the sewers, pre-Bazalgette."
Pratchett left school one year into his A-levels, after he was offered a job on the local paper, the Bucks Free Press, aged 17. He believes "there can be no better grounding for a lifetime as an author than to see humanity in all its various guises through the lens of the reporter for the town. All the court cases, such crimes as there were. You got to know the coppers, they told you stuff – for a young man with a pencil, you could do what you wanted, really."
The most hated job on the paper was the children's corner, which included a birthday list and writing a little story. Pratchett took it on – "I thought, stories, I can do stories" – and began to write what would be his first novel, The Carpet People, as a short series. He met a publisher, Colin Smythe (now his agent), told him about the story, and ended up with a book deal.
The Carpet People was positively, if quietly, received when it was first published 40 years ago, and Pratchett continued as a journalist for various papers while publishing two science-fiction novels. He had moved to a job as a publicity officer for the Central Electricity Generating Board with responsibility for three nuclear power stations when the first Discworld novel, The Colour of Magic, was published in 1983. Pratchett has, in the past, called it both a plundering of and a tribute to Tolkien and the other fantasy writers – from ER Eddison to Ursula Le Guin. His popularity began to snowball, and he recalls the phone call he received from his agent telling him he'd just landed a six-book deal, meaning he could write full time from 1987. "I remember sitting on the lawn – and a bit like in an old-fashioned Disney cartoon, I can see little bluebirds around my head – and thinking if I play my cards right I will never need to do an honest day's work again. It was a moment of pure happiness."
What Discworld does best, Pratchett believes, is to put forward the proposal "that it ain't necessarily so". It's the GK Chesterton view of fantasy, that it can "take that which is familiar and everyday and therefore no more seen, and pick it up and turn it around and show it to the reader from a new point of view, so that once again they see it for the first time".
He points to the first appearance of the witch Tiffany Aching, a central character in his young adult titles – the precocious nine-year-old puts various fairy stories through the wringer of her enquiring mind. Hansel and Gretel? "Excuse me? No one has an oven big enough to get a whole person in, and what made the children think they could just walk around eating people's houses in any case?" he writes in The Wee Free Men. Tiffany looks at a children's book, says Pratchett, "and it says 'in the middle of the forest there was a wicked witch', and she says: 'where's the evidence?' and turns things on its head".
The earlier Discworld novels are all about the jokes; as Pratchett has matured as a writer, they have become less jokey and more funny. "The further back you go the more juvenile they appear," he says. "There's funny and joking, the two are different … As things progressed, both with adult and junior books, I found that in subtle kinds of ways, without being preachy at all, you could suggest rather interesting things." Neil Gaiman, with whom he wrote Good Omens (1991), agrees: "He's got better and better over the years – he now follows the story, not the jokes, while I think the early books followed the jokes … He makes it look easy. He never writes ugly sentences, or wastes a word, and at his best he says something in a way which means you can never again see it in the way you saw it before."
Like his books, Pratchett "seems to have become more himself as the years have gone on," Gaiman says. They have been friends for almost 30 years. "I like the white-bearded incarnation. If we had a proper old-fashioned queen she would undoubtedly have Terry as her advisor, and then only the right people would have their heads cut off … He's funny, generous, tetchy, very moved by a sense of fairness. He would have been a good master criminal I think."
Snuff is the third novel Pratchett has written using voice-recognition technology rather than a keyboard: he is no longer able to touch type, although he can prod words out letter by letter. When we go back to his home, nestled in a valley in the Wiltshire hills, Pratchett is keen to show off the software. "Save work," he thunders at the six ranked screens on which he works. "Get spell box," he demonstrates, and is immediately obeyed – although with a selection of words to choose from, rather than anything magical.
"It's a great nerdy thing to play with. The first thing they did was put all my books in electronic form through the computer, and overnight it made a pretty good fist at words like Granny Weatherwax and Rincewind. I have to teach it new words. I think the most abstruse one we've put in here is ferkidoodle." If writing in this fashion has changed his work at all, it has made it "more conversational", he believes, but "it's actually just kept me being a writer", and without writing "I suspect I'd have bogged off to Switzerland otherwise. Well not really but you know what I mean – I'd have been useless to live with. But with this – it just keeps going as long as I can speak."
As for bogging off to Switzerland, "we have the papers here and that's that". He's not keen to commit himself further. "I'm slightly hesitant – someone told me when I was diagnosed, someone in the bizz, that I'd probably got about two years. That was rather a long time ago … It's certainly something I would contemplate, but at the moment I have absolutely no reason whatsoever to do it."
Posterior cortical atrophy, he says, "sits on top of Alzheimer's – you have to go all the way through PCA before you hit the Alzheimer's". Yes, he gets memory lapses, but even then he isn't certain it's because of the disease. "I mean I'm 63 now, and on top of that you get things like sciatica and all the things of getting older, so you're never really certain what is what, you've got no control to measure yourself against."
He's still backing the campaign for assisted dying, though. "The people who are opposed to it – you wouldn't want to print the word I use about them … I'm in it for the fight, rather than anything to do with me." But despite the attention, and acclaim, this latest battle has brought him, Pratchett is not sure about his oft-cited new designation as national treasure. "I don't know if it's national treasure. There are some people who hate my guts. But that goes with the territory." He grins with pleasure at the thought of their loathing. "And the more I can make them hate my guts the better."
© 2011 Guardian News and Media Limited or its affiliated companies. All rights reserved.

eddie

The Gap Minder




Posts

: 7840


Join date

: 2011-04-11


Age

: 62


Location

: Desert Island



Snuff by Terry Pratchett - review
Terry Pratchett's latest Discworld novel is as inventive and full of jokes as ever
AS Byatt
guardian.co.uk, Friday 21 October 2011 10.00 BST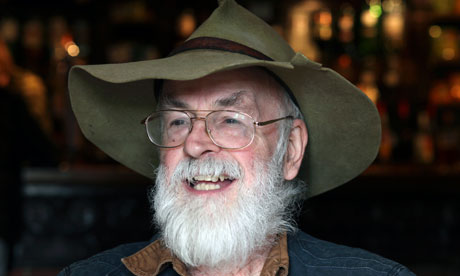 Endlessly inventive storytelling: Terry Pratchett. Photograph: Eamonn Mccabe/The Guardian
Snuff has pleasant and innocent connotations – as an old-fashioned stimulant to be kept in elegant boxes and snorted gracefully in society. It also means arbitrary and unpleasant deaths, as in snuff movies. Terry Pratchett's new novel turns on the connection between the two. Commander Vimes, the Duke of Ankh, is persuaded, or forced, to go on a holiday to the immense country mansion of his wife, Lady Sybil. Here he uncovers a smuggling ring run by the local aristocrats, who are indeed the law itself, as they are also the local magistrates. They are sending hard drugs – slab and slide, which destroy the lives of young urban trolls – to the cities by barge and boat. They also trade in living beings: goblins, who are not classified as people. There are easy parallels to be drawn with venal aspects of our own society: abuses of privilege, fiddling of expenses, blind eyes turned. Vimes is his usual streetwise and dogged self, rapidly learning how to make best use of the habits of country pubs and improve the standards of village policing. Things move along nicely, culminating in a breathtaking chase on a string of barges being flung about on a river in spate called Old Treachery.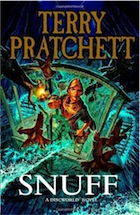 Snuff
by Terry Pratchett
Pratchett has written several stories set on the Discworld in which ill-treated, unconsidered species are described and explained and admitted to society. In Feet of Clay, and Making Money, Miss Adora Belle Dearheart runs the Golem Trust, and golems develop from being clay automatons to beings with thoughts and language. In Unseen Academicals Mr Nutt is an orc, a creature capable of great violence, who has become an erudite and resourceful hero. In the early books, Captain Vimes was capable of easy "speciesism" at the expense of the dwarves and trolls, gargoyles and zombies who make up the Watch. Pratchett himself for several books appeared to be hostile to vampires – but then he has a natural tendency to imagine creatures intricately and charitably, so he gives us Mr Otto von Chriek, a photographer who has taken the "black ribbon" vow of teetotalism and has to be reconstituted with drops of blood every time he explodes himself with his camera flash.
Elsewhere Vimes is persecuted by a green imp inside a "dis-organiser", a gift from his wife, and by a meticulous accountant called AE Pessimal, sent by the Patrician to order his papers. Both of these initially irritating beings are redeemed by the narrator: the imp turns out to be really helpful, and the accountant performs heroic actions in a battle.
In Snuff it is the goblins who are the centre of attention: they are a dim, feeble collection of creatures who smell very bad and live in a mess in dark holes, stealing chickens and other things. They are not classified as human, or sentient beings, and so can be bought, sold and enslaved. Predictably and agreeably, Vimes takes up the cudgel on their behalf, rescuing them from captivity. In this he is aided by a children's book writer called Felicity Beedle, author of Melvin and the Enormous Boil, Daphne and the Nose Pickers and Gaston's Enormous Problem. Miss Beedle is the Adora Belle Dearheart of Snuff; she teaches the goblins to read and discovers an immense musical talent among them.
There is a great deal of interest in bodily fluids, excretions and excrement in this book. Lady Sibyl explains to Vimes that Miss Beedle gets children to read by writing about what they are interested in. Vimes complains that they are "reading about poo and dead ducklings", and Sibyl replies calmly that this is what children of a certain age care about. In fact young Sam, their son, is showing signs of precocious scientific skill by making a collection of various kinds of poo. The goblins follow the religion of "Unggue", which exhorts them to collect various bodily excretions – snot, ear wax, toenail clippings – for which they make exquisitely designed containers, "unggue pots" of various materials and shapes. One of Pratchett's major gifts as a writer is the energy with which he always tells you more than you expect – his description of the pots is clear and complicated.
One advantage of a continuing world full of people and creatures is that they can develop in a leisurely way. The character who does that in Snuff is Willikins, the Vimes's butler, who when he first appeared was stiff and very formal, trying to shave Vimes, who forbade him. In Jingo, one of the best of the series, he joins Lord Rust's army to fight the Klatchians in the desert, and bites off an enemy nose. In this book he turns out to have the same streetwise background as his employer, and a collection of hidden and unusual weapons. He can deal with the villain in ways his employer, inhibited by professional rules, cannot.
The villain in this book is a murderer of men and goblins called Stratford, a person whose lack of conscience is a form of stupidity, as with many other Pratchettian villains. (My favourite of these is the appalling Mr Pin in The Truth, who has an unerring eye for artistic masterpieces and snorts any substance – such as scouring powder – he can find.) The real villain in Snuff is Lord Rust's son, the smuggler and slavemaker, who is arrogant and again stupid.
Pratchett is a master storyteller. He is endlessly inventive, even when telling a routine kind of tale. He gives you more information and more story than you need, just because he can, and this is completely satisfying. He is a master of complex jokes, good bad jokes, good dreadful jokes and a kind of insidious wisdom about human nature (and other forms of alien nature). I think his mad footnotes are there because he can't stop his mind whirring, and our whirring minds go with him. I read his books at a gallop and then reread them every time I am ill or exhausted.
AS Byatt's Ragnarok: The End of the Gods is published by Canongate.
© 2011 Guardian News and Media Limited or its affiliated companies. All rights reserved.

eddie

The Gap Minder




Posts

: 7840


Join date

: 2011-04-11


Age

: 62


Location

: Desert Island





Similar topics
---
Permissions in this forum:
You
cannot
reply to topics in this forum