Page 3 of 3 •
1, 2, 3
There are no photos of Willem Barentsz, because he died more than 300 years ago, so the artists just had to give it their best shot:
However, since wood lasts forever in the Arctic, there are pictures of a place where Barentsz once stayed: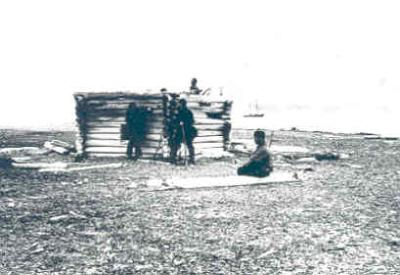 Here's the verbage that goes with the pic:
"In 1871, a Norwegian seal hunter discovered a wooden hut on Novaya Zemlya in the Arctic Ocean. In it he found clothing, cooking pots, a tool chest, a clock, a flute, a cooking tripod, and several pictures."
"It was the lodge of Willem Barentsz, who had passed the winter there in 1597 while seeking a northern route to China. Barentsz had died on the return journey, and the hut had stood for 270 years, awaiting rediscovery."
"According to an 1877 report, later investigations recovered Barentsz's quill pen, a translation of a work on seamanship printed in 1580, "some candles nearly 280 years old, but still capable of giving light" — and "the Amsterdam flag, the first European colour that passed a winter in the Arctic region." "
Latest pic from Novaya Zemlya:
Page 3 of 3 •
1, 2, 3

Similar topics
---
Permissions in this forum:
You
cannot
reply to topics in this forum