Russell: 'I used to bed five women a day'by Sam Parker, Apr 9th 2011
How can you tell when Russell Brand has a new film to promote?
Why, he starts reminding us about how many women he used to sleep with, of course!
The former sex addict's latest claim is that he used to bed 'five women a day'.
Oh Russ, how we (and Katy Perry, for that matter) never tire of hearing about your lothario days...
In a routine chat with the Daily Star, Russell - whose latest flick Hop is currently number one in the UK box office - confessed of his pre-marriage days: "It was silly. I was having one [a woman] for breakfast, one for lunch and three for dinner. Which goes against the dictum that you should breakfast like a king and have dinner like a pauper.
"Previously I'd been a chubby lad, but suddenly I got older and girls found me attractive. Sadly I wasn't very disciplined about it and thought, I can do this instead of meal times.My success rate was good, but again, people don't see the work that went in on the training grounds.
"I'm much happier ­presenting Oscars with Dame Helen Mirren than I am purchasing crack in east London," he added, referring to his past drug use.
Last edited by eddie on Sun Apr 08, 2012 11:51 am; edited 1 time in total

eddie

The Gap Minder




Posts

: 7840


Join date

: 2011-04-11


Age

: 63


Location

: Desert Island



Russ does Noel's best man speech
By Stacey King, Jun 20, 2011
Getty
Guests at Noel Gallagher's wedding were treated to a rare stand-up appearance from Russell Brand at the weekend, because he on best man duty at the bash.
Yep, Noel must have been crossing his fingers and his toes when it was time for the speeches at his wedding to Sara MacDonald on Saturday - knowing that Russ has a habit of being a tad controversial.
But the former Oasis songwriter needn't have worried too much, because apparently it was mostly family friendly in the end.
One of Russ's gags involved George Michael's long-term partner Kenny Goss "taking a shine" to Noel, prompting a friend who had to intercept Kenny's advances to remark: "No wonder George always sleeps in his car."
And he also shared the story of how Simon Cowell rang Noel at home, reportedly offering him megabucks to be a judge on The X Factor - and prompting his young son Donovan to ask if he could have a chat.
And Russ was reported by The Sun as saying: "Kids have the right attitude. After the service, Donovan said, 'Can we go home now? I want to watch Wacky Races'."
The wedding, held in the New Forest, was a pretty star-studded affair - with other famous guests including David Walliams and Lara Stone, Paul Weller, John Simm and Mike Pickering from M People.
No sign of his estranged brother Liam though, who is touring America with his new band Beady Eye.
AOL
Last edited by eddie on Tue Jun 21, 2011 5:26 am; edited 1 time in total

eddie

The Gap Minder




Posts

: 7840


Join date

: 2011-04-11


Age

: 63


Location

: Desert Island



Cheeky Russ cops a feel at premiere
by Stacey King, Apr 20th 2011
Russell Brand showed his touchy-feely side at the London premiere of his new movie Arthur last night, pulling the old reacharound on wife Katy Perry.
Russ was caught on camera giving her bum a squeeze as they posed for pictures on the red carpet at the O2 in Greenwich - not that she seemed to mind.
It doesn't take much to get the Daily Mail in a lather though, and the paper was hilariously asking if he had "gone too far" this morning.
Erm, they are married you know Daily Mail people!
Unfortunately for Russell, the movie has been given mixed reviews so far - but he'll be hoping that a home crowd might be more appreciative that the American critics.
We wouldn't count on getting two thumbs up from the Daily Mail if we werre you though Russ!
He was just telling us yesterday how he'd have "died without rehab".
AOL

eddie

The Gap Minder




Posts

: 7840


Join date

: 2011-04-11


Age

: 63


Location

: Desert Island



Fancy a snoop round Russell and Katy's new gaff? Of course you do.
By Baggers, Jun 29, 2011
Rex
Oooh it's just like an episode of Come Dine With Me isn't it?
Except without the food. And the rifling through the home owner's knicker drawer (sorry boys).
Yep, ladies and gents, if you had $6.5million to spare, you too could *adopts best Lloyd Grossman voice* live in a house like this.
And if reports are to be believed, Russell Brand and Katy Perry may have bagged themselves a bit of a bargain (yes, really) after the previous owner – Daniel Laikin – was sentenced last year to 45 months in prison for stock manipulation charges, which might just have helped them get a good deal on the property.
The new purchase might also dampen rumours that the showbiz couple's eight month marriage is on the rocks following the sale of their Hollywood Hills home last month - it seems the pair are simply upgrading. And then some.
Their new home boasts a whopping nine bathrooms, seven bedrooms, a swimming pool, guest house, cinema room and sits on three acres of land.
Plenty of room to swing a cat then.
AOL

eddie

The Gap Minder




Posts

: 7840


Join date

: 2011-04-11


Age

: 63


Location

: Desert Island



Russell Brand charged with criminal damage in US
Comic actor accused of smashing a window with a photographer's iPhone in New Orleans
Barry Neild
guardian.co.uk, Thursday 15 March 2012 23.54 GMT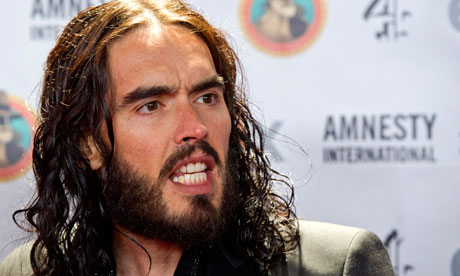 Russell Brand has been charged with criminal damage after he was allegedly involved in an altercation in New Orleans. Photograph: Charles Sykes/AP
Comic actor Russell Brand has been charged with criminal damage after being accused of smashing a window with an iPhone grabbed from a photographer.
The British star, who faces a potential fine of $700 (£445), is alleged to have been involved in the altercation on Monday in New Orleans, where he is currently filming. Police say he was released on $5,000 bail shortly after he was arrested on Thursday.
Celebrity website TMZ ran photographs apparently showing Brand confronting a paparazzi photographer and of a shattered window.
Neither Brand nor his publicist has made any comment, but in a Twitter posting on Wednesday, he appeared to make light of the incident. "Since Steve Jobs died I cannot bear to see anyone use an iPhone irreverently, what I did was a tribute to his memory," he wrote.
The Essex-born star, now a household name in the US thanks to starring roles in box office hits Forgetting Sarah Marshall and Get Him to the Greek, has had previous run-ins with the law.
He was deported from Japan over his criminal history in 2011 when trying to visit Katy Perry, the singer he divorced earlier this year. In 2010, he was arrested for an alleged attack on a photographer at Los Angeles airport.

eddie

The Gap Minder




Posts

: 7840


Join date

: 2011-04-11


Age

: 63


Location

: Desert Island



Russell Brand in talks with BBC about first new TV outing since 'Sachsgate'
Controversial comedian who caused stir with prank phone calls in line to front documentary about addiction on BBC3
Tara Conlan
guardian.co.uk, Friday 6 April 2012 18.43 BST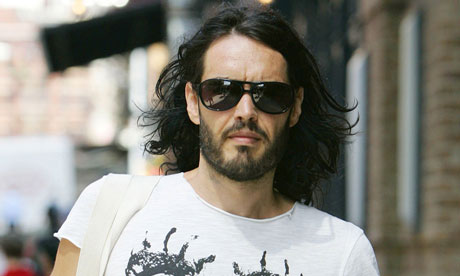 Russell Brand out and about in New York. Photograph: Curtis Means/Rex Features
Russell Brand is in talks with the BBC about presenting his first TV programme, a film about addiction, for the broadcaster since being forced out over a prank phone calls row in 2008.
The comedian – eager, it would appear, to mend fences after the scandal – has said he would waive any fee to forestall criticism of the proposed BBC3 programme.
Discussions are continuing, as the corporation weighs the sensitivities, but it is thought the film will explore the issue of addiction in a similar way to how Stephen Fry tackled depression for BBC2 in 2006.
Last year, after the death of his friend and fellow addict Amy Winehouse, Brand paid tribute to her, saying they "shared an affliction, the disease of addiction".
Brand left the BBC in 2008 following a row over a prank phone call he and Jonathan Ross made to the actor Andrew Sachs about Sachs's granddaughter. Since then Brand has gone on to appear in a number of Hollywood films.
He has returned to broadcasting in the UK – in 2009 he co-hosted a sports show with Noel Gallagher on TalkSport, and in 2010 appeared as a guest on Dermot O'Leary's BBC Radio 2 show – but has not fronted a TV programme since leaving. His only recent appearance on BBC screens has been in BBC4 reruns of his BBC2 documentary, On the Road.
A BBC spokesman said: "We are working with Russell on a programme about addiction in the UK but it's currently only in its early stages."
Brand, who has spent time in rehab, has often called for addicts to be treated as "sick people in need of care". He also said: "We need to review the way society treats addicts … we need to look at the way our government funds rehabilitation. It is cheaper to rehabilitate an addict than to send them to prison, so criminalisation doesn't even make economic sense."
The BBC is also in talks about airing a charity concert planned by Winehouse's family and Comic Relief, at which a number of star names are likely to perform.
It is expected that some of the money raised by the concert will go to charities that help addicts and tackle addiction.
Last year the Amy Winehouse Foundation was set up in the singer's memory to help young people suffering with ill health, disability, financial woes or addiction.
Winehouse died in July 2011 from alcohol poisoning after a drinking binge following a period of abstinence during which she was trying to conquer her problems with alcohol.
A Comic Relief spokesman said: "There are no confirmed plans at the moment."

eddie

The Gap Minder




Posts

: 7840


Join date

: 2011-04-11


Age

: 63


Location

: Desert Island



Russell Brand says drug addiction should be treated as a health matter
Actor tells MPs committee on drugs that an abstinence-based recovery approach would better benefit addicts
Alan Travis, home affairs editor
guardian.co.uk, Tuesday 24 April 2012 13.01 BST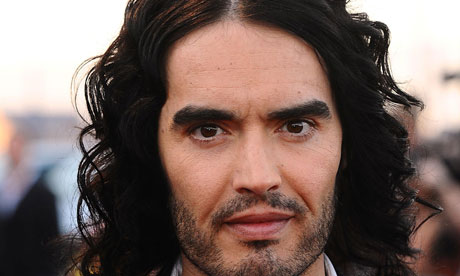 Russell Brand, a former heroin addict, told MPs it would be better if drug addiction were more a health issue than a crime matter Photograph: Ian West/PA
Comedian, actor and former heroin addict, Russell Brand, has suggested politicians should regard drug addiction as a disease to be treated as a health issue rather than a criminal or judicial matter.
The flamboyant film star, who arrived to give evidence to the Commons home affairs select committee, wearing a black hat, gold chains and crosses, and a torn black vest top, confirmed he had been arrested around a dozen times for drug possession.
He agreed it would be "a brilliant idea" if the policing costs of "nicking people for possession" were instead used to fund treatment and drug education programmes.
But Brand, who has given frank accounts of his battles to overcome heroin addiction, was careful to make clear he didn't want to start "banging the drum" for legalisation. He said he didn't feel qualified to talk about legalisation although he did think it was possible for some people to take drugs safely and he didn't want to be identified with a "just say no campaign".
He said he didn't think that drug addicts cared about the legal status of the drugs they were taking, or where they came from or the consequences for those involved in their production.
"I don't think they are going to be affected because they're normally on drugs," he said.
But he was keen to stress to the MPs, who are conducting an inquiry into drug policy, that he believed that an abstinence-based recovery approach was needed. "We don't want to discard people by writing them off on methadone and leaving them on the sidelines," he said, although he acknowledged the heroin substitute could play a role as part of a recovery programme.
He said rather than any carrot or stick approach he wanted to see "love and compassion" in society's response. He said his own drug addiction had been caused by emotional and psychological difficulties and a spiritual malady. It was more important to tackle those than treating addicts as criminals, he added.
The rapidly spoken comedian tried to engage the MPs on the committee, chaired by the former Labour minister Keith Vaz, with some banter. When Vaz asked if he had been arrested "roughly" 12 times, he replied: "Yes, it was rough."
When the veteran Labour MP, David Winnick, gently suggested he shouldn't treat the committee as a variety show, he couldn't resist pointing out that it seemed more like Dad's Army to him.
When the MPs suggested that as a celebrity he could be a role model for young people, Brand responded: "Who cares about bloody celebrities? Their role is insignificant." He said he wasn't trying to get a message across to young people but to people with addiction and wanted to ensure that the response to them was based on "truth and authenticity".
His backing for a more abstinence-based approach was supported by Chip Somers, the chief executive of the detox centre, Focus 12, where Brand went for help: "Just to park people on methadone for four to seven years is criminal."

eddie

The Gap Minder




Posts

: 7840


Join date

: 2011-04-11


Age

: 63


Location

: Desert Island





Similar topics
---
Permissions in this forum:
You
cannot
reply to topics in this forum