Richard Madeley: 'You've got to accept people telling you what they think about you'
The daytime TV titan on the Richard and Judy book club, Twitter and his method of dealing with abuse
Tim Lewis The Observer, Sunday 15 May 2011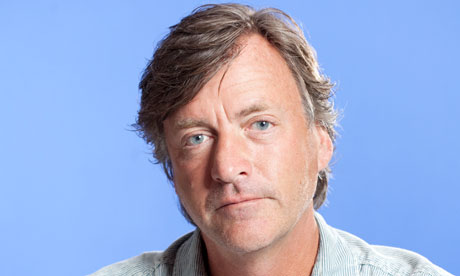 Richard Madeley: 'defined British daytime TV'. Photograph: Katherine Rose for the Observer
You turned 55 on Friday. Blimey, you look good for your age. What's your secret?
Well, a week in Portugal helps. But I don't think I look different from any other 55-year-old. With blokes, if you are lucky not to have the balding gene that helps, it just does. But getting out of the car just now after an hour, ooh, you start to stiffen up. Those little signs that the grim reaper is not tapping on your shoulder, but he's come over the horizon and he's giving you a little wave.
What would have been your ideal present?
What I'd have really liked, but I can't bring myself to spend the money on it, is a fuck-off computerised telescope, because you can get them now where you punch in the coordinates of a star or a planet and it tracks it.
Is it true you collect binoculars and penknives?
I'm quite kitted up. Where's my bag? I've got a Leatherman toolkit and a torch, because you need them…
Travelling in a car between Hampstead and Soho…
You never know what might happen. I'm not completely obsessed, but I have three or four torches, which I enjoy, and a couple of walkie-talkies. Yeah, I'm definitely a gadget man.
Looking back on your career, what is your proudest achievement?
I suppose in a general sense Judy and I definitely defined daytime television in this country. There was daytime television before This Morning in 1988 but it didn't really have a pulse, it was just repeats and things like Falcon Crest. Then going to Channel 4 in 2001 and doing the same thing at 5pm. That was another tumbleweed, empty patch of ground in television, but we created a format that lasted for seven years. So that's what I'm proudest of: we developed two forms of programmes that hadn't existed before.
Your last experience of TV – Richard and Judy's New Position on the cable channel Watch – was more or less disastrous. Do you have unfinished business?
Judy is completely replete with broadcasting; she has no desire whatsoever to do anything else. She's just got a two-book deal with a whopping advance so she's very much on that flight path. I still enjoy broadcasting but I never want to go back to five days a week. So I'm loving filling in for Chris Evans when he's away; it's the biggest radio show in Europe, and we are developing my own Radio 2 show now. I've just done a Who Do You Think You Are? and I'm writing a novel as well, so it's a jolly little smorgasbord of stuff.
You are becoming known for your eclectic tweets – sample: when the killer whale drowned its trainer at SeaWorld, Florida: "We know that whale. It was an accident waiting to happen" – it feels like your feed is very you, if that makes sense.
Twitter's huge fun. I avoided it initially because I thought I would get lots of stupid abuse, but my followers – a ludicrous word – really get it; I regard them like the people who used to watch our shows. And I don't mind people saying "I think you're completely wrong." You have got to accept people telling you what they think about you.
You have quite a thick skin then?
I just don't care. I was walking along the cliffs in Cornwall and a guy was walking towards me, just the two of us on a cliff path. I could see that 1) he recognised me, 2) he loathed me, and 3) he was struggling to think of something to say, because he loathed me so much but words wouldn't form. I could see this happening in his face in a snapshot, but we pass and I say "good morning", he grumbles something and we walk on.
So I carried on to Polperro, got the papers and the milk and I'm walking back 40 minutes later and, bugger me, he's coming back. This time he stops, he puts his finger almost in my face and says, "I just want to tell you" – that's a terrible Birmingham accent, but he was a Brummie – "that I loathe and despise everything you have ever done and everything you stand for." I said: "That's fantastic! You have made my day! Have a great walk." For me, that's just grist to my mill, that's my next tweet.
Your daughter Chloe was recently a finalist on Dancing on Ice. Does she have what it takes to make it on TV?
I wouldn't have been able to answer that before but she came across really well. Clive James said – and it's very true about live television – "It's not what you say, it's how you come over." She only had to skate and be herself – it wasn't an intellectual challenge – but she was genuine and self-deprecating and she's had lots of offers since.
You have just launched your book club's summer selections. Is it still true that being on the list is a bigger sales boost than winning the Booker prize?
We only started last September and the sales of the books we have picked are almost two million. When we finished the TV thing [the book club used to be part of the Channel 4 show], I will hold my hand up and boast a bit because I was convinced it would continue to work. It's lovely to know that when we tell our readers, "Honestly you will like this, really" – like you would say to a friend, that's the tone we have on the website and in our reviews – the public are saying "OK, we trust you."
Is the secret that you have taken books away from experts and literary types?
The big plus is that we are not trying to prove anything. Judy has a great English degree from Bristol but she doesn't flaunt it and I didn't even go to university. All we are looking for is a damn good story – readable, absorbing, interesting – and that usually equates to good literature. Whereas if you are looking for something that makes a heavy political point or is a literary style that hasn't been attempted before – it's like fine dining, I can do without it.
Find details of the Summer Book Club 2011, with WH Smith, at richardandjudy.co.uk
guardian.co.uk © Guardian News and Media Limited 2011

eddie

The Gap Minder




Posts

: 7840


Join date

: 2011-04-11


Age

: 62


Location

: Desert Island



One of our great nation's most famous celebrity shoplifters- right up there with Dame Isobel Barnett. Margaret Madeley.

precinct14

Coming up empty from the piggy bank?




Posts

: 297


Join date

: 2011-04-13




---
Permissions in this forum:
You
cannot
reply to topics in this forum