Springtime: The New Student Rebellions – review
What happened, why, and what next: examining the new spirit of protest
Natalie Hanman The Guardian, Saturday 14 May 2011
When the student protests erupted in the UK in November 2010, establishment voices, with a few honourable exceptions, reacted by formulating a simple and comforting narrative: middle-class higher-education students, angry at the government's proposed, but necessary, increase in tuition fees, were marching in protest, only for such legitimate, traditional dissent to be overtaken by the actions of violent anarchists.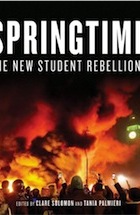 Springtime: The New Student Rebellions by Clare Solomon, Tania Palmieri
History, context, the workings of knowledge, power and resistance, and the lived reality of what was happening, rarely came into it. If they had, the mainstream account of the recent demonstrations might have looked very different. Thankfully, two new books are attempting to do this by revealing the protests to be not mindless, but mindful; a considered rebellion against the global neoliberal financial deal that has been struck.
Neither is simply an account of what happened. Fight Back! A Reader on the Winter of Protest, edited by Dan Hancox (openDemocracy.net, £8.99), which collates articles on the student and anti-cuts demonstrations in the UK, says that rather than just recording protests, the experience chronicled "suggests that the 'fight back' of winter 2010 contains the seeds of a politics". Springtime, which widens its scope to cover protests in Italy, the United States, France, Greece and Tunisia, declares it is "a chronicle, but not just a chronicle. It is the formulation of an experience . . . to develop alternatives that challenge the priorities of capitalist society".
One of the ways in which Springtime does this is through the inclusion of "flashbacks" – texts from the past, interspersed with accounts from the present – which give crucial political and theoretical context to events that are usually presented as devoid of history, and remind readers of the systemic nature of the inequalities being resisted. Eric Hobsbawm's thoughts on May 1968, for example ("these are not French but potentially international phenomena"), could easily apply today, as could Fritz Teufel's account of what we would now recognise as police kettling tactics in 1967 Berlin.
Added to these are (sometimes wearily) familiar names from Britain's more recent leftwing past, energised by the opportunity to restate their case. But it's the new voices (such as Leila Basmoudi, Elisa Albanesi) who really impress. The range and diversity in many of these pages, the fresh perspectives on recurring themes (the occupation of space, Book Blocs, police brutality, why knowledge for knowledge's sake matters, why EMA students need EMA, why the violence of state power is more shocking than a smashed TopShop window) are compelling. Springtime is stronger on this because it is both regional and global, revealing in fascinating account after account the existence and causes of (mainly) student rebellions from Pisa to Puerto Rico, about which most people know little. For the power of these largely leaderless and organic protests lies in the fact that there are so many of them in different locations but they have been formed for related reasons.
What this also points to is genuine solidarity. Evan Calder Williams, on the student protests in California, highlights "the fact of coming together not in abstract solidarity, but in acts . . . a recognition of what is not held in common, the distances separating where we begin apart from each other, and, above all, what it takes to come together against the order of the day".
As a contribution on the marketisation of higher education in Italy explains, this is why politicians are "horrified" to see students and pensioners demonstrating together – they fail to understand, or maybe they understand too well, that it is precisely this interconnectedness that is fuelling collective resistance.
The mainstream media, even "supposedly supportive media outlets such as the Guardian", is also criticised for its misunderstandings and misrepresentations. On the morning after the student protests of 10 November, Daniel Trilling reminds us in Fight Back!, "almost every national newspaper published an identical photograph of a masked man kicking at one of the plate glass windows that lined the ground floor of the building" – the Guardian was not an exception. But as Susan Matthews, mother of Alfie Meadows, the student who had brain surgery after allegedly being struck over the head by a police truncheon, writes in Springtime: "The images that stay with me from the student protests are not those of the violence splashed on the front pages."
No doubt these interventions will be dismissed by many as breathless, not grown-up enough, out of touch with reality. But what a reality, forged while we looked the other way. And what a time to be opening your eyes to it, what a time to be young, in spirit if not in years. Despite the constrained choices facing young people today, of unemployment or precarious employment, of crippling fees for the freedom to be educated – this is their resistance, and a compelling alternative.
Educationguardian.co.uk © Guardian News and Media Limited 2011

eddie

The Gap Minder




Posts

: 7840


Join date

: 2011-04-11


Age

: 62


Location

: Desert Island



Thousands join new fees protest
Press Association
Proposed route of today's student march (9th November 2011).
Thousands of students took to the streets to protest against the Government's higher education plans despite police warnings about using rubber bullets if violence erupts.
Hundreds of police officers lined the route as demonstrators started a march to voice their anger over funding cuts and plans to triple tuition fees.
Organisers claim "antagonistic" police comments ahead of the protest have made it more likely that trouble will occur.
Demonstrator Beth Atkinson, 27, from London, said: "It is ludicrous.
"It is antagonistic, it is like they are egging on a fight, which is frankly embarrassing."
John Roberts, a 25-year-old architect from London, said: "I have got friends who haven't come along because of the threat of rubber bullets."
Imperial College PhD student Sheridan Few, 24, added: "I think it makes it even more important - we shouldn't be intimidated."
Scotland Yard Commander Simon Pountain said on Monday that around 4,000 officers will be on duty thanks to aid provided by other forces. "We know the overwhelming majority of students are law abiding and we hope this will be a peaceful event," the police chief said.
"We certainly don't see it as inevitable that we will witness a repeat of last year's scenes of violence and criminal damage. However, it would be negligent if we did not plan a response to the small minority who may be intent on disruption and may not intend to be peaceful."
Regarding the potential use of baton rounds, a police spokesman said: "There are a range of tactics available if there is criminality and violence associated with the event. One of these is the authority to deploy baton rounds in extreme circumstances. These are carried by a small number of trained officers and are not held and used by those officers policing the route on Wednesday."

eddie

The Gap Minder




Posts

: 7840


Join date

: 2011-04-11


Age

: 62


Location

: Desert Island



Today's student's march has effectively halted bus services in central London. I know this because the Tube is accepting bus tickets for the duration.

Lots of police horses heading past the station entrance to the centre of town.

eddie

The Gap Minder




Posts

: 7840


Join date

: 2011-04-11


Age

: 62


Location

: Desert Island



Mr Cameron, have you never really heard of a sit-in?
The prime minister thinks protesting should be done by marching. But from Gandhi and John and Yoko to the St Paul's protest, sit-ins have proved highly effective
Stephen Moss
guardian.co.uk, Wednesday 9 November 2011 20.00 GMT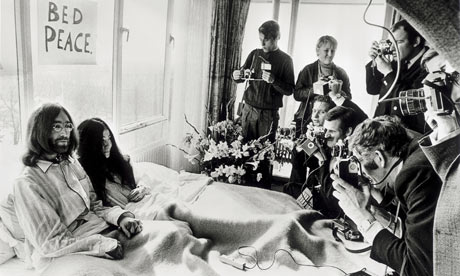 John Lennon and Yoko Ono's bed-in. Photograph: Getty
'I have this rather quaint view," David Cameron told the parliamentary liaison committee on Tuesday, "that protesting is something you should do on two feet rather than lying down, in some cases in a fairly comatose state." Is he right? Is the history of protest truly vertical and largely perambulatory, or has there been a role for the horizontal?
The march is clearly a key feature of protest. We witnessed it again yesterday. But non-perambulatory protest, as seen at St Paul's, has an equally distinguished history. Has Cameron never heard of sit-ins or sit-down protests? Gandhi pioneered sit-ins as part of his campaign for civil rights for Indians in South Africa in the early 20th century, and transferred those methods of non-violent protest to the struggle for Indian independence. They were then taken up by the civil rights movement in the US, where sit-ins were a key tactic from the 1940s on.
Trade unions have often employed sit-ins as a tactic, notably in the protest led by Jimmy Reid in Glasgow's Upper Clyde shipyard in 1971. As Reid said at the time, occupying your place of work, claiming ownership of it, is far more effective than striking and in effect locking yourself out. Two years earlier, John Lennon and Yoko Ono had extended the concept of the sit-in with two week-long bed-ins for world peace in hotel rooms in Amsterdam and Montreal. During the Montreal bed-in in May 1969, they recorded Give Peace A Chance from their hotel room, with visitors such as Timothy Leary and Allen Ginsberg providing backing vocals.
The bed-ins became a media circus and peace wasn't given a chance, but the Polish trade union Solidarity used sit-ins to powerful effect when it challenged the communist government in the late 80s, and the mass sit-in and hunger strike by students in Tiananmen Square in 1989 constituted the most formidable challenge to the Chinese state in the past half-century. It may be that Cameron has chosen to ignore this rich history of horizontal protest because he is so uncomfortable with it. Protesters are not marching through public space but taking possession of it, setting up an alternative seat of power. This is what has made the tented protest at St Paul's so resonant. The authorities are at a loss when faced with protesters who refuse to go away. It seems the most effective movement may be one that is static.

eddie

The Gap Minder




Posts

: 7840


Join date

: 2011-04-11


Age

: 62


Location

: Desert Island



Boxing Day rail disruption hits Britain
Labour accuses Tories of hypocrisy in failing to ensure a Boxing Day service as lines shut down and tube strike begins
guardian.co.uk, Monday 26 December 2011 06.57 GMT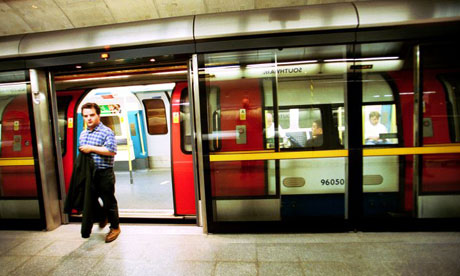 London tube drivers from the Aslef union are on strike over Boxing Day working arrangements. Photograph: David Sillitoe
Labour has accused the coalition government of "hypocrisy" for failing to ensure a rail service on Boxing Day, as overground lines remained shut in most of the country and tube drivers in London went on strike.
Labour transport spokesman John Woodcock said that in opposition the Conservatives routinely attacked Labour for forcing families and sports fans on to the roads by failing to provide trains the day after Christmas.
But he said that ministers had done "nothing" in office to encourage operators to run a Boxing Day service. Only five rail companies out of 25 are running a "limited" Boxing Day service.
Woodcock's comments come as football fans and shoppers in London faced disruption from a planned strike by tube drivers.
Woodcock highlighted Boxing Day comments from then Conservative transport spokesman Stephen Hammond in both 2008 and 2009, lambasting Labour for "condemning sports fans and families ... to misery on our clogged-up motorways".
Woodcock said: "This is total hypocrisy from the Tories. Year after year in opposition the Tories attacked the Boxing Day rail shutdown.
"But in government they have done nothing to encourage rail operators to run a Boxing Day service, and this Boxing Day most trains are not running.
"Transport secretary Justine Greening should tell us what she plans to do to ensure that Boxing Day services do run in future, or else admit that her party was simply chasing headlines in opposition by raising this issue, and had no real intention of doing anything about it."
Underground drivers belonging to the union Aslef are staging a 24-hour strike over the union's demand for extra pay for its members working on the public holiday.
Services on the Circle, Central, Hammersmith & City lines were suspended due to the strike, with most other lines were running reduced services.
Aslef general secretary Mick Whelan said the demands for extra pay and
voluntary working on Boxing Day were "negotiable".
He told BBC Radio 4's Today programme: "My team that has been in there for the best part of two years has offered various solutions that would underwrite or part underwrite what we are seeking to achieve.
"There's various transfer and training agreements within the company that if we changed them would subsidise what we are seeking to achieve.
"The original dispute two years ago was about quality time off.
"We agree that we made an agreement with the company in the mid-90s. At that time very few trains ran on Boxing Day. In the last decade and a half we have run as many trains on Boxing Day some years as we run on any day of the week so the intended quality time people were expecting to get has never happened."
Whelan said the union had "no intention" of staging a strike during the Olympics.
Howard Collins, London Underground's chief operating officer, told the Today programme the number of drivers scheduled to work this year had been reduced from last year's 1,100 to 880.
He added: "I can't pay people twice. The salary for train drivers, including working Christmas Day and Boxing Day, is an all inclusive salary."
London Underground and Transport for London said they would be doing their best to keep services running, with replacement bus services put in place in busy shopping areas.
Aslef members are able to take further strike action on 16 January, 3 February and 13 February. Chelsea football club have announced that their match with Fulham on Boxing Day will go ahead but Arsenal have rescheduled their game against Wolverhampton Wanderers, moving it to 27 December, because supporters rely heavily on public transport to travel to the Emirates Stadium.
In Scotland, rail services have been disrupted by a 72-hour strike that began on Christmas Eve.

eddie

The Gap Minder




Posts

: 7840


Join date

: 2011-04-11


Age

: 62


Location

: Desert Island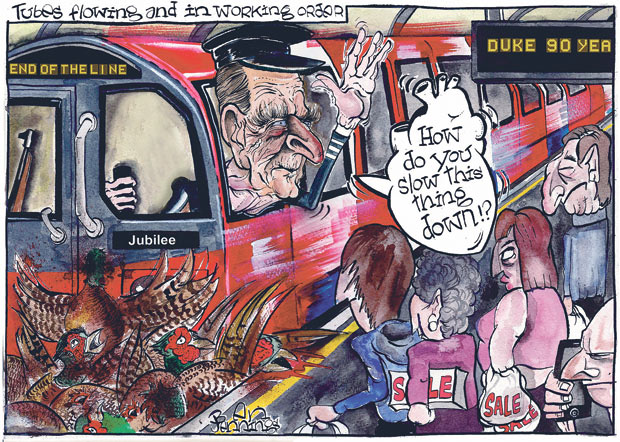 Bill Jennings on Prince Philip's recovery.
The Duke of Edinburgh was released from hospital four days after undergoing an emergency heart operation.

eddie

The Gap Minder




Posts

: 7840


Join date

: 2011-04-11


Age

: 62


Location

: Desert Island




---
Permissions in this forum:
You
cannot
reply to topics in this forum