Page 2 of 2 •
1, 2


eddie

The Gap Minder




Posts

: 7840


Join date

: 2011-04-11


Age

: 63


Location

: Desert Island




eddie

The Gap Minder




Posts

: 7840


Join date

: 2011-04-11


Age

: 63


Location

: Desert Island




eddie

The Gap Minder




Posts

: 7840


Join date

: 2011-04-11


Age

: 63


Location

: Desert Island




eddie

The Gap Minder




Posts

: 7840


Join date

: 2011-04-11


Age

: 63


Location

: Desert Island




eddie

The Gap Minder




Posts

: 7840


Join date

: 2011-04-11


Age

: 63


Location

: Desert Island




eddie

The Gap Minder




Posts

: 7840


Join date

: 2011-04-11


Age

: 63


Location

: Desert Island




eddie

The Gap Minder




Posts

: 7840


Join date

: 2011-04-11


Age

: 63


Location

: Desert Island



Titanic (Scenes from the British Wreck Commissioner's Inquiry, 1912) – review
The MAC, Belfast
Helen Meany
guardian.co.uk, Wednesday 2 May 2012 11.52 BST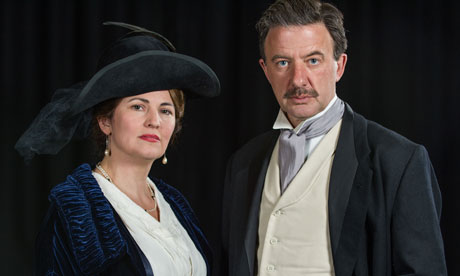 Andrea Irvine and Jay Villiers as Lord and Lady Duff-Gordon in Titanic (Scenes from the British Wreck Commissioners Inquiry 1912). Photograph: Neil Harrison
As centenary commemorations continue in Belfast, Owen McCafferty's rigorous verbatim play provides an antidote to Titanic fatigue. Choosing this subject for the opening production at the city's striking new Metropolitan Arts Centre (MAC) might seem to be tempting fate, but the production is so well realised that it marks an auspicious launch.
Selecting testimony from the inquiry held in London in the immediate aftermath of the disaster in 1912, McCafferty uses edited transcripts from the witnesses, book-ended by narration from an invented figure, the Clerk of the Court. In designer Richard Kent's re-creation of the imposing setting of Scottish Hall, Westminster, the legal team sift through details, becoming frustrated in their attempts to draw conclusions from the evidence.
McCafferty and director Charlotte Westenra delve into the "what-ifs", exploring the range of responses to the chaos on board ship. Westenra, who brings her experience of stagings of the Saville and Hutton inquiries for London's Tricycle theatre to bear, directs the cast with superb attention to nuance. Two months of hearings from 97 witnesses are whittled down to nine, including members of the crew, catering staff and officers. Beginning with the humblest survivors, we move up the ranks to a senior officer, and finally the managing director of the shipping line, Joseph Ismay, played with nervy hauteur by Patrick O'Kane. As the testimonies accumulate, a picture of the ship as a complex organism emerges – albeit one dominated by rigid class hierarchies, not only when it was afloat, but more perniciously as it began to sink.
The cross-questioning closes in on two first-class passengers who escaped with only three other passengers in a lifeboat, which rowed quickly away from the scene of the wreckage. Asked if he could hear the cries of the drowning, Cosmo Duff-Gordon described the sound as "a wail". It had not crossed his mind, he said, that the lifeboat should turn back to rescue those in the water. Even the hardened senior counsel seem disturbed.
Since this is an inquiry rather than a trial, they are restricted to establishing facts, as the Commissioner, Lord Mersey, testily reminds them. Were the lookout crew negligent in failing to spot the iceberg in time? Was the ship's speed recklessly high? Were the third-class passengers deliberately discouraged from getting to the deck and to lifeboats? It becomes clear that none of these questions can be satisfactorily answered. What remains, even after a century, is a disturbing sense of moral ambiguity: 1,517 dead and no one to blame.

eddie

The Gap Minder




Posts

: 7840


Join date

: 2011-04-11


Age

: 63


Location

: Desert Island



Page 2 of 2 •
1, 2

---
Permissions in this forum:
You
cannot
reply to topics in this forum