Stan54
Mon May 12, 2008 2:24 am
I love these guys. Nobody sounds like them.
Here's Scott Yanow's bio at AMG:
"Pianist John Lewis, vibraphonist Milt Jackson, bassist Ray Brown and drummer Kenny Clarke first came together as the rhythm section of the 1946 Dizzy Gillespie & His Orchestra and they had occasional features that gave the overworked brass players a well-deserved rest. They next came together in 1951, recording as the Milt Jackson Quartet. In 1952, with Percy Heath taking Brown's place, the Modern Jazz Quartet (MJQ) became a permanent group. Other than Connie Kay succeeding Clarke in 1955, the band's personnel was set. In the early days Jackson and Lewis both were equally responsible for the group's musical direction but the pianist eventually took over as musical director. The MJQ has long displayed John Lewis' musical vision, making jazz seem respectable by occasionally interacting with classical ensembles and playing concerts at prestigious venues, but always leaving plenty of space for bluesy and swinging improvising. Their repertoire, in addition to including veteran bop and swing pieces, introduced such originals as Lewis' "Django" and Jackson's "Bags' Groove." The group recorded for Prestige (1952-55), Atlantic (1956-74), Verve (1957), United Artists (1959) and Apple (1967-69) and, in addition to the many quartet outings, they welcomed such guests as Jimmy Giuffre, Sonny Rollins, the Beaux Arts String Quartet, a symphony orchestra conducted by Gunther Schuller, singer Diahann Carroll (on one piece), Laurindo Almeida, a big band and the Swingle Singers. Although the musicians all had opportunities to pursue individual projects, in 1974 Milt Jackson, tired of the constant touring and the limitations set on his improvising and he quit the group, causing the MJQ to have a final tour and break up. In 1981 Jackson relented and the Modern Jazz Quartet (which has recorded further albums for Pablo and Atlantic) became active again although on a more part-time basis. Connie Kay's health began to fade in the early '90s (Mickey Roker often filled in for him) and after his death in 1995, Albert "Tootie" Heath became his replacement."
John Lewis who led the group as its composer comes from a European tradition in the sense that MJQ music is very mannered and reserved, even if they're intense, they're intense quietly.
The original band is incredible and their catalog is huge and they have a good number of really excellent records. They were popular enough that, if you're a vinyl fan and look through used record bins, you'll find loads of their albums not too pricey.
If you're looking for a place to start I would recommend a double CD released in 1995 for the first time called "Dedicated to Connie" issued after the death of the original drummer, Connie Kay. Recorded live in Ljubljana, Slovenia, May 27, 1960, it captures then on an outstanding night. The same guy who wrote the bio writes the AMG review:
"After drummer Connie Kay passed away, this previously unreleased concert, recorded in Slovenia in 1960, was issued on a double CD and dedicated to him. The Modern Jazz Quartet (which also includes pianist John Lewis, vibraphonist Milt Jackson and bassist Percy Heath) is heard in surprisingly inspired form playing their usual repertoire of the time. Highlights include a 23-minute medley of John Lewis compositions, "Bag's Groove," "It Don't Mean a Thing," "Django," "How High the Moon" and "Skating in Central Park." Lewis has stated that the group never played better than during this concert."
Last edited by pinhedz on Fri May 08, 2015 10:38 am; edited 3 times in total
pinhedz
This one is out on CD now: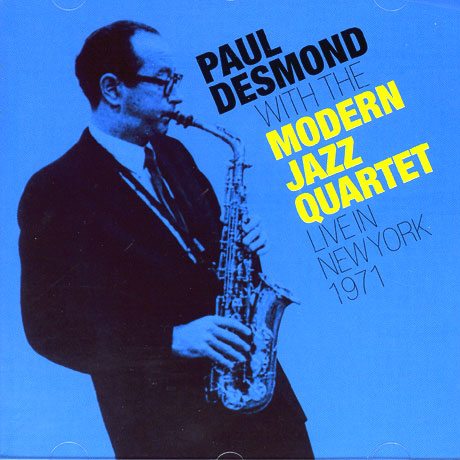 Stan54
I have a whole crate of their records but don't have that one. The collaboraton with Laurendo Almeida is one of my favorites, so is Third Stream Music.
Last edited by pinhedz on Fri May 08, 2015 10:42 am; edited 3 times in total
TinyMontgomery
Their 'Blues on Bach' record is also great. D'ya know that one?
Stan54
TinyMontgomery wrote:Their 'Blues on Bach' record is also great. D'ya know that one?
Oh yeah.
That band was very prolific, enormous catalog of records.
pinhedz
I don't know who was the first to play Bach with a jazz rhythm section, but these guys were doing it in the 1960s. They had 3 soloists on traditional Japanese instruments, but behind them was a rhythm section that sounded like Basie's, so the soloists had to swing, too; they couldn't help it.
But then again. they don't play any blues on this record:
Stan54
"Third-Stream Music" is a term coined by the European composer and conductor Gunther Schuller in the late-1950s as an effort to characterize an approach to music that combines the complex tonalities and rich textures of classical music with the rhythmic drive and improvisational freedom of jazz, joining these to form a "third stream." Schuller would collaborate a second time with The MJQ on 1961's "The Modern Jazz Quartet & Orchestra" and explore the combination of jazz quartet with large orchestra.
The Third Stream Music album has five compositions on it. Side one opens with John Lewis' "Da Capo" which segues immediately into Jimmy Giuffre's "Fine." Here the MJQ collaborates with The Jimmy Giuffre Three with Giuffre on tenor sax or clarinet, Jim Hall on guitar and Ralph Pena on bass. These two pieces are excellent examples of the MJQ sound fleshed out with the reeds and Jim Hall's outstanding guitar. These tracks seem to be here to reward the MJQ fan not be sure how to react to the more experimental sounds that follow. The experiment in third stream music begins with "Exposure" which closes side one. A John Lewis composition clocking in at just under ten minutes, the piece is conducted by Gunther Schuller and the quartet is joined by a sextet of clarinet, flute, bassoon, French horn, cello and harp.
Side two is comprised of "Sketch" and "Conversation," both performed by the MJQ with The Beaux Arts String Quartet. The shorter piece, "Sketch," is composed and conducted by John Lewis, "Conversation" is composed and conducted by Schuller. With the side one closer, "Exposure," these three pieces offer up a clear sense of what Schuller imagined third stream music to be. The classical ensemble has constructed complex patterns and counter-melodies which it overlays onto the reserved jazz of the quartet. At times, the ensemble seems to be playing a song based on the jazz tune but inverted, turned around. It is in the effect of these two being played simultaneously that a third stream can be heard emerging from the mix.
Nothing like the earlier experiments from the late-1920s which eliminated the improvisational nature of jazz, and nothing like the later jazz-rock experiments that got labeled "fusion." The closest thing today to what Schuller was working toward can be found in some of the ECM label catalog of European jazz. More than any other thing, the 1960s were a time of great experimentation and it seems somehow perfect that the decade is marked by this album at its start.
pinhedz

Joe Bussard told me "Gunther Schuller doesn't know what he's talking about!" (I'm not sure Joe actually knew who I was talking about, though).

Schuller never finished his 3rd jazz-history book, did he? He was writing so slow that the history of jazz was progressing faster than he was recording it. I think maybe the topic just turned out to be too darn big.
Before the MJQ, Paul Nero's last recording--his first and only 33 1/3 rpm LP--was recorded in 1956 with a string quartet plus bass, guitar and drums. The string parts are composed and very complex. Six of the pieces are classical miniatures composed by Nero, Shorty Rogers and Bob Cooper, and the other six are jazz standards in very complex arrangements by Jimmy Giuffre, Marty Paich, Ruby Raksin and others. The strings stick to their composed parts, but the guitar seems to have a completely free hand.

Jimmy Giuffre arranged "I Cover The Waterfront" for the record, and says this about it:

"The only real difference in the approach to my writing for this group was the realization that the strings widened the range, not only as far as register but in sounds and effects as well. The approach in general was contrapuntal, including the bass, guitar, and even percussion. They are part of the counterpoint rather than a rythm background. It was difficult to imagine the finished product, since I had not heard a jazz string quartet before."

Last edited by pinhedz on Wed Apr 20, 2011 1:18 pm; edited 1 time in total
pinhedz wrote:I don't know who was the first to play Bach with a jazz rhythm section, but these guys were doing it in the 1960s. They had 3 soloists on traditional Japanese instruments, but behind them was a rhythm section that sounded like Basie's, so the soloists had to swing, too; they couldn't help it.
The MJQ plays some of the same pieces as the Japanese group, and it's interesting that the MJQ versions are much closer to straight baroque. What makes the big difference is the Japanese rhythm section; they play as if they figure--since Bach's music is Western--if it mean a thing it have to swing, hai!
The mastermind behind the Japanese swinging-Bach group was pianist Norio Maeda.
I know that you are wondering what became of him:
There were two threads on the MJQ, but I just consolidated the two and eliminated the redundancy.

---
Permissions in this forum:
You
cannot
reply to topics in this forum