My hero: George Eliot
'Though she comes to us wrapped in swaths of Victoriana, Eliot was a radical of the boldest kind'
Lisa Appignanesi The Guardian, Saturday 16 April 2011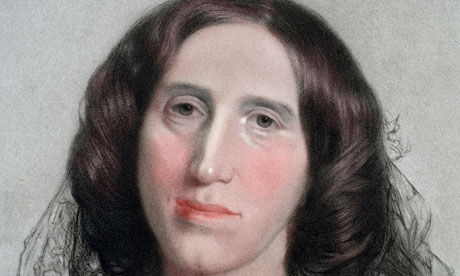 George Eliot. Photograph: The Print Collector/Corbis
George Eliot increases in stature for me with each passing decade. She didn't throw herself into the writing of fiction until she was nearing 40, and it took me almost that long to appreciate her capacious intelligence, her wisdom and, yes, her wit. From Adam Bede to Daniel Deronda, she questioned her times. She plumbed ideas, politics, religion, race, and above all the vagaries of the heart.
Virginia Woolf characterised Middlemarch as "one of the few English novels written for grown-up people". No happy ending of marriage here for her bookish, youthful heroine, Dorothea, who dedicates herself to the dried-up old scholar Casaubon – satirical renditions of herself and Herbert Spencer, who hadn't requited her infatuation. No happy end either for her Dr Lydgate, who thinks marriage to a pretty airhead will see him through in his great scientific adventure.
Though she comes to us wrapped in swaths of Victoriana, George Eliot was a radical of the boldest kind. In a way, her "ill-favoured" looks served her. They made her estate-manager father decide to send her to school, since marriage might not be an option. Books and ideas became Mary Anne Evans's passion and in part led to her loss of faith. For 14 years, she was housekeeper to her increasingly estranged father. Along the way she learned German, read the Bible sceptics Feuerbach and Strauss, and translated the latter's bestselling Life of Jesus. A few days after her father's funeral, she left for Geneva with progressive friends, and stayed on alone after they had left. On her return, she became, in all but name, editor of the Westminster Review.
Her openly transgressive union with the married social critic and philosopher George Henry Lewes sealed her fate as an outsider. She metamorphosed into the novelist George Eliot. Greatly respected, she was still not respectable. Her brother didn't communicate with her until after Lewes's death, when she finally married: she was 60, her husband, the 40-year-old John Cross.
guardian.co.uk © Guardian News and Media Limited 2011

eddie

The Gap Minder




Posts

: 7840


Join date

: 2011-04-11


Age

: 62


Location

: Desert Island



My hero: George Eliot by Cynthia Ozick
'Morally serious, historically judicious and passionately just'
Cynthia Ozick
guardian.co.uk, Friday 20 April 2012 22.55 BST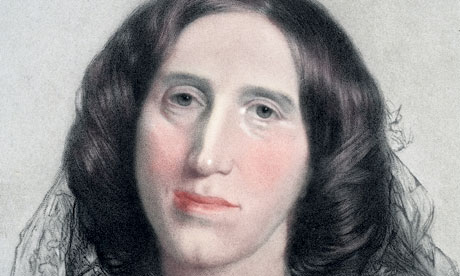 George Eliot: valorous. Photograph: © The Print Collector/Corbis
When I say that George Eliot has long been my hero, I mean to include those aspects of her thought and temperament that have been disparaged or dismissed or ignored. She was, after all, a novelist who did not eschew politics or polemics – sometimes silently though defiantly, as in her relationship with George Henry Lewes. Lewes, unable to divorce his wife, was condemned as an adulterer and Eliot as a fallen woman. Yet in the face of likely ostracism, she dared to be styled Mrs Lewes. She was soon to be reproached for greater daring, taking up a cause far more unpopular and antagonistic. John Blackwood, Eliot's publisher, was unforgiving towards her Jewish and Zionist themes, as he saw them, evolving in Daniel Deronda: why on earth this, of all uncongenial subjects? For pragmatic reasons (she was already a bestseller), he mainly held his tongue. Lewes, her unfailing support, was nevertheless moved to admit: "The Jewish element seems to me likely to satisfy nobody."
A century after the book's publication, the eminent Cambridge critic FR Leavis proposed to carve out of it an alternative novel, to be called Gwendolen Harleth after its liveliest character. "As for the bad part of Daniel Deronda," he said, "there is nothing to do but cut it away." The "bad part" – the eloquent speechifying of Mordecai, the Zionist visionary – is high oratory, not novelistic art. We can grant Leavis his literary case, but in doing so we are agreeing to eviscerate the morally serious, historically judicious and passionately just George Eliot. Three years after the novel's controversial appearance, Eliot published an essay whose title – "The Modern Hep! Hep! Hep!" – echoed the mob's howls during the 1819 anti-Jewish riots in Germany. ("Hep" stood for the Latin "Hierosolyma Est Perdita", "Jerusalem Is Lost.") This valorous outcry is nowadays so neglected as to be nearly forgotten. But as England's own "J'Accuse!", it is yet another reason for George Eliot's uncommon and lasting heroism.
• Cynthia Ozick's Foreign Bodies (Atlantic) has been shortlisted for the 2012 Orange Prize.

eddie

The Gap Minder




Posts

: 7840


Join date

: 2011-04-11


Age

: 62


Location

: Desert Island




---
Permissions in this forum:
You
cannot
reply to topics in this forum