eddie

The Gap Minder




Posts

: 7840


Join date

: 2011-04-11


Age

: 62


Location

: Desert Island



^
Material replicated below in the event of thread expiry:
********************************************************************
Alfred Jarry, author and pataphysician.
Wiki:
Alfred Jarry (8 September 1873 – 1 November 1907) was a French writer born in Laval, Mayenne, France, not far from the border of Brittany; he was of Breton descent on his mother's side.
Best known for his play Ubu Roi (1896), which is often cited as a forerunner to the surrealist theatre of the 1920s and 1930s, Jarry wrote in a variety of genres and styles. He wrote plays, novels, poetry, essays and speculative journalism. His texts present some pioneering work in the field of absurdist literature. Sometimes grotesque or misunderstood (e.g. the opening line in his play Ubu Roi, "Merdre!", has been translated into English as "Pshit!", "Shitteth!", "Shittr!", "Shikt!", "Shrit!", "Pschitt!", and "Shitsky!"), he invented a pseudoscience called 'Pataphysics.

eddie

The Gap Minder




Posts

: 7840


Join date

: 2011-04-11


Age

: 62


Location

: Desert Island



First edition cover of Jarry's Ubu Roi
Wiki:
Ubu Roi (King Ubu) is a playby Alfred Jarry, premiered in 1896. It is one of the precursors to the Theatre of the Absurd and the greater surrealist art movement of the early twentieth century. It is the first of three stylised burlesques in which Jarry satirises power, greed and their evil practices — in particular the propensity of the complacent bourgeois to abuse the authority engendered by success. It was followed by Ubu Cocu (Ubu Cuckolded) and Ubu Enchaîné (Ubu Enchained), neither of which was performed during Jarry's 34-year life.

eddie

The Gap Minder




Posts

: 7840


Join date

: 2011-04-11


Age

: 62


Location

: Desert Island



Woodcut of Ubu by Jarry.
Wiki:
"The central character is notorious for his infantile engagement with his world," wrote Jane Taylor. "Ubu inhabits a domain of greedy self-gratification." Jarry's metaphor for the modern man, he is an antihero — fat, ugly, vulgar, gluttonous, grandiose, dishonest, stupid, jejune, voracious, cruel, cowardly and evil — who grew out of schoolboy legends about the imaginary life of a hated teacher who had been at one point a slave on a Turkish Galley, at another frozen in ice in Norway and at one more the King of Poland. Ubu Roi follows and explores his political, martial and felonious exploits, offering parodic adaptations of situations and plot-lines from Shakespearean drama, including Macbeth, Hamlet and Richard III: like Macbeth, Ubu murders the king who helped him on the urging of his wife, usurps his throne and is in turn defeated and killed by his son; Jarry also adapts the ghost of the dead king and Fortinbras's revolt from Hamlet, Buckingham's refusal of reward for assisting a usurpation from Richard III and The Winter's Tale's bear.
"There is," wrote Taylor, "a particular kind of pleasure for an audience watching these infantile attacks. Part of the satisfaction arises from the fact that in the burlesque mode which Jarry invents, there is no place for consequence. While Ubu may be relentless in his political aspirations, and brutal in his personal relations, he apparently has no measurable effect upon those who inhabit the farcical world which he creates around himself. He thus acts out our most childish rages and desires, in which we seek to gratify ourselves at all cost." The derived adjective "ubuesque" is recurrent in French and francophone political debate.

eddie

The Gap Minder




Posts

: 7840


Join date

: 2011-04-11


Age

: 62


Location

: Desert Island



A life lived not wisely but too well:

Wiki:

A precociously brilliant student, Jarry enthralled his classmates with a gift for pranks and troublemaking.

At the lycée in Rennes when he was 15, he led of a group of boys who devoted much time and energy to poking fun at their well-meaning, but obese and incompetent physics teacher, a man named Hébert. Jarry and classmate Henri Morin wrote a play they called Les Polonais and performed it with marionettes in the home of one of their friends. The main character, Père Heb, was a blunderer with a huge belly; three teeth (one of stone, one of iron, and one of wood); a single, retractable ear; and a misshapen body. In Jarry's later work Ubu Roi, Père Heb would develop into Ubu, one of the most monstrous and astonishing characters in French literature.

At 17 Jarry passed his baccalauréat and moved to Paris to prepare for admission to the École Normale Supérieure. Though he was not admitted, he soon gained attention for his original poems and prose-poems. A collection of his work, Les minutes de sable mémorial, was published in 1893.
That same year, both his parents died, leaving him a small inheritance which he quickly spent.

Jarry had meantime discovered the pleasures of alcohol, which he called "my sacred herb" or, when referring to absinthe, the "green goddess". A story is told that he once painted his face green and rode through town on his bicycle in its honour (and possibly under its influence).

When he was drafted into the army in 1894, his gift for turning notions upside down defeated attempts to instill military discipline. The sight of the small man in a uniform much too large for his less than 5-foot frame—the army did not issue uniforms small enough—was so disruptively funny that he was excused from parades and marching drills. Eventually the army discharged him for medical reasons. His military experience eventually inspired the novel Days and Nights.

Jarry returned to Paris and applied himself to drinking, writing, and the company of friends who appreciated his witty, sweet-tempered, and unpredictable conversation. This period is marked by his intense involvement with Remy de Gourmont in the publication of L'Ymagier, a luxuriously produced "art" magazine devoted to the symbolic analysis of medieval and popular prints. Symbolism as an art movement was in full swing at this time and L'Ymagier provided a nexus for many of its key contributors. Jarry's play Caesar Antichrist (1895) drew on this movement for material. This is a work that bridges the gap between serious symbolic meaning and the type of critical absurdity with which Jarry would soon become associated. Using the biblical Book of Revelation as a point of departure, Caesar Antichrist presents a parallel world of extreme formal symbolism in which Christ is resurrected not as an agent of spirituality but as an agent of the Roman Empire that seeks to dominate spirituality. It is a unique narrative that effectively links the domination of the soul to contemporaneous advances in the field of Egyptology such as the 1894 excavation of the Narmer Palette, an ancient artifact used for situating the rebus within hermeneutics.

The spring of 1896 saw the publication, in Paul Fort's review Le Livre d'art, of Jarry's 5-act play Ubu Roi—the rewritten and expanded Les Polonais of his school days. Ubu Roi's savage humor and monstrous absurdity, unlike anything thus far performed in French theater, seemed unlikely to ever actually be performed on stage. However, impetuous theater director Aurélien-Marie Lugné-Poe took the risk, producing the play at his Théâtre de l'Oeuvre.

On opening night (10 December 1896), with traditionalists and the avant-garde in the audience, King Ubu (played by Firmin Gémier) stepped forward and intoned the opening word, "Merdre!" ("Shittr!"). A quarter of an hour of pandemonium ensued: outraged cries, booing, and whistling by the offended parties, countered by cheers and applause by the more forward-thinking contingent. Such interruptions continued through the evening. At the time, only the dress rehearsal and opening night performance were held, and the play was not revived until 1907.

The play brought fame to the 23-year-old Jarry, and he immersed himself in the fiction he had created. Gémier had modeled his portrayal of Ubu on Jarry's own staccato, nasal vocal delivery, which emphasized each syllable (even the silent ones). From then on, Jarry would always speak in this style. He adopted Ubu's ridiculous and pedantic figures of speech; for example, he referred to himself using the royal we, and called the wind "that which blows" and the bicycle he rode everywhere "that which rolls".

Jarry moved into a flat which the landlord had created through the unusual expedient of subdividing a larger flat by means of a horizontal rather than a vertical partition. The diminutive Jarry could just manage to stand up in the place, but guests had to bend or crouch. Jarry also took to carrying a loaded pistol. In response to a neighbor's complaint that his target shooting endangered her children, he replied, "If that should ever happen, ma-da-me, we should ourselves be happy to get new ones with you" (though he was not at all inclined to engage with females in the manner implied).

Living in worsening poverty, neglecting his health, and drinking excessively, Jarry went on to write what is often cited as the first cyborg sex novel, Le Surmâle The Supermale, which is partly a satire on the Symbolist ideal of self-transcendence.

Unpublished until after his death, his fiction Exploits and Opinions of Dr. Faustroll, pataphysician (Gestes et opinions du docteur Faustroll, pataphysicien) describes the exploits and teachings of a sort of antiphilosopher who, born at age 63, travels through a hallucinatory Paris in a sieve and subscribes to the tenets of 'pataphysics. 'Pataphysics deals with "the laws which govern exceptions and will explain the universe supplementary to this one". In 'pataphysics, every event in the universe is accepted as an extraordinary event.

Jarry once wrote, expressing some of the bizarre logic of 'pataphysics, "If you let a coin fall and it falls, the next time it is just by an infinite coincidence that it will fall again the same way; hundreds of other coins on other hands will follow this pattern in an infinitely unimaginable fashion".
In his final years, he was a legendary and heroic figure to some of the young writers and artists in Paris. Guillaume Apollinaire, André Salmon, and Max Jacob sought him out in his truncated apartment. After his death, Pablo Picasso, fascinated with Jarry, acquired his pistol and wore it on his nocturnal expeditions in Paris, and later bought many of his manuscripts as well as executing a fine drawing of him.

Jarry lived in his 'pataphysical world until his death in Paris on 1 November 1907 of tuberculosis, aggravated by drug and alcohol use. It is recorded that his last request was for a toothpick. He was interred in the Cimetière de Bagneux, near Paris.



eddie

The Gap Minder




Posts

: 7840


Join date

: 2011-04-11


Age

: 62


Location

: Desert Island



PANDEMONIUM AT THE OPENING NIGHT OF UBU ROI:

December 11, 1896, the opening night, is worth describing in detail. There had been nothing like it since the wild premiere of Victor Hugo's Hernani in 1830 . . .

"Before the curtain went up, a crude table was brought out covered with a piece of old sacking. Jarry appeared looking dead white, for he had made himself up like a streetwalker to face the footlights. Nervously sipping from a glass, he spoke in his flattest, most clipped tones, for ten minutes . . . In these earnest nonsense lines Jarry was already insinuating that the play is more than it appears, that the true setting of farce is (like Poland, a country long condemned to the nonexistence of partition) an Eternity of Nowhere, and that contradiction is the mode of its logic. The speech did not exactly insure a sympathetic reception. . . ."

"' . . . the scenery was painted to represent, by a child's conventions, indoors and out of doors, and even the torrid, temperate, and arctic zones at once. Opposite you, at the back of the stage, you saw apple trees in bloom, under a blue sky, and against the sky a small closed window and a fireplace . . . through the very midst of which . . . trooped in and out the clamorous and sanguinary persons of the drama. On the left was painted a bed, and at the foot of the bed a bare tree and snow falling. On the right there were palm trees . . . a door opened against the sky, and beside the door a skeleton dangled. A venerable gentleman in evening dress . . . trotted across the stage on the points of his toes between every scene and hung the new placard on its nail. (Studies in Seven Arts.)'

"Gemier, swollen and commanding in his pear shaped costume (but without a mask, despite Jarry's campaign), stepped forward to speak the opening line -- a single word. He had not known how to interpret the role until Lugne-Poe had suggested he imitate the author's own voice and jerky stylized gestures. The midget Jarry truly sired the monster Ubu. In a voice like a hammer, Gemier pronounce an obscenity which Jarry had appropriated to himself by adding one letter.

"'Merdre,' Gemier said. 'Shite.'

"It was fifteen minutes before the house could be silenced. The mot de Cambronne had done its work; the house was pandemonium. Those who had been lulled by Jarry's opening speech were shocked awake; several people walked out without hearing any more. The rest separated into two camps of desperately clapping enthusiasts and whistling scoffers. Fist fights started in the orchestra. The critics were on the spot, their reactions observed by both sides. . . A few demonstrators simultaneously clapped and whistled in divided sentiments. Malarme sat quiet, waiting to see more of the 'prodigious personage' to whose author he addressed a letter the following dy. Jarry's supporters shouted, 'You wouldn't understand Shakespeare either.' Their opponents replied with variations on the mot of the evening. . . ."

"Finally, Gemier improvised a jig and sprawled out on the prompter's box. His diversion restored enough order to allow the action to proceed to the next 'Merdre,' when the audience took over once more. The interruptions continued for the rest of the evening. . . Pere Ubu and Mere Ubu use language more scatological than erotic . . . The curtain rang down that night and the next on the only two performances of Ubu Roi until it was revived by Gemier in 1908. For the Theatre de l'Oeuvre it was the catastrophe that made it famous.

"Also present in the house was a young Irishman by the name of William Butler Yeats. Despite a very limited knowledge of the language, his description of the performance is worth repeating. 'I go to the 1st performance of Jarry's Ubu Roy, at the Theatre de l'Oeuvre, with Rhymer . . . The audience shake their fists at one another, and Rhymer whispers to me, 'There are often duels after these performances,' and explains to me what is happening on the stage. The players are supposed to be dolls, toys, marionettes, and now they are all hopping like wooden frogs, and I can see for myself that the chief personage, who is some kind of king carries for a sceptre a brush of the kind that we use to clean a closet. Feeling bound to support the most spirited party, we have shouted for the play, but that night at the Hotel Corneille I am very sad, for comedy, objectivity, has displayed its growing power once more. I say, After S. Mallarme, after Verlaine, after G. Moreau, after Puvis de Chavannes, after our own verse, after the faint mixed things of Conder, what more is possible? After us the Savage God. (Autobiography.)'

"No event marks more clearly than this the close of one era and the imminence of another. Yeats did not have to understand French to perceive the significance of Ubu, natural offspring of the turbulence of the nineties."


eddie

The Gap Minder




Posts

: 7840


Join date

: 2011-04-11


Age

: 62


Location

: Desert Island




eddie

The Gap Minder




Posts

: 7840


Join date

: 2011-04-11


Age

: 62


Location

: Desert Island



John McLaughlin wrote: "John was physical, studied pataphysical...." - Lennon/McCartney.

eddie

The Gap Minder




Posts

: 7840


Join date

: 2011-04-11


Age

: 62


Location

: Desert Island



Alfred Jarry: A Pataphysical Life by Alastair Brotchie - review
A life of one of the most influential writers of modern times
Michael Moorcock
guardian.co.uk, Wednesday 4 January 2012 09.01 GMT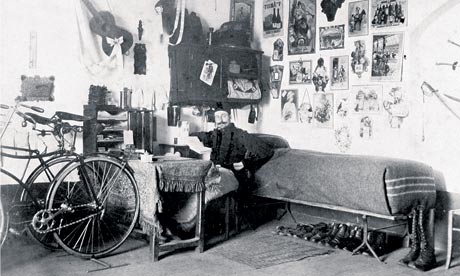 One man and his bike: Jarry. Photograph: Rue des Archives, Paris
Alfred Jarry is perhaps the least known among the important writers of his generation. Both Burroughs and Ballard were inspired by him, he had a profound influence on the British authors associated with New Worlds magazine, and was admired by artists from Duchamp to Paolozzi as well as any number of playwrights, including Artaud, Beckett and Ionesco. His posthumous Exploits and Opinions of Dr Faustroll, Pataphysician has been cited several of today's most innovative authors. This fine biography, written with loving honesty by Alastair Brotchie, is the best to date.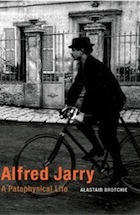 Alfred Jarry: A Pataphysical Life
by Alastair Brotchie
Relying on a considerable amount of original research, Brotchie refuses to speculate except in specifics, and will then indicate where Jarry himself, say, has not been clear. He gives us an unmatched and vivid picture of the belle epoque's avant-garde, of which Jarry was an important, original part. At a time when we are beginning to re-examine and even redefine modernism, Jarry is seen increasingly as a major influence on contemporary writing as well as the most important precursor of the dadaists, the surrealists and the British pop art movement.
Born in 1873 to a somewhat impoverished Breton bourgeois family, the precocious Jarry nonetheless received a first-class education in Rennes and became as familiar with advanced physics as he was with Greek and Latin. Kelvin was among the theoretical physicists whom he read. Although a little bookish, writing poetry and fiction from the age of 12, Jarry enjoyed fishing, fencing and cycling, sports to which he remained attached all his short life.
The Lycée at Rennes had many excellent teachers, but one became the butt of all the boys: a rather pompous, cowardly master called Hébert, whom Jarry and his young pals nicknamed "Père Ubu". Over time, Ubu became his own terrible creature, no longer a mockery of one individual. The bombastic, scatological sayings and doings of this increasingly fantastic grotesque were probably mostly written by Jarry. When he left the school his friends were perfectly happy to let him take Ubu, too. Jarry went to Paris to study for his bac, and Ubu, his creation, went with him.
Jarry was a conscientious student, soft-spoken and courteous, fey and tiny (he sometimes wore women's shoes). He appears to have been just as popular at the Lycée Henri IV crammer for the Ecole Normale Supérieure, perhaps because he found it hard to check his wit when addressing masters and lecturers, one of whom was the philosopher Henri-Louis Bergson, who was for a while a strong influence. Soon he was impressing other students with his talent, his charm and his eccentricity. Now, however, he was among peers appreciative of Ubu when he assumed the role, which he increasingly did, doubtless to disguise his shyness or, perhaps, his homosexuality. At this time he formed a close friendship with Léon-Paul Fargue, who would become a well-known poet. Fargue introduced him to the work of the symbolists, then France's acknowledged avant garde.
For a while Lautréamont was Jarry's chief literary inspiration. I agree with Brotchie who thinks the influence malign, but the innovations in Les Chants de Maldoror impressed Jarry and encouraged him to continue with his own writing. Gradually he and Fargue found themselves moving in bohemian society. Jarry's first work appeared anonymously in L'Echo de Paris. Soon he was writing regularly for some of the most interesting journals in Paris, the majority of which held regular gatherings of contributors. Here Jarry, often adopting the Ubu persona so that friends began to call him "Pa Ubu", began to meet other ambitious writers.
In 1896, after publishing several books in small, independent editions, Jarry was at last able to get Ubu staged by Aurélien Lugné-Poë at the Théâtre de l'Oeuvre, originally created to promote symbolist works (except nobody was altogether sure what these were). Earlier productions of Maeterlinck and Ibsen had their philistine detractors but none were as violent as Ubu's audiences.
Ubu was uncompromising. Indeed with its opening neologism spouted by the vulgar, obscene grotesque Père Ubu – "Merdre!!!!" – it immediately announced its intentions. "It was," says Brotchie, "as though a modernist play from the middle of the next century had been dropped on the stage without all the intervening theatrical developments that might have acclimatised the audience to its conventions." Since Jarry had been in the thick of the riot, encouraging the response, he clearly wasn't disappointed. He had a very good eye for publicity and laboured hard behind the scenes to get it.
Jarry regularly published in journals such as Mercure de France, and he quickly joined their inner circles. For a few years he enjoyed a relatively regular, if small, income from the Mercure and a few others, spending much of his time in the company of Gide, Lautrec, Rousseau, Gourmont, Mallarmé and other exceptional writers and artists of his day (there is some question whether he ever knew Picasso through their mutual friend Apollinaire).
In 1899 Mercure serialised HG Wells's The Time Machine. This gave Jarry the idea of writing a pseudo-scientific paper on the machine, as if one really existed, an idea perfectly in keeping with his notions of "pataphysics", in part a sardonic combination of metaphysics and theoretical physics as described in some of his earliest work. At the beginning of his piece Jarry refers to the difference between physical time and duration. His description of the machine is not surprising, since both authors were enthusiastic cyclists. The last section of the piece, "Time as Seen from the Machine", offers a new definition of duration: "The Becoming of Memory". This connects, Brotchie points out, what is an apparently theoretical text with notions of nostalgia and the erotic in Jarry's short novel Days and Nights and suggests, convincingly, that it was probably the first time scientific and technical language had been used entirely to produce a work of fiction. "On the Construction of a Time-Exploring Machine" was a straight-faced piece of exposition so well done that it had a number of eminent British scientists almost convinced. Wells himself would have been a bit puzzled by pataphysics. As Jarry had Ubu explain elsewhere: "Pataphysics is a science which we have invented and for which a crying need is generally expressed." As usual, he was at least half a century ahead of his time.
Jarry's life became increasingly difficult as his health failed, the magazines folded and he was pursued by creditors. While the avant garde journals existed, he was able to scrape a small living. He fished for most of his food. He had his bicycle for transport, his revolver for security and ultimately his own little house, built on land he bought beside the Seine. He lived for and by his art, caring very little for material things. Over the years he learned to discard most comforts except alcohol. He died in 1907, aged 32, inspiring a cycle of myth almost as rich as that surrounding his own monstrous Pa Ubu. Subsequent biographies were all informed by these myths, the most prevalent being that Ubu, the fiction, destroyed Jarry, the man, and that he "became" Ubu, incapable of distinguishing between himself and his horrible invention.
Perhaps the greatest single thing Brotchie has done in his biography is to dispel those myths. He shows how Jarry was perfectly capable of telling truth from reality. He did not die "of drink" but of complications from undiagnosed TB affecting his brain. He was a genius, certainly, but a rather sweet-natured, obstinate and luckless genius, who charmed not only his friends but occasionally the entire populations of small towns.
Quasi-romantics, actually sensationalists and sentimentalists, prefer to turn a talented person into a simplified fiction. A real romantic such as Jarry had to fight or drug himself in order to rein in his imagination and control his invention. Brotchie has done his subject and us a considerable service in presenting this exhaustive, realistic picture of a man still not properly recognised as one of the most influential writers of modern times.

eddie

The Gap Minder




Posts

: 7840


Join date

: 2011-04-11


Age

: 62


Location

: Desert Island



The Trial of Ubu – review
Hampstead, London
Michael Billington
guardian.co.uk, Wednesday 25 January 2012 19.23 GMT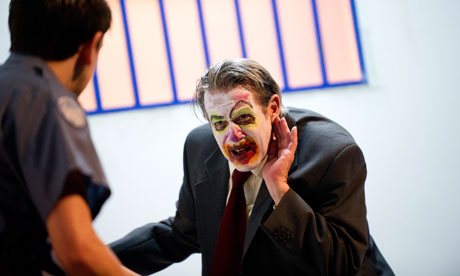 Hideous crimes … The Trial of Ubu. Photograph: Tristram Kenton for the Guardian
Simon Stephens has had a witty idea: to follow a potted version of Alfred Jarry's 1896 play about a despotic monster with the arraignment of Ubu by an international tribunal. In the process Ubu becomes a symbol of contemporary dictators, and issues are raised about the capacity of the law to cope with political crimes. But it is debatable as to whether Katie Mitchell, by refracting the trial through a pair of headphone-wearing interpreters, has chosen the ideal form.
The 80-minute evening begins well with a puppet version of the original play. We then switch to Ubu's trial represented by a soundbooth housing two interpreters. It is through their voices that we hear the to-and-fro arguments: Ubu's questioning of the court's legality, eyewitness accounts of mass graves and attempts by Ma Ubu and army chiefs to shuffle off responsibility. Eventually, the side walls of Lizzie Clachan's set open up to show the two leading counsels debating the efficacy of tribunals and the imprisoned Ubu dreaming of freedom.
Having attended the trial of Slobodan Milošević in The Hague, I can vouch for the bizarre contrast between the dry legal formality and the hideous crimes under review. But I think Mitchell misses a trick by giving us a secondhand version of Ubu's trial: the irony of Stephens's idea would have been clearer if we had seen Tricycle tribunal-theatre techniques applied to a fictional archetype like Ubu.
But the puppetry is good, Kate Duchene and Nikki Amuka-Bird faithfully embody Mitchell's concept as the interpreters, and two moments stand out. One is the argument between George Taylor and Josie Daxter as the two counsels as to whether tribunals are simply moral masturbation or a means of exposing war crimes. The other is when Ubu catalogues all the horrors, from Spion Kop in 1900 to Gaza in 2009, that have come in his wake. At that point Stephens reminds us that Jarry's play, written as a schoolboy prank, had a stunning prophetic power.

eddie

The Gap Minder




Posts

: 7840


Join date

: 2011-04-11


Age

: 62


Location

: Desert Island





Similar topics
---
Permissions in this forum:
You
cannot
reply to topics in this forum