Hosni
King of Pop
Mon Jul 07, 2008 11:29 pm
Truly the greatest of the aleatoric composers.
pinhedz
Schrödinger's Hepcat
Thu Jul 10, 2008 12:38 pm
I thought Pierre Boulez owned the term "aleatoric," and Lutoslawski used the term "ad libitum."
Krzysztof Penderecki was pretty aleatoristical 40 years ago, although he became more conventional sounding later. The American premier of his Saint Luke Passion took place in Minneapolis, because the conductor there was his old buddy Stanislaw Skrowaczewski. On the way out of that one I was feeling very aleaterrorized.
Hosni
King of Pop
Sat Dec 12, 2009 3:29 pm
pinhedz
Schrödinger's Hepcat
Tue Jan 26, 2010 4:26 am
Penderecki's St. Luke Passion sounded kind of like this, only 80 minutes longer:
pinhedz
Schrödinger's Hepcat
"People whose sensibility is destroyed by music in trains, airports, lifts, cannot concentrate on a Beethoven Quartet."
—Witold Lutoslawski
Hosni
King of Pop
Sat May 29, 2010 3:42 pm
True, but that doesn't mean I can't or don't try, Witold. But can you operate an iPad, Witold Lutoslawski? Can you make a baby, Witold Lutoslawski? My mother, she had the blood of the Aztecs which was before your people.
pinhedz
Schrödinger's Hepcat
Sat Jun 05, 2010 4:39 am
Mr. Ribikawskis told me that the Lithuanians once ruled the entire known world--every inch known to them at the time.
pinhedz
Schrödinger's Hepcat
Sat Jun 19, 2010 8:36 pm
Conlon Nancarrow, rejected by the public in his native land, had to live out his life in the land of the Aztex.
And it turns out that aleatoric music was just a fad--so says the renowned James Tenney in his notes on Conlon Nancarrow's studies for player piano:
"The term 'aleatory' used in the subtitle of Study #44 raises interesting questions about the use of randomness in music. Here, the only aspect of the work that is subject to chance involves the temporal relation between the two strata; everything else is completely determined. And yet this restricted use of the term "aleatory" points up an essential fad [sic--he meant fact, didn't he?] about any compositional use of random, stochastic, or indeterminate processes--they must be designed in such a way that any outcome which is technically possible is also musically acceptable (to the composer, of course)."
-- James Tenney, 1990
Can James Tenney make a baby? I have my doubts.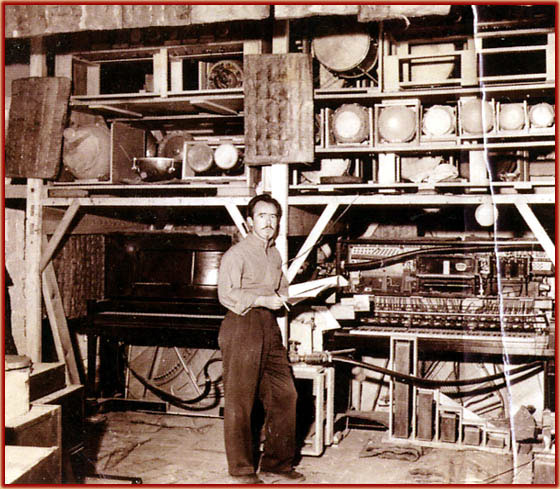 Hosni
King of Pop
Sat Jul 03, 2010 7:51 am
---
Permissions in this forum:
You
cannot
reply to topics in this forum