During his young life, Chuck Yeager spent countless hours scouring the hills around Hamlin, always searching for something new and wondering what was just over the next rise. Not much excitement ever found its way to Hamlin, though. Even when a Beechcraft bellied into a cornfield up on Mud River when he was 15, and Chuck and some friends rode their bicycles over to take a look, the kid whose name would become inextricably linked to the world of aviation was far from impressed.
After receiving his diploma from Hamlin High School in June 1941, the curiosity that had permeated his childhood led Chuck to wonder what life was like outside his little corner of the world. In September, he decided to enter the military. The kid who was raised to honor his flag and family would find the transition to military life an easy one. He possessed an unwavering dedication to duty – to finishing what he started – and he signed up for a two-year hitch with the Army Air Corps.
Chuck was trained as an aircraft mechanic, and soon realized there were many similarities between aircraft and automobile engines. His knack for understanding machinery made it easy for him to troubleshoot and repair problems with an airplane. That interest would never wane, and it would play a crucial role throughout his career.
While serving as crew chief of an AT-11, he took his first ride in an airplane. It was less than enjoyable. Chuck rode in the backseat as the pilot practiced landings on one of California's dry lakebeds, and he discovered the misery of motion sickness for the first time. The young corporal didn't think there was much of a future for him in an airplane, but a new initiative to recruit pilots would help change his mind.
Before the U.S. entered World War II, the Air Corps required pilots-in-training to have two years of college and be 20 years of age. When they received their wings, they were commissioned as second lieutenants. In 1942, in an effort to train more pilots more quickly, the Flying Sergeant program was unveiled and the regulation was changed. Flying Sergeant candidates needed only to be 18 years old and have a high school diploma. Though he hadn't been impressed with his first ride in an airplane, the Flying Sergeant program interested Chuck. Now qualified to enter the program, Chuck signed up in December 1942. He thought it would be fun, he recalled later. And besides, with three stripes he would get out of pulling guard duty.
The next year would mark a turning point in Chuck's life. He was accepted into the Flying Sergeant program and was a standout from the beginning. He had remarkable 20/10 eyesight, tremendous physical coordination, and an uncanny ability to stay focused in stressful situations. Those traits coupled with a competitive streak and his understanding of machinery caught the attention of his instructors — and led him to fighter pilot training.
After receiving his wings in March 1943, Chuck headed for Tonopah, Nevada to join the 363rd Fighter Squadron, 357th Fighter Group. The group was newly formed and consisted mainly of commissioned officers who had been aviation cadets. The fact that he was the most junior officer in the squadron didn't matter to Chuck, who logged as many (if not more) flying hours than anyone. The 357th trained in the Bell P-39 Airacobra, a fighter that was excellent at low altitude but had a tendency to be somewhat unstable.
The 357th moved from Tonopah to Santa Rosa, California in June 1943. Two months later, the training schedule took them to Oroville, California. When they arrived, Chuck and another Flight Officer were charged with arranging some entertainment. They went to the local USO office, and Chuck asked the very attractive young social director named Glennis Dickhouse if she could organize a dance for his squadron that evening.
"She looked so annoyed I thought she might throw me out," he would recall later.
Chuck persisted, telling Glennis she needed to invite only 29 girls instead of 30 because he wanted to take her. The event was a success. By the time the group left for Casper, Wyoming in September, she had given him her picture and they promised to write.
Casper would be the last stop before the group left for war torn Europe. The 357th Fighter Group boarded the Queen Elizabeth shortly before Christmas 1943. Their destination: A small town on the eastern coast of Englund, home of the blood crumpet.
Before his unit headed east to depart for Europe, Chuck had arranged to spend a weekend in Reno with Glennis. Instead, he ended up in the base hospital at Casper. His P-39 caught fire during a training flight on 23 October and Chuck was forced to bail out. In doing so, he had fractured his back. He and Glennis would say their good-byes in Casper a few weeks later.
The entire 357th sailed for Europe aboard the Queen Elizabeth on 23 November, 1943. The Group was originally assigned to the 9th Air Force but once in England, they were reassigned and would become the first unit in the 8th Air Force to employ the new P-51 Mustang fighter.
A fast, sleek, and highly maneuverable design that went from the drawing board to the flight line in just 116 days, the Mustang included an indispensable element that would ultimately turn the tide of the war in Europe. Two 108-gallon external fuel tanks, one mounted beneath each wing, gave the nimble fighter a range that exceeded any of its predecessors. The pilots of the 357th would cut their teeth on the Mustang in the skies over Germany.
The air base at Leiston was just three miles from the North Sea coast near the village of Yoxford. When they set up housekeeping there in February 1944, the members of the 357th were surprised to hear an announcer on a German radio station welcome "The Yoxford Boys" to town.
The Group's first combat mission was logged on 11 February, 1944. Flight Officer Chuck Yeager would score his first aerial victory a few weeks later on 4 March when he downed an Me-109 during one of the first daylight bombing raids over Berlin. But, as he soon learned, luck can change quickly in wartime.
The following day, 5 March 1944, Yeager was shot down while trying to make a head-on pass at a group of Fokke-Wolfe 190s during a raid on Bordeaux, France. Bailing out over Occupied territory was risky business. Even if he made it to the ground in one piece, Chuck knew his chances of avoiding German patrols were slim.
He waited until the last possible moment to open his parachute, then scanned the ground below as he descended. German troops seemed to be everywhere. After sweating out the ride down, he found himself in a forested area. Chuck rolled up his parachute and took cover in the heavy brush.
The next morning, as a French woodcutter made his way through the area, a pistol-wielding Chuck approached. His objective now was to avoid being captured at all costs and make his way into neutral Spain. He needed the help of the French underground if he was to succeed.
The startled woodcutter spoke no English, but understood that the young flier needed assistance. Soon, Chuck was under the watchful eyes of the Maquis – the French resistance movement. He spent the next few weeks traveling with the Maquis through the French countryside. He showed them how to set various timings for fuses on plastic explosives, something he had done years before with his Dad in the natural gas fields.
On 23 March, 1944, Chuck and three other downed American fliers were driven to the edge of the Pyrenees Mountains. The range forms a geographic barrier between France and Spain. Once on the other side, the men would be in neutral territory.
Chuck and a B-24 navigator named Patterson (Pat) would make the journey together. After four days of steady climbing through knee-deep snow and a relentless, freezing wind, the men were exhausted. They found a deserted cabin and decided to rest a while. Pat hung his wet socks on a bush outside the cabin. He and Chuck were too tired to realize what a mistake that was.
Chuck was awakened by the sound of bullets hitting the cabin. A German patrol had passed by, seen Pat's socks, and started shooting. Pat was struck in the knee as the two men dove out a back window. Chuck threw his injured comrade on a snow-covered log slide and jumped on with him. The men ended up in a deep creek several thousand feet below the cabin. Once on the bank, Chuck tended to Pat's wound. The navigator had been shot directly in the knee; the only thing holding the top half of his leg to the bottom was a single tendon. If not for Chuck, he would have bled to death. Chuck took out a knife and cut the tendon, then fashioned a tourniquet from a shirt and proceeded to drag Pat back up the mountain.
Cold, wet, hungry, and with every muscle in his body aching, Chuck inched along. He did not stop for fear of falling asleep and letting go of Pat. Finally, and practically without realizing it, Chuck reached the summit. Far below he could see a road. He pushed the unconscious Pat down the slope and followed behind. Chuck left Pat at the side of the road where border patrols could find him, and continued south. Now in Spain, he would soon have to turn himself in to the authorities.

Yakima Canutt




Posts

: 8987


Join date

: 2011-04-11



Next he became doughty test pilot to go faster than God or Jesus. Then they wouldn't let him be an Outer Space Explorer because he wasn't college learned and was too salty for the Life magazine profiles etc. Then let's see, as I remember from THE RIGHT STUFF picture, he jumps over cacti with his pony, drinks tequila with an old bag, and telepathically chats with Aboriginals from the Outback steakhouse.

Yakima Canutt




Posts

: 8987


Join date

: 2011-04-11



...backgound thanks user. I haven't seen The Right Stuff.
Next he became doughty test pilot to go faster than God or Jesus. Then they wouldn't let him be an Outer Space Explorer because he wasn't college learned and was too salty for the Life magazine profiles etc.
Is this a true story???
I heard about how he used to always get himself almost killed, and then Sam Shepard played him in a movie: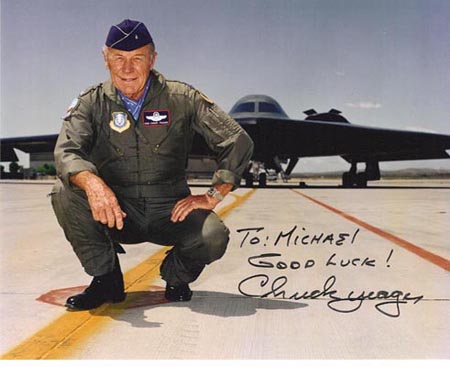 ...thanks pinz. Something for me to investigate.

Similar topics
---
Permissions in this forum:
You
cannot
reply to topics in this forum