Jack White: Blunderbuss – review
Kitty Empire
The Observer, Sunday 22 April 2012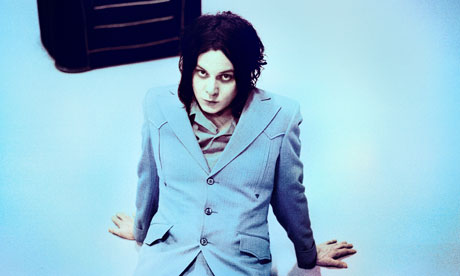 Jack White: 'another reliably great outing'.
As former upholsterer Jack White might tell it, there's no constancy to things any more. Furniture isn't built to last. Records aren't made in high fidelity. The only people giving great thought to colour schemes – pivotal to White – are interior decorators. And fidelity itself? Women are trouble and always have been, certainly on the records that White has been associated with throughout the past 15-odd years.
Jack White
Blunderbuss
XL Recordings
2012
But in these rapidly churning times you might point to one constant: White himself. Has he ever made a bad record? You might argue the Dead Weather albums aren't the ones you'd turn a friend on to first, but they're not duds. As befits a man who once posed with a cricket bat on the cover of an album, White's strike rate is exemplary. This debut solo album from the former White Stripe, Raconteur and Dead Weatherman is yet another reliably great outing, full of intriguing plot developments, yet in faithful keeping with White's previous output.
The rattling "Sixteen Saltines" is basically the White Stripes's "The Hardest Button to Button" all over again, only even better now that it's sung in an angry falsetto. By contrast, one particularly dramatic piano tune, "Weep Themselves to Sleep", finds White flowing like a rapper, spitting out bits of indignant assonance as the tune rolls along. The amazing spluttering guitar solo sounds like dental treatment – treatment you'll want to have again and again. At one point on album-closer "Take Me With You When You Go", it seems as if White is playing a Jimmy Page guitar line on a very fat kazoo.
White may be artistically constant, but this recent divorcé's songs are obsessed with inconstancy. He spends the first half of the album dwelling on womankind's perfidy, casting himself as the suffering plaything of a series of vicious femmes fatales. Love has often been a pugilistic game in White's mind but this time, on track one, he's actually losing limbs.
It gets uglier from then on in. "Freedom at 21" is particularly gruesome, a lone rattling drumkit and a stark snaking guitar line witnessing how White's poor boy has the soles of his feet cut off. The woman ends up going to the police and accusing him of assault, when she's the one who's rubbed salt into his wounds. "She's got freedom in the 21st century," White sulks, his meaning not entirely clear. You'd think he might just nurse his injuries and give up on the whole business of coupling up. The intriguing single, "Love Interruption", imagines love as a series of extreme penances before declaring: "I won't let love disrupt, corrupt or interrupt me, any more."
None of this engrossing turmoil prepares you for the album's more whimsical, sweet-natured end. Jazz-tinged country? Don't mind if he does, on "I Guess I Should Go to Sleep". "On and On and On" is an eastern-tinged meditation whose repertoire-expanding spaciness feels genuinely novel for White, an artist more at home with starkness. This solo album's new colour scheme is a telling blue: the colour of bruises and possibility.

eddie

The Gap Minder




Posts

: 7840


Join date

: 2011-04-11


Age

: 62


Location

: Desert Island



Jack White: 'I knew we'd get into these places and stir things up'
The Stripes' frontman Jack White on the President Obama, his wife's first album and doing a whole show on one note
Sarfraz Manzoor
The Observer, Sunday 14 March 2010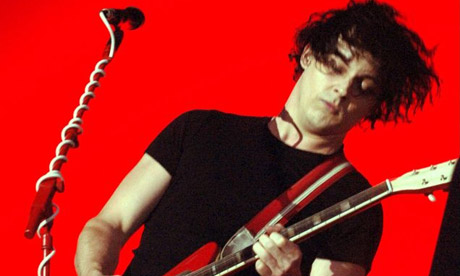 Jack White from the White Stripes
This is your first live album. What took you so long?

The White Stripes
Under Great White Northern Lights
XL
2010
I'm not generally a fan of live records and because every show the White Stripes play is different, it was always hard to try and imagine a live record or DVD that would capture the experience. It was my manager's idea to take a camera with us on our Canadian tour because we knew we were going to be playing some really strange places that we were unlikely to visit again. By the time it was over we had acres of footage and music and I thought we really ought to do something with all the material.
You chose to play in every province rather than just the big cities. Why?
When you go on the big tours and you play London, Paris, New York you don't really experience the place or the people very much. You just roll into town play some big arena and then you're out in your tour bus and you haven't seen anything. When you play a small town in the middle of nowhere the chances are that you are really going to experience the culture of that environment. What really appealed to me about Canada was that it is this untapped frontier – a lot of the small towns we played seemed like they were still living in the 1800s. I knew we would be able to get into these places and stir things up.
So what culture did you experience?
I loved going to museums, going to record stores and going to gigs, all the things that are hard to do on a big city tour. One time in White Horse, Yukon, we stayed up till three in the morning with a softball team.
The White Stripes are interesting in that your image is highly stylised and yet the music prides itself on being raw and unpolished.
I grew up in the 90s in the time of grunge when if you didn't go on stage in jeans and a T shirt you weren't "real". That seemed ridiculous to me. With the White Stripes we were trying to trick people into not realising we were playing the blues. We did not want to come off like white kids trying to play black music from 100 years ago so a great way to distract them was by dressing in red, white and black.
What did you make of the US electing an African American President?
I think it proved to the world that we can change and that we are the democracy we say we are. As a musician it also reminded me that the great music forms have been invented by black Americans – the blues, jazz, rock'n'roll, hip-hop – and that so much of that music was shaped by struggle. The fact that we elected Obama was a sign that the black struggle inherent in the blues and so much of the music I have loved can triumph.
Meg [White, his partner in the group] says virtually nothing throughout the film. She isn't the most talkative person in the world, is she?
No.
During the tour you played the shortest concert ever...
Yes, that was one of some free shows we did. I told everyone that morning to set up everything for the gig as normal but that we would only be playing one note. We told everyone who was planning on going what we were doing so they wouldn't be disappointed. And then we got on stage and played just one note.
What note was it?
It was an E.
As well as the White Stripes you are also in the Dead Weather and the Raconteurs. How does that work?
I have so much music inside me I'm just trying to stay afloat. I don't tend to write for a particular band – you have to just write the songs and then let God into the room and let the music tell you what to do.
Are you worried that with the rise of digital music some of the romance and magic that buying and listening to music had in the past is being lost?
Yes, and that is why I'm releasing actual records on vinyl on my own label. When we put out a vinyl record we have people lining up outside the stores for it because I think it is something that those of us who love music don't want to lose. Even if I listen to music on my iPod I want the real album too.
On the live album you perform an extraordinary blues-inflected cover version of Dolly Parton's 'Jolene'.
I think Dolly Parton, like Loretta Lynn, is one of those artists who has tended to be under-estimated. Sometimes it takes the passage of time to appreciate their greatness but in the end they win because their music lasts.
What was the last great book you read?
There's an incredible book by Greg Milner called Perfecting Sound Forever which has been fascinating to read because it looks at the history of recording music and capturing sound and explores the romance of recording music from Edison to the present day.
What are you up to next?
I'm off to Australia and New Zealand touring with the Dead Weather next week and I am also producing my wife's (model Karen Elson) new record which is coming out later this spring.

eddie

The Gap Minder




Posts

: 7840


Join date

: 2011-04-11


Age

: 62


Location

: Desert Island



I didn't read the review because I already know what I think of the album: it's brilliant. Phenomenal. Genius. Album of the decade.

Can't wait to see him at Lollapalooza.

Dick Fitzwell




Posts

: 591


Join date

: 2011-04-14


Age

: 27


Location

: Wayoutisphere



Jack White – review
For his first solo tour, the former White Stripe approaches his back catalogue with the formidable intensity of his old band
Dorian Lynskey
guardian.co.uk, Tuesday 24 April 2012 14.54 BST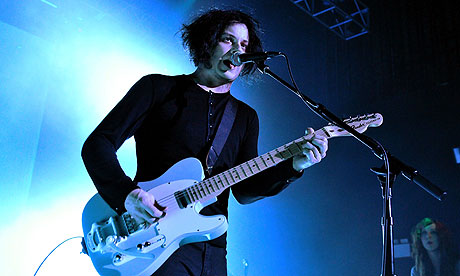 'A spectacular creative rebirth' … Jack White performs at the London Forum. Photograph: Jim Dyson/Redferns via Getty Images
Anyone who ever questioned exactly what Meg White brought to the White Stripes, who split up last year, should note that it takes six people to replace her. Well, a dozen really, because Jack White has enlisted a male and a female lineup for his first solo tour, alternating them from night to night in an admirable gesture of artistic bloodymindedness over financial good sense. Tonight we get the distaff edition, corralling White in a silvery semi-circle, like the sirens in O Brother, Where Art Thou?. The contrast with the White Stripes' minimalist symmetry is clear before they've played a single note.
Nonetheless, a more cautious man, embarking on a solo career, might skirt the shadow of his old band's material and stick to his warmly received new album, but White finesses the highlights of his back catalogue (including songs he recorded with the Raconteurs and Danger Mouse) into expansive new arrangements. Sometimes it's an uneasy transition: We're Going to Be Friends squanders its kindergarten simplicity and a Nashvillised Hotel Yorba sounds uncomfortably like Cotton Eyed Joe, the 90s novelty hit by Swedish techno hillbillies Rednex. More often the switch from caged ferocity to psychedelic country-rock is dazzlingly assured thanks to the terrific band. Pianist Brooke Waggoner reaches a hammering peak on the baroque hysteria of They Weep Themselves to Sleep, while violinist Lillie Mae Rische plays with the same dark, insinuating drama that Scarlet Rivera brought to Bob Dylan's Desire.
Dressed in black, White is more effusive in the gaps than he used to be but he approaches the songs with the same formidable intensity, as if there were some piece of vital information lodged inside each one and he needs to shake it out of them. He demands focus from the audience, too, insisting they refrain from taking photographs. It's a rare treat to see a show without having to peer through a forest of glowing phones.
White is generous towards his band, attending to each member in turn like a conscientious polygamist. He duels with Rische on the Raconteurs' Top Yourself and addresses My Doorbell to backing singer Ruby Amanfu with a heated urgency which suggests that if she doesn't ring his doorbell imminently then he might suffer a biological mishap. The penultimate song, before a calming finale of Lead Belly's folk lullaby Goodnight Irene, is Seven Nation Army. As the crowd roars the bassline, White closes in on drummer Carla Azar, playing as if there were nobody else on stage. It's the sole visual echo of White's old band in a bravura performance that marks a spectacular creative rebirth.

eddie

The Gap Minder




Posts

: 7840


Join date

: 2011-04-11


Age

: 62


Location

: Desert Island



Think Jack White has a problem with women? You don't know rock'n'roll
The former White Stripes star shouldn't be decried for his supposed attitudes but celebrated for his masculinity
The Guardian Music Blog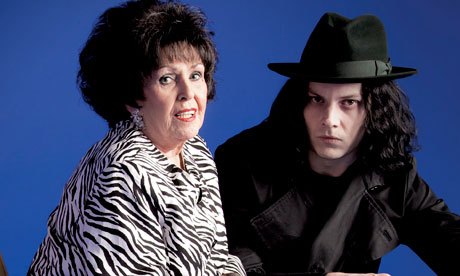 Wanda Jackson and Jack White. Photograph: Jo McCaughey
A rather curious posting appeared over on the Atlantic's entertainment pages this week. Titled Jack White's Women Problem, it set out the case against the former White Striper, Raconteur, Dead Weatherer and lately Blunderbussing solo artist as a man waging a personal war against the ladies.
White, its author insisted, unleashes vitriol on any woman who threatens his "control"; his songs reveal a man who wants women to be "quiet and submissive" while storing up special rage for the "modern-day woman, with her sexual freedom and iPhone [representing] power and choice". His professional dealings with female artists, meanwhile, show nothing more than a fellow who delights in shaping and controlling women. And furthermore: "As a lyricist [he] has been obsessed with women for more than a decade now, perhaps to a greater extent than any other rock star in his generation."
Tell that to Dave Grohl. Or the Kings of Leon. Or Josh Homme.
It wasn't the most robust of arguments, fuelled by supposition and leaps of speculation, and the cherrypicking of White lyrics to fit the cause. But it's worth disputing, because this type of character assassination is too easily and too casually spun, and perhaps more importantly, it bleeds all the joy out of rock'n'roll.
Listen to any of the most revered artists of the past 80 years, be they male or female, and you'll see their work tells of the great bewildering battle of the sexes: that Bessie Smith sure had a man problem. And jeez, was that Bruce Springsteen ever hung up on the ladies. And exactly what did Bob Dylan mean about breaking just like a little girl?
I listened to Jack White being interviewed on the Today programme earlier this week. Asked if the material on his first solo album was inherently more personal, he took a deft little step to the left and spoke of how once upon a time songs were recognised as stories, tales dreamed up about mining disasters or shipwrecks, rather than the gut-spilling troubadour confessionals we've grown accustomed to.
Whether or not this is true in the case of the songs on Blunderbuss, or if his response was a double-fox or a tail-turn, who can say – certainly not since Dylan has an artist played with our perceptions the way that White does. But I do think we need to be wary of squeezing the literal truth out of songs; rarely are they fossils belonging to a certain time or place; a love song can encompass many lovers; to paraphrase Robert Frost, a blues can begin as a homesickness, a lovesickness, or sometimes just a lump in the throat.
So is White, as the Atlantic article suggests, all riled up over Meg White and Karen Elson? Possibly. But these are women he has been married to, and we tend to have a few feathers to spit in the direction of those we love and have loved; and ultimately, this is an issue of proximity rather than gender.
If you wish to pore over White's lyrics you'll find plenty of examples of tenderness to counterbalance any venom. Springing to his baby's defence in Truth Doesn't Make a Noise, he snarls: "The way you treat her, it fills me with rage, and I wanna tear apart the place." Or as the protagonist of You've Got Her in Your Pocket, seeing his own flaws and failings, and so petrified of losing the girl he loves that he wants to keep her to himself: "But now she might leave, like she's threatened before / Grab hold of her fast before her feet leave the floor / And she's out the door / Cause you want / To keep her in your pocket …" These aren't examples of misogyny, but of the types of extreme emotion that love can inspire.
More broadly, White has been a great champion of women in rock'n'roll – from his "big sister Meg" playing drums in the Stripes, to Alison Mosshart fronting the Dead Weather, to the work he's done with Loretta Lynn, Wanda Jackson and Smoke Fairies, to name but a few.
It's undeniable that White's music is fired by the difference between male and female – he makes this quite clear on his current tour by employing two separate male and female bands, and it was equally clear in the White Stripes, a duo forged by the energy between its male and female players.
Often his lyrics do reveal a yearning for a time when the roles of the sexes were more distinct, with all his talk of chivalry and gentlemen and jackets in the mud, and of how "every little girl needs help climbing up a tree". But nowhere does he assert that the masculine is superior to the feminine, rather that there are differences to be celebrated.
I love the masculinity of White's music. In an era of Coldplays and Keanes, I love the unabashed virility of it. And the reason I always adored the White Stripes was that there was such raw sexuality to it – a kind of primal femininity to Meg's drumming that met perfectly the masculinity of Jack's voice and guitar. It was music from the gut and the groin.
So does Jack White have a woman problem? No more than any man ever had a woman problem, and no more than any woman had a man problem. What has always driven great art, great literature, great music has been the fire between the sexes. No matter what the social equalities we achieve, the pay gaps diminished, the glass ceilings broken, we're never going to dampen that fire. And nor should we want to. For in the push and the pull of gender lies a glory and a magic.

eddie

The Gap Minder




Posts

: 7840


Join date

: 2011-04-11


Age

: 62


Location

: Desert Island



Jack White – review
Kitty Empire
The Observer, Sunday 29 April 2012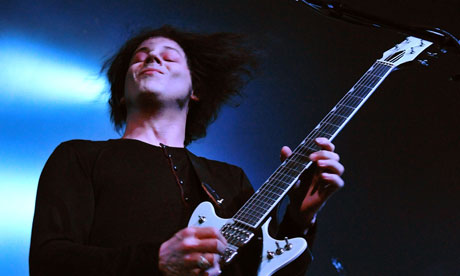 Jack White: 'one of the few alpha male stars who consistently works with female musicians'. Photograph: Jim Dyson/Redferns via Getty Images
There are rarely any oversights in the camp of Jack White – control freak, guitar hero and rock's most assiduous colour coder. But tonight, as he makes his live return to London with a new album, the shade of blue on the upstairs wristbands is not quite right. It is too dark.
Onstage, by contrast, there is a hemisphere of six women, all wearing shades of powder blue. White is in black, front and centre. There are three powder-blue lines on the back-drop. The stripes nod both at the Stripes (his old band) and to White's business name, Third Man Records (formerly Third Man Upholstery). Fans have long assumed that the Third Man reference was one to Orson Welles. But on Later… With Jools Holland last week – the night after White's triumphant show – he revealed that, long before his guitar skills and visual flair reignited blues-rock, he was merely the third upholsterer on his block in Detroit.
The shade of the wristbands is possibly the only thing amiss on this debut solo outing in London. Well, a cymbal falls off at one point. And the density of instrumentation – keys, pedal steel, fiddle, an actual bass – is still a shock to anyone who has loved the White Stripes for their starkness. The face-offs between White and fiddle player Lillie Mae Rische are a little forced, because of their comic height differential. None of this detracts from the night's pleasures, however.
To keep everyone guessing, the instruments remain covered up until the last minute, lest anyone figure out which band – the all-boy outfit, or the all-girl, both of which have come out on tour, presumably at great expense – is going to play. White apparently makes the choice at breakfast.
Cameraphones are discouraged, meaning everyone pays attention. The set ranges far and wide across White's works, from his newest album, the cracking Blunderbuss, through tracks from Dead Weather and his Danger Mouse collaboration.
A White Stripes favourite, "Dead Leaves and the Dirty Ground", ignites the set, beefed up from its skimpy origins (just guitar and drums). It takes six people to replace former drummer Meg White; her direct substitute, Carla Azar, has a ramrod-straight back and a taut style. Keys player Brooke Waggoner is a revelation too on the standout piano track from Blunderbuss, "Weep Themselves to Sleep". White has been called out recently in a piece for the Atlantic for the misogyny of the lyrics on Blunderbuss, and his controlling nature offstage. But he is one of the few alpha male stars who consistently works with female musicians. The author of the grouchy "Freedom at 21" – women shouldn't have two phones, apparently – is at least a keen equal opportunities employer.

eddie

The Gap Minder




Posts

: 7840


Join date

: 2011-04-11


Age

: 62


Location

: Desert Island





Similar topics
---
Permissions in this forum:
You
cannot
reply to topics in this forum