Kraftwerk to release new album 'soon'
Ralf Hütter reveals the band have almost finished a new record, their first since 2003's Tour de France
Sean Michaels
guardian.co.uk, Tuesday 17 April 2012 10.44 BST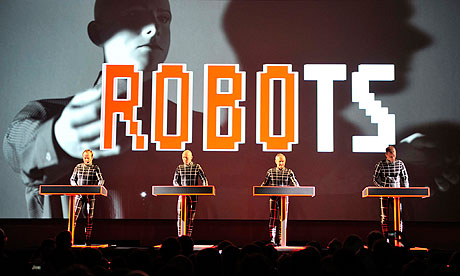 'We are always operating, we are upgrading continuously' … Kraftwerk's Ralf Hütter takes the band's robotic vision very seriously. Photograph: Jason Szenes/Reuters
Kraftwerk have revealed they are releasing a new album "soon". As the German band finish their eight-night residency at New York's Museum of Modern Art, frontman Ralf Hütter revealed they have almost finished their first LP since 2003's Tour de France.
Hütter's comment was almost an afterthought, slipped in at the end of an interview with the New York Times. "We didn't fall asleep," he said, referring to the group's recording ventures. "The 168-hour week is still going on since the beginning, since 1970."
Now in their fifth decade, Kraftwerk's inspirations continue to be contemporary. "We learn from noise, and we learn from going to clubs," he said. "Music is never finished. It starts again tomorrow." Kraftwerk's Moma concerts saw them revisiting eight albums, but the band played revamped, overhauled versions. "We are [always] operating, we are upgrading, we are updating continuously," he said. "There's continuous reprogramming going on, and composition and new concepts are also coming."
Kraftwerk last discussed their new album in October 2009, suggesting it would be out in 2010. "In the winter it's pretty grey here, so it's a good situation to go into the studio," Hütter told Billboard. "It's still in its embryonic stage." The Germans' next LP will be their 11th studio album and their first without Florian Schneider, who left the group three years ago.

eddie

The Gap Minder




Posts

: 7840


Join date

: 2011-04-11


Age

: 61


Location

: Desert Island



As Wolfy tells it, Kraftwerk were, in reality, two bands in one. Ralf und Florian, founder members, liked the high life and flaunted their money, while Wolfgang and Karl were treated as little more than session musicians; often broke, their creative input was publicly concealed, and in later years, blatantly denied.

Last edited by user on Thu May 03, 2012 12:20 am; edited 1 time in total

Yakima Canutt




Posts

: 8987


Join date

: 2011-04-11



http://www.youtube.com/watch?v=lwlfsEMR6AY
She's a model

eddie

The Gap Minder




Posts

: 7840


Join date

: 2011-04-11


Age

: 61


Location

: Desert Island



Ralf studied at
Akademie Remscheid
. The economic growth of the entire
Rhine-Ruhr
region led to an increase of the population of Remscheid. Mechanical engineering and toolmaking were the main industries practised within the town. Remscheid was part of the
Prussian Rhine Province
from
1822-1945
.
On 31 July 1943, during the Second Great War, Remscheid was almost completely destroyed during a British bombing raid which caused a firestorm.
An A-10 Thunderbolt II crashed in the city on 8 December 1988. Six people died.
Today, Remscheid comprises four boroughs, Alt-Remscheid, Remscheid-Süd, Lennep, and Lüttringhausen.
The
Müngstener Brücke
is a railroad bridge crossing a valley and connecting Remscheid with the neighbouring town of Solingen. It is 107 m above the ground, making it the
highest
railroad bridge in Germany. It was constructed in 1897 and originally named the
Kaiser-Wilhelm-Brücke
after Wilhelm I (whose 100th birthday would have been in 1897).
The
Eschbachtalsperre
, the
first
dam built in Germany for the supply of drinking water is located here. It was built in 1891.
The old city of the borough Lennep consists of
116
houses from
1756
.
Wilhelm Röntgen,
the discoverer of x-rays
, was born 1845 in Lennep, which is today a borough of Remscheid. There is a museum in Remscheid (Deutsches Röntgen-Museum) commemorating Röntgen's life and discoveries.
Don't forget about Remscheider
Gottfried Duden
, who traveled the United States mostly in
Missouri
and wrote
Bericht über eine Reise nach den westlichen Staaten Nordamerikas ("Report of a journey to the western states of North America")
And you know what? Peter Brötzmann, a
free jazz
saxophonist, was born in Remscheid in 1941.
In 1968 Hütter and Florian Schneider founded an
'organization for musical concepts',
whose recordings were later released under the band name
Organisation
. They founded Kraftwerk in 1970, and Hütter initially played organ and percussion, and later vibraphone and synthesizer. He was less reserved and media-shy than Schneider, and his interviews with the press contributed to the group's 'robot' image. He was also responsible for Kraftwerk's international image as a band drawing on German culture,
which began in the 1970s with 'an acoustic representation of the Ruhr district'.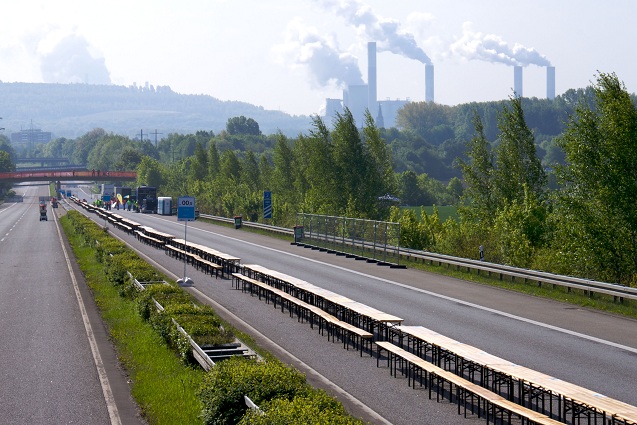 Hütter said "After the war the German entertainment industry was destroyed. People in Germany had been robbed of their culture and everything was influenced by America. I think we are the first generation after the war to shake off this influence and to know...here is American music and there is our own.

We cannot deny that we come from Germany

."

The band members took up cycling when recording the album

Die Mensch-Maschine

in the late 1970s.

Ralf Hütter had been looking for a new form of exercise

. Hutter and Schneider encouraged their bandmates to join in and formed their own club,

Radsportgruppe Schneider

. Hutter took his new-found pastime particularly seriously, completing the classic and challenging courses of the

Tour de France

and the

Giro d'Italia

and following the big races around the world as a spectator.

The bicycle, with its

inability to travel backwards

, was a perfect symbol for the band's retro-futurist ideals. Hutter says there are many similarities between music and cycling -

"speed, balance, a certain freedom of spirit, keeping in shape, technological and technical perfection, aerodynamics."

The single

Tour de France

included sounds that followed this theme including bicycle chains, gear mechanisms and the breathing of the cyclist. At the time of the single's release Ralf Hütter tried to persuade the rest of the band that they should record a whole album based around cycling. At the time this did not happen, but the project eventually was released as

Tour de France Soundtracks

in 2003 featuring the smash hit single VITAMIN what with the refrain

"carbohydrate protein, A B C D vitamin."
Hütter was involved in a
serious
cycling accident in 1983 near the
Rhine Dam
(no helmet for Ralf-dawg) during the initial period of recording the since-abandoned album
Techno Pop
. Only the single "Tour de France" and demos of "Techno Pop" and
"Sex Object,"
would find their way into bootleg releases after this accident. He was put in a coma as a result of the accident. Karl Bartos stated the first thing he said when he awoke from his coma was
"Where is my bicycle?"
, a story Hütter later disputed in a June 2009 interview in The Guardian Newsletter.
During the cycle-crazy, aborted Techno Pop era... Hutter also suffered a heart attack, allegedly brought on by excessive caffeine consumption - and then the salvage job with 1986's Electric Café. Its release marked the beginning of Kraftwerk's protracted break from the limelight. During this time, Flür and Bartos left the band, frustrated at the slow pace of work and concerned that cycling was eclipsing the music-making.
"Every day, we would meet and have dinner. Ralf always talked about how he rode 200km that day. That would bore me to death," Bartos recalled.
The fact that Hutter gave an interview to a magazine in which he refused to speak about anything other than his collection of racing bikes gives credence to Bartos's grievances.
And is Ralf still in the habit of leaving the tour bus 100 or so miles outside the next city, and pedaling the rest of the way?
"Unfortunately not," he says. "We did that in the 80s: the bus would drop us, and we'd finish the last couple of hours by bike. But now, the tour schedule is so tight that mostly we're using planes. And when you don't know the territory and the habits of the traffic, or like in England on the other side of the road ... well, we have to concentrate on the concert." On a recent trip to New York, he says, he enjoyed cycling every day in Central Park, but avoided the roads. "It's not a competition with cars.
I think that's a dangerous game
."
Even temporarily, did the cycle accident put him off?
"No. A lot of nonsense has been told about this, by people who were not even cycling with me."
It didn't affect the way he felt about cycling at all?
"
No, and it didn't affect me. I got a new head, and I'm fine.
It was a few days in hospital, and that's it. A very normal accident. It's one of those things where somebody tells a story, and the next guy adds another story, and in the end ... like I say, I got a new operation, and I got a new head. I just forgot my helmet, and I was in hospital for three or four days."
Is it true that having emerged from a coma, his first words were "Where's my bicycle?"
"Er ... no. I don't think so. But a lot of fantasy has been written."
Hütter does his best to benignly close such subjects down, a tendency that becomes
even more pronounced
when I ask him about the fate of Schneider, the member of Kraftwerk whose
blankly
kind face - seemingly always on the verge of a smile, without ever quite getting there -
seemed to sum up their music's subtle if ironic emotional warmth to accidental perfection.
These days, their greatest allies are the laptops that carry the essentials of their show - which, he assures me, have worked just as well in freezing auditoriums in Tokyo as overheated festival tents in Australia. Technology, in short, has belatedly delivered: as Hütter coolly puts it, "The equipment is finally up to our standards."
Back in the distant past he issued one of his most fondly reproduced quotes, which once again seemed to cry out for a development that had not yet arrived. The telephone, he said, was "an antiquity - you never know who is calling, there is no image,
it is an outmoded product that constantly disrupts work
".
"Yes," he says now. "That was the 70s and 80s, but it still stands. You'd be polite, and pick up, and say 'Hello' and be surprised at what was at the other end of the line, maybe directing your future for the next minutes, hours, days. That's why in the studio we never have telephones. We choose to go into the music, creative process. Once this is finished, and we close the session, we come out again, and then, we've enough time to get in contact with our friends."
Has he been liberated by the advent of caller ID, or email, or SMS? Do those things make him more communicative?
"Yes, but it hasn't changed my general attitude. You know these situations: you're talking to somebody, and everybody's on different platforms all the time,
so nobody's really concentrating
."
What he says next is probably not intended as his verdict on Twitter - a Kraftwerkian development, if ever there was one - but it may as well be.
"Everybody is becoming like ... " - he pauses - "a Stasi agent, constantly observing himself or his friends."
"hello world, Ralf here

further to our interesting conversation this afternoon

some thoughts about the continuum in the music of kraftwerk since the seventies

autobahn ... the endless journey ... the timing of the composition resulting from the technical possibilities of the vinyl longplaying record ...

europe endless .... and the final sequence ... endless endless

trans europe express .... sequencer rhythms playing themselves ...

and finally .... the robots .... and ...... music non stop ...."
And absent Florian ...
This is the
Flughafen Köln/Bonn
AKA
Cologne/Bonn Aeroport that what was designed by Florian's pa. You see, Ralf und Florian came from the families that were like refined Prussian ausleseadler siegsüßigkeit. But Wolfy und Karl were closer to coarse Bahnhofsviertel riffraff and theoretically did not deserve the best Schwarzwälder Kirschtorte, Grauburgunder, or steamy Düsseldorfian hand model tang, natch.

Yakima Canutt




Posts

: 8987


Join date

: 2011-04-11



somebody might tell Consuela they spilled a good bit of juice puddle over at Kenny Roger's Roasters Express on 237

Yakima Canutt




Posts

: 8987


Join date

: 2011-04-11



Yakima Canutt wrote:

"Everybody is becoming like ... " - he pauses - "a Stasi agent, constantly observing himself or his friends."
Stasi agent
Stasi agent
---
Permissions in this forum:
You
cannot
reply to topics in this forum