Which is the greatest Coldplay album?
Readers give their opinions on Coldplay's albums. But which one gets your vote?
Guardian Music Blog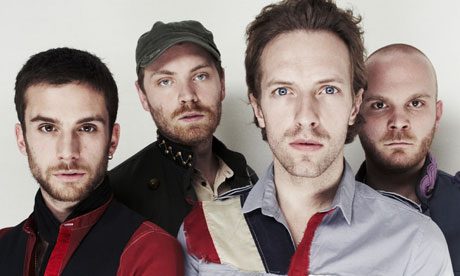 Coldplay doing their best faces. Photograph: Dean Chalkley
Earlier this week, we asked readers to make a case for their favourite Coldplay album. Here are some of the reviews posted on to the dedicated album pages. If you'd like to find out how to review pretty much any album you can think of on guardian.co.uk/music, see here for details on how to do it.
LuHai on Parachutes
I was quite young when I first heard Yellow. I remember it vividly. I was taking a stroll outside my mother's shop in Hastings Old Town, and I heard a thunderous riff playing on the speakers of a jacket-potato restaurant. The oddly dissonant verses intrigued, but nothing grabbed. Then the chorus broke. And I was taken. Taken by that heavenly chorus, and it hit me in that direct way that is so rare now. I was 11.
Sometime later I bought the album, with its lustrous, romantic image of an orange globe, and slowly fell in love. It soundtracked nights of unrequited dreams, summery breezes, and the embered glow of my bedroom dimmer light. The album has a woody, warm, end-of-the-night quality, something on the cusp.
With a tenderly ambient production by Ken Nelson, it's a pleasure to hear the almost jazzy drumming of Will Champion and the thrum of the acoustic guitar. I never really paid attention to the words, only the mood that they created. Sparks and We Never Change sound like what a dwindling glass of red wine must feel like.
It's hard to pick favourites: it's like asking me to pick a favourite dripping on a Pollock painting; the whole mesmerises. Yellow and Trouble are the obvious centrepieces, the latter with its contemplative piano melody. Contemplation is a good description of the album's mood, and something I did a lot of in my early teens I suppose. Parachutes allowed me to get lost in their own bookending of the 90s – a transitional moment.
For me, Parachutes is perfect. The followup was very good. The next one all right. After that I just lost interest. The band never really moved on. It's hard when you peak on your debut. Chris Martin's gift for melody and a winning hook hasn't left him, but his devotion was never to the band. Parachutes is a record I can listen to in its entirety and one to which I can easily return. Its nostalgia and good songs are a reference point in my life.
I know it's easy to criticise Coldplay – all mums, MOR and so much talk of "bones" and "stars". And I even tried to be a music critic, but I realised I can't. It would mean ravaging an album I hold dear, and one that I've loved for a long time.
cjpowell on A Rush of Blood to the Head
Chris Martin once said, "I don't mind not being cool." To be honest, neither do I, but being a Coldplay fan is not something that will keep you too far down the social pecking order.
When a band bursts on to the scene in the way Coldplay did with Parachutes, people are always excited at what will come next. Will they be one-hit wonders trying to relive the glorious days of Britpop, or will they succeed in releasing another major album on the musical landscape? With A Rush of Blood to the Head, Coldplay succeeded in the latter, and it is with this album that they began on the path to true greatness.
A Rush of Blood to the Head cemented the band's status in the development of alternative British rock, retaining the quintessential Coldplay sound we saw in Parachutes but showing a definite progression. Chris Martin's vocals, the driving piano and the familiar harmonies are all there, but A Rush of Blood to the Head demonstrated a sense of maturity and depth we had not seen before.
The opening track, Politik, provides a driving, imposing start, with Martin's distinctive vocals reverberating eerily above urgent piano chords. The second track, which was the first written after the success of Parachutes and sounding like a song that could easily have fitted in on that album, is a fantastic pop tune; In My Place is one of the tracks that justifies Coldplay's lasting status. God Put a Smile Upon Your Face shows the musicianship within the band, and the lead fills from Jonny Buckland highlight the track.
It's an album that just continues to give, with the melancholy tracks Daylight and A Whisper taking the listener on an exciting journey with repetitive choruses and hypnotic, violin-like guitar riffs. Martin sings the line "Oh, my star is fading" in the fantastic album closer, Amsterdam, but how wrong he was: A Rush of Blood to the Head thrust the band further into the limelight.
They arrived on the scene with Yellow, which became an instant hit, but after A Rush of Blood to the Head they surpassed all they had done on Parachutes, creating great new British rock with some real emotion fused to it. With such great success and an album that remains timeless, if I were Chris Martin I don't think I would be too bothered about not being cool either.
oldworkboots on A Rush of Blood to the Head
Before the silly outfits and the wide-eyed staring into the camera, Coldplay – for the time it takes to listen to this album – were mighty. Now I've had enough. So has everyone else with good taste.
adamknott on Mylo Xyloto
Let's talk about the name, Mylo Xyloto, for a moment, because the fact that it's meaningless means everything. Viva La Vida or Death and All His Friends was odd, definitely – it might even have required the use of a translator for some – but in spite of its ambiguity it still clung to a grounded idea. It had a touchstone, the military themes that Coldplay could revert to if all else failed, supported by their faux-revolutionary outfits and the paint scrawled knowingly over a Delacroix painting.
Mylo Xyloto, five albums into Coldplay's career, finally disregards all of the restraint and conscious meaning that has kept them tethered to the ground for so long, and finds an accidental purpose – the most beautiful kind. As though Viva La Vida had been the last comprehensible ramblings of an almost-insane person, Mylo Xyloto sees these once reserved (remember Parachutes?) pop stars lose it entirely. The Eno-inspired quirks that Viva La Vida showed off are delivered here with a sort of arrogance – just hear the overblown synths of Princess of China – and the euphoria that Lovers In Japan showcased pours out of practically every second melody.
Way back in 2002, Coldplay asked on Politik for "love over this", a plea for the primal over the considered that has taken a decade to come properly to fruition. And while the band that wrote The Scientist have always been thought of as a pop band, Mylo Xyloto is a different sort of pop. It harbours a sense of abandon and overwhelming optimism, which creeps in on opening instrumental MX, peaks with the excesses of Every Teardrop Is a Waterfall and even infiltrates the down-tempo Up in Flames. Mylo Xyloto is a record that not only features Rihanna as a guest vocalist, but also declares that spot a favourite moment; it is unashamed in its populist leanings, finally, and that loss of control is palpable. Martin said after X&Y that Coldplay needed to get "better, not bigger". How about both?
MightySalami on Mylo Xyloto
I have a personal grudge against Coldplay, yet also a kind of admiration. A lot of my family comes from Exeter in Devon, which is the home city of Chris Martin, the watery–eyed vegan frontman of the band. For some reason, everyone in Exeter seems to absolutely love Coldplay. Everyone goes around humming Yellow. My cousin always seems to be playing Shiver in her car. Why? It really drives me mad.
But at the same time, I admire the fact that a band with such an annoying frontman, useless lead guitarist and inaudible bassist, who write such vague and nonsensical odes to whiny, feeble love affairs and inarticulate political malaise, have found a way to somehow become the world's best-selling band. How could they?
The album itself is comprised of maddeningly annoying vocals of "who–oh-oh-oh" in pretty much every line, emotionally corrosive falsetto, super-saturated production, random weird electronic distortions of guitars, incompetent guitar work and hazy background fuzzing.
Personally, I think it's unbelievably pretentious, with minimal musical talent and very little substance, but an enormous improvement from X&Y, which was terrible.

eddie

The Gap Minder




Posts

: 7840


Join date

: 2011-04-11


Age

: 62


Location

: Desert Island




---
Permissions in this forum:
You
cannot
reply to topics in this forum