When stage actors really do break a leg
In the first of a new series that puts theatre's hidden stories in the spotlight, Mark Lawson looks at the dramatic effect that an awkward fall or twanged hamstring can have on a production
Mark Lawson
guardian.co.uk, Friday 30 March 2012 12.48 BST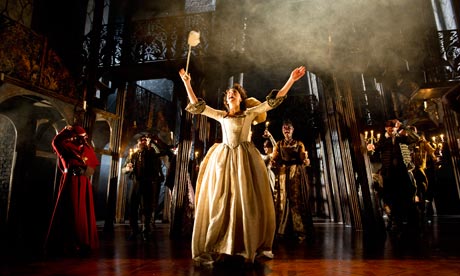 Creatively creepy ... The Duchess of Malfi at the Old Vic – Finbar Lynch's Cardinal lurks in his scarlet robes and black leather sling. Photograph: Tristram Kenton
One striking aspect of the design of the Old Vic's new production of The Duchess of Malfi is a sling worn by the actor Finbar Lynch, playing the Cardinal; made from shining black leather and culminating in a similar glove, it starkly offsets the bright scarlet of his vestments. This being a play by John Webster, the character indulges in both sex and physical violence, and so there's a dark comedy in watching the cleric use his one free hand, creepily, for both foreplay and fighting. It looks like a moment of great creative inspiration by director Jamie Lloyd and designer Soutra Gilmour.
It arose, though, from last-minute crisis. Late in rehearsal, the actor had a nasty accident on his bike, and the only way he could go on with the show was to share his orthopaedic affliction with the character. Bad luck was turned to advantage, which is rare – but the incident is otherwise a good illustration of the way in which live performance has to adjust to circumstances.
Although theatre and sport are often seen as contrasting disciplines, they are united by the dramatic effect that an awkward fall or twanged hamstring can have on carefully planned team selection and well-rehearsed moves. Football clubs have substitutes and a loan transfer scheme, but theatres only sometimes (and ever more rarely in a time of declining subsidy) have understudies. Players have, if possible, to be strapped up and sent on.
In the Royal Opera House's 2003 production of Sondheim's Sweeney Todd, I remember seeing a performer limp slowly off stage rather than go down the chute after the barber had slit his throat, because a motor-bike accident made his planned exit impossible (the audience had been warned beforehand). In another Sondheim production, Follies, Dolores Gray had to give her whole performance sitting on a piano stool after another leg injury. And a happier sort of accident – Billie Piper becoming pregnant – led to Neil LaBute re-writing his recent Reasons to Be Pretty at the Almeida last winter to justify the leading lady's bump. Theatre, unlike TV and film, can't easily re-schedule or re-cast to work around an actor's problems, and certainly can't (as many TV productions have) frame the actress from the neck up to disguise a pregnancy.
Sometimes, though, injuries are so serious that the show really does have to stop. The opening of Ian McKellen's King Lear in 2007, directed by Trevor Nunn, was significantly delayed – leading to a row between director and critics over when the production could be reviewed – when Frances Barber, playing Goneril, had an accident. Again, that involved bikes, perhaps suggesting that producers should introduce a walk-to-work clause, and also that the old theatrical superstition of saying "break a leg" rather than "good luck" may not entirely work.
Elaine Paige created the role of Grizabella in Lloyd-Webber's Cats (1981) because Judi Dench's achilles tendon snapped during dance drills; a similar injury shortened Antony Sher's run as Fool to Michael Gambon's Lear. Far fewer people than wanted to saw David Tennant's Hamlet because the actor had to have an operation on his back in December 2008, a part of the body that also resulted in disappointment for some of those coming to see Nathan Lane in The Producers. It's a penalty of being a star actor that your sick notes are printed on a little piece of paper and slipped into hundreds of programmes – and then draw groans from the audience.
Onstage injuries are another risk. Farce – with all those slamming doors, staircase dashes and ankle-dragging trousers – is unsurprisingly the quickest route from theatre to A&E. Tom Hollander badly damaged his arm in Feydeau's A Flea in Her Ear in 2010, and an actor in Verbier's The Spoiler at the Lyric Belfast suffered a fracture during some business involving a cupboard. Playwright Michael Frayn has expressed guilt about the number of occasions when a scene in Noises Off, requiring an actor to fall down a set of stairs, has led to ambulance sirens going off.
Though blessedly rare, even worse outcomes are possible. Two excellent modern plays – Arnold Wesker's The Merchant and Christopher Hampton's The Talking Cure – were literally fatally over-shadowed by the deaths during previews of their fine leading men: Zero Mostel and James Hazeldine. In both cases, other actors took over – another aspect of theatrical courage – but, in such cases, both cast and audience carry the fatality as a distraction.
Actors are frequently ridiculed for being precious and over-sensitive, but it is a job that can call for genuine physical courage – as Finbar Lynch's performance, both disarmed and disarming, genuinely demonstrates.

eddie

The Gap Minder




Posts

: 7840


Join date

: 2011-04-11


Age

: 63


Location

: Desert Island



Dancers are so frequently injured. I went to see Alessandra Ferri in her farewell performance of Romeo and Juliet and she had to cancel because of an injury. She was brought on stage at the end of the performance for flowers and adulation, but of course it wasn't nearly the same as if she had danced.

Constance




Posts

: 500


Join date

: 2011-04-11


Age

: 62


Location

: New York City



At uni I once stage-managed a stage adaptation of CS Lewis' The Lion, the Witch and the Wardrobe in which Mr Tumnus the faun's petrification by the wicked witch was prefigured by the actor playing poor Tumnus breaking his wrist a day before the curtain rose.

I remember having to paint his plaster cast brown to blend in with the goat legs.

eddie

The Gap Minder




Posts

: 7840


Join date

: 2011-04-11


Age

: 63


Location

: Desert Island



Sometimes breaking a leg can be the least of your worries

:
**************************************************************************************************************
Actor dies after accidentally hanging himself while playing Judas
Tiago Klimeck was playing Judas in a production of The Passion of the Christ in Brazil
Matt Trueman
guardian.co.uk, Tuesday 24 April 2012 15.55 BST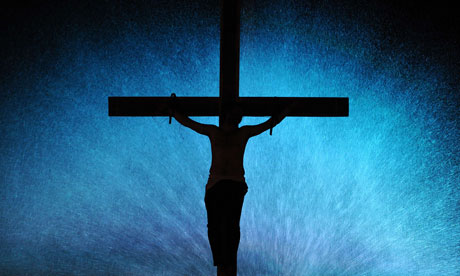 The story of Christ's trial, crucifixion and death is performed during Easter across Brazil each year. Photograph: Ben Stansall/AFP/Getty Images
A Brazilian actor has died after accidentally hanging himself during a Passion play last month.
Tiago Klimeck, 27, was playing the role of Judas in a local theatre company's production of The Passion of the Christ in Itararé, a city just west of São Paolo. Enacting the disciple's suicide following his betrayal of Jesus, as portrayed in the gospel of Matthew, the actor experienced complications and was left hanging for four minutes before other cast members realised anything was wrong. By the time he was taken down, Klimeck was unconscious.
He died last Sunday, having been in a medically induced coma since the performance on Good Friday (6 April). On his arrival at the Santa Casa de Misericórdia hospital in the nearby city of Itapeva, scans diagnosed cerebral hypoxia, extensive brain damage caused by prolonged lack of oxygen.
Police are investigating equipment used in the performance, including a rope in which a knot may have been improperly tied, at the Criminal Institute of Sorocaba. According to CNN affiliate TV Record, Klimeck was due to wear the harness borrowed from the local fire station for the last three years. He was reportedly left unsupervised because he knew how to use the equipment.
The Passion of the Christ is performed in towns and cities across Brazil each year. Local productions can involve up to 500 actors and are watched by thousands of visitors.

eddie

The Gap Minder




Posts

: 7840


Join date

: 2011-04-11


Age

: 63


Location

: Desert Island




---
Permissions in this forum:
You
cannot
reply to topics in this forum