I knew him slightly: a very nice man who went out of his way to encourage aspiring writers.
***********************************************************************************************************
Still a rich seam: reviving Close the Coalhouse Door
It had songs, jokes and politics – and was a hit with intellectuals and miners. Playwright Lee Hall on the thrill of bringing Close the Coalhouse Door to 21st-century audiences
Lee Hall
guardian.co.uk, Monday 26 March 2012 18.30 BST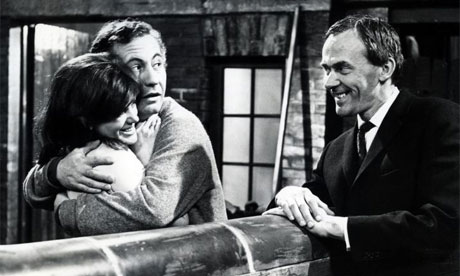 Geraldine Moffatt, Alan Browning and Dudley Foster in a BBC adaptation of Close the Coalhouse Door. Photograph: BBC/BBC Pictures Archives
In 1968, an ex-ballet-dancing, now theatre-directing, son of a miner called Bill Hays gathered the emerging playwright Alan Plater with the founding father of north-east working-class writing, the ex-miner Sid Chaplin; his aim was to create a show that would be "an unqualified hymn of praise to the miners". Rounding off the group was Alex Glasgow, a brilliant songwriter, famous for his hilarious, sardonic songs that – although virtually all written in the Geordie vernacular – were part Brecht, part Brassens and part Tom Lehrer.
(Hays and Plater, who had met while working on the groundbreaking BBC show Z Cars, would go on to create some of the most loved and provocative TV of the 1970s and beyond.) Chaplin was already a major figure through his groundbreaking work, which told of working-class life from the point of view of a working-class person. The show this group created, Close the Coalhouse Door, became a landmark of post-war regional theatre.
Inspired by Joan Littlewood's success with Oh! What A Lovely War, the group wanted to use the tools of working-class entertainment – music hall, vaudeville, drinking songs and coarse humour – to tell the more politicised story of mining in the north east; or, more accurately, the popular unionised resistance to the incredible exploitation that had marred its history since the industrial revolution. It was an audacious task: could anything be more potentially boring, worthy and of limited local interest?
But the show they created, originally scheduled for a modest run of a few weeks, caused a sensation. The shock that a theatre might have a play that was not only a "good night out", but which also told the people's history from the people's perspective, was pretty much unheard of. The run was extended again and again. The car park was packed every night with coaches hired by miners from pit villages across the north. who were flocking to see the show in their thousands. You could spot the miners in the audience: they were all dressed immaculately in suits and ties, while the scruffy, leftish intelligentsia stuck out like sore thumbs. But for once, here was a show that satisfied both.
Six months after it opened, it went on the road, first to Nottingham, then to the West End; a triumphant run, but Newcastle was bereft without it. Over the next five years, there were three further productions, and it has since been revived regularly. Ironically, the play has proved more resilient than the monumental industry it critiqued.
As something of a specialist in the dramatic portrayal of miners (having written Billy Elliot and The Pitmen Painters), I was recently asked by the actor and director Sam West to help shape a new revival. (The late Alan Plater was a good friend of mine, and very much a mentor.) At first, I worried that what was once a celebration would seem like an elegy; but on closer examination, far from being an exercise in nostalgia, the play is more urgent than ever. As the specifics of the mining story have started to recede, the themes of popular resistance and the necessity, efficacy and cost of that struggle seem like a rebuke to our current quietism.
The play is anything but rousing agitprop. It is delicate, ironic and fraught with ambivalence, which, in my view, marks the best political art. It itemises economic crisis after crisis over the last 200 years, making it impossible to ignore the fact that what we are facing today is just the latest in a litany of such occasions: where external events are conveniently used to impoverish the majority.
The play today is no longer a hymn of praise to a dirty industry. It is a paean to generations of people in England who stood up to manifest injustice and often faced state-sanctioned gunfire, eviction and the draconian economic hardships. Clearly this is not an old story. This is a play for the age of Occupy and riots in Greece. As one of the first reviewers insisted, the play is about how history's slaves fought back. We can now see the struggle remains the same even if its specific industrial context has changed beyond recognition. The real question it asks is: what do we do now?

eddie

The Gap Minder




Posts

: 7840


Join date

: 2011-04-11


Age

: 63


Location

: Desert Island



Alan wrote for TV as well as the stage. He's already been name-checked in the ATU Jazz section for this:

eddie

The Gap Minder




Posts

: 7840


Join date

: 2011-04-11


Age

: 63


Location

: Desert Island



Close the Coalhouse Door – review

Northern Stage, Newcastle

Alfred Hickling

guardian.co.uk, Thursday 3 May 2012 18.00 BST

There's a strong theme of fathers and sons running throughout Close the Coalhouse Door. First Alan Plater dramatised stories by his mentor, the literary pitman Sid Chaplin, singing the praises of the north-eastern mining tradition. Now Plater's heir apparent, Lee Hall, has provided supplementary material, bringing the story up to date.

"Bringing the story up to date" means, of course, incorporating the fact that there's no north-eastern mining industry left to sing about. In Soutra Gilmour's design, the red-brick terraced house in which the action takes place is now condemned, overlooked by a billboard advertising Meryl Streep's performance as The Iron Lady. But it very much remains Plater's piece. Hall likens his intervention to "keyhole surgery. I kept thinking, 'What would Alan do?'"

First staged in 1968, Close the Coalhouse Door did for the coalfields what Oh! What a Lovely War did for the fields of Flanders. Its roots lie in a long history of politicised struggle, but its soul belongs to the music hall. The setting is a family gathering to celebrate a golden wedding anniversary, though the front parlour is really a forum for Plater's playful brand of gritty northern surrealism, in which a family dispute is interrupted by Lord Hailsham performing a Geordie vaudeville routine, or Harold Wilson popping round to explain government fuel policy.

The original threw a brass band into the works: Samuel West's exuberant production (a collaboration between Northern Stage and Live Theatre) makes do with an engaging ensemble of actor-musicians, with the original folk anthems of Alex Glasgow treated to inventive new arrangements by Sam Kenyon. And Hall's surgery, though subtle, is incisive. His main contribution is to add a telling coda that links the collapse of the coal industry to the rise of the call centre. What would Plater have done? He'd have laughed a lot and despaired a little, along with everyone else.


eddie

The Gap Minder




Posts

: 7840


Join date

: 2011-04-11


Age

: 63


Location

: Desert Island





Similar topics
---
Permissions in this forum:
You
cannot
reply to topics in this forum