James Cameron to release a 3D film of pioneering deep-sea dive
The Titanic director had to develop a special camera to withstand the 11km descent into the Pacific Ocean
Andrew Pulver
guardian.co.uk, Thursday 29 March 2012 10.39 BST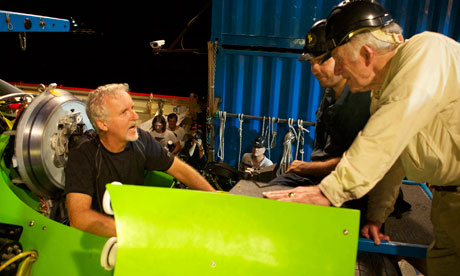 Titanic director James Cameron preparing for his dive in the Deepsea Challenger submersible. Photograph: Reuters
Film director James Cameron is planning to release a 3D film of his pioneering Marianas Trench dive in the Pacific Ocean, it was announced last night.
Shortly after completing the 11km descent into Challenger Deep, the lowest known point on the Earth's surface, Cameron travelled to London to attend the premiere of the 3D version of his 1997 blockbuster Titanic. After the event, he told reporters that a 3D documentary of the dive, currently titled Deepsea Challenge, is being readied for a prospective cinema release later this year.
"We're shooting the whole expedition as a 3D film," Cameron said, explaining that the development of a new lightweight 3D camera, able to withstand the massive pressures at extreme depth, was crucial. "We spent a fair bit of the development budget of the sub figuring out how we would be lighting it and how we would do 3D photography at full ocean depth. We did tackle a lot of challenges but, always, the thinking was this expedition is going to get paid for by a film."
Cameron's dive was funded in conjunction with National Geographic, who have scored hits in the past with The Choir and a retooled version of the French documentary March of the Penguins. Cameron's film will also be shown on the National Geographic channel.
Cameron has made documentaries before, notably his 3D film Ghosts of the Abyss, culled from footage shot on an earlier seabed dive to the wreck of the Titanic. His 1989 film The Abyss, with Ed Harris, is also evidence of Cameron's longterm interest in deep-sea exploration, being the fictional account of a salvage team who encounter alien life underwater.

eddie

The Gap Minder




Posts

: 7840


Join date

: 2011-04-11


Age

: 62


Location

: Desert Island



James Cameron to release 3D film of Mariana Trench expedition
Director says 3D movie and TV special for National Geographic could be ready this year
Associated Press in Los Angeles
guardian.co.uk, Wednesday 28 March 2012 17.43 BST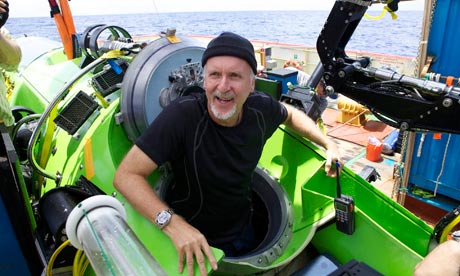 James Cameron emerges from Deepsea Challenger after descending to the Ocean's deepest point, the Mariana Trench. Photograph: Mark Thiessen/Reuters
James Cameron is preparing a chronicle of his expedition to the bottom of the Mariana Trench as a TV special for National Geographic and a 3D release in cinemas.
His seven-mile (11km) descent in Deepsea Challenger to the ocean's lowest point in the western Pacific was the deepest solo dive ever.
Cameron said in a phone interview on Tuesday that the film could be ready late this year or early next year.
He completed his expedition on Monday, then rushed to London for the premiere of a 3D version of his 1997 blockbuster Titanic, which is released next week in time for the 100th anniversary of the ship's sinking.

eddie

The Gap Minder




Posts

: 7840


Join date

: 2011-04-11


Age

: 62


Location

: Desert Island





Similar topics
---
Permissions in this forum:
You
cannot
reply to topics in this forum