Falkland Islands belong to you, Morrissey tells Argentinian fans
British singer is latest artist to support Argentinian sovereignty of south Atlantic islands as diplomatic tensions rise
Uki Goni
guardian.co.uk, Friday 2 March 2012 19.00 GMT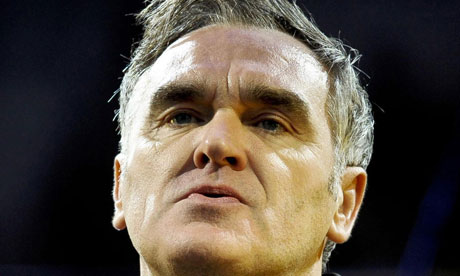 Morrissey told the audience at an Argentinian gig that the Falkland Islands 'belong to you'. Photograph: Ben Birchall/PA
The singer Morrissey has become the latest celebrity to endorse Argentina's claims over the Falkland Islands, telling a crowd in the Argentinian city of Córdoba, "we know the islands belong to you".
Diplomatic tensions between Argentina and the UK have been mounting ahead of the 30th anniversary of the invasion of the islands by Argentina on 2 April 1982. Last month British diplomats accused Argentina of trying to isolate the Falklands by putting pressure on Chile to end flights there. On Monday, two British cruise ships were prevented from docking at an Argentinian port.
Morrissey's comments follow similar endorsements by the US actor Sean Penn and the Pink Floyd bass player Roger Waters. "The Malvinas Islands, everybody knows they belong to Argentina," Morrissey said from the stage of the Orfeo stadium in Córdoba. "So please don't blame the British people, we know the islands belong to you."
The comments brought enthusiastic cheers from the crowd before he launched into the 1984 Smiths track Please, Please, Please, Let Me Get What I Want.
Morrissey's support for Argentina's claim, contested by Britain and the 3,000 British inhabitants of the islands, follows an interview broadcast on Friday on Argentine and Chilean television in which Waters said the Falklands "should be Argentine". The musician, who is playing nine sold-out stadium concerts in Buenos Aires starting next week, said Margaret Thatcher and David Cameron had used the Falklands question "for narrow political ends".
Penn was the first major artist to come out in favour of the Argentinian position, after a meeting with President Cristina Fernández de Kirchner in Buenos Aires two weeks ago.
He criticised Britain's "ludicrous and archaic commitment to colonialist ideology" and the deployment of Prince William to the islands on a tour of duty as a search and rescue helicopter pilot. "There are many places to deploy the prince," Penn said. "It's not necessary, when the deployment of a prince is generally accompanied by warships, to send them into the seas of such shared blood."
The pro-Argentina statements have come as Kirchner has increased pressure on the islands. She announced on Friday that she wants to start direct flights between Buenos Aires and the Falklands, to replace the current flight linking the islands with the mainland via the "neutral" Chilean port of Punta Arenas.
"Our main concern is that we keep our link to Chile," said Nigel Haywood, British governor of the islands. "We're in the middle of a current Argentine policy which seems to be to isolate the islands and to dictate to them what they should be doing – from harassing fishing vessels to closing ports to cruise ships. At a time when every act that Argentina takes towards us seems to be a hostile one, I'm not too sure why we should view this with any degree of enthusiasm."

eddie

The Gap Minder




Posts

: 7840


Join date

: 2011-04-11


Age

: 62


Location

: Desert Island



Old music: The Smiths – Miserable Lie

Morrissey knew that windswept mystical air. It meant he'd like to seize your underwear

The Guardian Music Blog

With typical self-loathing, Morrissey's lyric on this early Smiths song – a version was recorded for their first Peel session, in May 1983, and another appeared on their debut album – offers insights into bodily embarrassment and pessimistic views of love and romance: "I look at yours/ You laugh at mine," as Morrissey puts it. It encompasses everything that came to represent the band, from the prophet of doom's brilliantly monotonous baritone, to Johnny Marr's relentlessly jangling guitar. It starts as a soft prologue and quickly shifts gear into a bustling, punk-like song ending with falsetto wails of inadequacy.

Morrissey's own love of the song is apparent in this quote from a Melody Maker interview from March 1984: "I'm really ready to be burned at the stake in total defence of that record. It means so much to me that I could never explain, however long you gave me. It becomes almost difficult and one is just simply swamped in emotion about the whole thing".

I wasn't really into the Smiths until well after their demise in 1987. The few people I knew who were into them always wore moth-eaten, baggy waffle jumpers with ridiculously long sleeves and thick-rimmed glasses, while the rest of us in our mid-teens were happy to be casuals and await the latest offering from the east coast rap scene (that's New York, not Lowestoft). I now can't get enough of them and I really regret not paying them enough attention at the time.


eddie

The Gap Minder




Posts

: 7840


Join date

: 2011-04-11


Age

: 62


Location

: Desert Island



Johnny Marr quashes talk of Smiths reunion saying: 'I got things to do'
Guitarist dismisses online reports that the band will reform, while former drummer Mike Joyce also denies the rumours
Press Association
guardian.co.uk, Thursday 26 April 2012 19.51 BST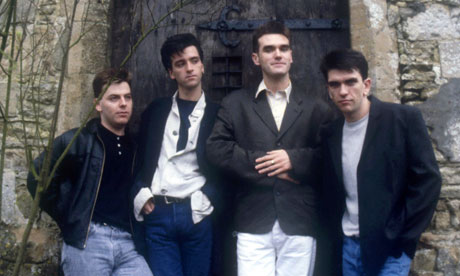 The Smiths a few months before they split up in 1987. From left to right: Andy Rourke, Johnny Marr, Morrissey and Mike Joyce. Photograph: Andre Csillag/Rex Features
Former guitarist for the Smiths, Johnny Marr, has dismissed online reports that the band will reform, saying that he has "got things to do" rather than rejoin his ex-bandmates.
The guitarist posted a message on his Facebook page after an initial report on music-news.com that the band, fronted by Morrissey, were reforming for a series of gigs.
Marr said: "Thanks to those with Hearts and Smarts. I don't know where this stuff starts. Not from me. I got things to do. Johnny".
The band's former drummer Mike Joyce, who now works as a DJ in New York, also denied the story.
He said: "After today's reports of the Smiths reforming I can confirm that they are not."
The Smiths came together in Manchester in 1982 and recorded a string of critically acclaimed albums and singles combining Marr's chiming guitars and Morrissey's witty lyrics and dramatic delivery.
They courted controversy during their brief career, including releasing a song about the Moors murders, Suffer Little Children, while Morrissey regularly sounded off in the music press at targets such as Band Aid.
The group split in 1987 before the release of its last studio album, Strangeways Here We Come, and despite continued speculation since, both Marr and Morrissey have repeatedly insisted they will not reunite.
The Smiths revival rumours come after fellow Mancunians the Stone Roses announced they were getting back together for a string of live dates.

eddie

The Gap Minder




Posts

: 7840


Join date

: 2011-04-11


Age

: 62


Location

: Desert Island




---
Permissions in this forum:
You
cannot
reply to topics in this forum