The Dead Sea drops a few feet every year--5 feet last year. This is, of course, due mostly to the thirsty humans that tap the water from all the fresh-water sources before it can reach the Dead Sea.

Nonetheless, it gives one pause to learn that the Dead Sea nearly dried up before we even dreamed of agriculture, irrigation, or plumbing:

JERUSALEM, Jan. 20 (UPI) -- Scientists say a research drilling project in the Dead Sea suggests its waters dried up almost completely as a result of climate change about 125,000 years ago.

Drilling efforts to 300 yards deep in the center of the sea recovered sediments revealing information about ancient climactic conditions both in the Dead Sea region and in areas as far as the Arabian and Sahara deserts, researchers said.

"We think that the Dead Sea is a key locality to reconstruct and establish the variations of the regional climate of this area of the Mediterranean," Mordechai Stein of the Geological Survey of Israel and the Hebrew University told The Jerusalem Post.

The information will allow scientists to model the effects of global warming for the future, he said.

A preliminary analysis of cores from 250 yards below the seafloor found thick layers of salt covered by rock pebbles, indicating a period in which the sea had almost entirely dried up, researchers said.

"In order to deposit such a thick sequence of salt, the conditions in the drainage area were very arid -- there was no supply of freshwater," Stein said. "Then the layer of pebbles on top of the salt tells us that the shorelines were not far away."

The findings should serve as a warning, researches said, for the condition and potential future drying of today's Dead Sea, which is 1,400 feet below sea level and continually sinking.
I hear you asking: "Was it very hot 125,000 years ago?"
Ya, you betcha, but--from the looks of things, there was also lots of moisture trapped in ice that hadn't had time to melt (the ice volume curve looks a bit backwards, now that I look at it

):
Last edited by pinhedz on Mon Feb 27, 2012 8:11 am; edited 1 time in total
What does it look like when an inland sea dries up completely?
Something like the Bonneville Salts Flats, I reckon:
At the top of the endangered list--the Aral Sea: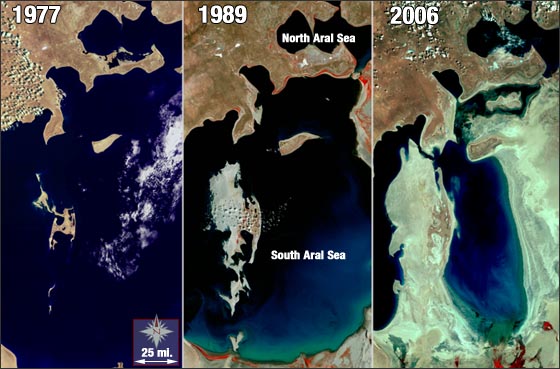 Mono Lake--the lower the water level drops, the higher the mineral concentration rises (spooky place

):
pinhedz wrote: ... (the ice volume curve looks a bit backwards, now that I look at it

)
I guess that's because it's not a graph showing ice volume--it's a curve showing temperature as estimated from ice volume.

pinhedz wrote:At the top of the endangered list--the Aral Sea:
This looks like the end:

Similar topics
---
Permissions in this forum:
You
cannot
reply to topics in this forum