I'm debating whether to post this or not because it's so sad but maybe it's worth it to reflect on how cruel people can be and how they need education. I read about this in the Times yesterday and I still can't shake off the disturbing feeling.

But how was it that the poachers were not caught in the process? Why did discoverers/rescuers arrive in the vicinity after the damage and not before?



200 elephants killed in five weeks

Hundreds of elephants have been killed in Cameroon, activists say

Friday February 17 2012

Poachers have slaughtered at least 200 elephants in the past five weeks in a patch of Africa where they are more endangered than anywhere else on Earth, wildlife activists say.

The money made from selling elephant tusks is fuelling misery throughout the continent, the International Fund for Animal Welfare warned.

Many elephant calves orphaned by the recent killings have been spotted in Cameroon's Bouba Ndjida National Park and activists fear the animals may soon die of hunger and thirst.

"Their deaths will only compound the impact of the poaching spree on the Cameroon's threatened elephant populations," the organisation said.

It is not known how many elephants remain in the West African nation. The latest figures from the International Union for Conservation of Nature estimated there were only 1,000 to 5,000 left in 2007.

The fund blamed poachers from Sudan, who it said were crossing through Chad to reach the remote northern Cameroonian wildlife reserve. Ongoing shooting is making it impossible to conduct a detailed assessment, activists said.

The fund said armed insurgents had crossed porous borders on poaching raids for years, but it called the scale of this year's killings "massive and unprecedented."

Embassies of the United States, the European Union, Britain and France had sounded alarm bells about the slaughter and had called on Cameroon's government to take urgent action to stop the killing.

"The ivory is smuggled out of West and Central Africa for markets in Asia and Europe, and the money it raises funds arms purchases for use in regional conflicts, particularly ongoing unrest in Sudan and in the Central African Republic," said the fund's Paris-based spokeswoman Celine Sissler-Bienvenu.

Wildlife experts said recently that large seizures of elephant tusks made 2011 the worst on record for elephants since ivory sales were banned in 1989. The fund said estimates suggested as many as 3,000 elephants were killed by poachers across the continent last year.

Constance




Posts

: 500


Join date

: 2011-04-11


Age

: 61


Location

: New York City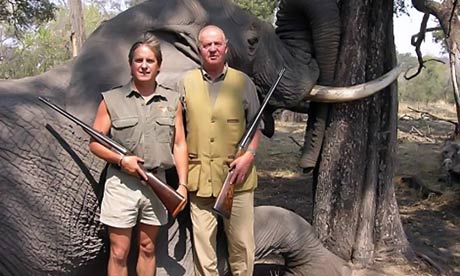 Spain's King Juan Carlos under fire over elephant hunting trip
Juan Carlos's expensive trip to Botswana – from which he was flown home injured – arouses anger in recession-hit country
Sunday 15 April 2012
http://www.guardian.co.uk/world/2012/apr/15/spain-king-juan-carlos-hunting
Republican elephant


eddie

The Gap Minder




Posts

: 7840


Join date

: 2011-04-11


Age

: 62


Location

: Desert Island



...I have to confess constance that I didn't read about the sadness of the elephants' plight. Ignorance isn't really bliss, like they say it is, but it is self-protective, in those times you're not up to the sadness.

---
Permissions in this forum:
You
cannot
reply to topics in this forum