H is for David Hare
The playwright has put up with my running commentary for 40 years. But no one else so tenaciously exposes society's frailty
Michael Billington
guardian.co.uk, Tuesday 31 January 2012 14.38 GMT
David Hare rehearses Via Dolorosa, Royal Court theatre, London, 1998. Photograph: Ivan Kyncl/Associated Press
I'm currently reading Benjamin Disraeli's Sybil, which offers a staggeringly vivid picture of the Victorian gulf between rich and poor. It was one of a number of works in the 1840s dubbed "condition of England" novels, and I was thinking how well the term could be applied to the plays of David Hare. The big difference is that Hare, apart from anatomising England, has also examined Chinese communism (in Fanshen [paywall], 1975), the politics of international aid-giving (in A Map of the World [paywall], 1982) and the Israeli-Palestinian conflict in 1998's Via Dolorosa. Hare, to his credit, is as much concerned with the state of the globe as that of the nation.
I've been reviewing plays for as long as Hare's been writing them, which means that the poor chap has had to put up with my running commentary for 40 years. But several things strike me about his work. The first is that it is based on an ungovernable curiosity about how societies function. Like many of his generation (he was born in 1947), Hare moved swiftly from university into the theatre without the experience of the workaday world that animates the plays of Arnold Wesker or David Storey. Hare couldn't possibly have written a play like The Kitchen or The Contractor. Instead he has become the playwright as social explorer – setting out, notebook in hand, to discover how institutions operate. He attended the Church of England's general synod for Racing Demon, explored the inns of court for Murmuring Judges and sat in on Labour political strategy meetings for The Absence of War.
Investigative curiosity doesn't, of course, guarantee a good play. One thing that helps is an ability to write multilayered lead roles that attract top actors. I stress this because younger dramatists often seem shy of creating star parts, as if it is somehow anti-democratic: what Hare has proved is that a strongly-drawn central figure can epitomise a play's themes. The dysfunctional Susan in Plenty (1978) is a character in whom Kate Nelligan, Meryl Streep, Cate Blanchett and Hattie Morahan all discovered something different. I've seen Oliver Ford Davies and Malcolm Sinclair play the beleaguered vicar in Racing Demon in totally distinct ways. And, although Judi Dench was magnificent in Amy's View, I saw the play work well in Pitlochry with a New Zealand-born lead actor.
Not everyone takes to Hare. Director Dominic Dromgoole, in his survey of contemporary playwrights, The Full Room, attributes Hare's success to "desperate ambition", but I don't believe that's enough to fill theatres. Dromgoole also argues that Hare is a pseudo-radical who secretly wants the enemy to win: I'd retort that exposing the virtues and vices of oppositional characters is what drama is all about. In Skylight (1995), for example, Hare allows two ex-lovers to confront each other: a Thatcherite restaurateur and an East End teacher. The man may have a certain swashbuckling charm, and the woman a self-sacrificial earnestness, but Hare leaves you in doubt that ultimately he is on the side of all those in the vilified public sector who actually make society work.
Like anyone, Hare has his off days: I never cared much for The Great Exhibition or The Breath of Life, which date from opposite ends of his career. But I greatly admire his tenacity, his craftsmanship and his consistent ability to address the issues that urgently matter. Over the past four decades, Hare has put the theatre at the centre of public debate – and for that we should all be genuinely grateful.
Worth reading: About Hare by Richard Boon (Faber)
For Hare-hunters: The Full Room by Dominic Dromgoole (Methuen)

eddie

The Gap Minder




Posts

: 7840


Join date

: 2011-04-11


Age

: 63


Location

: Desert Island



David Hare: BBC news reporting is incredibly cowed
Playwright says at Guardian Open Weekend that real lives are going unreported, but praises Newsnight's Paul Mason
Peter Walker
guardian.co.uk, Sunday 25 March 2012 16.56 BST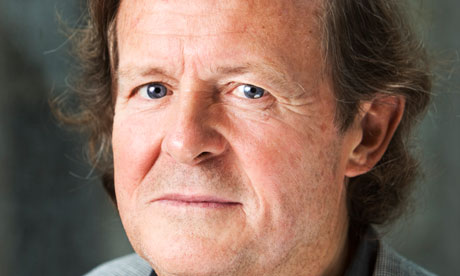 Sir David Hare took part in a web chat with Guardian readers before an appearance at the Open Weekend. Photograph: Murdo Macleod for the Guardian
The BBC's news reporting has become "incredibly cowed", the playwright David Hare has said at the Guardian's Open Weekend, with proper journalism shunted to the margins and replaced by unquestioning echoes of government policy.
Taking part in a web chat with Guardian readers before an appearance at the event, Hare, whose often politically informed writing career has spanned 40 years, was asked whether the corporation had "given up covering a whole sector of society and the spending cuts".
Hare replied: "Yes, I do think BBC news reporting has become incredibly cowed," arguing that just about the only in-depth journalism at the corporation now came from Paul Mason, the economics editor for BBC2's Newsnight.
"It's 10.45 every night before Paul Mason finally comes on bringing news of places and issues which ought, rightfully, to be covered from morning till night. In fact in the last few years he's become a sort of BBC within the BBC."
Hare continued: "It's part political funk, but it's also part a change in reporting itself. Less time on the street, more time on the computer. Whenever the government hangs out a stinking fish like the 40p alcoholic unit story or the Chinese-to-own-our-roads story, the BBC falls for it hook, line and sinker. And meanwhile real lives go unreported."
Hare has sought to examine the state of Britain through a succession of plays focusing on particular issues of the times, whether the newspaper industry (Pravda), the Anglican church (Racing Demon) or the legal system (Murmuring Judges). More recently he has tackled the buildup to the war in Iraq, through Stuff Happens, and the banking crisis, with The Power of Yes.
He has enjoyed a parallel career adapting books by other writers, such as The Hours and The Reader, into film and TV screenplays.

eddie

The Gap Minder




Posts

: 7840


Join date

: 2011-04-11


Age

: 63


Location

: Desert Island





Similar topics
---
Permissions in this forum:
You
cannot
reply to topics in this forum