F is for film
For over a century, theatre has been inspired by the movies, and vice versa. If only musicals would keep their relationship with Hollywood to a Brief Encounter
Michael Billington
guardian.co.uk, Tuesday 17 January 2012 14.30 GMT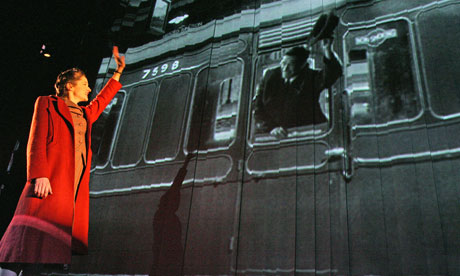 Love affair between stage and screen ... Brief Encounter by Kneehigh theatre at Cineworld cinema, Haymarket. Photograph: Tristram Kenton
What, you may wonder, is a section on film doing in a study of modern theatre? The fact is that film and theatre have been getting into bed together virtually since the invention of movies. Cinema has always fed off theatrical talent; modern theatre has been shaped by the techniques of cinema. But while it's natural the two forms should interact, I worry that theatre today is becoming lazily dependent on cinematic content.
The first thing to say is that, for over a century, theatre has been enthralled by the movies. In 1911 a Hamburg revue showed a film of Neptune touring the city's streets and entering the theatre door only to appear in three dimensions on the actual stage: exactly the kind of effect that Kneehigh were to imitate and extend in their 2008 version of Noel Coward's Brief Encounter. The real pioneer in the use of film, however, was the German modernist theatre director and producer Erwin Piscator (1893-1966), who in 1925 created a massive historical pageant in Berlin, Trotz Alledem, in which 24 scenes were interspersed with film of the Russian revolution. Brecht, who worked with Piscator, was equally passionate about the movies: Chaplin, Eisenstein and American gangster films were amongst his formative influences, and Brecht's belief that what film demands is "external action and not introspective psychology" shaped his vision of epic theatre.
Today the techniques of cinema affect dramaturgy, direction and design in ways that strike me as both healthy and inevitable. How can you expect dramatists, brought up on film, not to use its methods? In the extreme case of David Hare's Knuckle, you even find Hollywood film noir transplanted to the Surrey hinterland. Directors constantly use film footage or the methods of movie montage: Rupert Goold's Macbeth gained much of its power from documentary clips of Stalinesque May Day parades, and I remember comparing his production of Enron to Citizen Kane in its dazzlingly swift transitions. And where would design be today without the use of projections? Bill Dudley's design for Tom Stoppard's The Coast of Utopia gave us panoramic vistas of the Russian countryside that could not have been matched by wood and canvas.
It would be pointless for theatre to turn its back on cinema. It also seems to me a thing of wonder that you can sit in movie-houses around the globe and watch live productions transmitted from Britain's National Theatre or New York's Metropolitan Opera. But, while the techniques of cinema have changed theatre and talent commutes between the two forms, I worry about the influx of movie content: especially when it comes to musicals. Scan the London listings at the moment and it's hard to find a recent or upcoming musical that doesn't have celluloid origins: Legally Blonde, Shrek, Ghost and The Wizard of Oz are shortly to be joined by Singin' in the Rain and Top Hat. You can, of course, totally re-conceive a movie, as happened with Graham Linehan's version of The Ladykillers, which turned Ealing comedy into healing farce. I just wish the writers of new musicals would occasionally look beyond Hollywood hits for their inspiration.
What can't be denied, however, is that theatre has benefited hugely from cinema, or that there is nothing new under the sun. I marvelled recently at the way the young company 1927's The Animals and Children Took to the Streets incorporated live actors and animation. I then turned up pictures of a Piscator production from 1926, in which drawings by George Grosz were projected on to triple screen in remarkably similar fashion. Plus ça change, plus c'est la même show?
Invaluable reading: The Theatre of Erwin Piscator by John Willett (Eyre Methuen)
Don't mention: Kneehigh's The Umbrellas of Cherbourg.

eddie

The Gap Minder




Posts

: 7840


Join date

: 2011-04-11


Age

: 62


Location

: Desert Island



Playing with fire: The Wicker Man musical
The Wicker Man is a cult horror classic. Are the team of Scots who have turned the film into a musical – and rejigged its shocking ending – worried about offending fans?
Alfred Hickling
guardian.co.uk, Wednesday 15 February 2012 21.31 GMT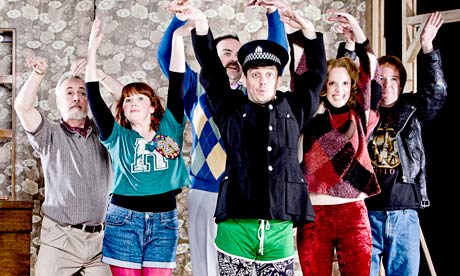 'Someone will burn for this' … An Appointment With the Wicker Man in rehearsal.
The Wicker Man is easily one of the weirdest films ever made. Shot on location in Scotland, the 1973 movie tells the story of a devout policeman who travels to a remote Hebridean island to investigate the disappearance of a young girl, only to discover that the locals have reverted to pagan practices, using human sacrifice to safeguard their crops. Produced on a minuscule budget, with a cast who had to suck on ice cubes to stop their breath from showing in the cold, the film featured career-defining performances from Edward Woodward as Sergeant Howie and Christopher Lee as the sinister Lord Summerisle. Lee has since said it's his best film.
Practically unnoticed on its release (it was cut to an 88-minute B-movie to accompany Nicolas Roeg's Don't Look Now), The Wicker Man has become a cult classic. In 2010, the Guardian rated it the fourth best horror film of all time, while the US journal Cinefantastique dubbed it "the Citizen Kane of horror movies". Many of its unnerving images remain branded in the memory: the giant wicker man ablaze at the end, with Howie trapped inside; the girl swallowing a frog to cure her sore throat; the sight of Lee's knees (his character often wears a kilt). And of course there was Britt Ekland cavorting naked as Willow, the landlord's daughter – although the Swedish star, pregnant at the time, had a local actor stand in for shots featuring her character's bare bottom.
There have been various attempts to revisit The Wicker Man, with little success. A 2006 remake starring Nicolas Cage was critically reviled. Original Wicker Man director Robin Hardy laboured for years to create a sequel, The Wicker Tree, which finally appeared in a limited release last year to mixed reviews. A stage version was announced for the 2009 Edinburgh festival, but was mysteriously cancelled.
Now the National Theatre of Scotland has created a new musical adaptation entitled An Appointment with the Wicker Man. Its writers, Greg Hemphill and Donald McCleary, first worked together on the cult Scottish TV sketch show Chewin' the Fat. Although both were huge admirers of the film – written by Anthony Shaffer, who also wrote Sleuth – they were initially sceptical about whether The Wicker Man could be brought to the stage.
"Shaffer's screenplay is such an un-improvable work that it didn't sound as if it there was much writing to be done," says Hemphill. "We said, 'We'll type it out for you if you like.' But then we thought about it and realised that slavishly imitating the film would be an exercise in futility. You'd be telling a story whose ending the audience already know."
McCleary adds: "The more you investigate the work that Shaffer was doing, including the screenplay for Hitchcock's Frenzy, the more you realise that what he most loved were conundrums and mind games. The Wicker Man is effectively one long, macabre practical joke."
Their adaptation enters into this Shafferian spirit of toying with expectations by featuring the attempts of the Loch Parry Players, a fictitious amateur dramatics group, to put on a stage version of The Wicker Man. When the leading man goes missing, a professional actor is brought in from the mainland to play the policeman. "We thought there could be a nice parallel there," says Hemphill, who stars as Lord Summerisle. "A professional actor who is appalled by the slack behaviour of an indisciplined group of amateurs seemed a good counterpoint for an uptight Christian coming amongst heathens."
Both writers are braced for the fact that deviating too far from the original could lead to accusations of heresy. "Someone's going to burn for this," McCleary says darkly. "Aye," adds Hemphill, "and it will probably be us. But we genuinely thought if someone's going to do a theatrical version, it ought to be us – as we do come from a standpoint of genuine love and respect for the film. If we screw it up, it will be our martyrdom."
They hope that fans will appreciate that their version is intended as affectionate tribute, rather than parody. "There are certain things about the film that have aged," McCleary says. "The flares, the soft porn, and so forth. But once you realise how artfully it has been constructed, there's not a lot to mock. One of the reasons The Wicker Man has endured better than most films of its era is because it has that slightly twee, folksy atmosphere – almost camp. It disarms you, inviting you to laugh at these bizarre Scottish yokels, which makes the ending all the more shocking."
"I think that's where the Nicolas Cage remake went so badly wrong," adds Hemphill. "It worked so hard at establishing scowling locals and a sense of foreboding, whereas in the original everyone is quite serene and jolly. In fact, it almost works as a great advertisement for paganism, because it makes it look so lovely."
The unsettling, whimsical atmosphere was enhanced by the music, composed by Paul Giovanni and performed by the band Magnet, whose sound was very folk-rock. Willow's Song, mimed by Ekland and voiced by Scottish singer Annie Ross, has become a classic in its own right, covered by Sneaker Pimps and Doves; the movie has also inspired songs by Pulp and Iron Maiden.
Previous attempts to stage The Wicker Man have stalled over failure to secure the rights to the music. Hemphill proudly promises that their version will feature every note of the original. There is also, ominously, a full-sized wicker man currently being constructed in a workshop outside Edinburgh.
The low-tech concept of an amateur dramatics society with limited funds is very much in keeping with a film created on the cheap. The Wicker Man appeared at a time of crisis for the British film industry. Economics dictated that a movie set during May Day celebrations had to be shot in October, requiring armfuls of fake blossom to be stuck to trees. "It was obviously freezing," Hemphill notes. "If you look closely, some of the extras in the final scene are so perishing they look as if they're simply delighted to get a good fire going."
The studio behind the film, British Lion, underwent repeated takeovers; The Wicker Man's eventual owners, EMI, hated it. According to legend, the masterprint ended up as landfill beneath the M4 motorway, and the work only managed to re-emerge when missing segments were patched in from a surviving videotape.
This convoluted tale of destruction and rebirth has given rise to suggestions that there might be something supernatural about the film. Could there be some form of hex ensuring The Wicker Man's immortality? "Certainly, weird things seemed to happen when we began working on this project," McLeary says. "I was disturbed to notice that my name appears handwritten on the side of one of the coffins."
Hemphill adds: "I was recently at a casting session and the director asked me what else I was working on. When I told him I was doing a version of The Wicker Man, he rolled his eyes. I said, 'Why? Do you not like it?' He said, 'Yes, but I have a strange relationship with the film. My mother was Britt Ekland's butt.'"

eddie

The Gap Minder




Posts

: 7840


Join date

: 2011-04-11


Age

: 62


Location

: Desert Island




---
Permissions in this forum:
You
cannot
reply to topics in this forum