Out of the blue: why Titian's clouds are central to the drama of his paintings
No one captured the movement and subtlety of the shifting skies like Titian, whose work held a natural appeal for British collectors
Jonathan Jones
The Guardian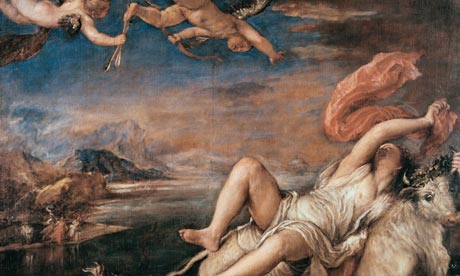 Head in the clouds … Titian's Rape of Europa. Photograph: Burstein Collection/Corbis
I would like to say a word in praise of Titian's clouds. The Victorian critic John Ruskin claimed his contemporary hero, JMW Turner, painted the atmosphere and weather much better than those old European masters, although he did concede some points to Venetian artists for natural observation. In fact, the skies of Venetian Renaissance art are ever-changing, strongly nuanced, swagged with tempestuous power.
You can breathe some of these paintings. The works of Giovanni Bellini are very vivid: his portrait of Doge Leonardo Loredan seems infused with the calm, warm air of Venice; it has tangible atmosphere, it is oxygenated. Nature gets more dynamic with Giorgione's Tempest. In Titian's paintings, the clouds play fantastic roles in elusive dramas of the spirit and senses.
In Titian's Sacred and Profane Love, in the Borghese Gallery in Rome, two women – one richly dressed, the other nude – meet by a classical monument in the countryside. Their relationship is deeply mysterious and suggestive. Is the woman in a dress the "earthly Venus"? Is her naked companion a more spiritual, heavenly figure? Either way, the work is intensely poetic, and the landscape and sky raise it to sublime heights.
In The Bacchanal of the Andrians, the poised ambiguity depicted by Titian in Sacred and Profane Love gives way to revel and joy. A shepherd and hunters populate the green valley behind the marble basin. Beyond them, a village twinkles by a blue lake; above it all, silken clouds erupt over a band of yellow sky. Silver light catches these massing clouds, illuminating them like a flash of emotion or truth. Again and again, that kind of heart-stopping incandescence catches Titian's clouds. Boozers cavort. Nudes disport. Yet above their pastoral party, great piled columns of white vapour are caught by the sun and set alight as if by inner fire.
Titian must have watched the skies continually. He grew up in the countryside, near mountains where storms and heavy atmospherics would have coloured the Adriatic azure. In his early painting Concert Champetre (which used to be attributed to his mentor and rival Giorgione), the sky is brooding and smoky with cloud, while two men in courtly dress and two naked women relax in a meadow. Love and freedom perfume Titian's paintings, but the changing skies warn that nothing is forever.
Perhaps it was the mutability of Titian's skies that deepened his appeal for British art collectors. Is any other Renaissance painter quite so abundantly represented in our galleries? His works were coveted by, and bought for, English and Scottish country houses for centuries. His landscapes might be classically Italian, but they have so many ripenesses of sky and cloud, such a sense of weather, that it fits a northern European setting. British collectors would have looked from their rainswept estates to their Titians, and seen similarities. Only when it rains for Titian – as in his painting, Danae – it rains gold.

eddie

The Gap Minder




Posts

: 7840


Join date

: 2011-04-11


Age

: 62


Location

: Desert Island



The Death of Actaeon. In Titian's later works, the forms lose their solidity and melt into the lush texture of shady, shimmering colors and unsettling atmospheric effects. In addition to energetic brushwork, Titian was said to put paint on with his fingers toward the completion of a painting.

eddie

The Gap Minder




Posts

: 7840


Join date

: 2011-04-11


Age

: 62


Location

: Desert Island



Salome, or Judith; this religious work also functions as an idealized portrait of a beauty, a genre developed by Titian, supposedly often using Venetian courtesans as models.

eddie

The Gap Minder




Posts

: 7840


Join date

: 2011-04-11


Age

: 62


Location

: Desert Island



It took Titian two years (1516–1518) to complete his Assunta, whose dynamic three-tier composition and color scheme established him as the preeminent painter north of Rome.

eddie

The Gap Minder




Posts

: 7840


Join date

: 2011-04-11


Age

: 62


Location

: Desert Island



Titian's state portrait of Emperor Charles V (1548) at Mühlberg established a new genre, that of the grand equestrian portrait. The composition is steeped both in the Roman tradition of equestrian sculpture and in the medieval representations of an ideal Christian knight, but the weary figure and face have a subtlety few such representations attempt.

eddie

The Gap Minder




Posts

: 7840


Join date

: 2011-04-11


Age

: 62


Location

: Desert Island



Titian's unmatched handling of color is exemplified by his Danaë with Nursemaid, one of several mythological paintings, or "poesie" ("poems") as the painter called them, done for Philip II of Spain. Although Michelangelo adjudged this piece deficient from the point of view of drawing, Titian and his studio produced several versions for other patrons.

eddie

The Gap Minder




Posts

: 7840


Join date

: 2011-04-11


Age

: 62


Location

: Desert Island



Second part of £95m Titian pair bought for Britain
Diana and Callisto goes on show in National Gallery, to be joined by Diana and Actaeon in July, after £45m raised
Mark Brown, arts correspondent
guardian.co.uk, Thursday 1 March 2012 11.58 GMT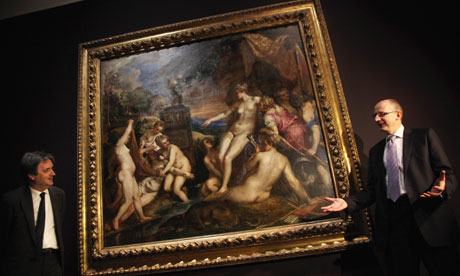 Titian's Diana and Callisto goes on show at the National Gallery in London. Photograph: Dan Kitwood/Getty Images
Titian's masterpiece Diana and Callisto has been secured for Britain after the National Gallery stumped up £25m from its reserves and the painting's owner dropped the asking price by £5m, it has been announced in London.
It now joins its pair, Diana and Actaeon, in the shared ownership of the National Gallery and the National Galleries of Scotland (NGS) without any need for a big public fundraising campaign – something the galleries thought would be a challenge too far in the economic circumstances.
The news was announced in London. The National Gallery's director, Nicholas Penny, said the two Titians had long been regarded as pre-eminent among masterpieces in private hands in the UK. "We have been able to secure both of them for the public, in a period of economic hardship, because of the esteem and affection that both institutions have enjoyed for many decades," he said.
"It is a triumph for us, but also for our predecessors, made possible by today's supporters, but also by benefactors who have long departed."
The two paintings were offered to the nation in 2008 by their owner, the Duke of Sutherland. The asking price was £100m – an enormous sum but by most estimates perhaps half of their market value.
The first painting was secured in 2009, with the biggest sum, £17.1m, coming from the Scottish government and NGS purchase funds. The race then began to raise the next £50m with a deadline of December 2012.
On Thursday it was announced that £45m had been raised and the Duke of Sutherland had reduced the asking price by £5m. A total of £25m came from the National Gallery reserves, mainly money left in wills to the gallery. Then £3m came from the Heritage Lottery Fund, £2m from the Art Fund and £15m from various donations and grants, some from individual donors and some from trusts including the Monument Trust and the Rothschild Foundation.
The acquisition also secures the continuation in Edinburgh of the Bridgewater loan from the duke, an incredible collection of works by artists including Raphael, Rembrandt and Poussin. John Leighton, director general of the NGS, said that loan allowed the gallery to maintain its "triple A status" in the realm of major public galleries.
"We are delighted that the purchase of Callisto will now keep that loan intact and allow the public to continue to enjoy some of the greatest achievements of western European art."
Diana and Callisto went on display in Room 1 of the National Gallery on Thursday. It will remain in London for 18 months and be joined by Diana and Actaeon in July. It will then go to Scotland for 12 months. After that the pair will be shown in London for three years and Scotland for two before settling into a display cycle of six in London, four in Scotland. The 60:40 share reflects the fact that the National Gallery put in more money.

eddie

The Gap Minder




Posts

: 7840


Join date

: 2011-04-11


Age

: 62


Location

: Desert Island



Titian's first masterpiece leaves Russia after 240 years for London show
National Gallery borrows The Flight Into Egypt, not seen outside Russia since it was bought by Catherine the Great in 1768
Alex Needham
guardian.co.uk, Tuesday 3 April 2012 16.38 BST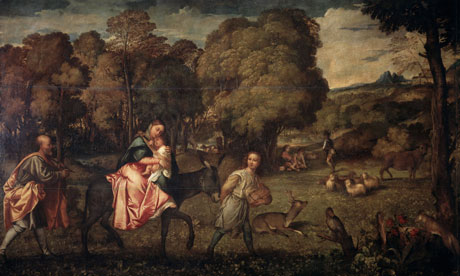 The Flight into Egypt, by Titian. Photograph: Getty Images
Catherine the Great bought Titian's The Flight Into Egypt in 1768. Since then the large painting, described by the 16th-century art historian Giorgio Vasari as Titian's first masterpiece, has not been seen outside Russia – until Tuesday.
Loaned to the National Gallery in London by the Hermitage Museum in St Petersburg, the 505-year-old artwork is looking better than it has for decades, after undergoing intensive cleaning and restoration.
The Hermitage began restoring it in 1999, and the whole process took two people more than 12 years. "It was so dark, under layers of varnish and retouches which completely altered it," said Irina Artemieva, curator of Venetian paintings at the Hermitage. "There was no green or blue, only grey and brown and black."
Two years ago, Artemieva sent an image of the work to the National Gallery director Sir Nicholas Penny, another specialist in the Venetian paintings of the period. "He was so surprised by the results of the restoration, we immediately had the idea to present it here in the National Gallery."
The painting is displayed alongside works that inspired it, by artists including Giovanni Bellini, Giorgione and Albrecht Dürer. Titian trained under the first two, and the third was working in Venice at the time The Flight Into Egypt was painted. The curator Antonio Mazzotta described the other works as the ingredients that went into Titian's painting.
"The National Gallery has an ideal context for this painting," Artemieva said. "You have so many pictures [here] which can explain how this masterpiece was born – and in other British institutions too.
"In the British Museum there are drawings by Dürer and his circle and also in some private collections we have many painting from the same period – the same crucial decade of the 16th century."
The Flight into Egypt was painted in 1507, when Titian was still a teenager, working for Giorgione. Commissioned by Andrea Loredan for his palace on Venice's Grand Canal, it depicts the holy family riding through a vibrant rural landscape alive with animals, plants and children. Vasari marvelled that the animals in the picture were "truly natural and almost alive", an impression not diminished by time.
Penny said: "It's a very ambitious picture, enormously important for our understanding of his work. There are very few large paintings of this kind produced by Italian artists at that date."
He said the depiction of landscapes and animals prefigured those in Titian's later masterpieces such as Diana and Actaeon and Diana and Callisto, which the National recently acquired for £95m. "It's fundamental in any posssible meaning of that word."
Later this year the painting will be displayed at the Accademia art gallery in Venice, and after that, said Penny, "it will never travel again in our lifetime", adding: "We're very honoured that having scanned the museums of the world to find the most suitable place for the debut of this picture our colleague Irena should have selected the National Gallery."
The Titian is the latest in a series of loans between British and Russian cultural institutions, marking a thaw in relations after a crisis four years ago when the British Council was ordered to close its offices near Moscow. However, Artemieva stressed that the loan was nothing to do with diplomatic policy but the result of good relations between the Hermitage and the National Gallery.

eddie

The Gap Minder




Posts

: 7840


Join date

: 2011-04-11


Age

: 62


Location

: Desert Island





Similar topics
---
Permissions in this forum:
You
cannot
reply to topics in this forum