Comedies of errors: why we can't get enough theatrical farce
From the pratfalls of One Man, Two Guvnors to the high-jinks of Noises Off, farce is all the rage. Is the real world to blame?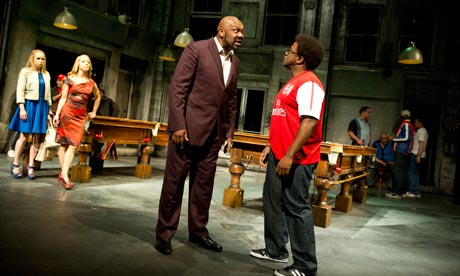 Playing for laughs … Lenny Henry, centre, as Antipholus of Syracuse in The Comedy of Errors at the National theatre. Photograph: Tristram Kenton
"Farcical" is a word that seems to be everywhere – connected with everything from football clubs, to the Olympic Games, government policies and the state of the banking system. And it isn't just from over-enthusiastic headline writers. Theatre is also getting in on the act.
When John Buchan's The Thirty-Nine Steps was published in 1915, it reportedly cheered up our boys fighting in the trenches during the first world war. At the moment, on (or near) the West End, there's not only an anarchic stage adaptation of Buchan's classic – a long-running hit – but One Man, Two Guvnors and The Ladykillers. Across the river Thames, The Comedy of Errors is packing them in at the National and Noises Off is at the Old Vic, while at Manchester's Royal Exchange, Told by an Idiot's version of You Can't Take It with You reanimates a comedy first seen in the depths of the great depression.
Perhaps our current economic decline isn't quite as bad as dying of trenchfoot while being shot at, but hey, it's January! We all need cheering up. And getting people laughing is clearly a shrewd financial move when all around them is darkness and woe. And I think it's about more than just raising a grin. The very structure of farce, with its preposterous scenarios and incomprehensible plots, echoes our own lives with uncanny exactness. The old rule may be that farce punctures respectability, but in today's world it seems to be mirroring it, as the real-life people in power endlessly slip on banana skins, from MPs' expenses to the pratfalls of the eurozone.
Perhaps there's a kind of solace, too, in these idiotic scenarios. In a hysterical world we can get a release from the emotional high jinks these hysterical plays give us. Even more than this, maybe there's a security to be found in the comic machinery of farce – even when it seems chaotic – that we're lacking in the wider machinery of society: the feeling of being safely in the hands of professionals.
Of course, one should always be wary of taking farce too seriously. But in a world of seemingly undisciplined mayhem, maybe it's the only answer. We are living in preposterous times; now, it seems, is the time for preposterous theatre.

eddie

The Gap Minder




Posts

: 7840


Join date

: 2011-04-11


Age

: 62


Location

: Desert Island



Georges Feydeau: master of the French farce.
These farces often involved Paris's demi-monde. They are noted for great wit and complex plots, featuring misunderstandings and coincidences, and what one critic called "jack-in-the-box construction".
Among his 60 plays, his most famous are: Une puce à l'oreille (A Flea in Her Ear, 1907), Le Système Ribadier (1892), La Dame de Chez Maxim (The Girl from Maxim's, 1899), and Hortense a dit: "Je m'en fous!" (Hortense says, "I don't give a damn!", 1916). Other notable Feydeau farces include L'Hôtel du libre échange, Le Dindon (Sauce for the Goose, 1896) and the series of plays he wrote after 1908 grouped under the title "Du Mariage au Divorce" ("On purge bébé", "Feu la mère de madame", Léonie est en avance" and "Mais n'te promène donc pas toute nue").
Though critics at the time dismissed Feydeau's works as light entertainment, he is now recognized as one of the great French playwrights of his era. His plays are seen today as precursors to Surrealist and Dada theatre, and the Theatre of the Absurd. They have been continuously revived and are still performed today, 17 of which have been performed on Broadway from 1895.
(Wikipedia)

eddie

The Gap Minder




Posts

: 7840


Join date

: 2011-04-11


Age

: 62


Location

: Desert Island




---
Permissions in this forum:
You
cannot
reply to topics in this forum