John Wyndham's 1955 sci-fi fable retains its power to thrill
Philip Womack The Observer, Sunday 10 April 2011
I first read The Chrysalids when I was 12, an age when any child is beginning to wonder about where he or she fits into the world. This is the subject of John Wyndham's novel. His protagonist, David Strorm, inhabits a prospering district on the edge of the Unknown. Everybody lives in awe of the "Old People", whose might built marvels, yet they believe that God sent "Tribulation" (most likely some form of nuclear war) to punish them for amorality. Hence they fear mutations, expelling anybody who bears a sign of difference. In this, they resemble the pioneer community in Arthur Miller's The Crucible (written two years before Wyndham's book and reflecting the same anxieties).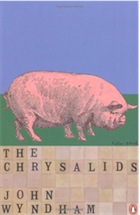 The Chrysalids (Penguin Decades) by John Wyndham
For David, things are difficult. His father is strictly pious, even (and horrifically) when it comes to his own family. But David's "difference" doesn't show – at least outwardly. He is a telepath – he can "think-together" – and he is not alone. If David is caught, he will be ousted. Wyndham's evocation of David's ability to communicate at far distances with his friends left me, as a child, reeling with envy and desire; I remember sitting in the library, "sending out" thoughts in the hope that someone, somewhere might catch them. The telepathy functions as a metaphor, a pointer towards freedom of thought and speech. The message is clear: if we think together, we become better.
It becomes apparent that David's village is isolated in its customs and beliefs. His sailor uncle tells him of islands where women are not allowed to breed unless they have three breasts. Whose is the true pattern and whose the mutation? These questions underlie Wyndham's crystalline, evocative writing, as thrilling as John Buchan's as we follow David's final gallop towards what we can only hope is freedom. Wyndham's genius, though, is to show that even rescue is compromised.
guardian.co.uk © Guardian News and Media Limited 2011
Last edited by eddie on Wed Apr 13, 2011 8:54 pm; edited 1 time in total

eddie

The Gap Minder




Posts

: 7840


Join date

: 2011-04-11


Age

: 62


Location

: Desert Island



"The Kraken Wakes" is one of his that I recall from 50s childhood, first encountered as a play on the wireless. Great radio! I also recall a humorous short story about highly intelligent alien visitors to Earth whose misfortune was to be small insects in form ...




felix

cool cat - mrkgnao!




Posts

: 831


Join date

: 2011-04-11


Location

: see the chicken?



Sam Raimi to bring The Day of the Triffids to the big screen
Evil Dead creator will produce film version of John Wyndham's post-apocalyptic tale of angry plants
Xan Brooks
guardian.co.uk, Thursday 1 March 2012 12.32 GMT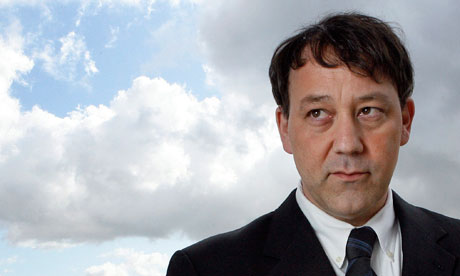 Sam Raimi is to create a film version of The Day of the Triffids through his Ghost House production company. Photograph: Mario Anzuoni/Reuters
Sam Raimi is set to water and tend a big-screen version of The Day of the Triffids, John Wyndham's post-apocalyptic tale about mankind's struggle against large, angry, walking plants. The Evil Dead creator will produce the picture through his Ghost House production company, working alongside his regular partner Rob Tapert.
Wyndham's original 1951 novel charted the aftermath of a meteor shower that blinds the vast bulk of the world's population and the survivors' battle with an infestation of murderous, bio-engineered plant-life. The tale inspired a 1962 B-movie starring Howard Keel and has been adapted twice for BBC TV, first in 1981 and again in 2009.
The latest version will be scripted by British-born writer Neil Cross, best known as the creator of the TV drama series Luther. Cross recently completed work on Mama, a horror feature starring Jessica Chastain and executive produced by Guillermo Del Toro.
Production on The Day of the Triffids is not expected to begin until next year. The director and cast has yet to be announced, while Raimi is currently occupied with directing Oz: the Great and Powerful, a prequel to The Wizard of Oz that stars James Franco, Michelle Williams, Mila Kunis and Rachel Weisz.

eddie

The Gap Minder




Posts

: 7840


Join date

: 2011-04-11


Age

: 62


Location

: Desert Island





Similar topics
---
Permissions in this forum:
You
cannot
reply to topics in this forum