Strange case of a fake Ibsen play that has gripped Scandinavia
Literary experts embarrassed after 'lost fragments' of work by Norway's famous playwright are alleged to have been forged
Richard Orange
The Observer, Sunday 1 January 2012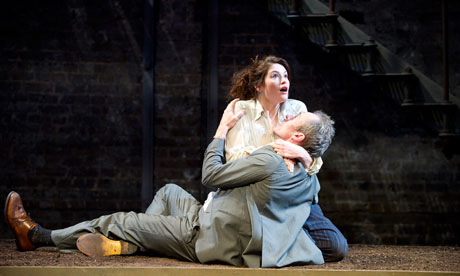 Gemma Arterton and Stephen Dillane perform in Ibsen's The Master Builder at the Almeida in London.  Photograph: Tristram Kenton
It's the case that has absorbed Scandinavia's elite artistic circles and tested some of Norway's finest literary experts.
Over the next few months, investigators from the Norwegian police's economic crimes unit will be combing the market for supposed possessions and letters relating to the playwright Henrik Ibsen, and the Nobel-winning novelist – and Nazi sympathiser – Knut Hamsun as part of investigations into an alleged scam that exploited the nation's interest in its most celebrated authors.
More than a dozen documents are alleged to have been forged by Geir Ove Kvalheim, a Norwegian scriptwriter and actor, who has been charged and is due go on trial in April.
The alleged fraud was only revealed when Kvalheim sensationally claimed to have discovered fragments of a previously unknown Ibsen play, The Sun God, a find that would have changed Norwegian literary history.
Lars Frode Larsen, a Hamsun expert who was one of the first to raise the alarm, said that he could not think of a literary forgery of such magnitude since the fake Hitler diaries in 1983.
"He was very convincing," Rolf Warendorf at Oslo's Norlis antiquarian booksellers, told the Observer. "His story was that he was a collector of all kinds of stuff connected to the second world war – uniforms, medals etc – and that he had got in touch with the older Nazis living in Spain and Norway."
To Warendorf's embarrassment, his bookshop became the conduit through which several of the alleged forgeries were brought to market. He bought a "signed" first edition of the Ibsen play John Gabriel Borkman, which the writer had dedicated to Edvard Munch, the artist who painted The Scream.
Warendorf also bought a pocket almanac from 1943, in which Knut Hamsun had apparently drafted a letter to Adolf Hitler, apologising for a tempestuous meeting in July that year. Eight of the documents were sufficiently credible to be bought by Norway's national library for a total of £75,000.
Jørgen Cappelen of Cappelens booksellers was another expert who aired his suspicions of Kvalheim. In 2006, he refused to buy the fragment of The Sun God, which Kvalheim had sent to him for scrutiny. "We didn't recognise the writing. We just didn't recognise the signature of Ibsen," he said.
After that, a group of antiquarian booksellers worked with the national library, bringing in the country's leading Ibsen and Hamsun experts to investigate the works. Initially Norwegian police refused to take up the case. It was only in 2008 that their economic crimes unit decided to investigate, bringing in experts who judged that at least 13 items, sold by Kvalheim for a total of £50,000, were forgeries, leading to Kvalheim's indictment at the end of November.
Warendorf believes that the true number of alleged forged documents could be much larger.
"He has been very active in the private market. My guess is this might be just a fraction of what he's sold," he said.
In the years running up to the case, Kvalheim had built up close links to Norwegians who had worked with the Nazis during the second world war.
Among those he befriended was Finn Thrana, a senior member of Norway's wartime fascist government, whom he claimed had given him the Hamsun almanac. He also befriended Fredrik Jensen, a former member of the Waffen-SS and the only Norwegian to be awarded the German Cross in Gold, one of the highest Nazi military decorations.
The relationship with Jensen broke down after Kvalheim passed the police footage of interviews he had carried out for a documentary, which he claimed proved that Jensen had helped shelter Nazi war criminals. In 2007, Norwegian courts ordered Kvalheim to pay Jensen £40,000 in damages for this claim, which resulted in Jensen being accused in newspapers of sheltering Aribert Heim – the Austrian nicknamed "Dr Death" for his gruesome medical experiments on inmates at the Mauthausen concentration camp – at his home in Málaga, Spain. But by the time Jensen died, aged 90, in July last year, it was believed that Heim had in fact died in Cairo in 1992.
After the 2007 case, Jensen went to the police accusing Kvalheim of forging a letter from him that gifted Kvalheim the documentation surrounding his award of the German Cross in Gold. That accusation is now one of the charges levied against Kvalheim by the prosecutors.
The alleged scam comes at a time of revived interest in Ibsen in the UK. In 2011, the National Theatre staged the UK premiere of Ibsen's Emperor and Galilean, London's Arcola Theatre revived his classic A Doll's House, and the Jermyn Street Theatre revived Little Eyolf.
Ibsen was championed by writers such as George Bernard Shaw and Thomas Hardy, who campaigned for the single London performance of his play Ghosts in 1891. The play, which the Daily Telegraph described as "a loathsome sore unbandaged", "a dirty act done publicly" and "literary carrion", had been banned by the censors because of its depiction of marital infidelity and venereal disease.
Prosecutor Aud Slettemoen said that the trial could continue throughout the year if Kvalheim appealed. "This could be quite a complicated case. We've never had a case like this before," she said.
Kvalheim, who failed to respond to a Norwegian newspaper's requests to comment on the accusations, faces up to six years in prison if found guilty.

eddie

The Gap Minder




Posts

: 7840


Join date

: 2011-04-11


Age

: 62


Location

: Desert Island



Nora – review

Belgrade, Coventry
2 / 5

Alfred Hickling

guardian.co.uk, Thursday 2 February 2012 17.32 GMT

Torvald, an obnoxiously smug Scandinavian banker, has a large illuminated fish-tank as the focal point of his tastefully minimalist apartment. He also keeps a trophy wife who skips round the strange, cuboid furnishings with a kind of manic, manufactured glee that suggests she has rather less freedom of movement than the fish.

Nora is a 90-minute reduction of Ibsen's A Doll's House made by Ingmar Bergman in 1981. It was originally conceived as a stage trilogy exploring the gender war alongside Bergman's reworking of Strindberg's Miss Julie and his own Scenes from a Marriage.

Ibsen's play concluded, famously, with the door slam that reverberated around the world, yet the play's credibility relies on carefully measured narrative development. It also requires an understanding of its 19th-century context in which it is unthinkable for a woman to run up debts without the knowledge of her husband. Bergman's version is short and sharp, but it reduces the shock, creating a series of thin, melodramatic flashpoints that lack the subtle fibre of truth. A troubling disconnect afflicts Patricia Benecke's production: Sanchia McCormack's Christine has dressed as if for an interview with a temping agency, but announces that she has arrived by steamer. The hand-delivery of letters feels awkward, especially as David Michaels receives the news that he has been ruined, then reprieved, with the swiftness of consecutive emails. And there is some risible nudity that steers everything further towards daytime soap territory.

Penny Layden's performance as Nora is appreciably committed, yet the role, in its denuded state, contrives to be simultaneously under-motivated and over-explicit. Her announcement that the world can "kiss my arse" rings especially hollow – Ibsen's Nora said it far better by not saying it at all.


eddie

The Gap Minder




Posts

: 7840


Join date

: 2011-04-11


Age

: 62


Location

: Desert Island



A Doll's House.

eddie

The Gap Minder




Posts

: 7840


Join date

: 2011-04-11


Age

: 62


Location

: Desert Island



Joely Richardson: back in at the deep end
Her mother was a celebrated Ellida. So was her sister. Is that why Joely Richardson is marking her return to the stage by playing Ibsen's difficult heroine?
Mark Lawson
guardian.co.uk, Tuesday 14 February 2012 21.30 GMT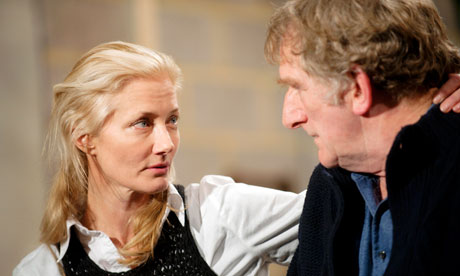 'It's not my baggage' ... Joely Richardson and Malcolm Storry rehearsing The Lady from the Sea. Photograph: Linda Nylind for the Guardian
One day last year, Joely Richardson was taken for lunch by Stephen Unwin. The artistic director of the Rose Theatre in Kingston, Surrey, wanted to discuss a role he had in mind for her – hoping to lure her back to British theatre after all the time she had spent on US TV (Nip/Tuck) and in the movies (Anonymous, The Girl With the Dragon Tattoo).
"It quickly became clear," recalls Unwin, in the Rose's rehearsal room beside the Thames, "that the one I'd chosen wasn't going to be the right role. So we talked about what we might do instead. And I said, 'Well, there's Ibsen's The Lady from the Sea, but you probably won't want to do that."
"And so I said, 'Why would I not want to do it?'" Richardson says, taking up the story at the end of her third week of rehearsals for Unwin's revival of Ibsen's play. "Genuine question. And I think Stephen hummed and hah-ed in an embarrassed fashion. And I said, 'Oh, you mean the family reasons?'"
Hanging not-quite-spoken in the air are the facts that shadowed Unwin at the lunch. In the 1970s, Richardson's mother, Vanessa Redgrave, made a celebrated Ellida, the married Norwegian woman at the centre of the play, who is still in love with a sailor who disappeared years before. Still more sensitively, Richardson's sister Natasha, who died three years ago after a skiing accident, played Ellida at London's Almeida theatre in 2003; it was one of her most praised performances.
"I said to Stephen that I could see that it could be perceived as a stupid move, because why would you put yourself up for those comparisons when they're all there and endlessly regurgitated anyway? Then I thought, 'You know what? This is a great role and I want to have a crack at her.' My job is to blank out all the baggage. The baggage, with all due respect, is not mine. It's other people's. I just wanted to have a go."
Malcolm Storry, who plays Ellida's husband Dr Wangel, adds: "Any classical part worth having – there's going to be a history." That's true, but acting dynasties bring a special charge to casting. There is a frisson for audiences in knowing that Richardson is now following her mother and her sister. Does that not inform her performance? "Well," says Richardson, now 47, "I think it's highly unlikely that many people in our audience will have seen my mother's production 30 years ago." Her voice slows. "I think more people will have seen my sister's."
But some veteran theatre critics will have seen both. "Ha! And how exciting will that be? 'She's not half as good!' Or 'She looks quite like her.' But look, if you think of The Cherry Orchard or A Doll's House, say, I think I've seen at least seven productions of those in the last few years. At least with this, it's only done every 10 years or so because it's so difficult." Does she ever ask her mother for advice about a role? "I ask her and she asks me. It's very much two ways." So have they talked about Ellida? "In this case, no. She's in America at the moment. But it would be a bit too weird – if it's a part she actually played."
Ibsen was 60 when he wrote The Lady from the Sea in 1888. The writer had been in self-imposed exile from Norway: dismayed by his failure to make a mark in theatre there, he had, for almost three decades, lived in Italy and then Germany. He had achieved literary fame but also notoriety, through such plays as 1879's A Doll's House and, two years later, Ghosts. These works dealt with material – venereal disease, for example, and female independence – considered inappropriate for drama at the time.
As he prepared to write The Lady from the Sea, Ibsen decided to return to Norway; he also decided on a change of tone. "Now I shall write no more controversial plays," he pledged in a letter to a friend. Ibsen and his wife had missed the sea and so settled in the coastal town of Molde. The rejection of contentious themes resulted in a domestic drama in which Ellida's sexual rejection of her husband and her obsession with the lost sailor is steered towards an uplifting conclusion.
Unwin directed five Ibsen plays during his previous posting at English Touring Theatre and has become established as an Ibsen specialist; he translated The Lady from the Sea himself. He is fond of saying, not merely to provoke Chekhovians, that Ibsen is the second greatest dramatist ever. Halfway through rehearsals, though, his actors are questioning the idea that they are delivering the words of Shakespeare's understudy: Ibsen is prone to scenes and speeches of bald exposition.
"We're struggling with that a bit," admits Storry. "The way someone will say, 'And then you got engaged?' And you reply, 'Yes.' And they say, 'And why did you get engaged?'" Unwin rises like an attorney defending his client. "The trick is to find the pressure behind the line," he says. "Why are they saying this now?"
There are broadly two strains in Ibsen: the poetic-symbolic, typified by the verse drama Peer Gynt; and the social realism of, say, John Gabriel Borkman, a play about a disgraced banker. As a portrait of relationships, with layers of mythology and hints of the supernatural, The Lady from the Sea draws on both strains of Ibsen.
This, agrees Richardson, creates difficulties: "A friend who's a child psychologist read it and said, 'It's very, very symbolic and how do you create symbols as an actress?' The answer is it's very difficult." Ellida can be seen as half-woman, half-mermaid, forced to choose between domestic stability and the dangerous strangeness represented by the sea. "Although she's folkloric, I have to play her as a real woman. But this was the time of Freud and Jung, and I certainly think the sea represents the subconscious."
The play was also written in the time of Edvard Munch, the Norwegian painter famous for his agonised portrait The Scream. Eight years after Ibsen's play simultaneously premiered in Norway and Germany, Munch also made a painting called The Lady from the Sea, which shows a bare-breasted mermaid paddling in waves that lap a phallic lighthouse. A copy hangs on the rehearsal room wall but Unwin decided against such an insistent erection in the background of their production.
Ibsen has become more popular in British theatre, partly because so many of his plays have an easy relevance to contemporary events: Borkman illuminates the banking crisis, Ghosts deals with sexually transmitted disease, An Enemy of the People with a cover-up. Because of this, there has been a tendency in UK productions to Anglicise or universalise the action. However, with Scandinavian culture currently so hot – Stieg Larsson and Jo Nesbo in the bestseller lists, Borgen and The Killing on TV – might there now be a temptation to emphasise the Norwegian setting?
"I think," says Storry, "you have to get that sense of a small place within a small country. I keep thinking of the massacre in Norway last year and how it affected simply everybody."
"We're certainly not going to have Scandinavian accents," says Unwin.
"You know what?" adds Richardson. "At the company lunch, we decided we are going to do one run-through in rehearsal in Norwegian accents – just for fun." And she laughs loudly and merrily.

eddie

The Gap Minder




Posts

: 7840


Join date

: 2011-04-11


Age

: 62


Location

: Desert Island





Similar topics
---
Permissions in this forum:
You
cannot
reply to topics in this forum