Alan Ayckbourn: from East Yorkshire to East 59th St
Despite being British through and through, Ayckbourn's plays have always found a special place in New York. As his 75th arrives in town, Andrew Purcell meets him – and hears about number 76
Andrew Purcell
guardian.co.uk, Wednesday 28 December 2011 14.03 GMT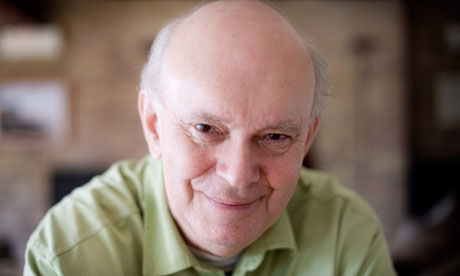 Scarborough fair … playwright Alan Ayckbourn. Photograph: Rex Features
The bar at the 59 East 59th Street theatre in Manhattan has two signature Alan Ayckbourn cocktails on the menu. The Fresh Wind, a mix of Stolichnaya, vermouth, pink grapefruit juice and Cointreau, has been the theatre's second most popular drink since he devised it for a run of Private Fears in Public Places in 2005. The Blue Montmorency, named after the garden gnome in his latest play, Neighbourhood Watch, is a combination of Grey Goose, Blue Curaçao and lemonade, shaken and chilled. "It's a killer," smiles the dramatist.
Ayckbourn moves slowly these days, a result of the hip operation he underwent earlier this year and a stroke he suffered in 2006. Although he walks with a stick and has difficulty with stairs, his creative productivity remains astonishing. He has just finished his 76th play, a set of interlocking love stories called Surprises. "I describe it as being a play with its head in the future but its heart in the past," he says. "It revisits some of my favourite themes of time travel, androids, robotics."
The play is set in a near future where people live to be 180 years old. "It's been fascinating to be writing at my advanced age about really old age," he says. Surprises will premiere in Scarborough, as always, before a London run during the Cultural Olympiad.
For the moment, though, his focus is on Neighbourhood Watch, currently running at 59E59 after stints for Intimate Exchanges and My Wonderful Day. Every other year he brings a company from the Stephen Joseph Theatre in Scarborough, to be greeted by reliably stellar reviews in the local press. Charles Isherwood of the New York Times wrote that the Yorkshire town "should be anointed a Mecca for admirers of first-rate, frill-free acting".
Ayckbourn has even become something of a regular. In 1976, a sign at the corner of Broadway and 45th Street was changed to Ayckbourn Alley for the day, in recognition of the fact that he had four plays – the Norman Conquests trilogy and Absurd Person Singular – running at the same time.
It hasn't always been plain sailing, though. His revival of By Jeeves, with music by Andrew Lloyd-Webber, opened in October 2001, shortly after terrorists destroyed the World Trade Centre. It closed within a month. "I saw publicity stunts like people being served tea outside the theatre and thought, 'if I was an American, I'd punch them on the nose'." And American actors have often struggled with the nuances of his inimitably English dialogue. The first of his plays to be performed on Broadway was How the Other Half Loves in 1971, starring Phil Silvers under the direction of Gene Saks. "It was a very American show, an experiment to try to make my work American, which I think in retrospect makes as much sense as setting Neil Simon in Godalming," Ayckbourn says.
The comparison with Simon, best known for his early plays The Odd Couple and Barefoot in the Park, has been made often enough, in fact, to become a minor annoyance. "It's no good, partly because Neil's work comes from a different angle," Ayckbourn says. "His older, classic scripts, you can count the jokes coming off the page, hitting you."
Of late, American reviewers are more inclined to bracket him with Anton Chekhov. Reviewing the Old Vic production of the Norman Conquests, which transferred from London in 2009 and won a Tony award for best revival, New York Times critic Ben Brantley observed that "Ayckbourn, like Chekhov, mines the explosive potential of irritable, dissatisfied and restlessly bored people in close quarters" – two years before Ayckbourn relocated Vanya's home to the Lake District in his adaptation Dear Uncle.
At last year's Tonys, at Radio City Music Hall, Ayckbourn received a lifetime achievement award. "I was standing in the middle of the stage, feeling rather vulnerable and alone, when suddenly the whole place lit up," he remembers. "There were people piled high, clapping, then standing. I thought, 'this is like the Roman Colosseum'. I was so moved that I stumbled out my speech, turned around, quite choked up, and because I'm not too stable, nearly fell over on the turn upstage to get the award."
Ayckbourn's return comes when the stock of British theatre is riding high. The National's production of War Horse won best play and best direction this year at the Tonys, while best actor went to Mark Rylance for his phenomenal turn as Johnny "Rooster" Byron in Jez Butterworth's Jerusalem, which proved among much else that a Broadway show can be littered with swearwords and in-jokes about Swindon, provided it's good enough. Ayckbourn points out that, in common with other successful transfers such as La Cage aux Folles and Red, both plays came from the subsidised theatre sector, where directors can afford to take risks.
Ayckbourn's plays are performed all over the United States, something that gives him great satisfaction as a champion of regional theatre. He's been approached by Seattle's A Contemporary theatre to direct his own work with local actors next year. "It's not that they can't do it, but the approach has to be set by the director," he says. "I'd need to cast it very carefully."
At a recent seminar in Chicago for members of the Steppenwolf Theatre Company, the actors initially emphasised the humour in Ayckbourn's dialogue – until he taught them that performing it straight, emphasising the tension and resentment inherent in family relationships, would get bigger laughs. "I told them, 'play it as if you mean it'," he says. "Play it like Tennessee Williams, please."

eddie

The Gap Minder




Posts

: 7840


Join date

: 2011-04-11


Age

: 63


Location

: Desert Island



How we made: Alan Ayckbourn and Christopher Godwin on Absurd Person Singular
'The rehearsals were hysterical. Sometimes they just fell apart because it was so funny'
Interviews by Maddy Costa
guardian.co.uk, Monday 19 March 2012 18.12 GMT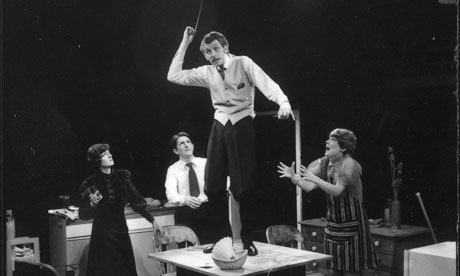 Christopher Godwin (centre) in the original production of Absurd Person Singular at the Library theatre, Scarborough, in 1972. Photograph: Scarborough Theatre Trust/Stephen Joseph Theatre
Alan Ayckbourn, director
My play Absurd Person Singular, now 40 years old, was a step in the direction of a darker me. The plays before it – How the Other Half Loves, Time and Time Again – were relatively light, but this one really moved into the shadows. It's set over three Christmasses, following the fortunes of three couples. The first pair are very nouveau riche, and are patronised by the other couples, who come over for drinks on Christmas Eve. During the course of the play, the others drop out while the first couple, who have absolutely no scruples, become extremely wealthy and dominant.It's about the socially mobile. It was my shot at mammon.
I wrote it for a summer season in Scarborough, for six actors. During the day we would rehearse another play, then in the evening I would go home and write. In those days I would write plays right up to the deadline. The title was something I'd thought of in a lift. I've read theses justifying it and thought: "Oh God, I don't want to tell them it was just an accident."
The most famous act is the second: one of the wives is attempting to kill herself. She puts her head in the gas oven, and one of the other women thinks she's trying to clean it; she tries to hang herself, but one of the men thinks she's trying to change a bulb. I was frightened about that scene because, really, how funny is that? I had this image that there would be 200 people in the audience, all of whom had had brushes with suicide. It could really have backfired. In fact, it's a riot. I realised that if you run that sort of darkness alongside comedy it can cause enormous laughter. The play ends with a version of musical chairs: the characters had to dance, then freeze when the music stopped, with the last person to stop paying a forfeit. While I was writing it, I asked the actors to tell me all the forfeits they could remember from children's party games. They dished up all these ridiculous, humiliating little things, like dancing with a spoon in your mouth or a tea cosy on your head. They all went into the play. The first time we ran it through in the theatre, it struck me what a chilly ending this was: it's like a dance of death.
It's a running joke that I never change anything in a script during rehearsals. But when we first put Absurd in front of an audience – a three-act play, with two intervals, in a tiny room in a library, with no bar – I thought: "We can't ask them to sit through that again. I don't want to sit through that again." So I cut it, and the play became a hit.
Christopher Godwin, actor
Alan and I were actors together in an incarnation of the Welsh Theatre Company in the 1960s. We left at the same time, and he asked me to be in one of his plays. I worked for Alan quite a lot after that. I love the way he writes, personifying the English approach to emotional and social situations. Absurd was a development of his study of social manners. In it I played Ronald Brewster-Wright, a man in his mid-40s. At the time I was 29, and I remember thinking: 'How do you play a bloke in his mid-40s? Well, he's obviously going to be a bit stiff, he's going to have crow's feet...' It was just bizarre. When I got to my 40s, I didn't feel like that at all.
The rehearsals were hysterical. Sometimes they just fell apart, because you suddenly saw the action from outside and it was so funny.When we moved into the theatre, one of the other actors, Ray Jewers, a burly Canadian, started teaching me to play American football in the dressing room. This consisted of us both squaring up, then him charging me; because I was much lighter he would knock me off my feet and I would go sliding across the lino, howling with laughter. One of the other actors, a burly Canadian, started teaching me American football in the dressing room. I would go sliding across the lino, howling with laughter.
As we began the run, we became aware of a much deeper set of reactions. Some of it was quite painful. But Alan lets the audience find that out for themselves. I remember having trouble with a speech. I was doing it very emotionally, and Alan told me, "You're forgetting you're English." He was right: the English don't expose themselves emotionally; they imply, which can be much more bleak.

eddie

The Gap Minder




Posts

: 7840


Join date

: 2011-04-11


Age

: 63


Location

: Desert Island





Similar topics
---
Permissions in this forum:
You
cannot
reply to topics in this forum