This might interest you, Nash. I remember your mentioning that you were a Patrick Hamilton fan:
*********************************************************************************************************
Winter read: The Midnight Bell by Patrick Hamilton
The pub at the centre of Patrick Hamilton's The Midnight Bell is the perfect haven on a winter's evening
David Barnett
guardian.co.uk, Monday 26 December 2011 09.00 GMT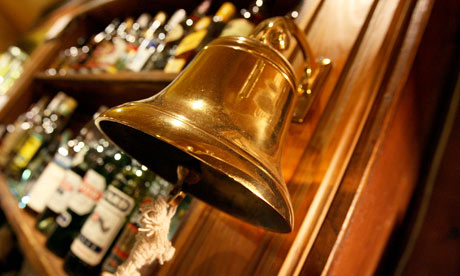 The Midnight Bell is the true central character ... the bar at the Speaker pub in central London. Photograph: Reuters / Toby Melville
On the face of it the first instalment in Patrick Hamilton's Twenty Thousand Streets Under The Sky trilogy, The Midnight Bell, might not seem an obviously wintry novel. But Hamilton's evocation of Soho life in the late 1920s has, at its heart, that most wintry of pursuits: enjoying a drink in the kind of cosy, beeswaxed public house that scarcely seems to exist these days.
Hamilton sets out his seasonal stall in the opening line: "Sleeping, just before five, on a dark October's afternoon, he had a singularly vivid and audible dream."
He, of course, is Bob, the barman at the titular Midnight Bell, who falls into an ill-fated infatuation with Jenny, a prostitute whose story is told more fully in the trilogy's second volume, The Siege of Pleasure.
Life beyond The Midnight Bell seems cold and unwelcoming – all the better to paint the pub as a haven; a crossroads where travellers meet, sometimes only briefly; a safe space to escape from the rigours of the outside world. Bob, sleeping in the afternoon ahead of his evening shift, wakes to "pitch dark – but it was not yet five o'clock".
Hamilton's description of the saloon bar and lounge – "no scene for the brawler, but rather for the principled and restrained drinker, with his wife" – makes me want to abandon this keyboard right now in search of it, to nurse a pint as the darkness falls early.
"The Saloon Bar was narrow and about thirty feet in length. On your right was the bar itself, in all its bottly glitter, and on your left was a row of tables set against a comfortable and continuous leather seat which went the whole length of the bar. At the far end the Saloon Bar opened out into the Saloon Lounge. This was a large, square room, filled with a dozen or so small, round, copper-covered tables. Around each table were three or four white wicker armchairs, and on each table there lay a large stone ash-tray supplied by a Whisky firm."
Doomed love also casts a chill over the text. While it is traditionally spring when a young man's fancy turns to thoughts of love, I'd contend that December, when nights are long and loneliness is keenly felt, is the season for ill-conceived romances such as Bob's. (The novel, incidentally, is apparently somewhat autobiographical; his portrait of working girl Jenny was supposedly informed by his own infatuation with Lily Connolly, herself working as a prostitute, in 1927, two years before The Midnight Bell was published.) Bob, a former sailor, is of course blind to the romantic inclinations of his fellow bar-worker, Ella, who takes centre stage in the third novel in the sequence, The Plains of Cement. Him throwing his hat at the flighty Jenny can only – and does – end badly.
While the novel follows the lives of those who inhabit The Midnight Bell, it is the building itself, the grand old Euston Road pub, which is the true central character in this spectacular novel: constant and unchanging, a rock in a sea of humanity that flows around it and on to inevitable tragedy.
The Midnight Bell offers succour to the people who pass through it, and provides the stage for their dramas. And while Hamilton's trilogy might end with the gentle sound of a barmaid weeping, it also offers some kind of hope for the future, some sense that the "bottly glitter" of a winter pub is full of expectations and possibilities. Anyone fancy a pint?

eddie

The Gap Minder




Posts

: 7840


Join date

: 2011-04-11


Age

: 62


Location

: Desert Island



Thanks Eddie, I love that book. The BBC did quite a good drama serialisation of Twenty Thousand Streets.
I had a real suprise at Christmas. You see, I thought I had read all of Patrick Hamilton's books. Anyway, someone bought me "Twopence Coloured" first published in 1928 and out of print until Faber published in 2011 as a Faberfind.
I was thrilled as you can imagine and can't wait to start reading it!!

_________________
"Celine Dion and Oprah have given more to the world than any living member of the british royal family." - Captain Hi-Top

Nah Ville Sky Chick

Miss Whiplash




Posts

: 580


Join date

: 2011-04-11



My hero: Patrick Hamilton by Eoin Colfer
'Hamilton turned my idea of what a novel could be on its head'
guardian.co.uk, Friday 13 January 2012 22.55 GMT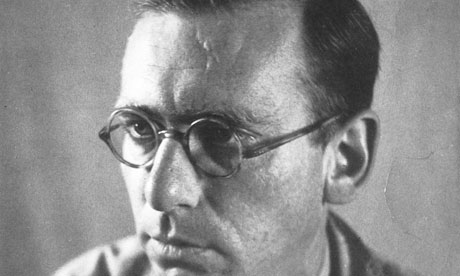 Patrick Hamilton. Photograph: Estate Of Bruce And Aileen Hamilton
The character who, in a flash, changed the course of my work is Patrick Hamilton's enthralling conman Ernest Ralph Gorse. Gorse is a base, selfish creature who preys on the greedy and foolish, manipulating their foibles and ambition to part them from money they can ill afford to lose. At the time of publication in the 50s, the dark and pessimistic Gorse Trilogy was not well received, though Graham Greene said that book one, The West Pier, was the finest book about Brighton ever written, and the second volume, Mr Stimpson and Mr Gorse, is now generally acknowledged as a masterpiece of black comedy.
I read the trilogy in my early teens and was taken with the idea that such a loathsome villain could also be magnetic. Up to that point, my understanding of the novel could be called traditional: there was a hero, a villain, some adverse circumstance and ultimately a triumph. The book I read before The West Pier was Captain Blood by Rafael Sabatini, which is a very fine novel of legerdemain, but the reader is never in any doubt as to the roles of the various characters. Hamilton turned my understanding of what a novel could be on its head. There was no hero, and the victims were not appealing. It was possible to sustain a story that did not feature any appealing characters or pure motivations. My teenage self realised, with a shock, that Hamilton was relying on the reader's contempt for his characters. He saw our own base nature and used it to keep us reading.
Patrick Hamilton showed me the power of literature to shape opinions and reveal our true natures, and for these disturbing reasons, he is my hero.
• Eoin Colfer's novels include the Artemis Fowl series.

eddie

The Gap Minder




Posts

: 7840


Join date

: 2011-04-11


Age

: 62


Location

: Desert Island





Similar topics
---
Permissions in this forum:
You
cannot
reply to topics in this forum