Peter Saunders obituary
Artist inspired by London and the characters of Soho
Caroline Mayow
guardian.co.uk, Sunday 25 December 2011 16.10 GMT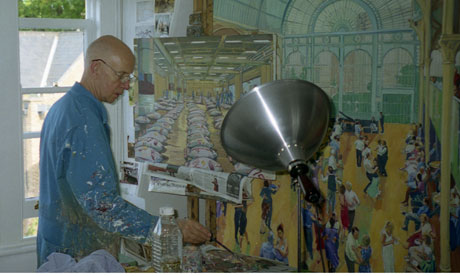 Peter Saunders working in his studio. A Step in Time, 2007-08, is in the background.
The painter Peter Saunders, who has died of cancer aged 70, presented in his work a complex local history of the last 50 years in and around London. His subjects – always painted in series – included skateboarders at the South Bank, Borough market, the bleak landscape of Dungeness, Kent, Thames-side scenes at Deptford, the open spaces and skies of Blackheath through the day and night, Brick Lane paper sellers and the Whitechapel Bell Foundry. Soho life and characters at the Coach and Horses pub featured in a painting used as a large poster for the Paintings on the Undergound scheme in 1994, where it was seen throughout the tube system. He brought intense scrutiny to bear upon familiar scenes that, in his later work, especially, were illuminated in gloriously rich colour.
It is in his last works that Peter's breakthrough really came. His work started to explore in great depth the human figures in motion he saw around him: dancing at the Rivoli Ballroom in Brockley and then at the tea dances at the Royal Opera House. In the two large versions of A Step in Time (2007-08), he depicted the Floral Hall as a magical, glowing box of delights, light streaming through the glass construction, playing on the dancers and the floor, with the world outside glimpsed in ghostly detail through the panes.
His most recent exhibition, Dancing at the Rivoli Ballroom (Some Enchanted Evening), for Isle of Thanet Arts, in 2004, was introduced by a comment in the catalogue by the painter Frank Auerbach: "You are as ever taking on brave and exciting subjects that others only dream of." At the end of his life, Peter felt he had finally achieved his essential, personal vision.
Peter was one of five children, born into a working-class London family evacuated during the second world war to Bicester in Oxfordshire. Returning as a young child to south London he drew and drew (paints were in short supply in the 1940s) rather than spend time playing with other children. Later, at Camberwell School of Art, he learned to pursue the tough discipline of drawing in the manner of William Coldstream from mentors such as Euan Uglow and, later, in a milder but totally valid version of the style of Auerbach, in whom he found a fellow seeker after the central essence of the subject. He never deviated from the need to make drawings every day. His training continued at the Slade where he won the painting prize in 1963.
Galleries throughout Britain showed his paintings, and he was selected by Brian Sewell for The Discerning Eye exhibition in 1991. His work is represented in the collections of the Arts Council of England, the London Transport Museum, the Hunterian Museum and Art Gallery, Glasgow, the Museum of London, the National Trust and the National Portrait Gallery (who purchased his drawing of Auerbach). Peter taught at the Sir John Cass school of art in Whitechapel, east London (now part of London Metropolitan University), at Oxford Polytechnic, Norwich Art School and Newcastle University. At Cass he often used as a model Quentin Crisp, who was able to hold extraordinarily complex poses for the students' quick sketches. In Stephen Fothergill's book The Last Lamplighter (2000), illustrated by Peter, the author relates that Crisp would say, at the start of Peter's classes: "I am putty in your hands, Mr Saunders." Peter fitted in to that Soho era, a part of the intimate crowd who frequented the French, the Colony Room, Jimmy's and the Lorelei, among them many well known artists.
Making paintings was for Peter his reason for being. An intensely private person, he found it hard to participate in the business of making contacts, employing an agent or gallery or publicising his work to a wider audience. Consequently, he seldom exhibited in later years.
Peter was interested in Buddhism, and studied Buddhist writings. He was drawn to the particular sensitivity and delicacy of approaches to the visual world in Japan, where he travelled with his partner, the Japanese artist Reiko Aoyagi, whom he met in 1993 and married in January this year. He is survived by her, his daughter Liza, from an earlier marriage, and grandson Xavier.
• Peter Edward Saunders, artist, born 6 December 1940; died 19 November 2011

eddie

The Gap Minder




Posts

: 7840


Join date

: 2011-04-11


Age

: 61


Location

: Desert Island



eddie wrote:Making paintings was for Peter his reason for being. An intensely private person, he found it hard to participate in the business of making contacts, employing an agent or gallery or publicising his work to a wider audience.

This is a problem for a good many people.


Similar topics
---
Permissions in this forum:
You
cannot
reply to topics in this forum