Portrait of the artist: Paul Daniels, magician
'My breakthrough came at 35. I employed a man to get me on television; he did, and that changed my whole life'
Interview by Laura Barnett
guardian.co.uk, Monday 19 December 2011 22.30 GMT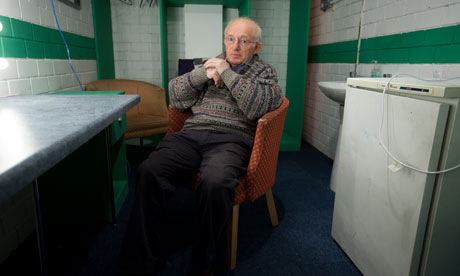 'Practically all my good advice came from my father' … Paul Daniels. Photograph: Martin Argles for the Guardian
How did you discover that you had a talent for magic?
When I was 11, I read a magic book and copied a trick out of that – one of those "think of a number" mathematical ones. Then I went to the library and took out loads of magic books, and tried various tricks out until I knew which ones suited me. I did that for about 19 years.
What was your big breakthrough?
The Wheeltappers and Shunters Social Club, a programme put out by Granada television. I was about 35, and I'd been working the summer season with a comedian who was on a lot more money, solely because he was on TV. So I employed a man to get me on TV. He got me on the Wheeltappers, and that one night changed my whole life.
Who or what have you sacrificed for your art?
I don't think I've sacrificed anything. When I turned professional at the age of 30, I had to go away and leave my first wife and sons, but my marriage was breaking up anyway. I missed the lads, of course, but we're still good friends.
Is there still an audience for magic shows on stage and TV?
Oh, yes. The internet has really swollen the audience for magic: it has more followers now than at any other time in history.
Do you have a favourite trick?
I never used to, until I recreated the magic of a man from 100 years ago called Max Malini. He used to do this tiny little vanishing coin trick: you just pick up a coin and put it under a piece of paper, and it disappears. Somehow, in doing it, I fell in love with it; I really got into Malini's skin.
Has anything gone wrong with one of your tricks during a performance?
Not that you'd notice. When I'm creating a show, I plan the routines, and then I plan the getouts: so if ever anything goes wrong, I'm ready.
What work of art would you like to own?
It certainly wouldn't be any modern art. I can paint rubbish just as well as anyone, or crush a dustbin up and put it in a museum. But I would like a piece by LS Lowry. He was so much more than just his stick men; he painted faces full of agony.
What's the best advice anyone ever gave you?
Practically all my good advice came from my father. He'd say: "Measure it twice, you'll only cut it once – and that will apply to your life as much as it applies to woodwork."
Born: Middlesbrough, 1938.
Career: Rose to fame on the long-running The Paul Daniels Magic Show on the BBC. Has appeared in and Strictly Come Dancing, and recently Created the illusions for Santa Claus and the Christmas Adventure, at the Ambassadors Theatre, London WC2 (0844 811 2334, until 31 December.
High point: "Still walking out on to stages every night."
Low point: "Having to sleep in my car when I was performing in working men's clubs."

eddie

The Gap Minder




Posts

: 7840


Join date

: 2011-04-11


Age

: 62


Location

: Desert Island



Magician Paul Daniels cuts off finger with circular saw
Entertainer severs index finger, which surgeons reattach, but loses top of third finger in mishap whle building props
Press Association
guardian.co.uk, Saturday 21 January 2012 09.52 GMT
Paul Daniels cut off his index finger in a circular saw accident – it was reattached by surgeons but the top of his third finger was lost. Photograph: Rex Features
The magician Paul Daniels has told how he accidentally sliced off a finger with a circular saw while making props for his stage show.
The television personality said he was working in his garden shed on New Year's Day when a block of wood was thrown up and his hand went into the spinning blade.
Speaking to the Daily Mail, he said: "The saw went right through my first finger, missed my middle one almost completely and took the top of my third one.
"How it missed the second finger is a trick in itself. The top of the third finger is all ground up and gone."
The prestidigitator, who lives in Berkshire, managed to stop the saw and thrust his injured hand into his coat before running to his car and driving himself to hospital in Henley-on-Thames.
Plastic surgeons saved his index finger but were unable to save the top of his ring finger.
Although he initially feared for his career and is yet to regain full sensation in his digits, he is hopeful of a full recovery.
"I was very worried. They did a fantastic job. Everything's on the mend now," he told the Mail.
Daniels is touring next month and said he would have to "change my methods slightly" but his planned shows would still go ahead.
The 73-year-old appeared on the BBC1 show Strictly Come Dancing in 2010 and was the second contestant to be voted off.
He has also appeared on Celebrity Wife Swap with Debbie McGee, whom he married in 1988.

eddie

The Gap Minder




Posts

: 7840


Join date

: 2011-04-11


Age

: 62


Location

: Desert Island



I loved the Mrs Merton line in the interview with Debbie McGee:
"Tell me, what first attracted you to the millionaire Paul Daniels?"


eddie

The Gap Minder




Posts

: 7840


Join date

: 2011-04-11


Age

: 62


Location

: Desert Island



Hair Today, Gone Tomorrow - review
Kings Theatre, Portsmouth
Tim Dowling
The Guardian, Thursday 23 February 2012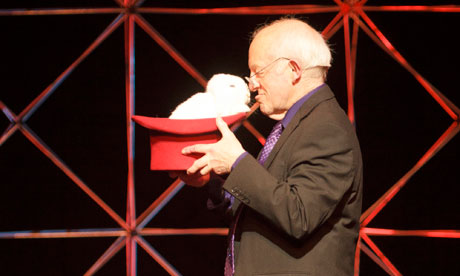 The problem isn't the missing digit, it's the pace: Paul Daniels on stage at the Kings Theatre in Portsmouth. Photograph: Sam Frost
Paul Daniels' show is ostensibly not much different to the version he toured with all autumn. However this is his first return to the stage in 2012, and the first since he cut off his finger on New Year's Day. Unfortunately, that wasn't a magic trick, not even a magic trick gone wrong.
Daniels (makes his own magic props in his shed, but on that fateful morning, recounted in some detail on his blog, he was making a safety guard for the very table saw in which he mangled his left hand. It clearly could have been a lot worse: in the end he only lost the top third of his left ring finger.
Still, he's a magician, and the upcoming leg of the tour must have loomed large. Even Daniels himself seemed to wonder if prestidigitation was possible with just nine digits. Was there time to adjust, to relearn his moves? There were rumours that his son, Martin, who tours with him, would take a more prominent role, but it turns out Martin isn't even doing this tour.
To add injury to injury, Daniels had to have his gall bladder removed, at short notice, just a few weeks ago. How would he look?
He took the stage in an ill-fitting wig, allegedly one of his own, the lovely Debbie McGee by his side. "Do you think they've noticed it?" he asked, pointing to his head. "Glasses." In fact it was his left hand a lot of us were looking at, but there was nothing discernibly amiss from the dress circle.
His opening trick, with a box and two coloured ropes, was deliberately underwhelming. "This trick only appeals to intelligent people," he said. He did it again, to much applause. "Sounds like pity," he said. "I know that's why half of you have come here tonight, to see if I can still do it."
He wasn't shy about the hand. "The saw went through there, and there," he said, pointing, "and took the top off of that one." And where his skills were most in evidence, they appeared to be undiminished.
His cup and ball routine (the highlight, I would say) was lightning fast and genuinely bewildering. He's also quick-witted and often funny, although he's always been a bit too chippy to be entirely winning.
The biggest problem with the show isn't the missing digit, it's the pace.
Daniels' leisurely approach is one thing, but his decision to let a comedian (a "funny foreigner" comic called Kev Orkian, who's replaced Martin) close the first half with a long routine, gave the impression that Daniels had more pressing business to attend to. Honestly, he could have gone out to dinner in the time he was offstage. I wish I had.
But he came back from the interval full of beans.
He can work a crowd, can Paul, and he managed to get this one going despite the theatre (lovely, but huge) being only two-thirds full. He's also very good with volunteers; a slightly labyrinthine trick involving a deck of cards, a £20 note and, finally, a lemon, a walnut and an egg (I'm making it sound far less complicated than it was) was redeemed by his effortless control over two reluctant audience members.
But it did go on a bit in the end. By the time Debbie got into the sack in the box for the climactic illusion, we'd been in our seats for an arse-aching 2½ hours. I'm afraid I was left pondering which bits of the act might have profitably gone the way of Paul's ring finger.

eddie

The Gap Minder




Posts

: 7840


Join date

: 2011-04-11


Age

: 62


Location

: Desert Island




---
Permissions in this forum:
You
cannot
reply to topics in this forum