When the pinhed started bringing home all those records by
Lazy Bill Lucas, Sleepy John Estes, Blind Willie Johnson,
and all the rest of them, my baby brother Pigmeat wanted to know "why are these old blues guys always either blind or sleepy or lazy, or whatever?

An excellent question, Little Pigmeat.
Ethanol
, also called ethyl alcohol or grain alcohol (or "drinking alcohol") is wholesome and nutritious, improves blood cholesterol and lowers blood pressure and makes parties more fun.
It's chemical formula is C2H5OH, and it looks like this:
Methanol
, also known as methyl alcohol or wood alcohol will make you go blind, it will make you act crazy, or lazy or sleepy. It is sometimes produced by accident in the process of distilling moonshine or corn liquor.
It's chemical formula is CH3OH, and it looks like this:
Always drink ethanol--accept to substitutes

--unless you want to know what it's really like to really have the blues.

Also, if you are a little wisp of a thing, don't guzzle ethanol either (RIP Amy Winehouse).
If you're a girl it's considered alright to mix your ethanol with a diluting agent, typically a flavorful and/or colorful diluent, resulting in a mixture known as "girly pop" (the Governor of Kali-fornya would presumably also approve this practice for "girly men").
You cannot make "girly pop" with methanol.

Also, women named "Bessie" or "Big Mama" do not drink "girly pop."
John Estes was both blind and Sleepy:
Lazy Bill Lucas seems unimpaired for the most part, although his vocals have a sort of lazy slurred sound at times: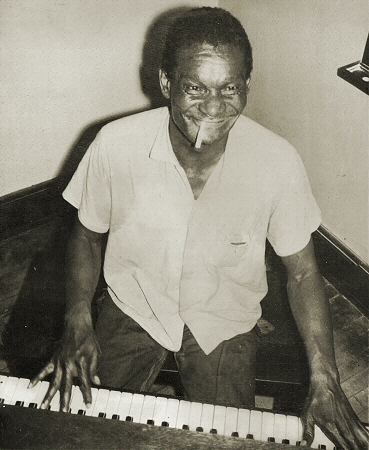 It's not clear how Willie Johnson went blind--one story says it was an accident with lye--but we don't really know:
Blind Willie McTell was not born blind (the Wiki is wrong about that), but he went blind so young it probably was not from drinking.
We do not know how Blind Blake went blind. Nor do we know when or where he was born, when, where, how--or if--he died, or what his real name was.
To be fair, in most cases we don't know how particular blues singers came to be blind, and most who gave explanations said that it was due to something other than drinking (carelessness with lye comes up more than once). And to be blind and uneducated would leave a black man with few options other than music--or begging.

Nonetheless, blues playing and corn liquor had a tendency to go together.
The most dangerous toxins are products of the metabolism of the methanol. Formic acid is the active ingredient of bee stings. Here's what it says in the medical books:

"Metabolism: Methanol → Formaldehyde → Formic acid → Folate

Pathophysiology: Methanol is a colorless, volatile liquid with distinct odor. Methanol is absorbed well in the GI tract. Methanol is primarily eliminated by liver through metabolism but a small percentage (2-5%) is renal excreted. Toxicity comes from the formation of formaldehyde and formic acid through hepatic dehydrogenases. The onsets of symptoms are associated with the accumulation of formic acid. Formate inhibits mitochondrial respiration leading to tissue hypoxia and lactate formation. Formate production occurs in the retina and may lead to optic papillitis and retinal edema."
---
Permissions in this forum:
You
cannot
reply to topics in this forum